We have always wondered – How do these food delivery services benefit to people who are too lazy to cook or eat out? The craze didn't pick up until lately this year, when UberEATS becomes the 3rd major player in the food delivery business.
So, if all factors are made equal, which app are you willing to shell out more for that over-hyped food delivery, in terms of user experience, speed of delivery and of course, food quality?
We are not going to proclaim ourselves as tech or food experts in this field but by doing some research, here's the FINAL brand show down – Deliveroo versus UberEATS versus foodpanda: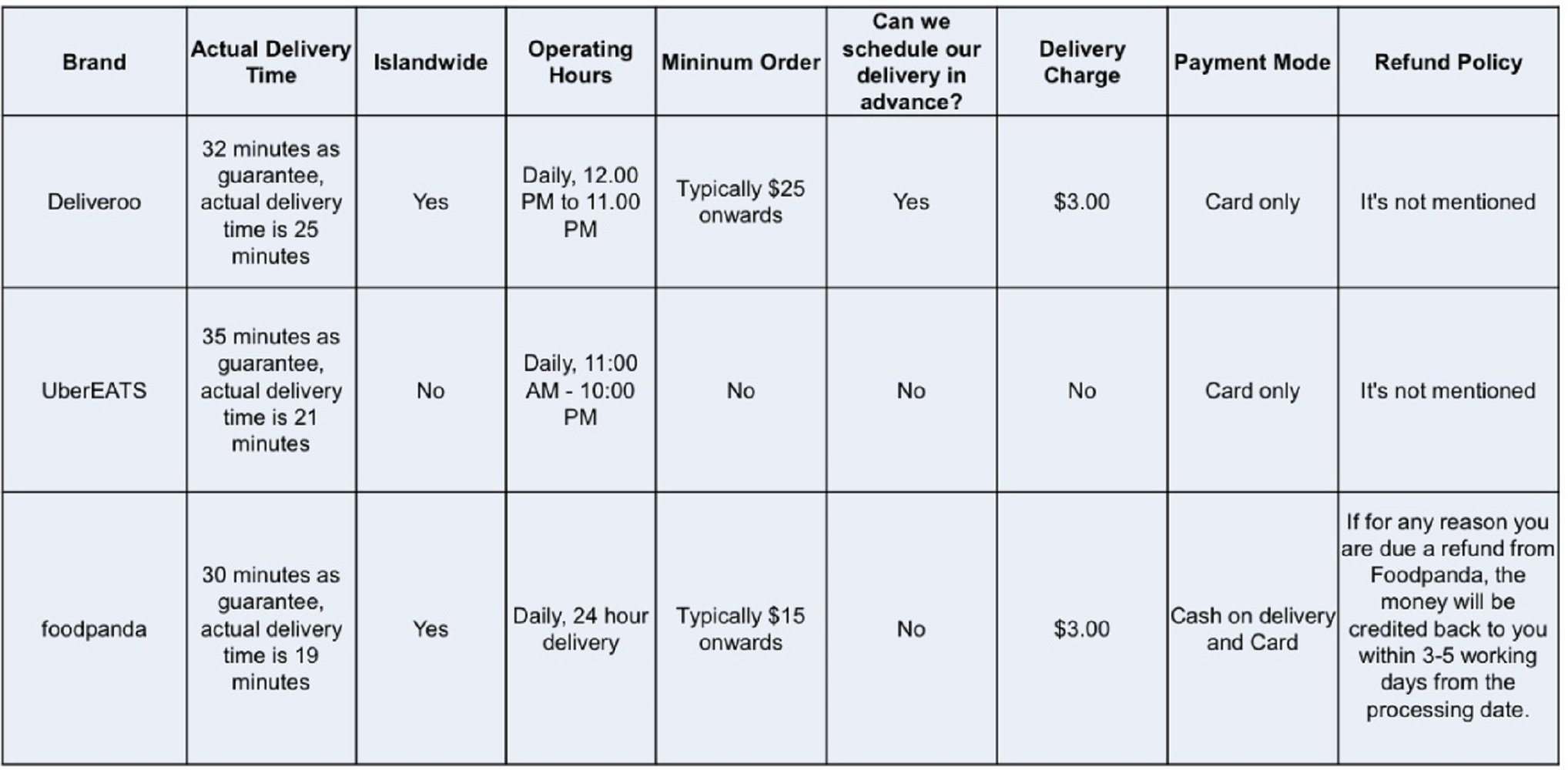 Deliveroo – An absolute 'Roo' experience for everyone
After hearing so much about this Deliveroo as a brand, it seems to offer a fun and enjoyable food delivery experience to many people. We definitely need to test it out.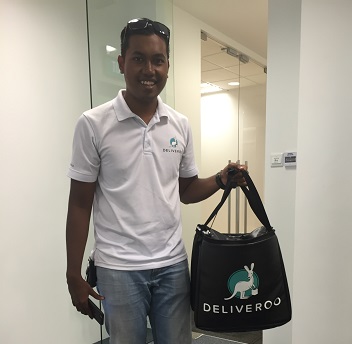 The User Experience
Deliveroo app covers almost the entire island, though it focuses a lot more into central locations. The app promotes a very easy and enjoyable user experience as you can select your food from a great range of restaurants easily.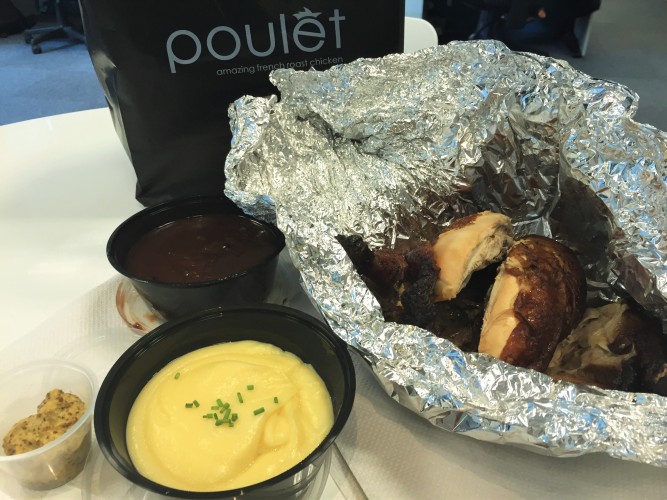 The Food Quality
Though it typically requires $25 for one minimum order and a delivery charge of $3, we will not mind to pay if the food quality is good.
For one of our orders, we ordered a roast chicken and some sides. The dish was tasty but it came rather lukewarm despite the packaging.
The Delivery Process 
Though it takes an average time of 25 minutes for each order, compared to what their website promises at 32 minutes. Deliveroo app gives constant status updates like 'Your food has been picked up by driver.'
Deliveroo 'roos' food to you in minutes! What a promise.
Now you can turn your daily GrabTaxi, GrabCar or Flash rides to work, home or play into scrumptious Deliveroo credits. So book those rides. And look forward to feasting on the best, for less.  For more details, you can find more updates here.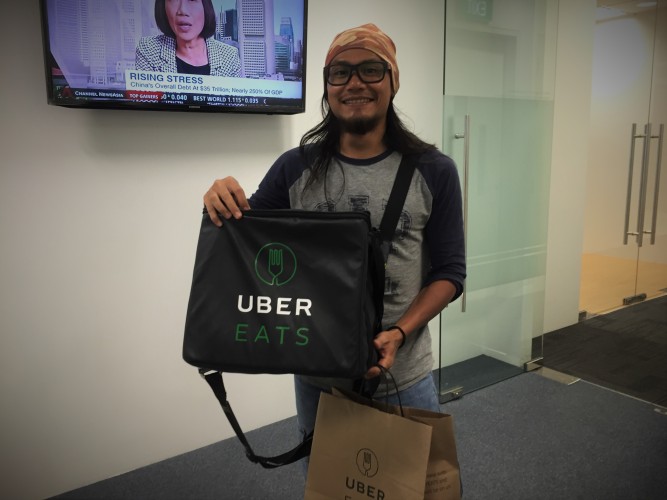 UberEATS – Get your food delivered at Uber speed
The User Experience 
As the newest player in the food delivery scene, it takes one to up the ante to deliver with more innovation.
UberEATS delivery app is very user-friendly. It gives clear instructions on how to use it and a delivery man tracking tool is included for checking delivery process. More goodness? You will love UberEATS app as they have 2 most IMPORTANT factors – no minimum order AND no delivery charge.
The Food Quality
Surprisingly, UberEats delivers food with best food quality, though the food options are less than Deliveroo or foodpanda currently. Give it some time since it has just entered into the industry.
Sides like chili sauce or dips come intact with food orders. Keep up for this, UberEATS!
The Delivery Process 
So, will UberEATS's Uber Speed be up to mark?
We have chosen one CBD district to test out all 3 apps equally. UberEATS promises with a delivery speed of 35 minutes on their website. In reality, it indeed delivers much faster with an average delivery time of 21 minutes.
For first-time UberEATS users, enter promo code 'UBEREATSSG' or 'FEEDSG' to enjoy S$15 off your first order. *Available for new users only, expires 30 June 2016.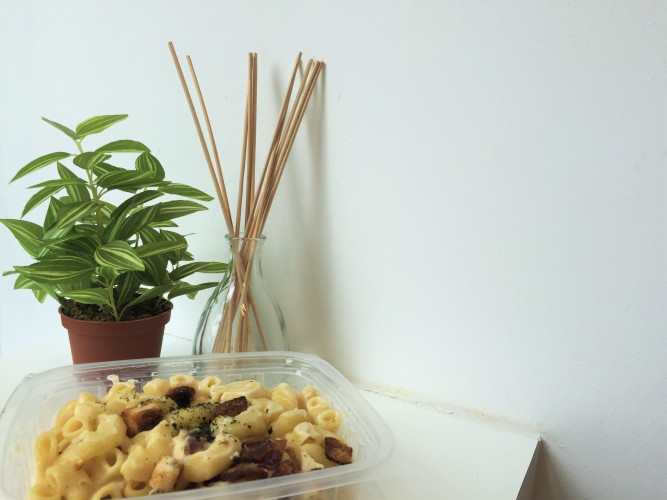 foodpanda – you can order food with 24-hour delivery 
The User Experience
Comparing to Deliveroo and UberEATS, foodpanda provides widest selection of food, including hawker food choices. You are going to be pampered with many choices.
Though the food app is lacking with a tracking feature, it works well with constant SMS updates.
The Food Quality
Though it requires a minimum spend of $15, every order brings with good food quality. Food items are packed into cute foodpanda plastic bags. The food was rather tasty when delivered, nothing is missed out from our orders.
The Delivery Process 
While foodpanda has a 24-hour delivery daily, we do wonder how the company copes from their back scene. For our orders, the food is delivered with a remarkable average time of 19 minutes.
foodpanda scores the best for the speed of delivery. Awesome!
Food options aside, So which is THE favourite?
So, with everything parked aside, we want to know which works the best (regardless of its price), and so we got a 'panel' of 4 food aficionados to rank the food delivery apps in a 'experiential user experience' test from 1 to 5. Here are the results! (The highest the total, the better)
And we have a clear winner!
This is not a sponsored ad in case you're wondering. There are many good dimensions to measure a food delivery app. However, some of them did register a much better hunger-satisfying effect from Deliveroo, and it may be because the user experience is near to perfection! It does offer a sleek, fast and fun experience.
You'll definitely know how to use Deliveroo or UberEATS or foodpanda app more now! Join in the fun.