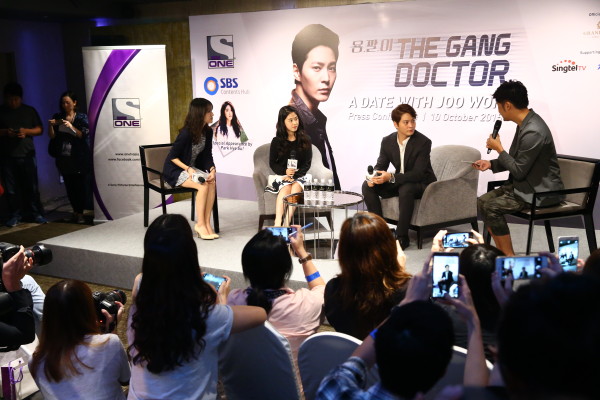 Thanks to ONE, the #1 Korean entertainment channel in Singapore, K‐drama fans will remember 10 October 2015 fondly as the day when one of the top four Kings of Hallyu, Joo Won, arrived in Singapore.
Starring alongside Joo Won and Park Hye Soo in The Gang Doctor are also Korean big names, such as Kim Tae Hee (Jang Ok Jung), Jo Hyun Jae (49 Days) and Chae Jung Ahn. The show is the most popular Korean prime‐time drama series of 2015, garnering record ratings in Korea and in the region. It is the first TV series to cross the 20% ratings mark in Korea since the 2014 supernatural hit My Love From The Star. As a result of the immense popularity of the series, it was even extended from 16 to 18 episodes.
About The Gang Doctor | Yong Pal
The Gang Doctor tells the story of a medical prodigy, Yong Pal (Joo Won) with incredible surgery skills forced to make illicit house calls to the wealthy to support his sister's (Park Hye Su) dialysis treatment. On one such assignment, he meets an heiress, Han Yeo Jin (Kim Tae Hee) kept in an induced coma by her brother, Jo Hyun Jae (Han Do Joon) in an attempt to keep the inheritance to himself. After being rescued from her predicament, she embarks on a revenge against those who have plotted against her.
We collected some interesting insights during the day press conference with Joo Won and Park Hye Soo!
This will be your first time in Singapore. How do you find the country?
JW: I think that SG is a beautiful country with good impression. My first feeling is that it is well maintained.
HS: This is my second time that I visit Singapore. I always want to come back, this is made possible with the promotions of the drama.
The Gang Doctor hit as highest rated drama. It claimed as the most popular prime-time Korean drama series. How do you feel about the success?
JW: I am happy to be involved with this drama. With efforts from crew and production, we are able to do it well in Korea and overseas. I am not sure how the drama goes in Singapore, please do continue to support us.
HS: This is my first role ever in a drama debut. I can't be much fortunate. I am very attached to the character, I'm thankful to be part of this drama and team.
How do you feel about working with each other?
JW: To tell you more about, this is about a gangster doctor who use illegal means to help out with the gangsters. This is for the sister love that he puts it through. For my sister, I can feel about the genuine acting from her. I am feeling happy for her.
HS: My character is to play as a sick person and I am taken care of. Most times, I am in bed. Oppa Joo Won has given good care to me during this drama. I am grateful of his good support through this good drama.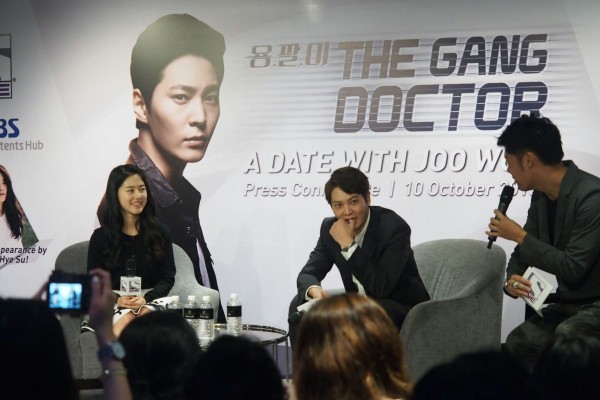 Joo Won, what will be the most challenging scene?
JW: It is very hard to answer. I had many difficult scenes. I would say that during beginning scenes, out of 60, 55 scenes were physically hard to pull off.
The action scenes like jumping off from bridge were very challenging. To say about the most challenging one, there wasone scene that I needed to drive furiously. There were a lot of blockages, it was hard to see and drive altogether. However, the scene turned out well on the pictures.
Joo Won, you have done medical dramas before. How do you make sure that the acting preparation is different from before?
JW: For Good Doctor, it is different from The Gang Doctor. It is focused on fun element of the entertainment. The key character is where I play as ab autistic kid, he is found to be talented in the medical field. The Gang Doctor is more rugged and chases for justice.
With so many memories about medicine dramas, the key difference is that I do not think that I act into a similar character. It's  different and this makes The Gang Doctor different with my acting.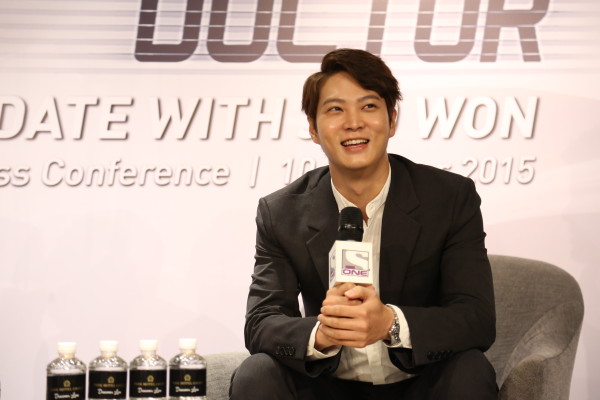 Joo Won, you lost 7kg during filming. After the production, have you been resting, sleeping, eating? 
JW: I will gain back all my weight. (Paused…) While I was on production, it would be difficult to sleep or eat. I was also trying to control my weight. The sense of relief and accomplishment after the filming will make me a lot calmer. I feel a little empty at times, but I am back to be healthy again.
Personally, we have watched The Gang Doctor (Yong Pal). Joo Won's acting skills are indeed very intriguing. It is certainly a Korean drama series not to be missed!
Fans who missed the first telecast of the series, which aired within 24 hours from Korea at the PPALI‐ PPALI show time, can catch the encore broadcast, with two episodes back‐to‐back, every Saturday, 4.30pm, on ONE, starting 7 November 2015.
For more information, do visit www.onetvasia.com/JooWon