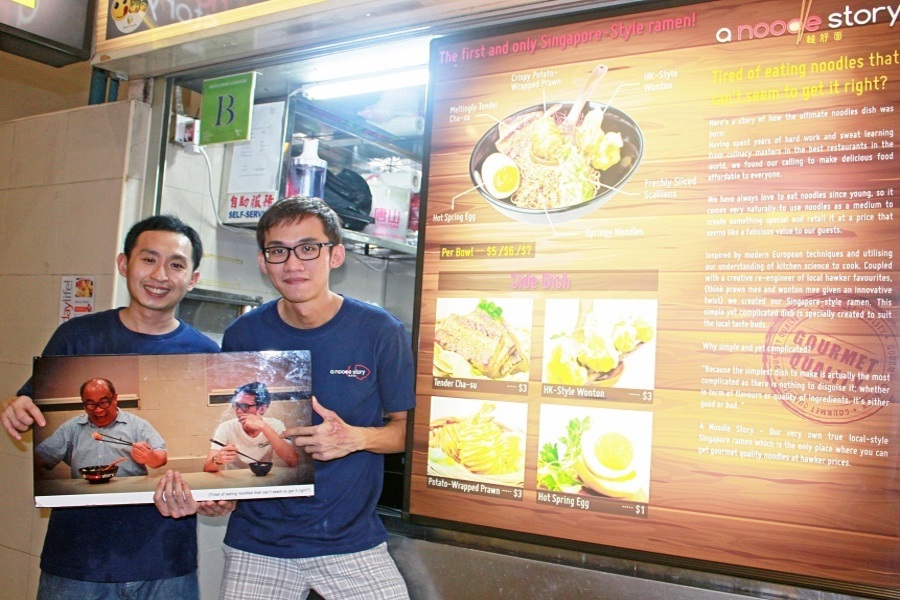 We have always think that working as hawkers will be a hard toil to take. It takes a lot of commendable efforts to run a hawker stall in a more complex landscape of our food scene. Here we are, interviewing the boys from A Noodle Story where Gwern and Ben shared their deepest secrets, and more. 
1. What prompted you to own a ramen stall in the hawker scene?
We always want to do a business and it has to be low-cost capital to begin it. 3 years ago, ramen trend was indeed thriving. We wanted to do something like ramen but it would be something really special with a more localized style. So, we have our wanton mee.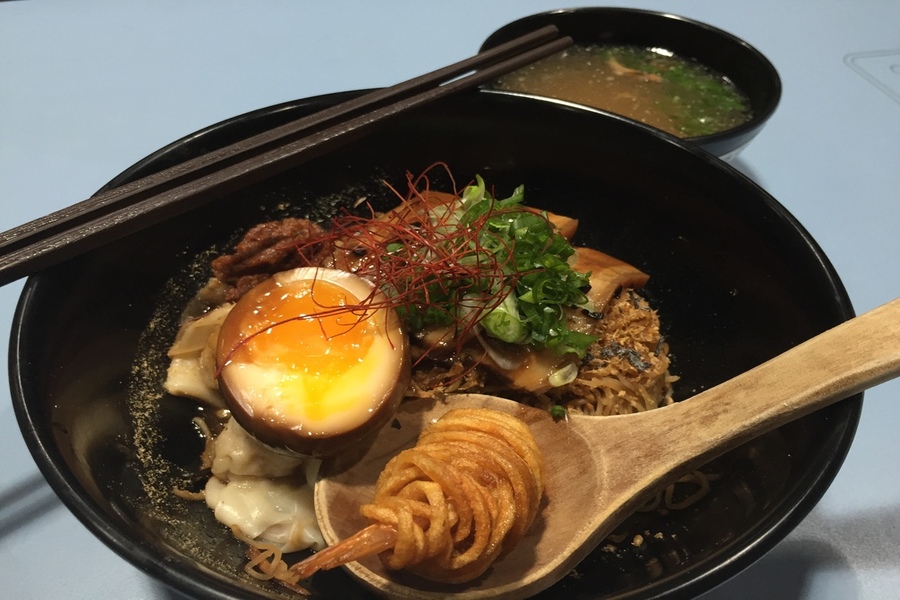 2. What are the differences between your ramen bowl versus the ones at the Japanese outlets?
Our onsen egg and char siew are braised Japanese style. We love to serve our noodles more like the Hong Kong version – thin, light and springy. So, we are doing the dry ramen version. Next, we use dried shrimps and kelp as they help us to achieve the umami effect. Premium soy sauce is used to enhance the umami flavour. All added together, to give the ultimate outcome.
3. A novel-gastronomic dining experience in a hawker's scene. Have you thought about introducing the real ramen noodles into your menu?
Probably not, thicker ramen noodles are more suitable for soup version. We prefer using HK-style noodles for its unique springy texture for our dry varietals. 
4. You are part of the hawker heritage. Tell us your thoughts about the future of our hawker heritage.
Indeed, we do not have many new generation hawkers till date, probably due to the tough conditions of the industry. Luckily, there is a good handful of young hawkerpreneurs who are daring and passionate enough for a shot. 
5. What motivates you to press on as a hawkerpreneur?
When we first started, we did not have a decent income.However, we stuck to our beliefs to achieve our ambition and with that inspiration, everything is possible. You need a lot of persistence, resilience and passion. Passion means you know your purpose and why you are doing this. So, at the end of the day our purpose is to serve good food to make our customers happy.
We may lose some traditional dishes in the hawker scene, especially those that require tedious processes. But we believe that the hawker heritage will gradually undergo an evolution with more innovative characteristics to keep up with times.
6. What do you think is the 'secret' to having a successful stall or business?
We serve delicious wanton mee. It creates other values that customers see beyond it, it's money well-spent.
Consistency in quality is very critical. You can't have a day when the food is good, and the next day it's lousy. Consistency comes from being precise. That's why we made it a culture in our kitchen to do everything with precision.
It is also very important to be open to other people's opinions.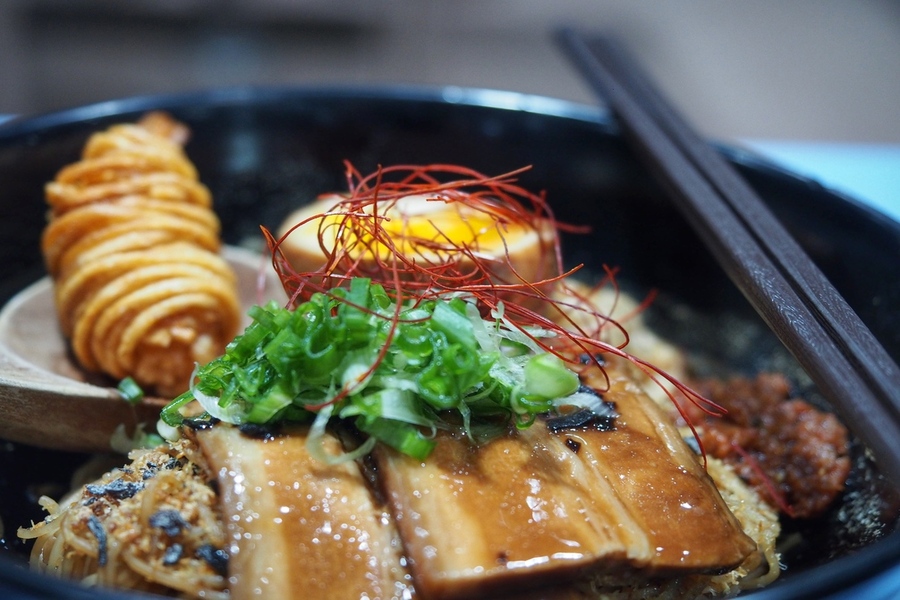 7. Name 3 critical factors for inspiring hawkerpreneurs to consider before diving into the trade?
Must be able to differentiate from others in the markets. If you are a young entrepreneur, know your edge well. In any business, you need to do whatever it takes to succeed. These 2 factors are most important.
8. If you can cook a meal for someone important, who will he be?

Gwern: It will be my mother. I treasure family relationships very much. Due to my hectic schedule and living away from her, I hardly have any time to cook for her. What I really want is to sit down and have a nice simple meal with her.
What will the next-generation Singapore noodles tastes like?
The Singapore-style ramen is set at a reasonable price like $5. The noodles are very springy and light where you will never get sick from eating them. It is served with a serious and generous load of ingredients like onsen egg, char siew slices and more.
Lastly, congrats both Gwern and Ben for being awarded the Bib Gourmand 2016! It is certainly a result of resilient and brilliant hard work to achieve the ultimate quality and tastes over their bowl of wanton mee. A Noodle Story that keeps their customers coming.
Review rating: 8.5/10
Amoy Food Center, #01-39 069891, 7 Maxwell Rd, Singapore 069111
Opening Hours: Monday – Friday 11.15am – 2.30pm, 5.30pm – 7.30pm, Saturday 10.30am – 1.30pm
Nearest station: Tanjong Pagar