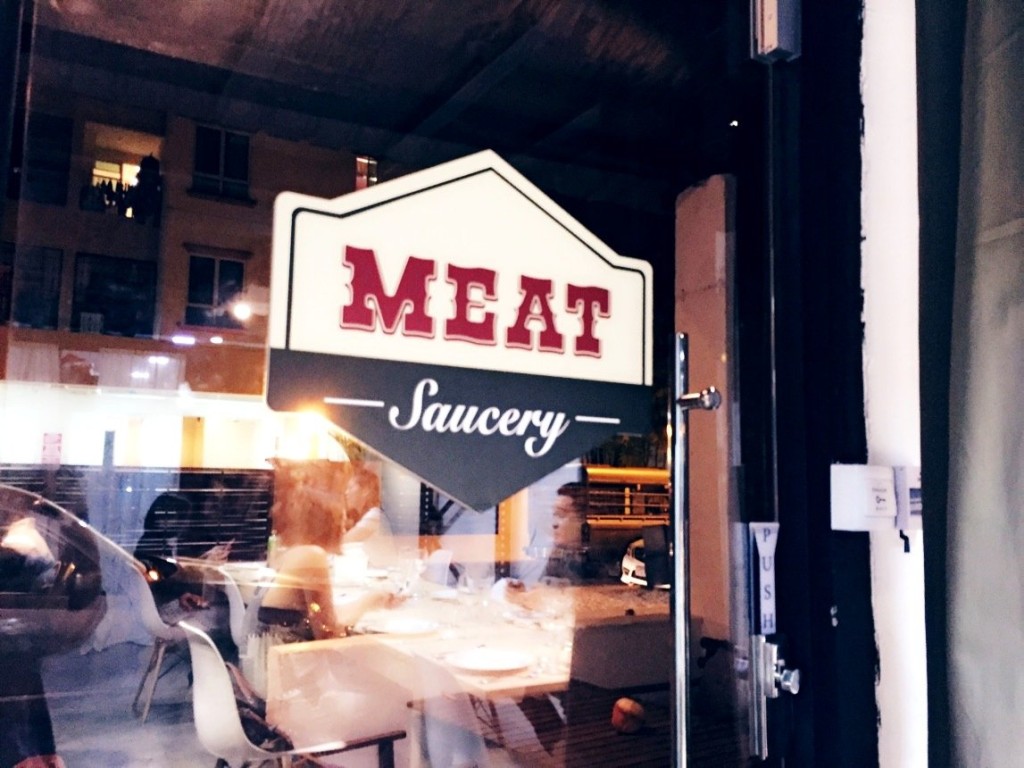 My hectic work life has been keeping me away from cooking as much as I would have liked. Due to time constraints and limited access to top-grade raw materials, makes serving gourmet dining or organizing BBQ house parties a next-to-impossible task at home. I chanced upon an exciting adventure at Meat Saucery's Pairing & Tasting Session #111, from which I gathered many brilliant gourmet solutions to my cooking dilemma and problems!
Meat Saucery brings to homes and parties – the perfect, healthy gourmet food. They have rolled out its selection of true gourmet-quality frozen entrées to the public recently. Marinated in-house and cooked to exacting doneness using patented technology (ultrasound?!), the entrées are shock frozen and vacuumed sealed for optimum freshness. The result? Indulgent meals that you can pick up anytime from your freezer, reheat and eat – for up to 18 months after purchase. Or what Meat Saucery calls Intelligent Eats™.
Yes! When I say gourmet food, I mean top restaurant grade entrées like the creamy Scallop and Prawn, Foie Gras, Duck Confit, a crazy tender 72 hour Wagyu Shortribs and many more. In addition,everything on the menu is all-natural: free of MSG, preservatives and chemical additives. Entrées from the Meat Saucery Gourmet Range are flavoured with palate-enhancing sauces to heighten the gastronomic profile of your meals. In the Health Range, these have been marinated with zero-calorie rubs and very low sodium. Using only herbs and spices for flavouring, Meat Saucery keeps the caloric content to the barest minimum whilst enhancing flavours through a selected mix of spices and herbs, very intelligent I must say!
I was elated to have tasted such a wide range of delectable gourmet foods at one go, all 10 courses! Rich and varied, celebrating cuisines the world over, I cannot say I have tasted better fusion food all at one place in a single sitting! The pairing session was held in their private location in a quaint shophouse, although the dining settings were simple, they were elegant and the sweet lady staff made sure all of us were treated to a heartwarming and homely service. The dishes were very well-paired with good quality wines that brought out the flavours of both the wines and the dishes. Salut!
Here are the memorable tasting notes: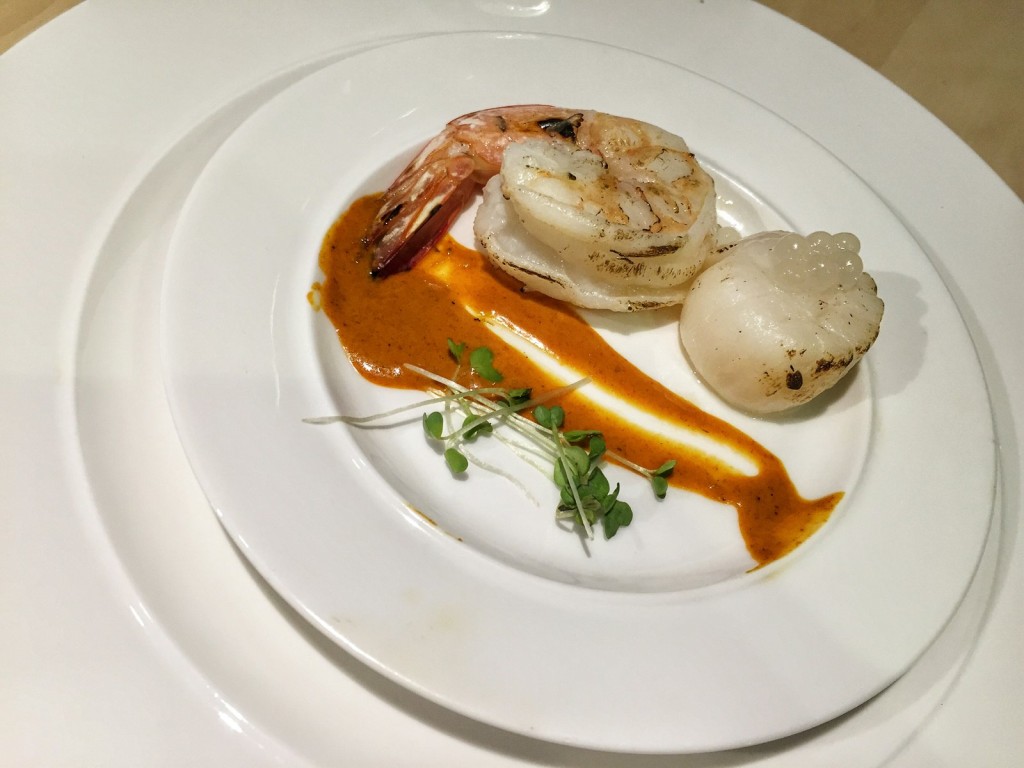 Scallop & Prawn in Spicy Garlic Cream
This dish looked deceptively simple. However, the spicy garlic cream gave a wonderful note to the ultra-fresh tastes of the sea; almost crunchy, with a medium-rare doneness that brings out an enigmatic texture that is seldom experienced elsewhere.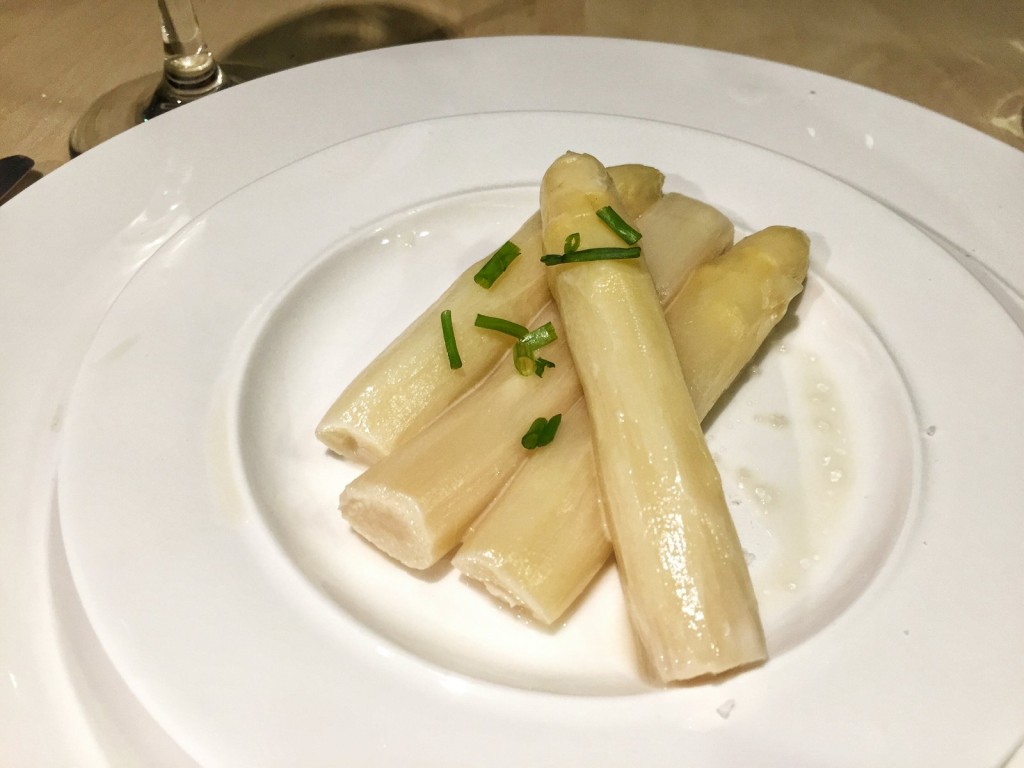 French and Dutch Asparagus 
My first thought was, "Why are these vegetables so tasty?" Being a non-veg lover, this dish won me over. Soft. Juicy. Tasty. And most of all, a natural sweetness…
Foie Gras with Fig Mostardo
Foie Gras is an acquired taste and I have never liked it. Being a hater, the Foie Gras with Fig Mostardo surprised my palate. It was flavorful without the 'acquired taste' of which one could perhaps point towards the oiliness and smell of innards that the liver usually imparts. It was missing the dreaded taste and had a very soft, melt-in-mouth texture beyond the crispy crust that brought about a thrilling contrast to a portion that has to be said that it is the most generous I have seen!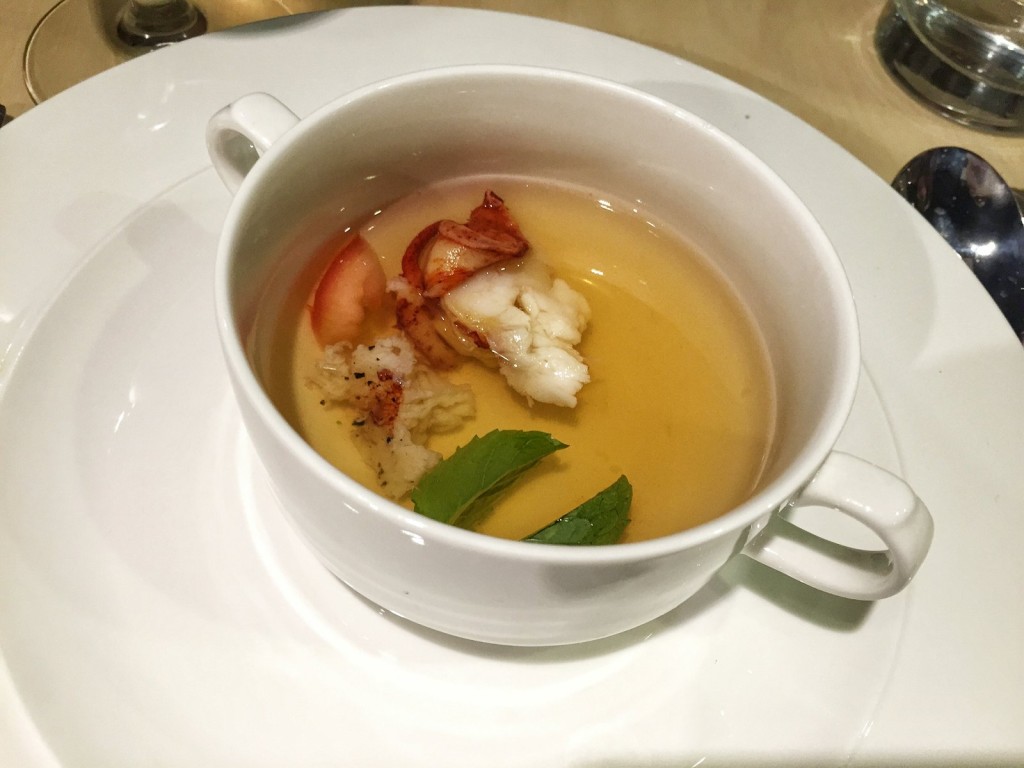 Blue Lobster Consomme
Very savory yet possessing a clean taste. The soup was beautifully clear and melded in unison with the mint, parsley and tomatoes. It heightened the lobster's flavor and the texture experienced of the blue lobster was one of tenderness with a satisfying bite, not alike the usual rubbery ones served in pastas and other lobster dishes. A delight that cleanses the palate after the foie gras to prepare for the next dish…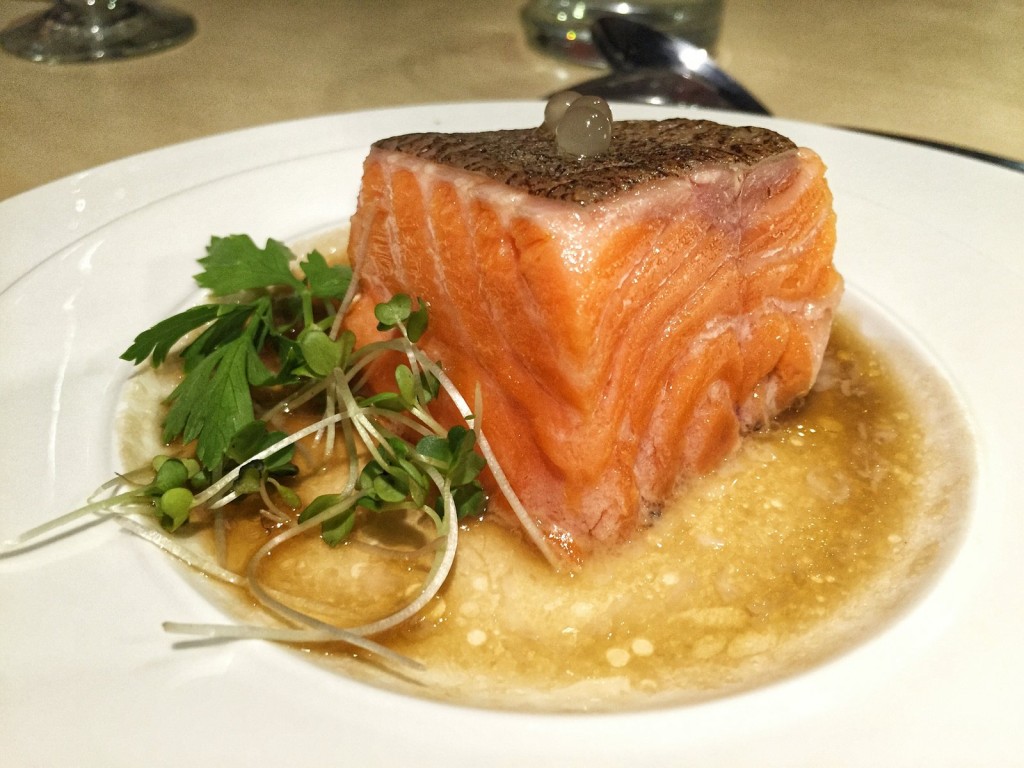 Salmon in Nori Rice Vinegar 
To me, till now that is, it is the Best dish of the session! I totally loved the perfect texture of the salmon! It subtly brought out the healthy omega-3 fats of the salmon whilst lining the flesh for an absolute burst in mouth experience. Paired with the special rice wine vinegar and topped with the savoury, crunchy seaweed, it is an experience not to be missed.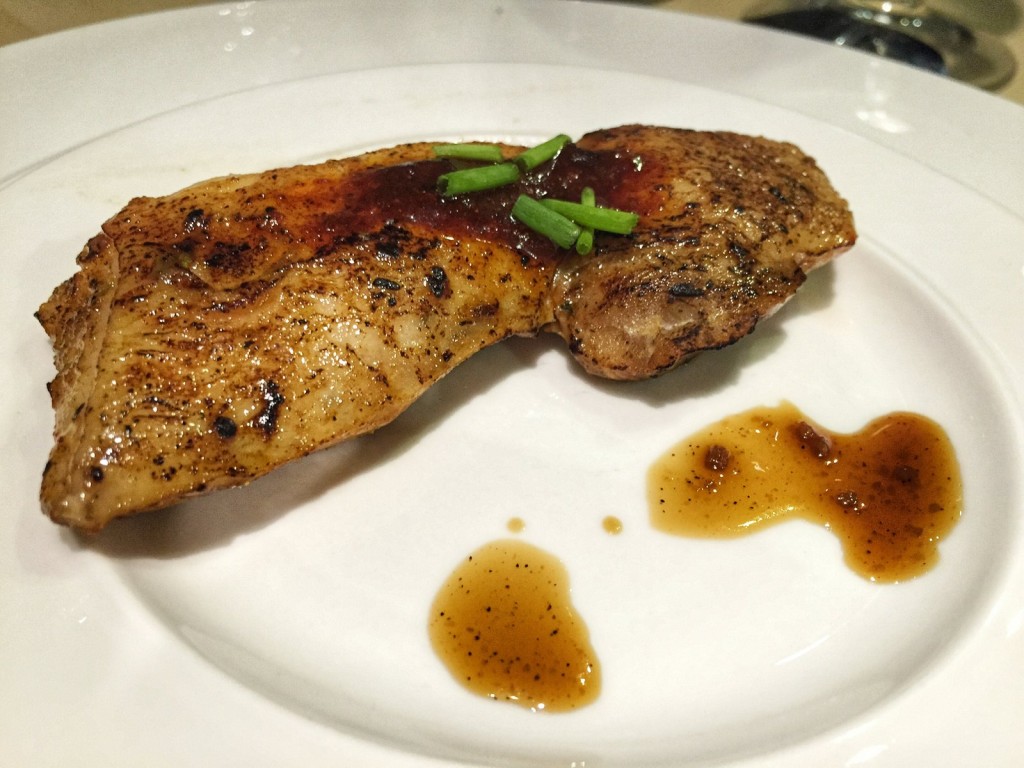 Organic Chicken Leg
The ultrasound-cooked chicken leg, so gently tenderized… The marinade penetrated to the core of the meat was such a revelation, seldom have I tasted chicken so tender with such deep flavours.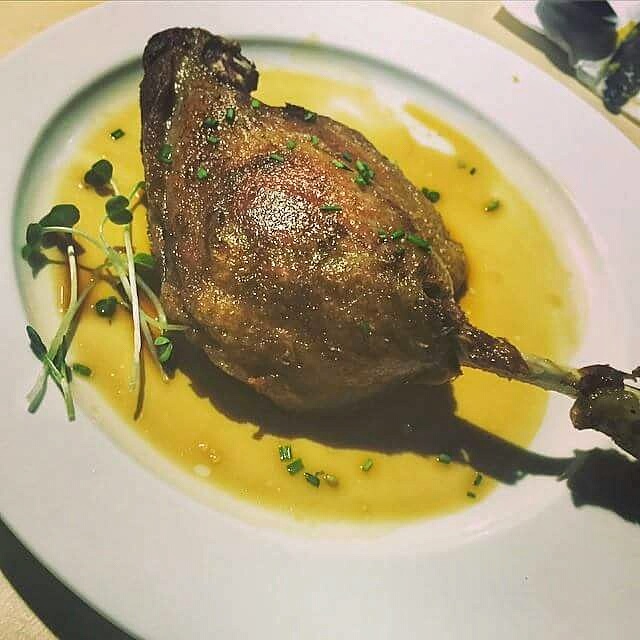 Confit of French Duck in Veal/ Honey Glazed Carrots
The duck confit was wonderfully paired with the sweet carrots and a Cabernet Sauvignon that reminds me of savoring the sights and experience of being in a quiet French countryside. The tenderness, the sweetness, the savoury flavours, lingers on with a sip of wine, as my mind wandered to Nice and the Riviera…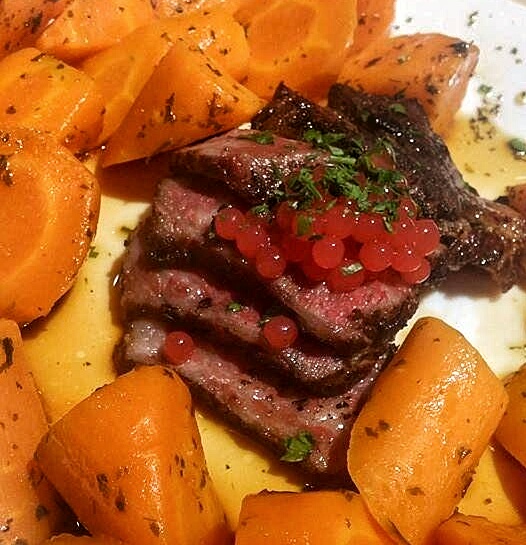 72 Hour Wagyu Short Ribs
Well-paired with an Italian Rosso Red Wine, the 72 hour Wagyu Short Ribs was another great highlight of the night. Superbly succulent through its 72 hour deconstruction, delivered via the natural beefiness of the cut, it was a sublime experience. Beef lovers be warned!
Green Tea Ice-Cream with Sesame Seeds
Tinted with a green tea flavor that is just right, neither bitter nor overwhelming, the ice-cream was creamy and contrasted well with the roasted flavours of the sesame seeds. Finished off with a Moscato from Trentham Estate, it was an ending that one almost wished it hasn't ended so soon…
And so, if you love to host private or corporate parties and BBQs, you should certainly try to order their items online. With an extremely easy thawing process, these tasty pre-cooked gourmet items can be served to your loved ones, guaranteed to impress! As they are perfectly cooked beforehand, you will never have to deal with throwing over or under-cooked food in your kitchen or in your BBQs. However, if you are like many of my lazier friends, Meat Saucery provides the staff to prepare for you, at the location of your choice as well.
Check them out and discover a revolutionary solution to healthy, gourmet eating! Visit http://meatsaucery.com/ or http://www.facebook.com/meatsaucery
Meat Saucery
20 Chiku Road S429432