We will like to thank Harpar Bazaar Singapore for the invitation to this year's Awards of Excellence Presentation & World Gourmet Summit (WGS) Opening Ceremony.
Once again congratulations to all the awardees!
Abstract from site:
Inaugurated in 2001, the World Gourmet Series Awards Of Excellence (AOE) remains the only national accolade that recognises the efforts of key players in the F&B industry who demonstrate exceptional service and utmost dedication to their craft.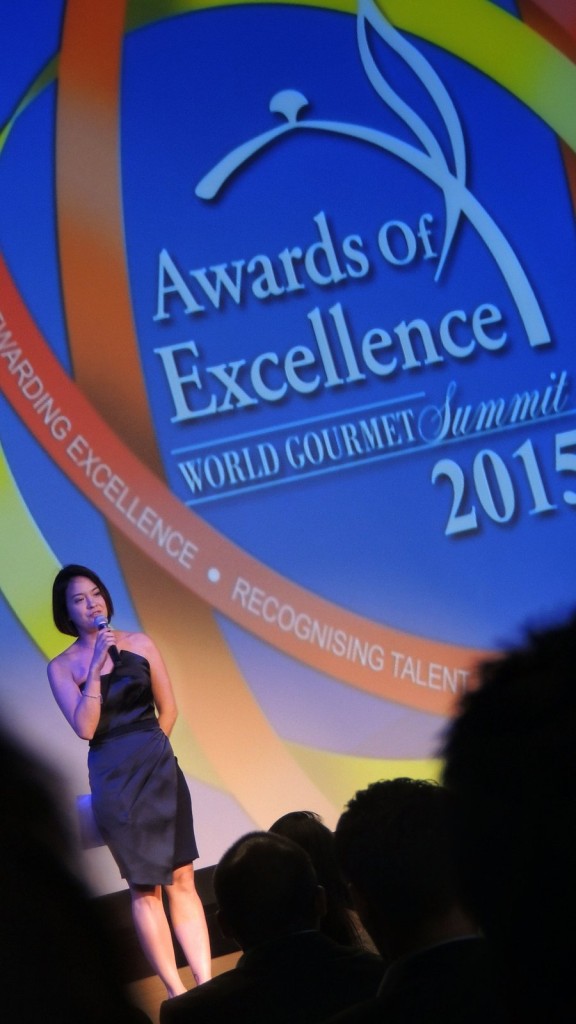 Some of the 22 SUGAR & CHOCOLATE Art Pieces by  Niklesh Sharma & his team from Academy of Pastry Arts Malaysia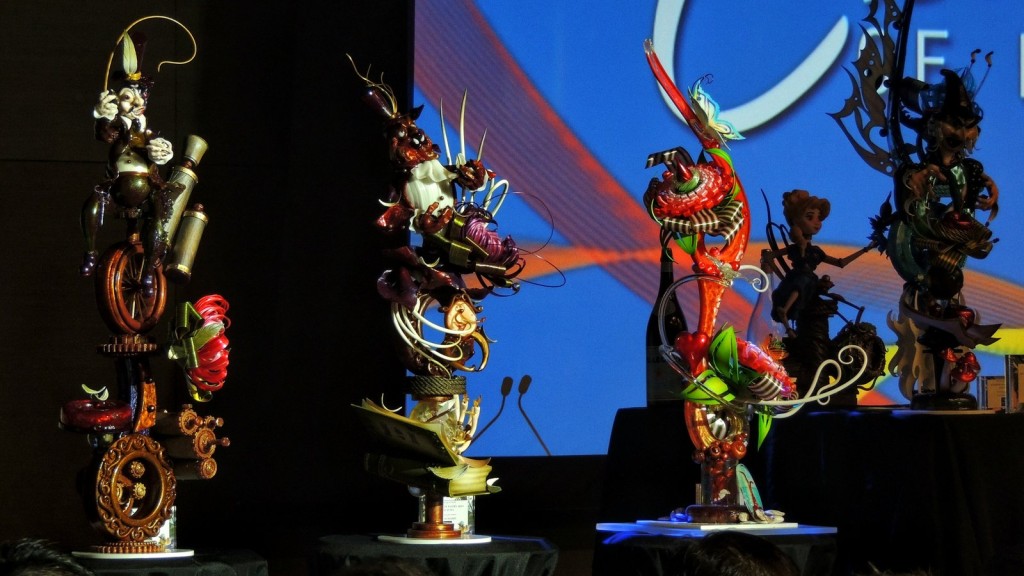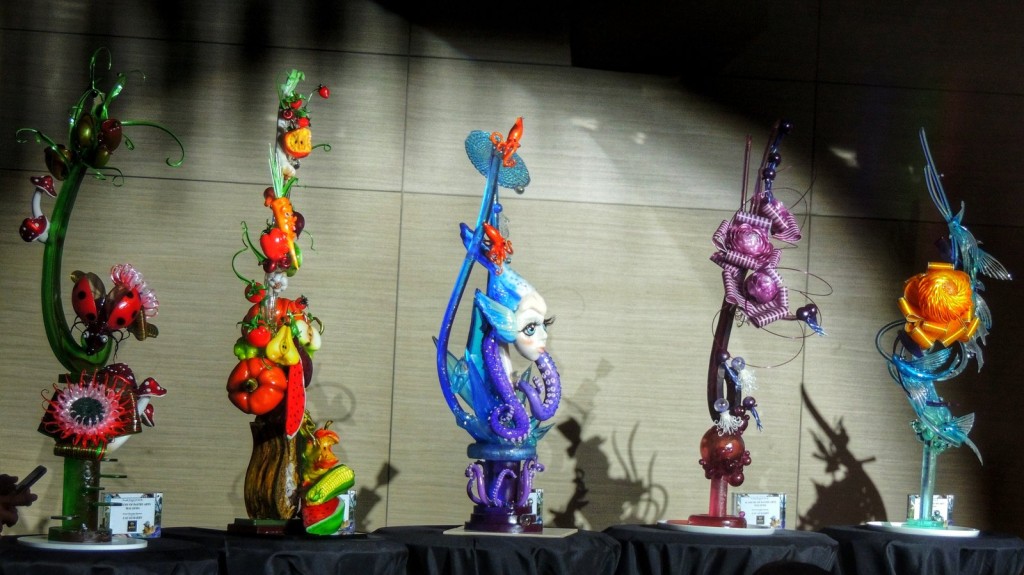 Opening Speech by Mr. Peter A Knipp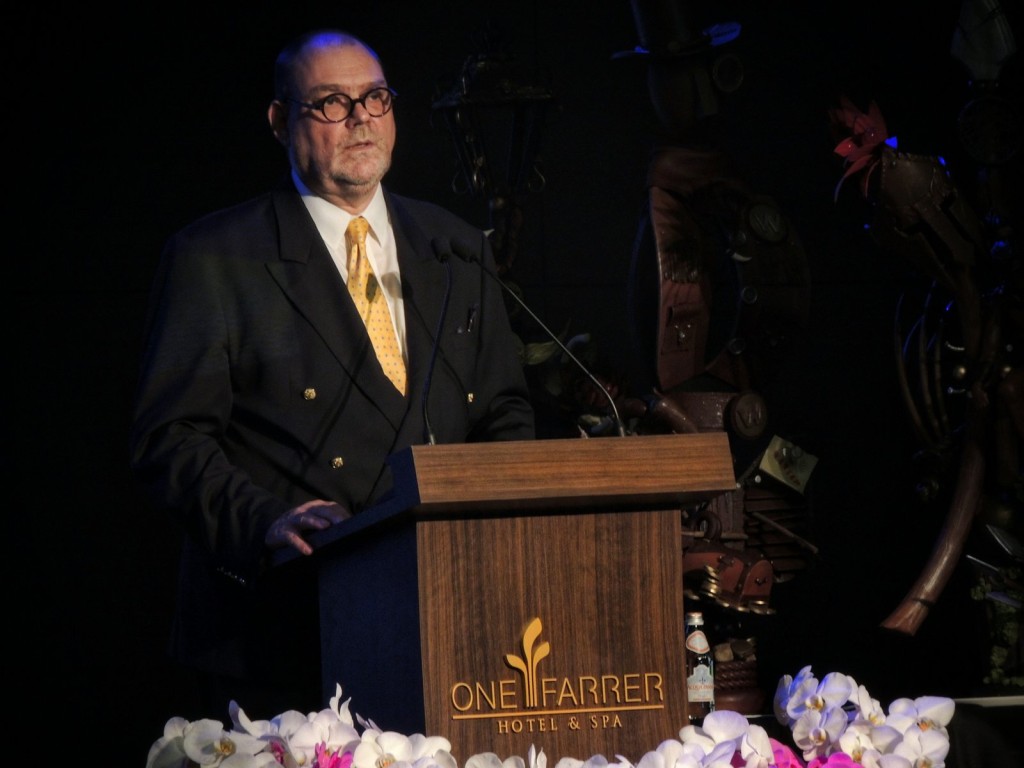 WGS AOE 2015 CHEF AWARDS
KitchenAid Chef of the Year – Ivan Brehm, Bacchanalia
Halton Executive Chef of the Year – Kong Kok Kiang, One Farrer Hotel & Spa
Meat & Livestock Australia Rising Chef of the Year – Bryan Chia, Morsels
Academy of Pastry Arts Malaysia Pastry Chef of the Year – Janice Wong,2am : dessertbar
Luzerne Pastry Chef of the Year (Regional) – Joanne Yeong, Cake Crisis Central, Malaysia
Vismark Asian Cuisine Chef of the Year – Javed Ahamad, Punjab Grill Singapore, The Shoppes At Marina Bay Sands
TungLok Asian Cuisine Chef of the Year (Regional) – David Thompson,Nahm Restaurant, The Metropolitan, Bangkok
WGS AOE 2015 RESTAURANT AWARDS
Indoguna Restaurant of the Year – Bacchanalia
SanPellegrino New Restaurant of the Year – Hashida Sushi Singapore
Meiko Asian Restaurant of the Year – Zaffron Kitchen
Martell Asian Restaurant of the Year (Regional)- Mozaic Restaurant Gastronomique, Bali
Manitowoc Restaurateur of the Year (Regional) – Chris Salans, Mozaic Restaurant Gastronomique, Bali
Deliciae Bar of the Year – Anti:dote
At-Sunrice Restaurant Manager of the Year – Jack Fraser, Wooloomooloo Steakhouse (Singapore)
Sia Huat Food & Beverage Manager of the Year – Ravi Muthiah, Resorts World at Sentosa
WGS AOE 2015 INDUSTRY AWARDS
Marrone Culinary Institution of the Year – The Culinary Institute of America
Electrolux Culinary Institution of the Year (Regional) –AcademyOfPastryArtsMalaysia
epicure Gourmet Distributor of the Year – Huber's Butchery
Kuhlbarra Gourmet Retailer of the Year – Cold Storage Specialty
Sico MICE & Banquet Manager of the Year – David Lai Wai Mun, Rendezvous Hotel
Winterhalter Outstanding Caterer of the Year – Orange Clove Catering
WGS AOE 2015 WINE AWARDS
Culina New World Wine List of the Year – Salt grill & Sky bar by Luke Mangan
EuroCave Old World Wine List of the Year – Bacchanalia
Wines of Portugal Sommelier of the Year – Mohamad Fazil, Salt Grill & Sky Bar By Luke Mangan
Chope Wine Distributor of the Year – Artisan Cellars
Brand New Media Wine Retailer of the Year – The Straits Wine Company
WGS AOE 2015 ACHIEVEMENT AWARDS
Scripps Networks Interactive Choice Awards: Asia's Pastry Star – Niklesh Sharma
The Macallan Lifetime Achievement Award – Cherish Finden
The Macallan Lifetime Achievement Award – Dr Tan Chin Nam
Luzerne Special Recognition Award 
The Singapore National Culinary Team & The Singapore Chefs Association