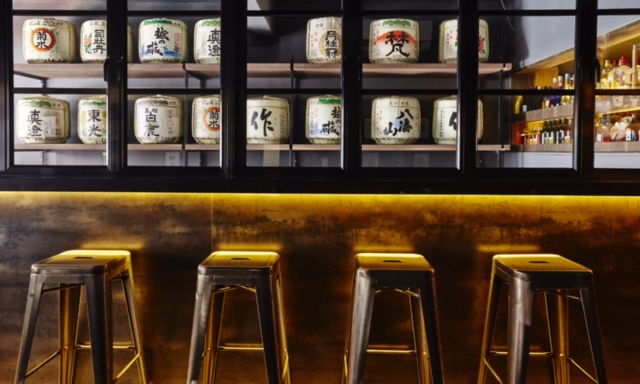 LATEST PROMOTIONS
Celebrating World Sake Day, an event will be held on every 1st October in Japan annually. Boruto, A Sake and Tapas Bar will hold its first ever party to celebrate the birth of Sake in Japan! From 4th
Sept 2015 – 3rd Oct 2015, all sake will be on 20% off whole night long from 4.30pm – 11.30pm.
On 1st October 2015 at 7.30pm, every guests dining in Bōruto will get a glass of Sake on the house and we shall KANPAI!
*Sakes from the vault are not applicable for promotions.
*Promotional range of sakes are not applicable for 20% off.
For more details and reservations, please call at 65320418 .
Moving into his second venture, Head Chef aka Owner Patrick Tan has took us down another memorable experience with Buruto – Japanese Tapas & Sake Bar.
Bōruto is Japanese pronunciation for vault. In the inception of this bar, it operates like a sake vault. Amazingly, there are exclusive 120 types of sake from Japan. To assure sake lovers with more experimental drinking experience, he keeps renewing his sake menu quarterly. Who don't love new inspiring tastes of sake?
The Sake Vault. To elevate into an interesting dining adventure, customers are allowed to enter the vault. They can handpick their very own bottle of sake.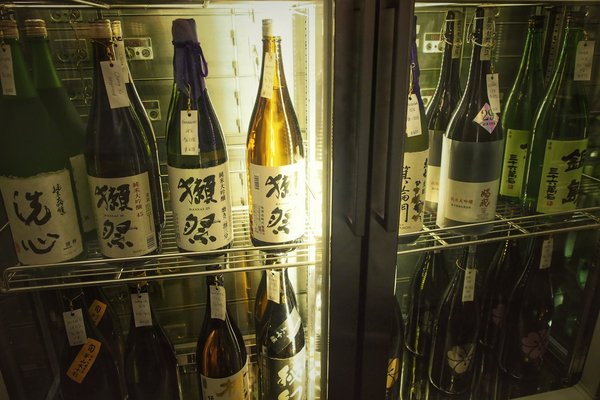 Instilling sake knowledge to their customers, like Japan, it is a trend for a dining customer to pick his own sake and be be sold by glass. They go by glasses, not bottles. Boruto gives people at least a choice of 20 different types to pick and the sake can be dry or sweet.
For food lovers, Buruto comes with an awesome menu with exciting Japanese tapas to choose from! Here are our favorite picks.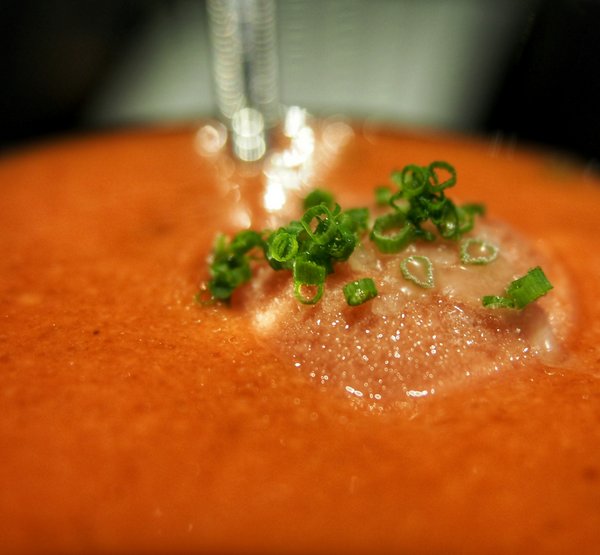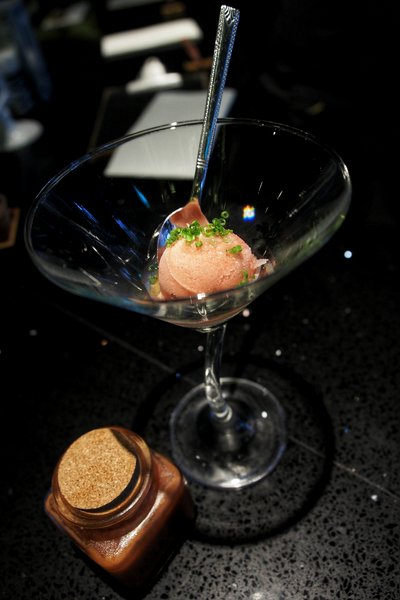 ICHIGO GAZPACHO. ROASTED STRAWBERRY COLD SOUP WITH SMOKED BLOOD ORANGE SHERBET.
The gazpacho was mixed with strawberries, tomatoes, bell peppers and olive oil. It's so fruity! It tasted like a bowl of delicious tomato soup with summer fruits!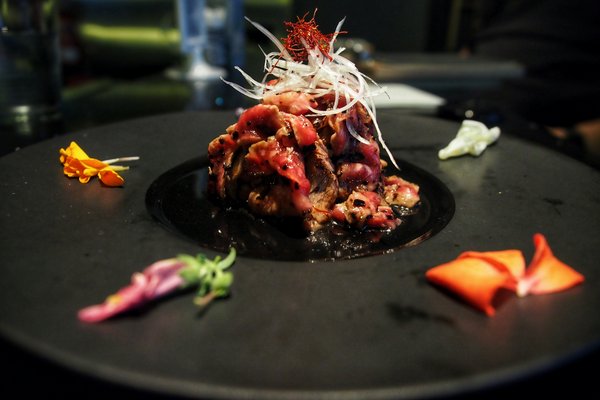 SAGA GYU TATAKI. SEARED SAGA BEEF WITH SAFFRON.
Thin slices of beef were seared, tossing with light soy sauce, salted konbu and saffron. Additionally, the dish was beautifully decorated with edible flowers. The rare textures of the A3 grade saga beef was well loved by us.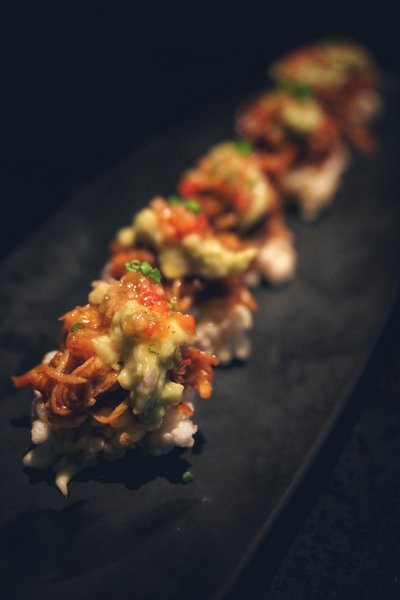 CRISPY RICE CRACKER TACOS. CRISPY RICE CRACKERS TOPPED WITH PULLED PORK, GUACAMOLE & CHILI SALSA.
We got to taste specialty black pork from Kagoshima! The dish is Japanese-Asian style that is literally like a Mexican tapa!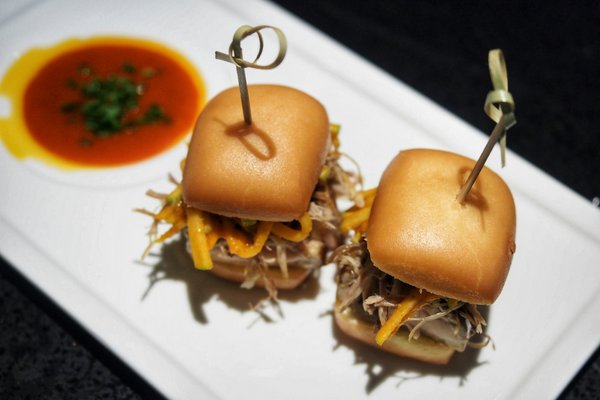 KAMO + FOIE BURGER. PULLED DUCK & SEARED FOIE GRAS WITH APPLE KIMCHI.
The Foie Gras is seared using seasalt. This draws out more flavors and ends with a sweet note. We love the Gochujang as it really elevate the tasting experience!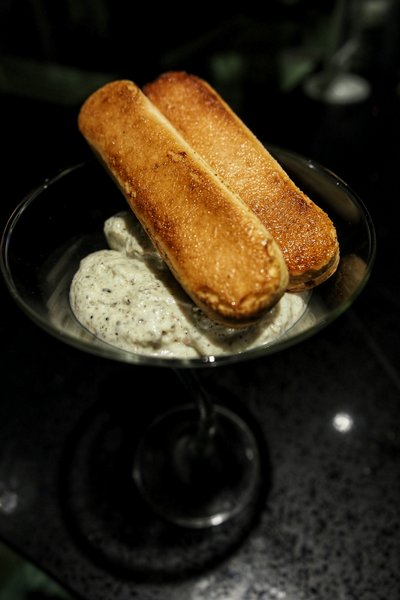 GOMA TIRAMISU. BLACK SESAME CREAM WITH MASCARPONE CHEESE & CARAMELIZED SPONGE BISCUIT.
Chef Angus created this during an event with a friend doing substantial farming. Part of introducing sesame products, sesame powder was used for this tiramisu. It was creamy and thick with a scented fragrance.
KURO MESHI. SQUID INK BAKED RICE WITH QUEEN CRAB MEAT.
Stewing with goodness, Kuro Meshi was inspired from the Spanish Paella. It served well with the savory touch, topping with sweet paprika and Japanese leeks.
TORO TARTAR TEMPURA ROLL. CHOPPED TUNA BELLY ROLL WITH GREEN ASPARAGUS.
It is served with homemade yuzu miso sauce in a tempura styled maki roll.
Buruto is indeed a well-loved sake bar. It's not about the authentic Japanese sake, but it fills us with many good tapas that make our bellies happy!
BORUTO
 80 South Bridge Road, #01-01 Golden Castle Building, Singapore 058710
 CONTACT
 6532 0418
 OPERATING HOURS
 Open Mon-Sat 4.30pm-12am
[Article and photography are: Co contributor and Ex founder, Tay Yong Chuen]