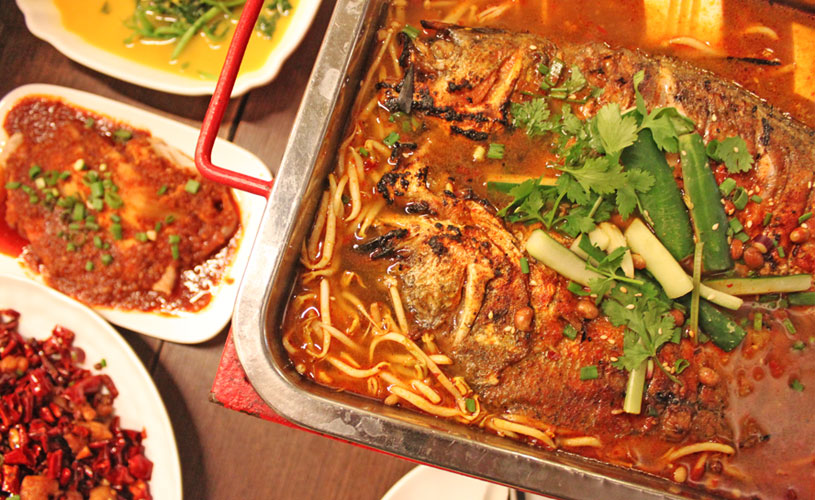 Everything looks red-hot and spicy for the already blazing climate here but Chong Qing Grilled Fish 重庆烤鱼 isn't as one dimensional as province suggests. Szechuan fare in Singapore has definitely been toned down several notches and the beauty of it is being able to tweak the spiciness to a level that's desired.
There's more to Chongqing cuisine than the hotpot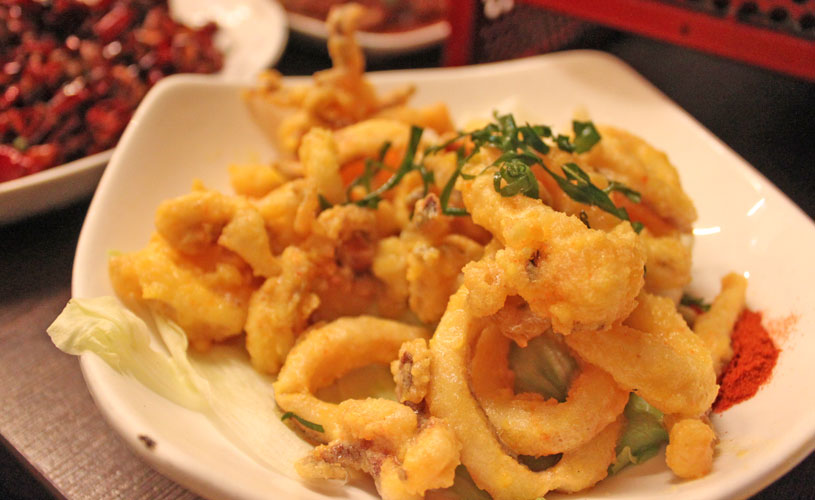 Predominantly authentic Szechuan cuisine, Chongqing Grilled Fish 重庆烤鱼 at Liang Seah has added on local favourites that will never go out of season. The Salted Egg Yolk Calamari is one such dish, and with the calamari cooked just right, and batter that's crisp and well-coated, you can't really get wrong with this snack.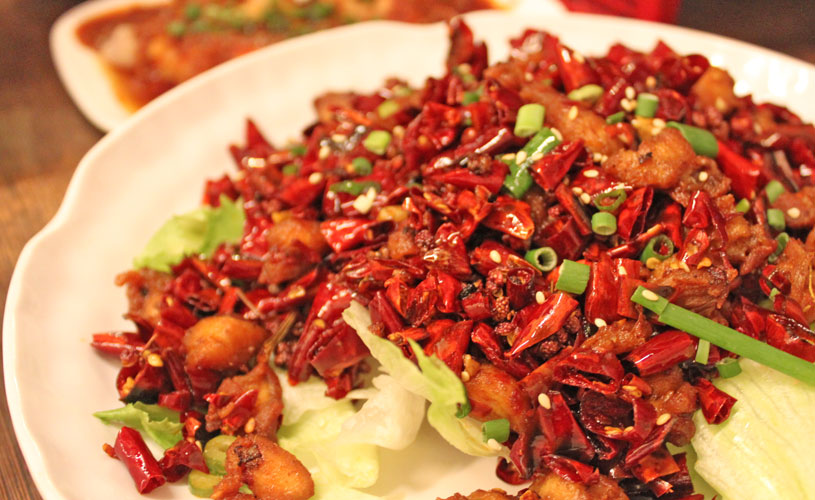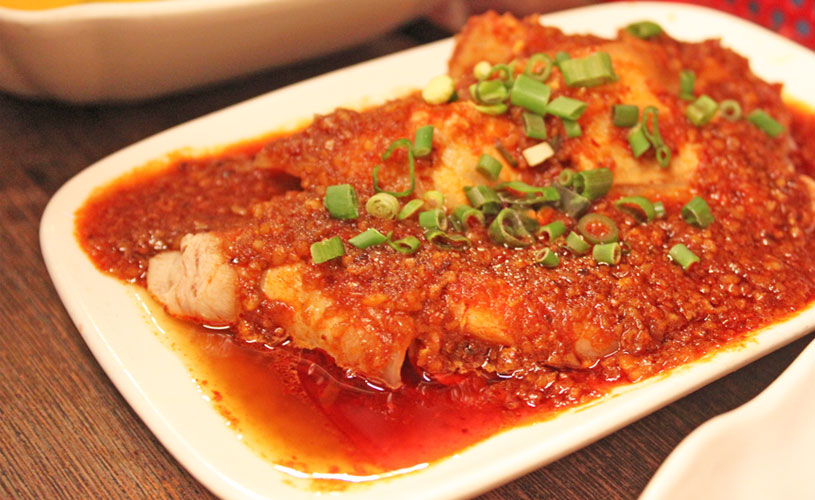 The bright red of the dishes look daunting but the Spicy Fried Chicken 重庆辣子鸡 is definitely not as spicy as it looks. While the bountiful dried chillis look daunting, the flavour confers is more the 'spice' of the chilli, than the 'spiciness' – it is really quite satisfying, especially when washed down with beer. The Fried Pork in Garlic Paste 蒜泥白肉 is the one that takes it up a notch, and the texture of the pork was great for soaking up the tasty, fragrant homemade sauce.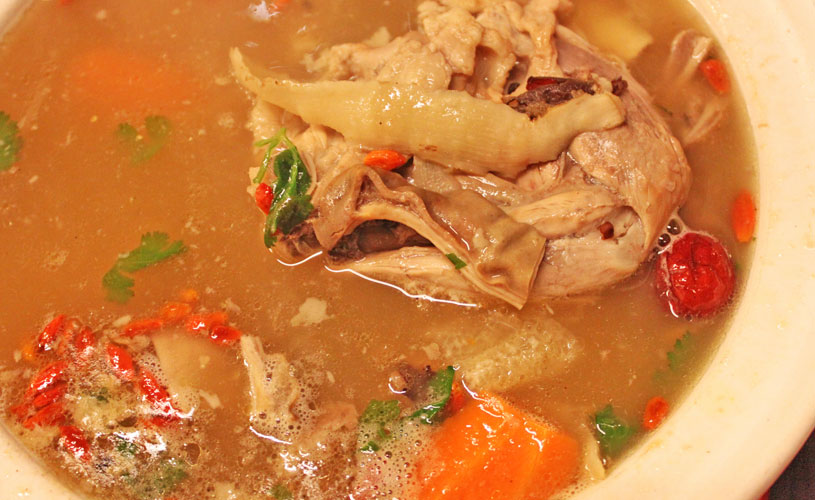 This Herbal Chicken Soup isn't from Chongqing Grilled Fish, but belongs to Fat Bird next door, part of the same group. We were kind of lucky to have the company of peers who knew the owners well and were treated to this luscious, hearty, and herbal chicken soup that's just oozing with goodness.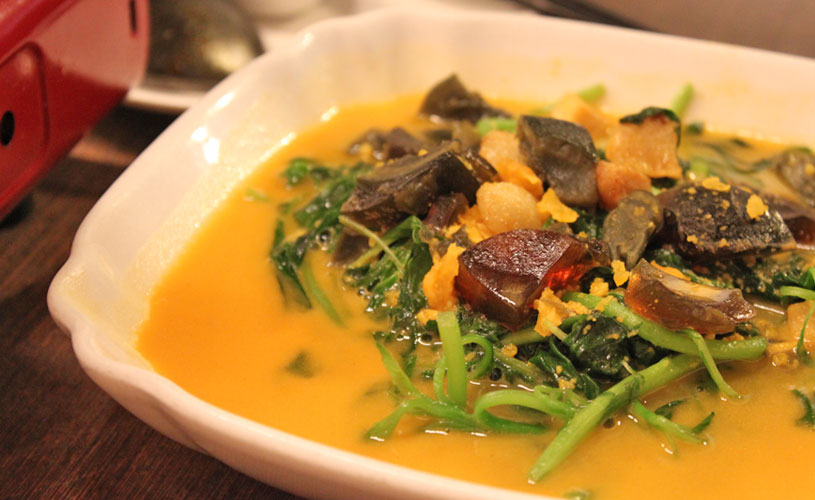 The Chinese Spinach w/ Salted Egg & Century Egg can't go wrong as you can see from the colour of the stock it came in. One of my must-try dishes every time I visit a new Chinese restaurant, the version here is close to being a favourite of mine.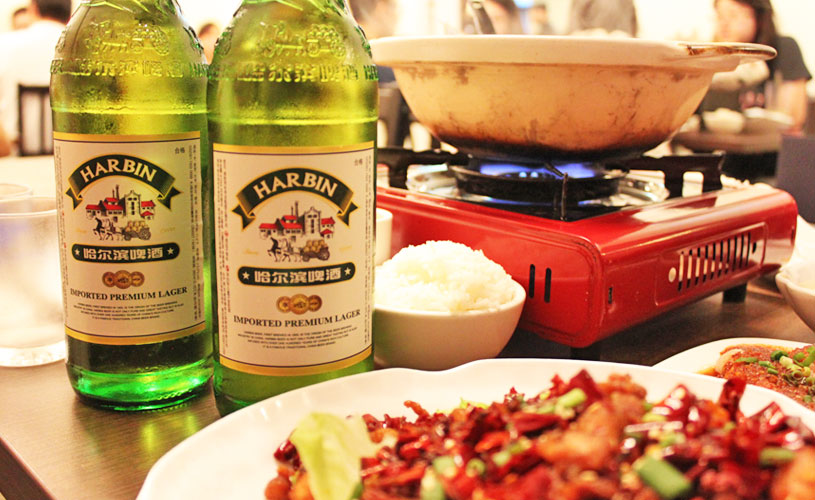 The beer selection is as authentic as it gets with imported brands from China, and Harbin is a light, refreshing lager that does a great job of dousing the flames.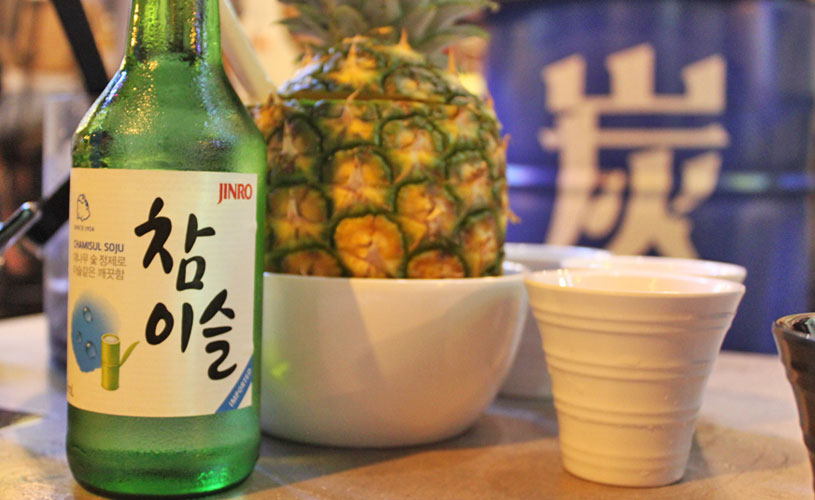 And if that's not enough, their sister restaurant at Taan 炭 (just across the road) has a variation of the typical watermelon soju, but replaced with pineapple – which has since become my top choice because it removes the sharpness of the soju.
Verdict
If you're seeking a hearty meal that will warm the cockles of your heart, Chongqing Grilled Fish will more than do the job. The convivial atmosphere makes it an excellent dining spot, and when Liang Seah Street closes for the weekend, sitting outside with a beer in hand heightens the dining experience.
If you're afraid of the squeeze (it gets really packed) at Liang Seah, check out the other branches that offer the same good food!
Restaurant rating: 7.5/10
1 Liang Seah Street, #01-05/06 Liang Seah Place
Reservations: +65 – 6333 9148
Hours: Mon to Sat 12nn to 1.30am | Sun 12nn to 12am
Nearest station: Bugis Station
OR
CQGF Mosque Street 重庆烤鱼 – 摩士街总店
18 Mosque Street #01-01
Reservations: +65 – 6225 0087
Nearest station: Chinatown Station