Imagine every time you start to prepare dinner, you have a friend in your kitchen, suggesting recipes that were both brand-new and perfectly suited to your exact, at-the-moment craving or the ingredients in your fridge. It'd be a game-changer for the motivated home cook, right?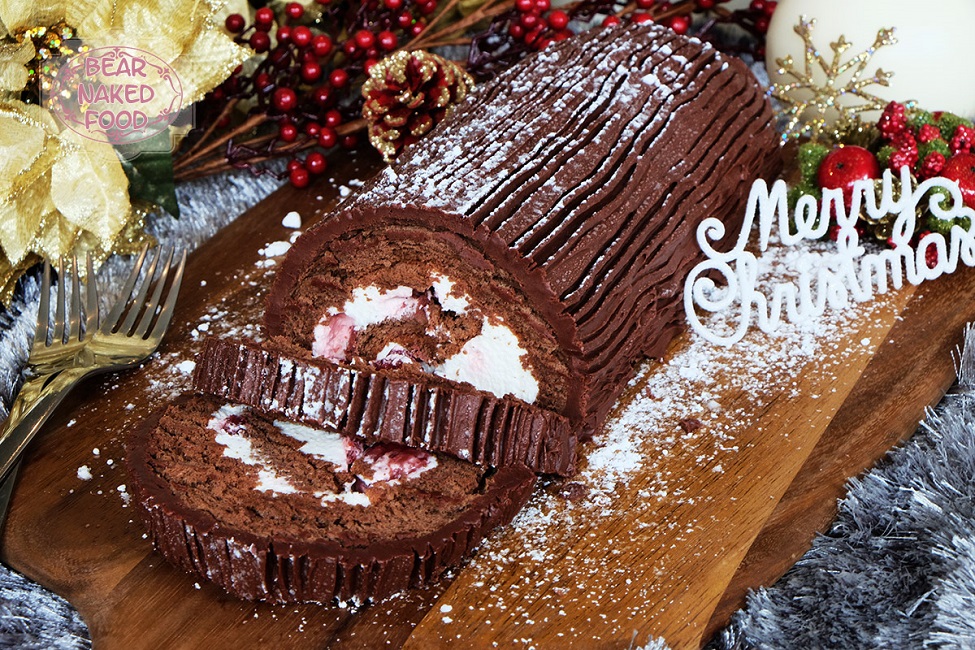 Let's meet the 'Bear', Rachelle from www.bearnakedfood.com. She's a Self/Food Network-taught cook. She is author, cook, food stylist, photographer and dishwasher behind this blog. We are excited and happy to discover her amazing kitchen and she shares with us on one of her favourite Christmas recipes – Chocolate Roulade with Roasted Strawberries Mousse
Chocolate Roulade with Roasted Strawberries Mousse
Ever since I discovered roasting strawberries, I've been happily filling up my jars weekly with those aromatic fruit. By roasting the strawberries, it not only intensifies the flavor but also brings out that gorgeous syrup-y sweetness and fruity aroma. Click here for my Roasted Strawberries post.
The name of the recipe post "Chocolate Roulade with Roasted Strawberries Mousse" might sound all fancy and stuff but do not be intimated. It is really an easy-to make flourless sponge chocolate roll filled with (lots of) light wondrous whipped cream and roasted strawberries. I decided to use a flourless recipe for the cake as I prefer it to be lighter side and also for anyone who is looking for a gluten-free dessert recipe.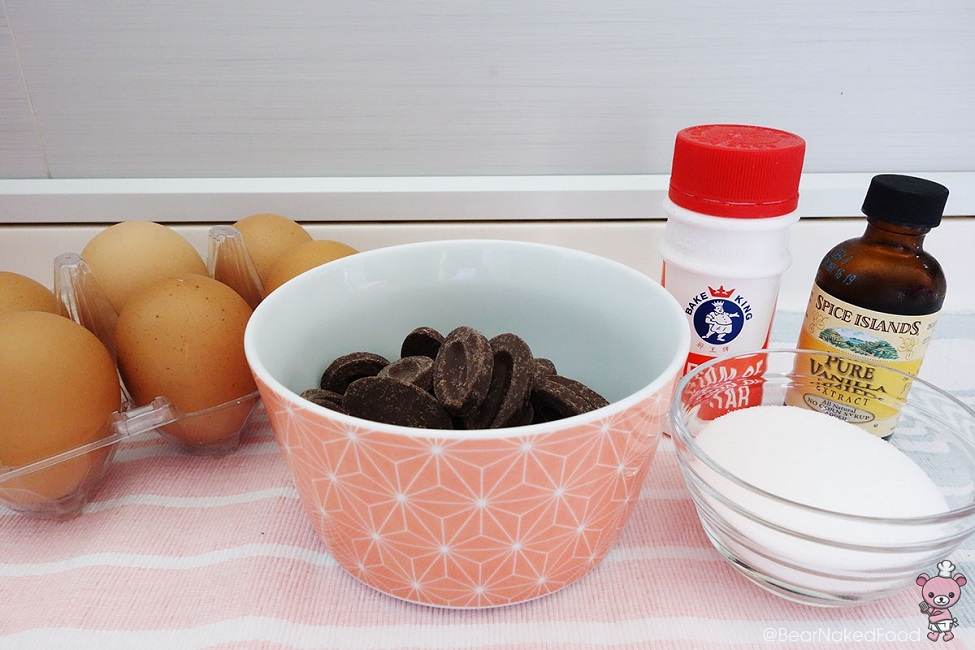 Since Christmas is around the corner, this would make a wonderful dessert and centerpiece at lunch or dinner. A homemade cake just brings special joy to the holidays. The cake would not be completed without blanketing it with a layer of decadent dark chocolate fudge all over and to create that Yule Log effect, I used a fork to give it the signature peeling bark look. This step is totally optional, with or without the pattern, it'll still taste incredibly delicious. Now, who is ready for Christmas?
Ingredients:
Flourless Sponge
6 large eggs (approx. 55g each) – yolks and whites separated
¼ cup (60 g) caster sugar
1 tsp pure vanilla extract
4 oz. (120 g) dark chocolate (66%) – melted
¾ tsp cream of tartar
2 tbsp (30 g) caster sugar
Filling
1 cup (240 ml) cold whipping cream
2 tbsp icing sugar
¼ cup (60 g) roasted strawberries
Chocolate Fudge
250 g dark chocolate (70%)
2 sticks (200 g) unsalted butter
4 tbsp caster sugar
1 tsp vanilla extract
2 tbsp whole milk
Flourless sponge:
Melt the chocolate in a microwave at high for about 40 secs. Give it a stir and increase 10 more secs if necessary. Set aside to cool.
In a large mixing bowl, add in egg yolks and sugar. Using a stand mixer or handheld mixer, cream the mixture until double in volume, pale and fluffy. It should take about 5 mins.
Add in cooled melted chocolate, vanilla extract and mix until just combined.
In another clean bowl, add in egg whites, cream of tartar and whisk until foamy, about 1 min.
With the mixer still on, slowly add in the caster sugar and whisk on high medium to high speed until stiff peak, about 5 mins.
Take a dollop of egg white and mix into the chocolate mixture to lighten it first. It will be easier to fold the egg whites into the mixture.
In 3 batches, use a spatula and fold the egg whites into the chocolate mixture. Fold until the egg white just disappeared into the batter. If you see some white streaks, that is perfectly okay.
Pour the batter into a 13 x 10 inch greased sheet pan or jelly roll pan lined with a sheet of non-stick baking paper. Use a spatula to spread and level the top of the cake. Take the tray and rap it 3 or 4 times on the counter to release some big air bubbles.
Bake in a preheated oven at 350F/180C for 20 mins.
Remove the cake from the oven and cover with a damp cloth to prevent the cake from drying out during cooling.

Chocolate Fudge:
Melt all the ingredients together in a microwave for 40 – 50 secs. Stir well. Allow to cool slightly before popping into the fridge for 30 – 45 mins.
Filling:
In a large mixing bowl, whip the cold whipping cream and icing sugar together until stiff peak.
Set in the refrigerator until ready to use.
Assemble:
Remove the cooled cake from the tray but do not peel off the sheet of baking paper. You would want to put the cake on the plate or tray you will be serving in.
Spread the cold whipped cream filling generously on the cake, leaving a ½ inch space at the end. This is to prevent the cream from spilling out towards the end.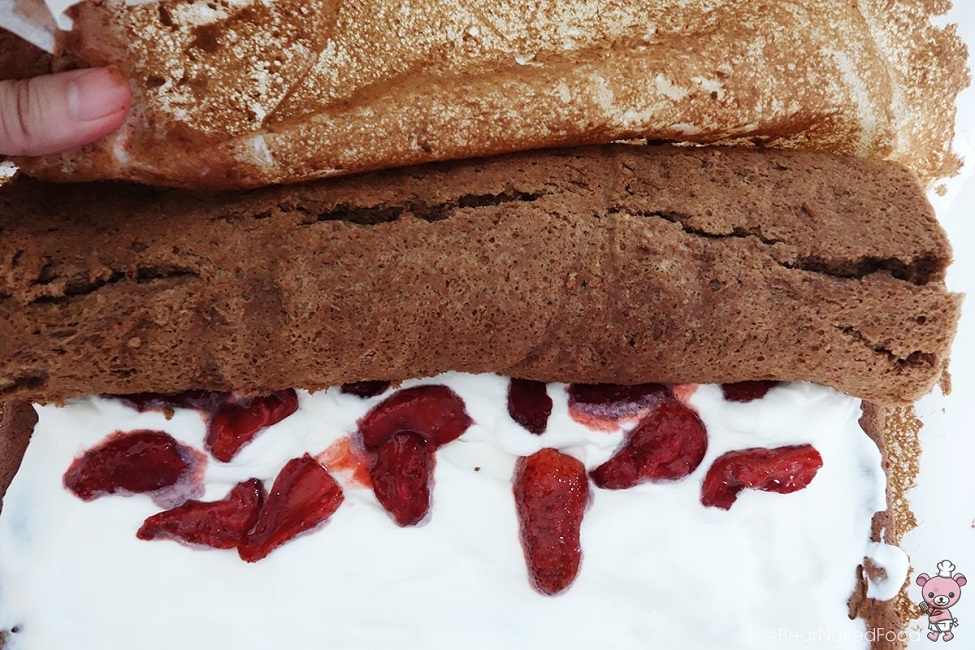 Sprinkle the roasted strawberries evenly across the filling.
Using two hands, carefully roll the sponge cake tightly towards you, using the baking paper to guide it. The sponge should be quite flexible. Do not worry about the cracks as they will be covered by the fudge later.
Place the chocolate roll in the fridge for 30 mins to firm up.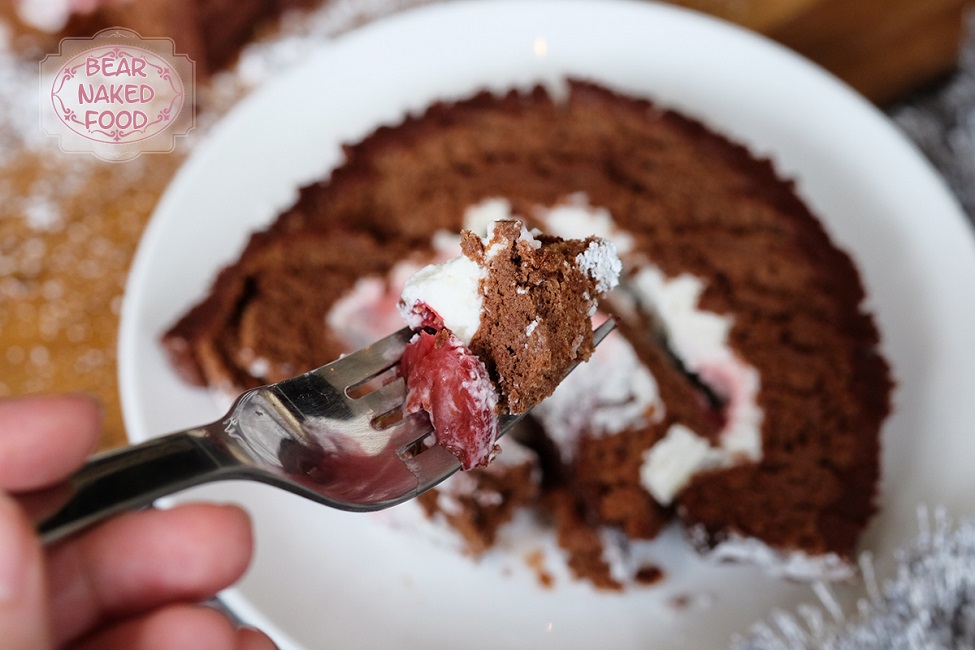 Spread the chocolate fudge all over the cake with a flat spatula.
Use a fork and run it down gently from one end to another to create the bark lines.
Dust with powdered sugar for the snowy effect.
Refrigerate until ready to serve. And voila! 
Find out more about Bear Naked Food version of throwdowns on restaurants' signature dishes from here.