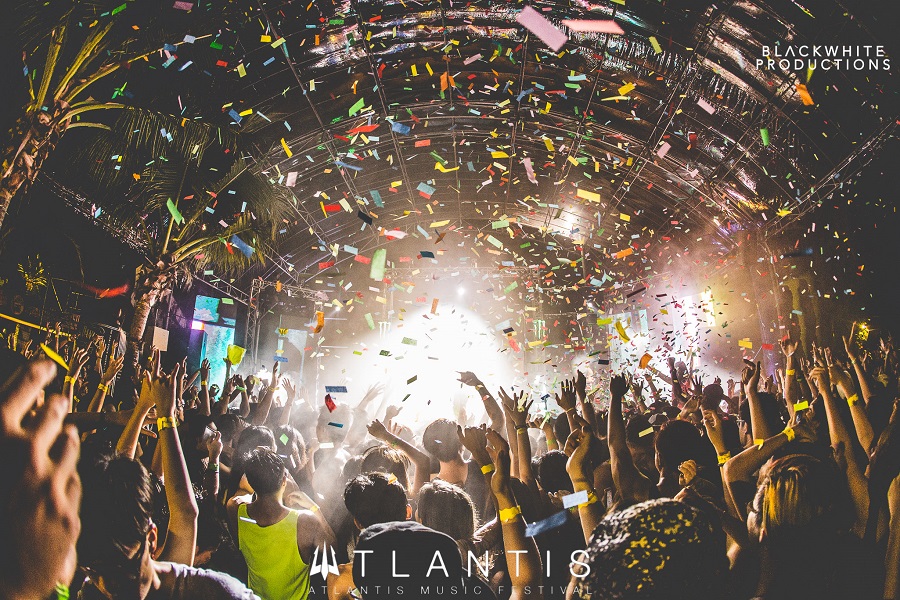 Blackwhite Productions are back after their successful Atlantis Fright Night, a Halloween Special, in October 2016, with a beach countdown party like never before. Held at Wave House Sentosa, 12 is Asia's first ever 12 hours' free flow party. Everyone can look forward to 12 hours of free flow drinks, 12 grand prizes to be won, 12 hours of non-stop beats from 12 different DJ acts, which they get to choose from by voting for their favourite, with an expected turnout of 5,000 party-goers similar to past Atlantis Music Festivals.
Atlantis Music Festival (AMF), has grown since 2013 from a crowd of 500 patrons at Mambo Beach Club to a full house crowd of 5,000 at Wave House Sentosa in its 10th edition of AMF, Atlantis Paradise Island, with headliners DJ Leng Yein (Asia's #1 female DJ). 3 months later in July 2016, partygoers got to feel the tsunami with DJ Mag top 100, DJ Borgeous, platinum recording artist and producer of the number hit "Tsunami".
A countdown with 12 hours of free flow drinks and music
With every AMF having a unique theme, Blackwhite Productions have kept focus on their tradition of good vibes and experiences to remember, and not simply music. 12, embodies the idea of a worry-free march into the new year. With 12 hours of free flow drinks and music, everyone can party without even worrying about drinks, which usually are priced extravagantly due to the festive occasion. On top of free flow drinks, supporters of the event stand a chance to win 12 secret prizes. All ravers who enter the event before 9pm will be able to win the prizes, which will be announced at 9pm.
Non-stop entertainment with 12 talented DJs
Having worked with different incredibly talented DJs internationally and locally, 12 comes with a totally new and fresh approach. With 12 DJ acts on countdown night, party-goers get to vote for their favourite to spin from a list of highly talented local artistes including ex-zouk resident DJ Jade Rasif.
At $50 per person, one will get to enjoy every ounce of the event (except VIP area) including 12 hours of free flow drinks (both alcoholic and non-alcoholic). For more ticketing details, please visit Blackwhite Productions