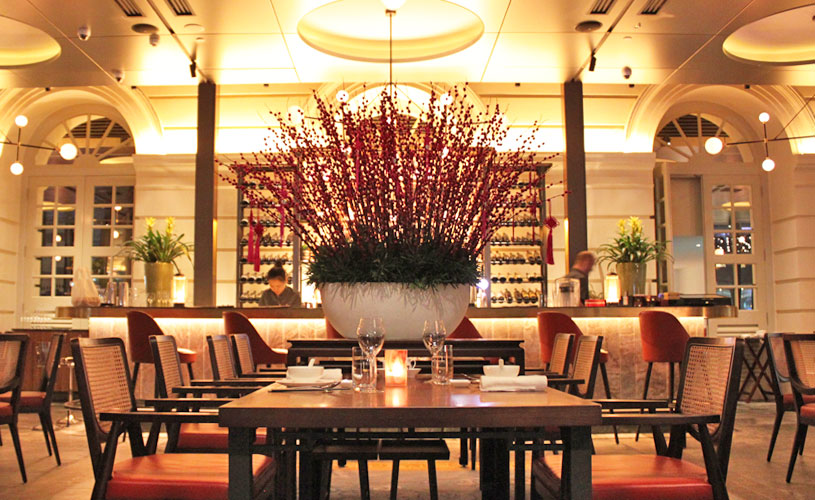 Retaining the stunning historical backdrop of the Asian Civilisations Museum, Empress Restaurant is a Chinese restaurant that has stepped up against convention. With oriental influences across its furnishings crossing modernity, Empress' high ceilings and warm tones exudes elegance in an approachable setting.
Traditional Chinese food with a twist at Empress Restaurant
I love traditional Chinese food, it's hearty, delicious and tastes mostly like it's made at home. Empress has managed to maintain those layers and add on several others to set it apart from other Chinese restaurants with their menu. While it has succeeded in most parts, I must say there are certain areas that probably require some tweaking to get it perfect.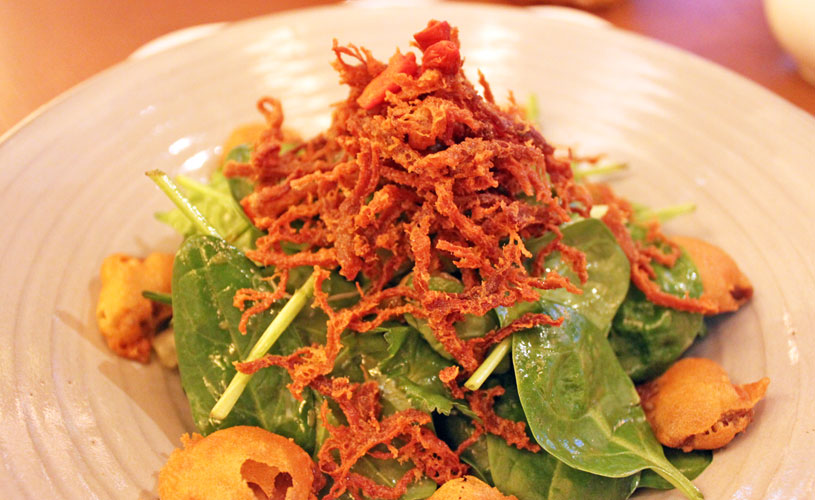 The Crispy Aromatic Duck Salad (S$18) was an interesting take on the Western palate. Accommodating the quick lunch crowds of the CBD, this duck was fashioned to be a quick take-out over lunch, or a starter for dinner. The duck shreds are fried to a fragrant crisp and doused in a sour plum-citrus dressing that blends it all together. It was rather delicious but because of all the other cooked items, I felt as though it was a main.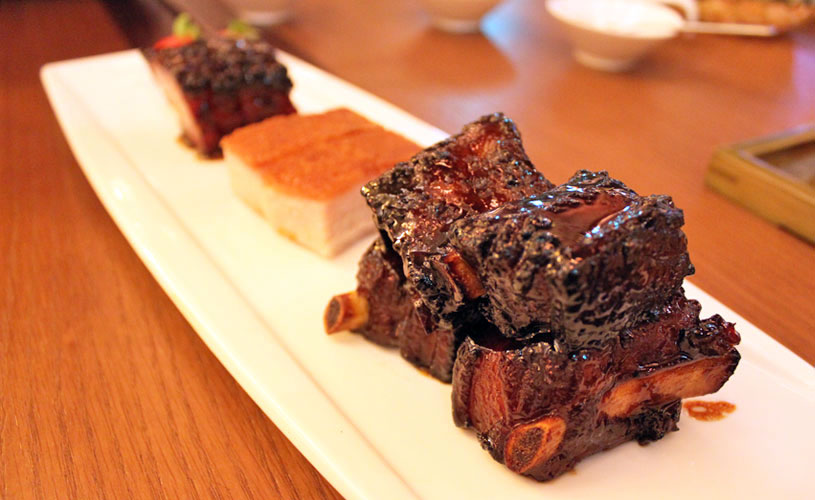 We had their Triple Roast Platter (S$28) which came with Crackling Roast Pork, the Empress Char Siew and Empress Sticky & Sweet Pork Ribs. All of the items are available for single orders (S$18) by themselves so it was great that we sampled the three so we know what to order next time. The Empress Sticky & Sweet Pork Ribs is roasted in a sesame barbecue sauce and was tender to the bite, and marinated well to the bone. The portion I had was rather fatty though, so if you prefer something leaner, you could probably request for it.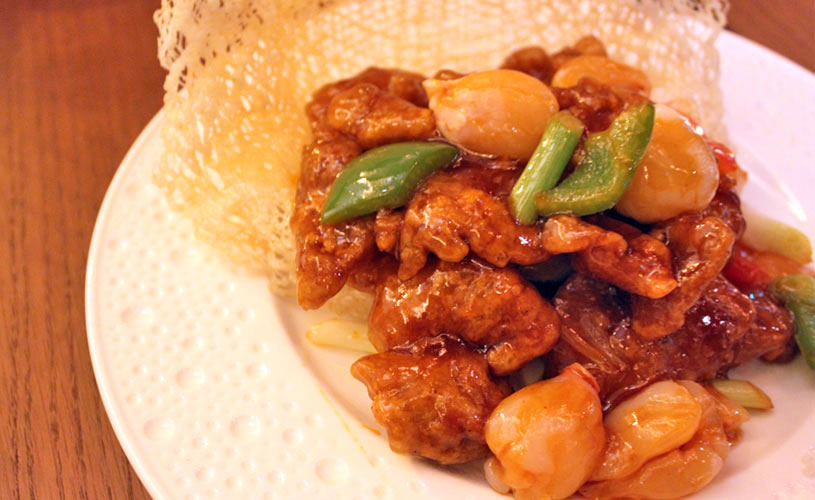 The Sweet and Sour Pork (S$24) was a bit of a run of the mill though, and at that price you would be hoping for something far more interesting. Overall flavours were okay, but the batter was a tad too thick. I really enjoyed the Lobster Mapo Tofu (S$28) which was a sour and spicy medley of soft tofu and delicious lobster chunks.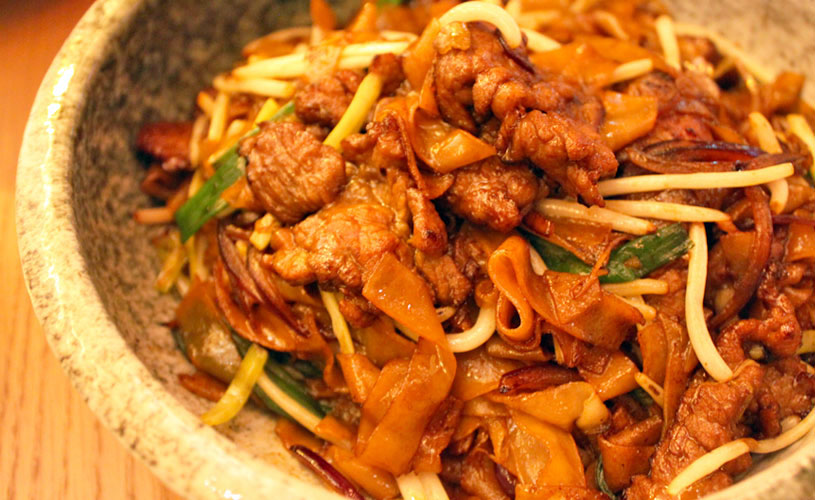 Ending off the the carbs like all Chinese restaurants, we had the Dragon's Breath Angus Beef Hor Fun (S$22). Like a very good Char Kway Teow, this dish was full of 'wok hei'. Delicious thick but tender slices of angus beef with premium dark sauce fried flat rice noodles – this dish is hard to go wrong.
The Empress' sweet tooth, and a particularly good selection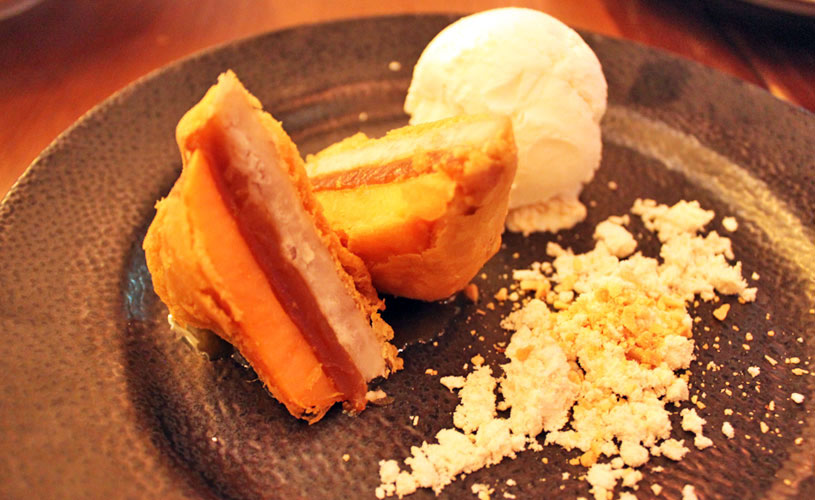 Desserts at Empress Restaurant were amazing. I don't have a sweet tooth but if you're looking for a place for post-dinner drinks and sweets – this has to be it. Extremely inventive, and westernised ideas and preparation methods but an excellent delivery using Chinese ingredients – every piece was a pleasant hit.
The Triple Treat Stack (S$12) was a delightful crunch on the outside, suitably sweet on the inside with the 3 different textures melding together one.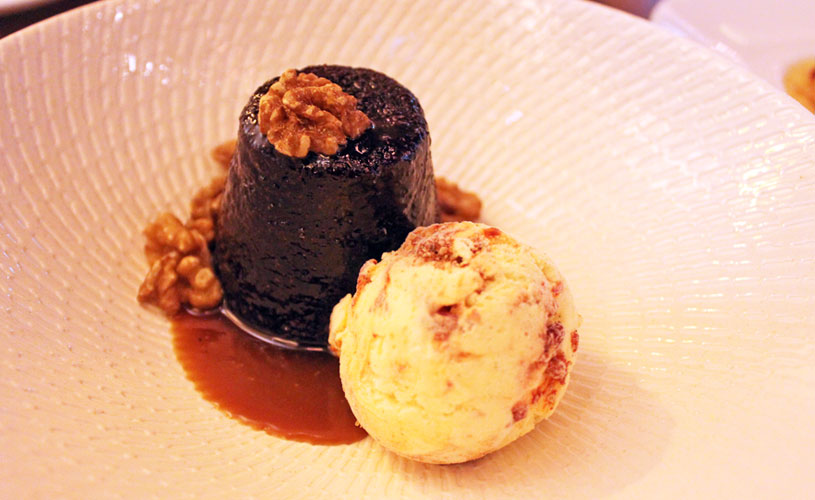 My personal favourite was the Sticky Date and Longan Pudding (S$12), an interesting take on the western favourite. The sticky date called for the atypical Chinese dates, and the longan pieces, are the dried longan types that you have with Chinese sweet desserts. And all that, steeped in a rich, gooey, gula melaka butterscotch sauce (gulp). The result is an eclectic oriental flavour but with the pudding texture and that delicious vanilla ice cream.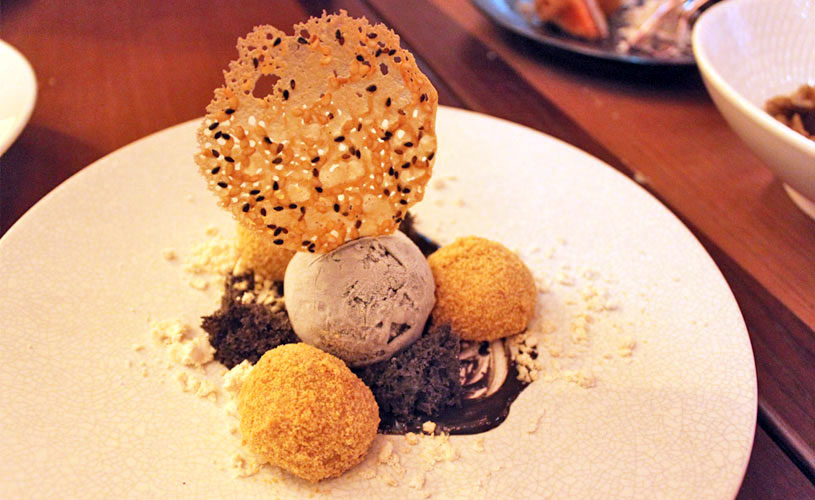 The Peanut-coated Black Sesame 'Mochi' Balls (S$12) is just something that's really easy to fathom why it'll taste good. With the deeply fragrant black sesame ice cream, and the soft, chewy mochi balls coated with roasted peanuts – it's an easy crowd pleaser.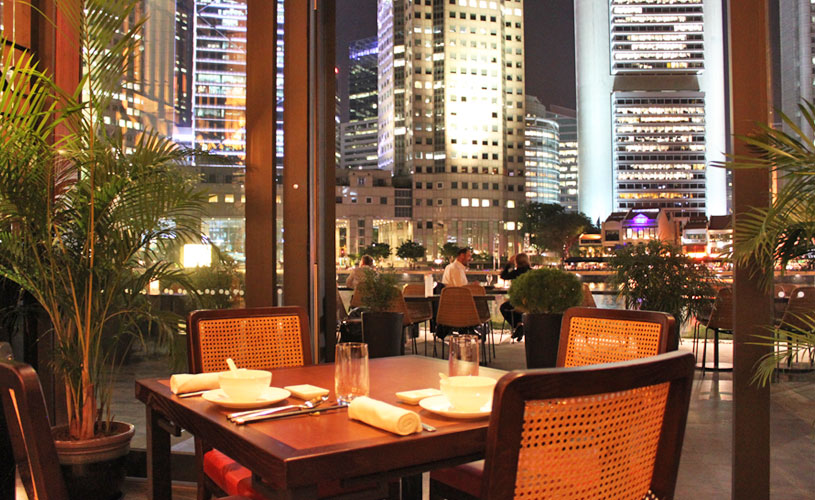 Empress Restaurant is overall very competent, but with some tweaks done, I'm sure it'll be a popular venue with it's amazing location and that stellar CBD skyline. They have recently launched their Weekend Dim Sum Champagne Brunch as well so be sure to look out for it!
Restaurant rating: 7/10
Empress Restaurant (Map)
1 Empress Place, #01-03
Asian Civilisations Museum
Singapore, 179555
Tel: +65 – 6238 8733
Hours: Daily from 11am to 3pm and 6pm to 11pm
Email: info@empress.com.sg | reservations@empress.com.sg
Nearest Station: Raffles Place MRT
Reservations: Via phone, email or Chope