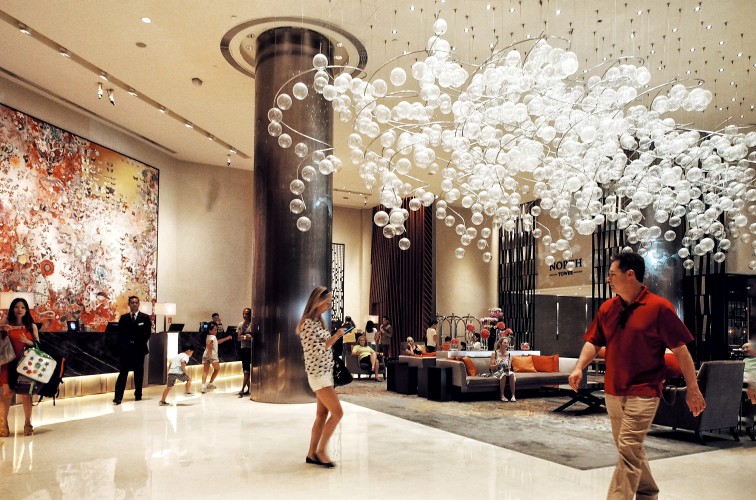 Situated at the crossroads of Singapore's business, cultural and shopping districts, Fairmont Hotel is located at City Hall station perfectly. It is surrounded by good top-notch restaurants and bars. You will be spoil rotten with choices.
Inviting sight at the lobby 
With unrivaled elegance and luxury, Fairmont Hotel is decorated with a contemporary and gigantic chandelier, compromising of 800 hand blown, bohemian crystal glass balls. It is by famous installation artist, Petra Dickova. Totally head-turning.
Taking the next limelight as a focal point within the lobby, it is a red-toned art piece designed by textile designer Claudia Caviezel.
Unique Premier Room
Boasting with 769 luxurious guestrooms and suites, offering a plethora of 15 distinctive restaurants and bars and 70,000 square feet of prime meeting space, with everything that's well connected, Fairmont Hotel oozes as a good excuse for a weekend stay.
The Fairmont Premier King Room was simply unique, it ushered us through a diagonal halfway that housed a large closet, a pantry, and into a bathroom.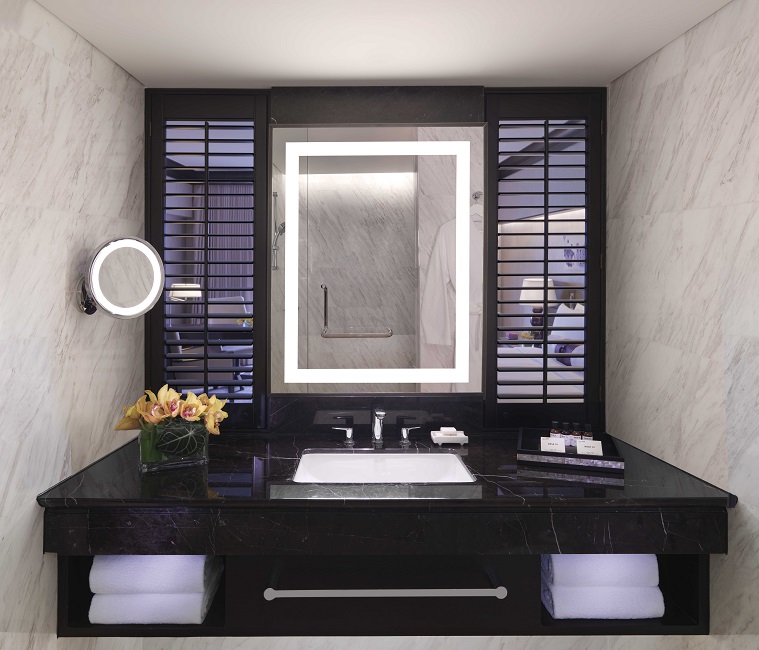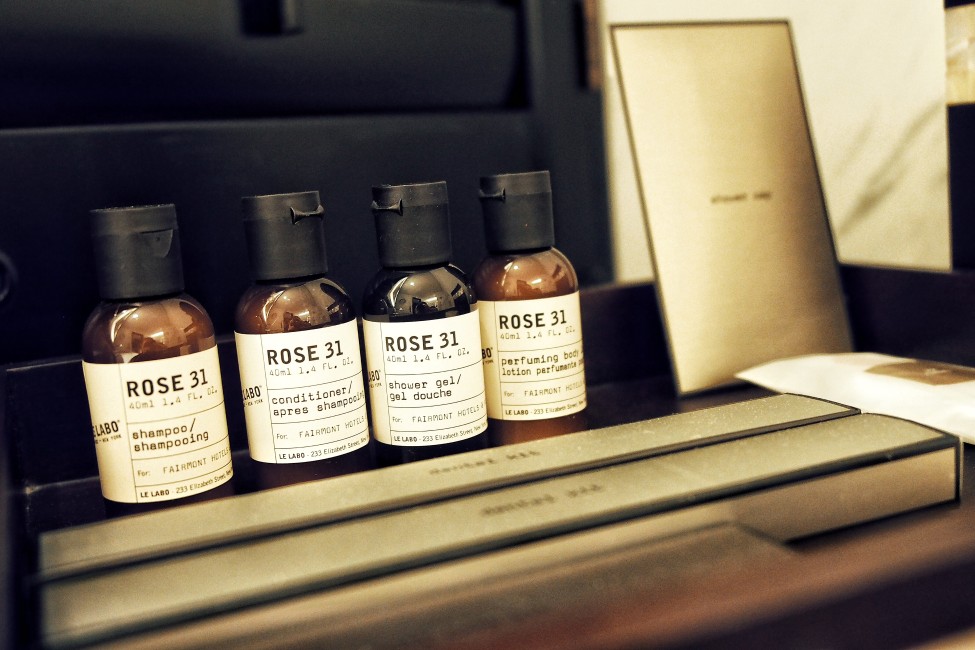 Having a balcony overlooking the Raffles Hotel and sights of City Hall, the room is characterized by deep purple and dark wood hues, good quality toiletries, including Grohe premium bath faucets! The purple tones were so calm.
Fairmont Hotel recently introduced the air weave premium mattress topper, a highly resilient bedding topper that helps you turn over more easily while maintaining deep sleep. Choose also from an extensive pillow menu. Totally first class and super comforable.
They put good thoughts of having automatic curtains as we could avoid the beaming sunrise easily. The stay would be more perfect if the walls were more soundproof, or if there would be free usage of WIFI.
But, the welcoming wine gift was really nice touch.
Sparkling vibes at Anti:dote
If you get a little bored in the room, there will always be a good excuse to wine down the evenings at Anti:dote. With a progressive selection of concoctions, it is not all about experimental cocktails with contemporary flair. The bar is housed with good vibes from happy guests to bartenders.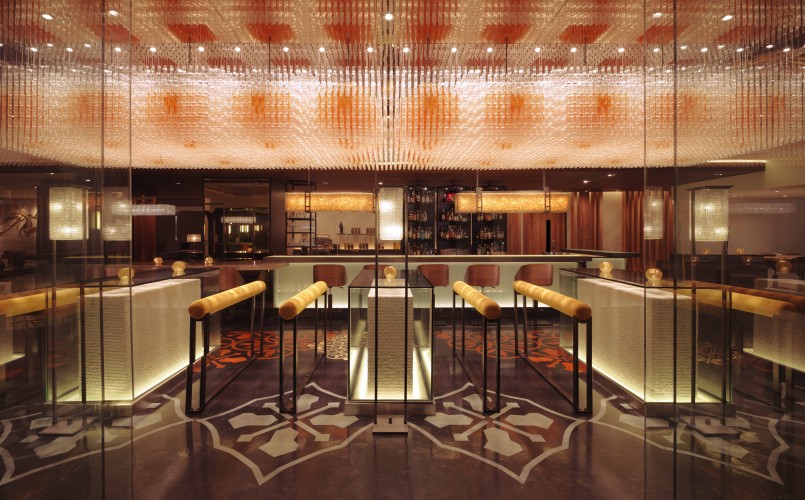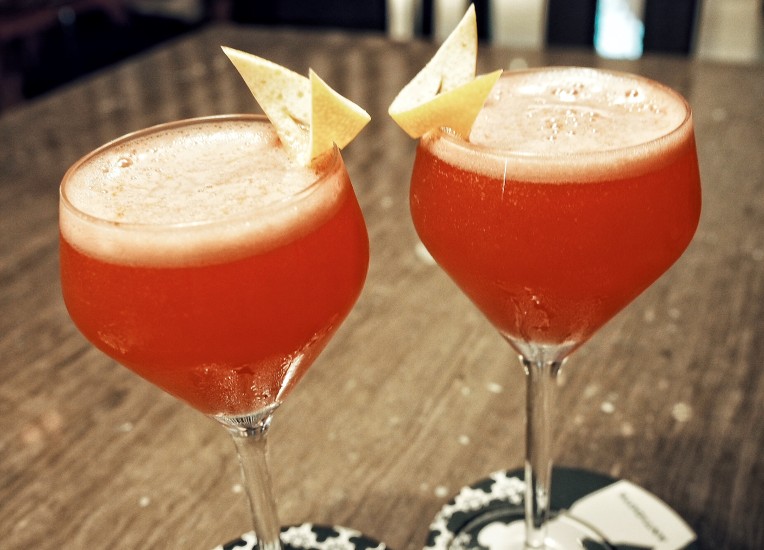 Support Bannie's Hwa Chae. It was a definite must-try cocktail with bursting flavors, reminding me of a good summer.
On top of that, Anti:dote's Bannie Kang, who has won Singapore heat of Barcardi Legacy competition, is representing Singapore at the upcoming grand global finals in San Francisco on 24 April 2016. All the best, Bannie!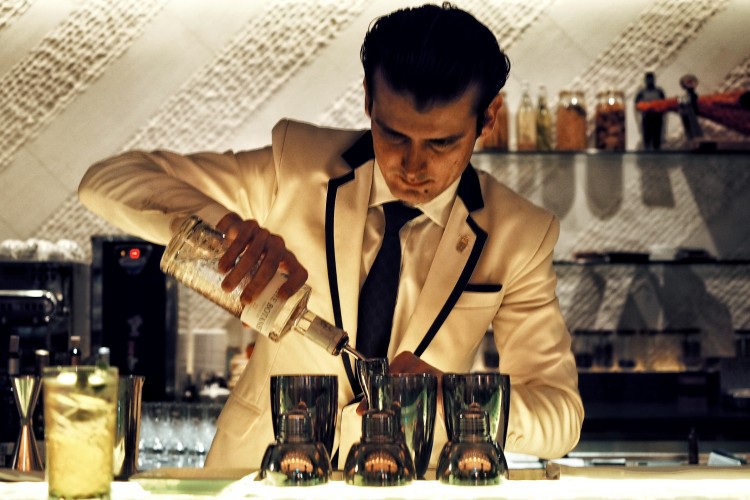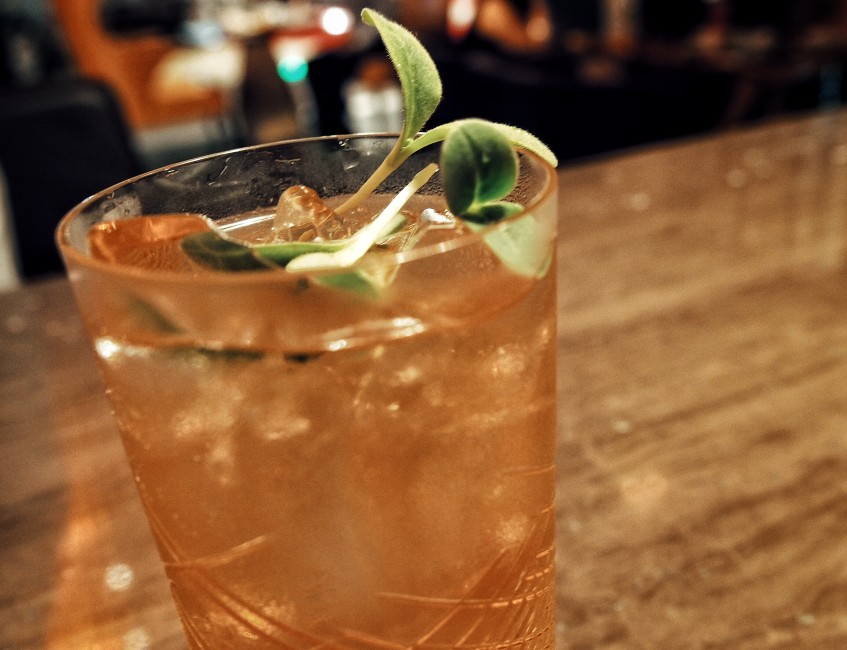 As we were at Anti:dote during their event of One: Night with Erik Lorincz of American Bar', my companion and I tried Napoleon's Wish, done with love by Erik. Using Bruichladdich Classic Laddie, it had solid textures and tastes over pear, apple brandy and cucumber herbs. Totally delicious.
Catch the sunrise
Next, you will be able to catch the sunrise every morning at the outdoor swimming pools. The scenery was totally breathtaking, like a truly rejuvenated getaway.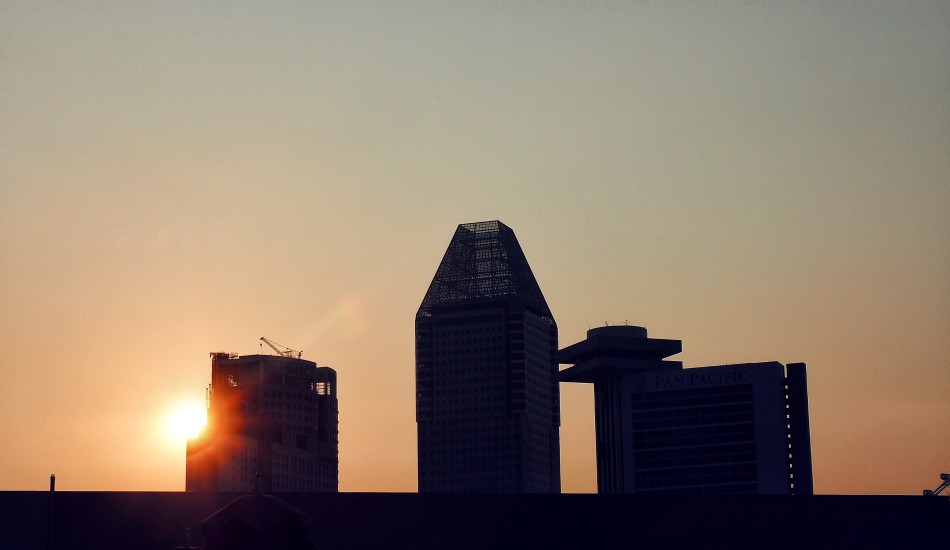 After one night of excitement, you can restore the body and mind at one of Asia's largest spas, Willow Stream Spa and pamper yourself to the best.
Shopping could be next in your to-do list as City Hall is one attractive shopping district, like Marina Square Shopping Mall and Suntec City. Suntec City Shopping Centre was also newly renovated with unlimited list of dining restaurants to choose from. Many tourists will love this location.
Verdict
Fairmont Hotel has the best of both worlds. With a perfect location, There are so many good restaurants like Mikuni, Sze Chuan Court and Prego. Fairmont Hotel makes a good destination for corporate and business travel.
Rates for Fairmont Premier King Room starts at $330 SGD per night. For more promotional room rates, you can visit Fairmont Singapore.
Hotel rating: 7/10
2 Stamford Road, Singapore 178882 
Tel: 6339 7777
Hours: Daily
Email: reservations.singapore@fairmont.com
Nearest Station: City Hall MRT Station
Reservations: Via phone, email, website