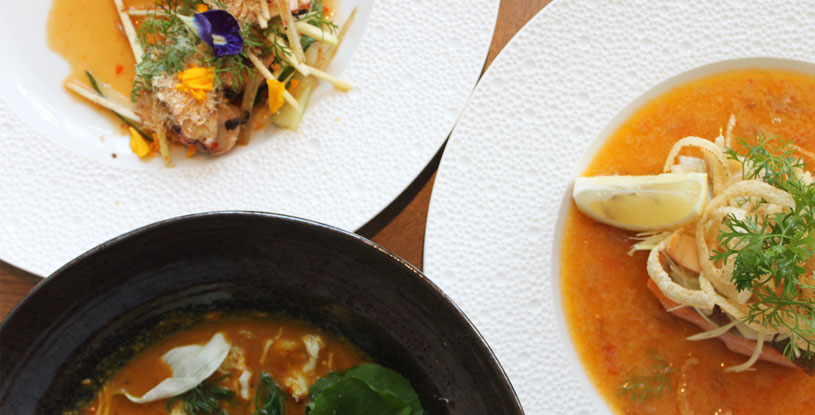 I have had my fair share of Thai fine dining in Bangkok, and that ranges from 5 star hotel offerings, to off-the-beaten-track favourites with extensive degustation menus. Paste at Gaysorn doesn't go about just infusing Thai spices, herbs and cooking styles with the finest, most exquisite imported ingredients, or deconstructing physical characteristics by molecular gastronomy. Their authentic Thai cuisine pre-dates the 19th century, a period where the traditional aristocrats were exposed to the diversity of international offerings.
Grasping authenticity and injecting modernity is a challenge but Jason Bailey and Bee, the husband/wife duo has seemingly gotten around it. What results is a menu that exudes gastronomical depth, and delivers astronomical flavours.
Street starters uplifted to fine dining in Bangkok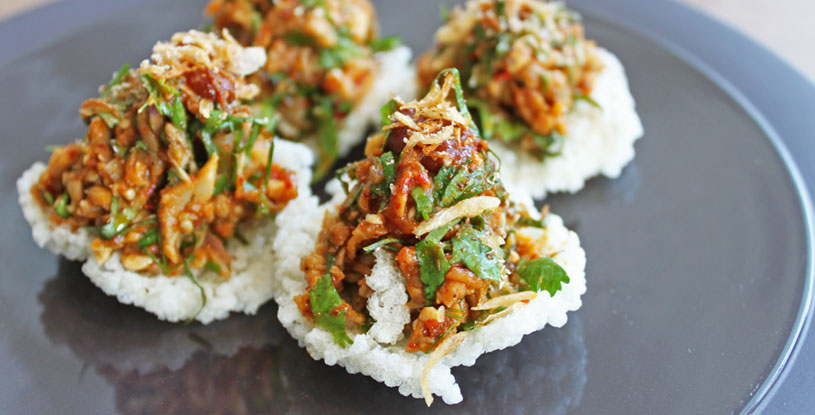 Starters are a terribly important lead-in for restaurant reviews. Once the tastebuds are sullied at the start of the meal, I'd say most of the follow-on courses will be affected. Paste does not falter in this aspect, with starters that thrill at every opportunity.
The Roasted Duck on Rice Crackers (หน้าตั้งแขก) was a flavour-fest with a myriad of Thai herbs and spices, particularly with the saw tooth coriander standing out with its crisp, clean finish. And of course, the roasted duck was aromatic, and coupled with the crunch of the rice crackers – fantastic taste and texture.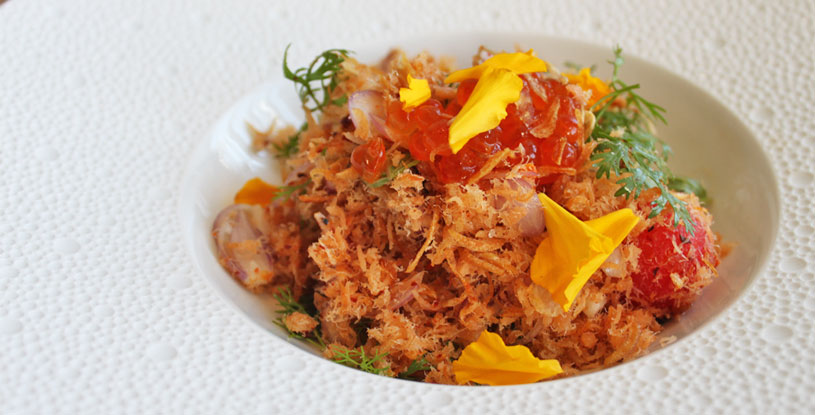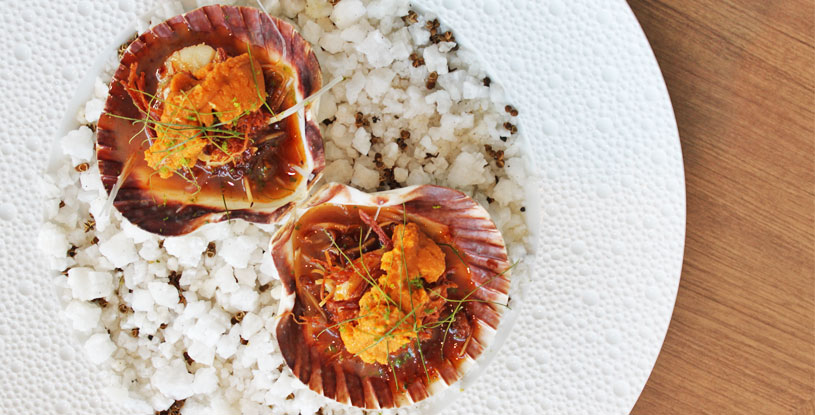 The Watermelon and Ground Salmon (ปลาแซลมอนแตงโม) was my absolute favourite. From an age-old recipe using catfish, this rendition presents ground salmon, and spoonfuls of delicious ikura. A dash of sour, spiciness, and the bursts of flavours from the ikura made this dish an extremely appetising one to start the meal proper.
Fresh scallops from Hokkaido and Canadian sea urchin (หอยเชลล์ฮอกไกโดน้ำพริกเผาผิวส้มซ่า) laid a good base for the mains to come. A light, savoury broth allowed the freshness of the seafood to persist, and that dollop of buttery uni – just rounds it off perfectly.
Innovative, authentic flavours for sharing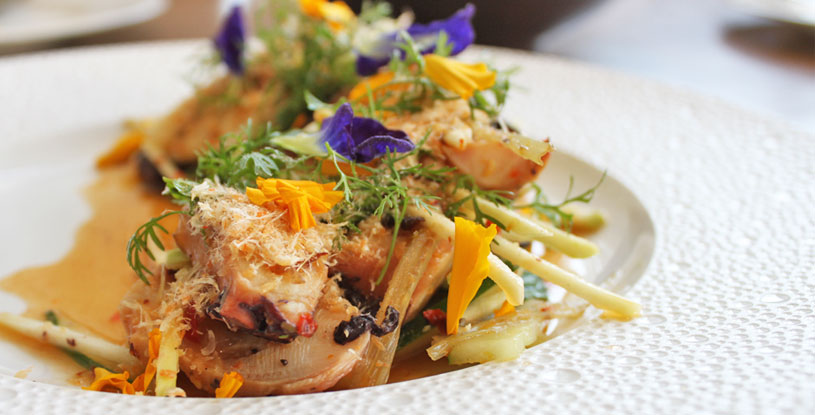 The Spanish pulpo (octopus) is a must-order whenever I get my tapas fix. This Twice-cooked, Chargrilled Spanish Octopus (ยำปลาหมึก) takes away the springiness of the common octopus with its meatier, tender parts. And tender it was, as though massaged by a Japanese sashimi chef prior to preparation. Rested on a bed of young bamboo shoots (not the pungent kind), this dish is a myriad of textures, with a fruity, fresh sauce that exudes a delectable umami flavour.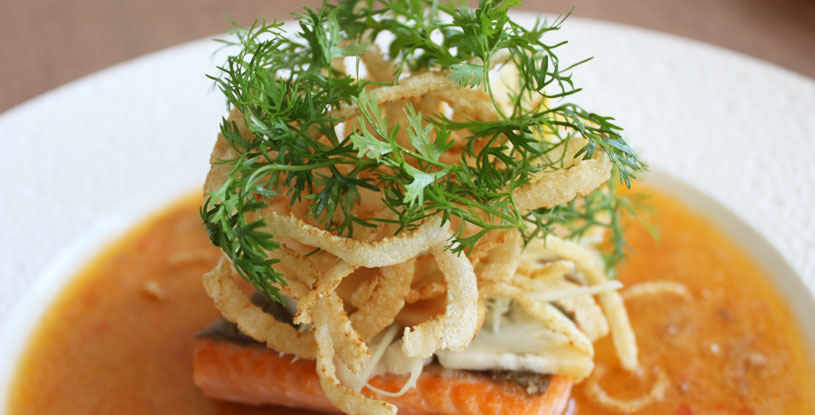 My favourite main, is a new dish that was not yet on the menu during my visit. The Rainbow Trout with Pork Rinds (ปลาเทร้าต์เสริฟ์กับแกงเผ็ดกุ้ง, กระชายและระกำ) is an unlikely combination that heightened the sensations many folds. Fragrant, crispy flash-fried pork rinds are placed on a sous-vide cooked rainbow trout. Slicing downwards with the sawtooth coriander, rinds, rainbow trout and the delicious gravy all in one mouth, you can taste how the individual elements stand out. The sweetness of the trout, unctuous fragrance of the pork rinds, crisp grassy scent from the coriander, with the delicious gravy to bind them altogether.
Simply a dish that's well-thought out layer by layer, that ends with a magnificent finish.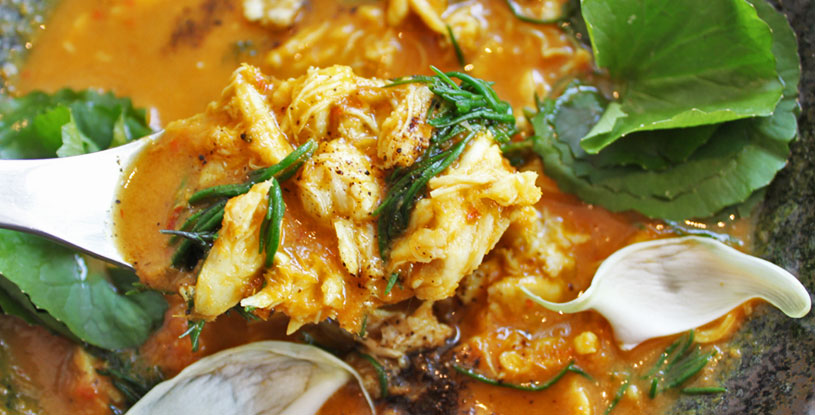 The Smoky Southern Thai Curry with Blue Sea Crab (แกงปูปักษ์ใต้) has an excellent depth crab flavour that permeated through the curry gravy. Drizzled over delicious pearls of Thai Jasmine rice, the generous crab chunks and crunchy sea asparagus lend a robust seafood flavour with heady curry spices.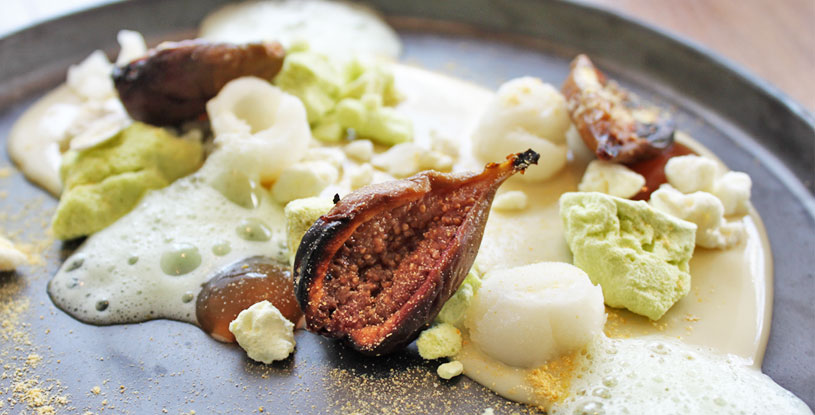 This dessert wasn't on the menu again, at least not yet. But this is probably the only molecular gastronomy attempt where roasted figs are surrounded by pandan-infused foam, nitrogen frozen longan pieces, pandan 'rocks' and dusted with powdered Thai whiskey.
A lovely textured dish from tiny seeds of the roasted figs upwards, this beautifully landscaped sweet ending is one that should make an entrance on the menu.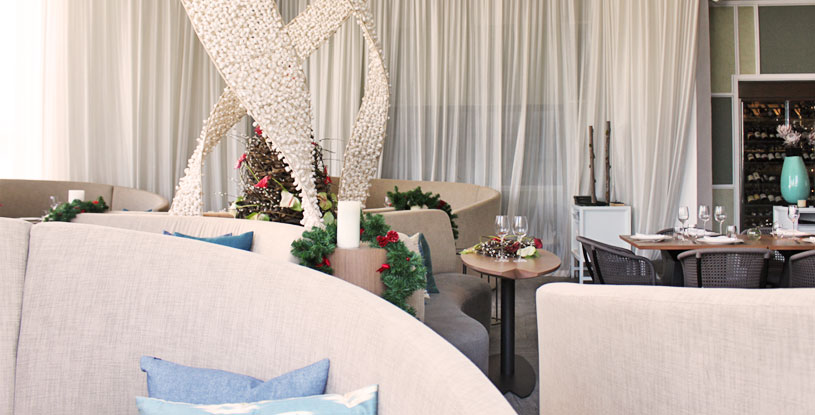 The collaboration with Gaysorn gave Paste an uplift in terms of contemporary sophistication as compared to their Thong Lor branch. But while the prices are above that of your regular Thai fare, fine dining in Bangkok have not shown the culinary finesse, and high quality ingredients that Paste at Gaysorn has.
Photos taken with Canon DSLR 500D
Paste at Gaysorn (Map)
3rd floor, Gaysorn Shopping Centre,
Lumpini, Pathum Wan,
Bangkok, Thailand
Tel: +66 2 656 1003
Hours: Daily from 12nn to 2pm | 6.30pm to 10pm
Nearest BTS: Chit Lom