Five Nines doesn't have a spectacular interior. In fact, it's so understated that I've walked past a few times thinking it's a bar that serves the typical bar grub and a long list of alcoholic beverages. It was after an invitation for reviewing the restaurant, then I realized that it is a full-fledged dining restaurant, serving a tasting menu as affordable as $49++ per person.
The culinary team at Five Nines is led by Head Chef Takashi Ohkawa. The 37-year-old has close to two decades of experience in European and Japanese cuisine, earning his stripes from restaurants across Italy and Japan. Chef Takashi arrived in Singapore in 2015 as the Executive Chef of Enoteca L'Operetta. He joined Five Nines on Keong Saik Road a year later, and was soon tasked to introduce his brand​ ​of​ ​European-Japanese​ ​cuisine​ ​to​ ​the​ ​revamped​ ​restaurant​ ​at​ ​Cuppage​ ​Plaza.
The Amazing 6-course Set Dinner Menu at S$49
The first course was the Marinated Botan Shrimp and Couscous Salad, a shrimp that I never ventured in this way before. Accompanied with Tosazu vinegar and salmon roe, the appetizer really opened my palate.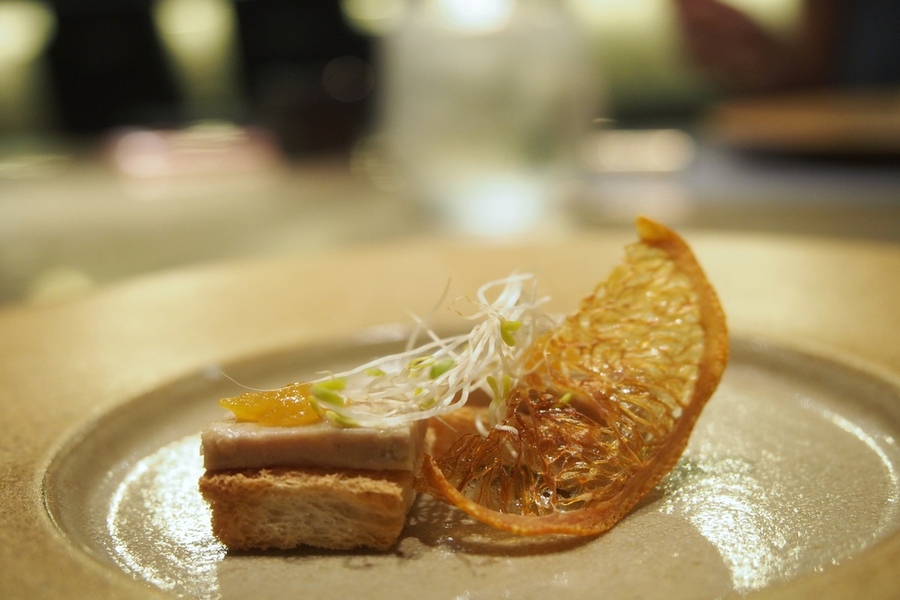 We moved on to the second appetizer called Foie Gras Terrine and Bruschetta. Presented in a bell jar that would do some micro-smoking (a mini method of preparing food too!), the smoked orange infused the liver with perfection.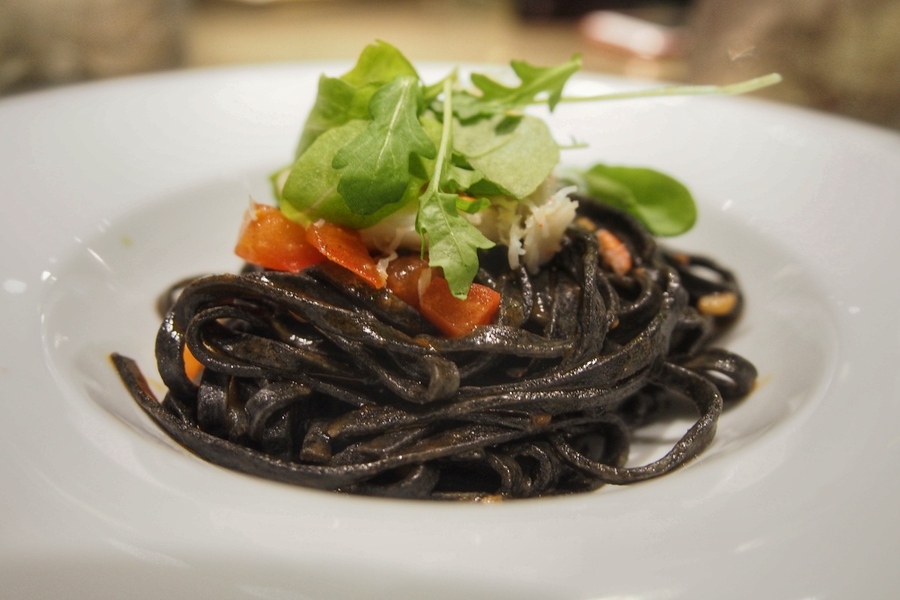 The Mains
Their mains come in the form of 3 different courses – pasta, seafood and meat. The Garlic Flavored Squid Ink Tagliolini was Course 3 while Steam Cod Fish Rolled With Parma Ham was Course 4.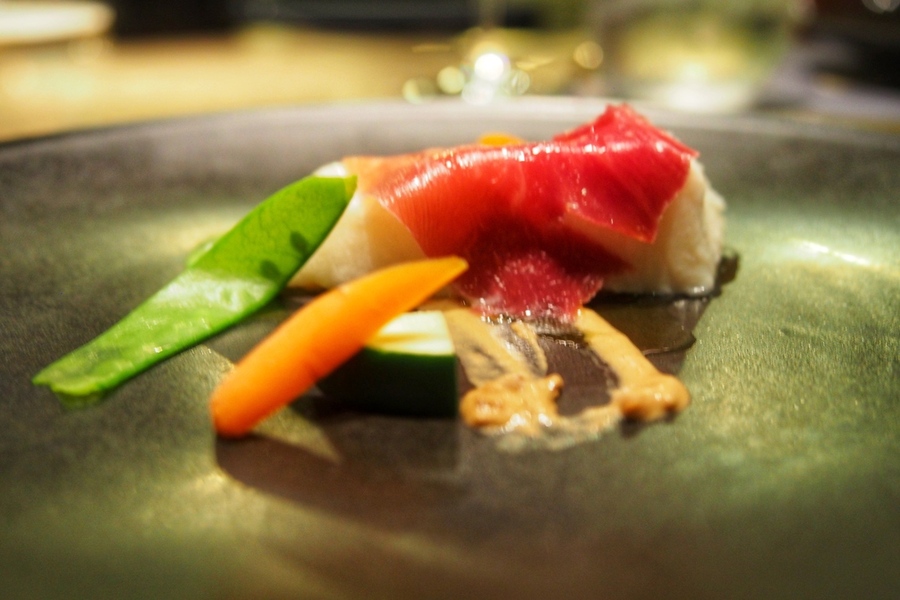 Beautifully laid was a bed of Porcini Cream Sauce, this was simple but yet a well-cooked piece of seafood. The cod fish falls off flake by flake. Overall, the 4th course was favourite dish for me though!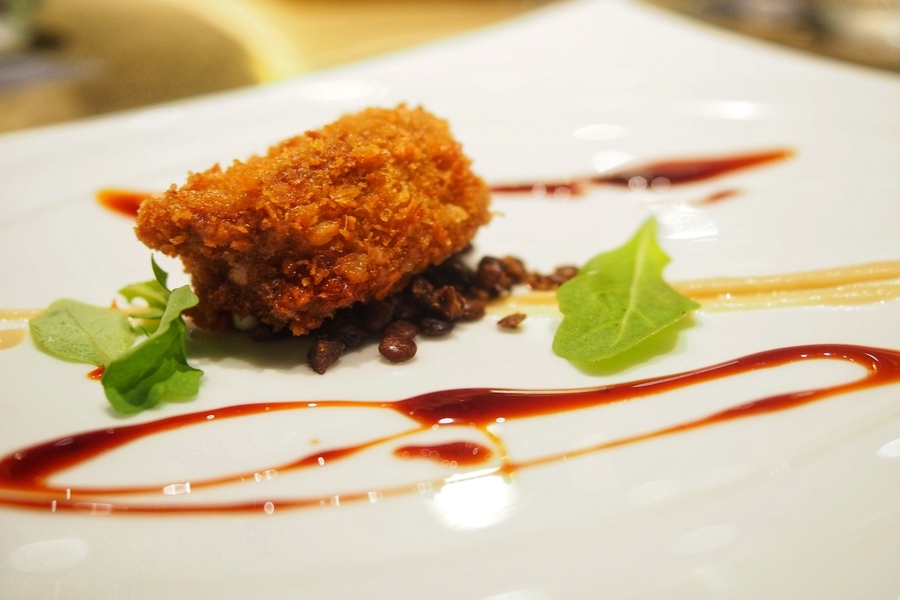 The Mozzarella and Lamb Tenderloin Fritto was a beautiful fried fritter serving on a bed of ​celeriac​ ​puree​ ​and​ ​Japanese​ ​pepper​ ​fond​ ​de​ ​veau.
The Sweet Ending at Five Nines
I must say that the guests for the night really loved the Crème brûlée With Raspberry Sorbet. Personally, I loved the rich and fragrant creme brulee, I'm sure you'll agree if you manage to taste it before the next menu change.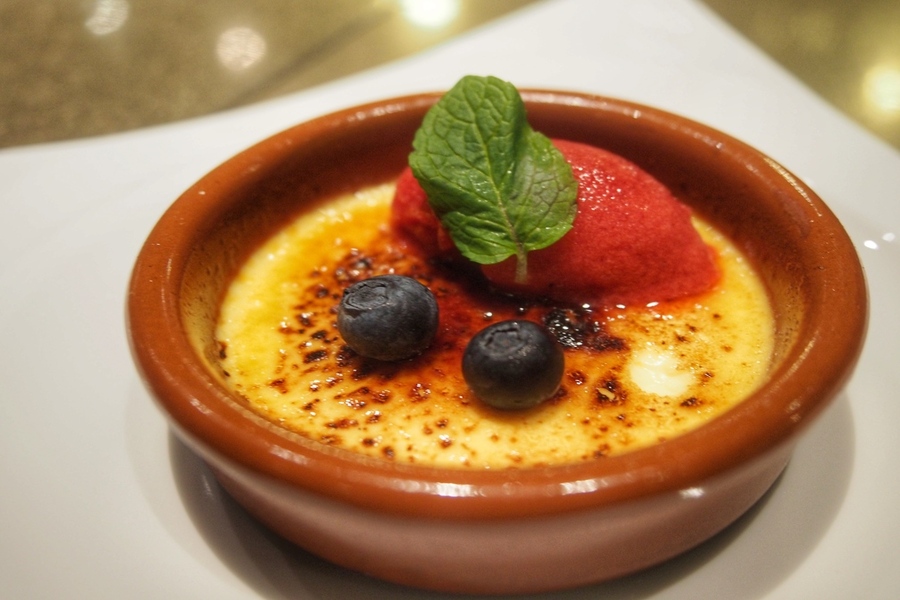 The set menu was really well-executed, and for this price, you really have nothing to complain about. The next thing to do is to get a nice bottle to go with the entire meal, and everything will be perfect.
Review Rating: 7.5/10
Five Nines 999.99 (Map)
5​ ​Koek​ ​Road,​ ​#04-04​ ​Cuppage​ ​Plaza, Singapore​ ​228796
Tel: +65 – 6732​ ​0195
Hours: Tuesdays​ ​to​ ​Saturdays:​ ​6.00pm​ ​to​ ​2:30am Sundays:​ ​6.00pm​ ​to​ ​11.00pm Closed​ ​for​ ​dinners​ ​and​ ​on​ ​Mondays
Menus: 6-course​ ​set​ ​dinner​ ​menu​ ​till​ ​9pm Priced​ ​at​ ​$49++​ ​until​ ​31​ ​December​ ​2017​ ​and​ ​not available​ ​on​ ​Christmas​ ​and​ ​New​ ​Year's​ ​Eve​ ​and Christmas​ ​Day.​ ​Available​ ​by​ ​reservations​ ​only.
Nearest station: Somserset