A farm in Singapore would be an odd sight in the neon-lit city of 5-6 million, though a handful remain on the Western fringes. Not so well-known are the ones hiding in plain sight, such are on tops of Orchard Road shopping malls and small yield gardens. The reason for persistence in farming is due to movements that espouse responsible consumption and healthy eating.
The Outside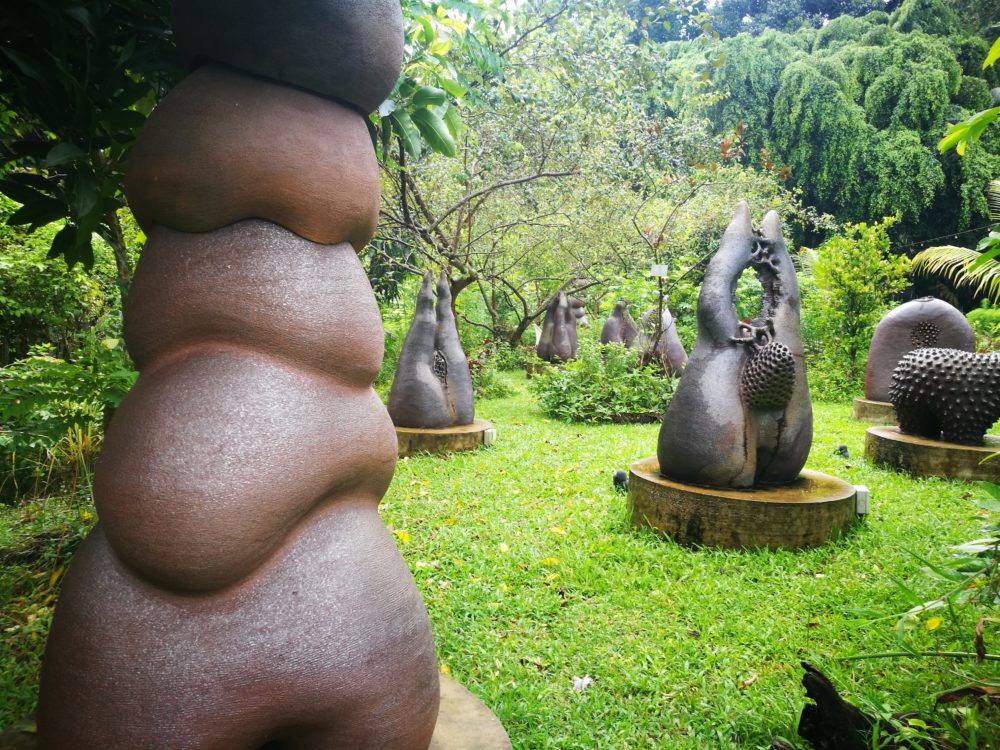 The Open Farm Community, is one such establishment that believes in sourcing locally as much as possible as much as possible to bring the freshest, tastiest meals to your table. This extends to even growing what it can onsite in its garden which, is all part of an ethos of sustainable and healthy eating. The verdant space that embraces the restaurant proper is open for a calm pre-meal walk and is filled with herbs as well as colourful blooms like the purple butterfly pea flower that is used in their dishes. As a treat for the kids, there is a resident cockerel amongst the ample foliage and a colony of rabbits to greet visitors at the front door.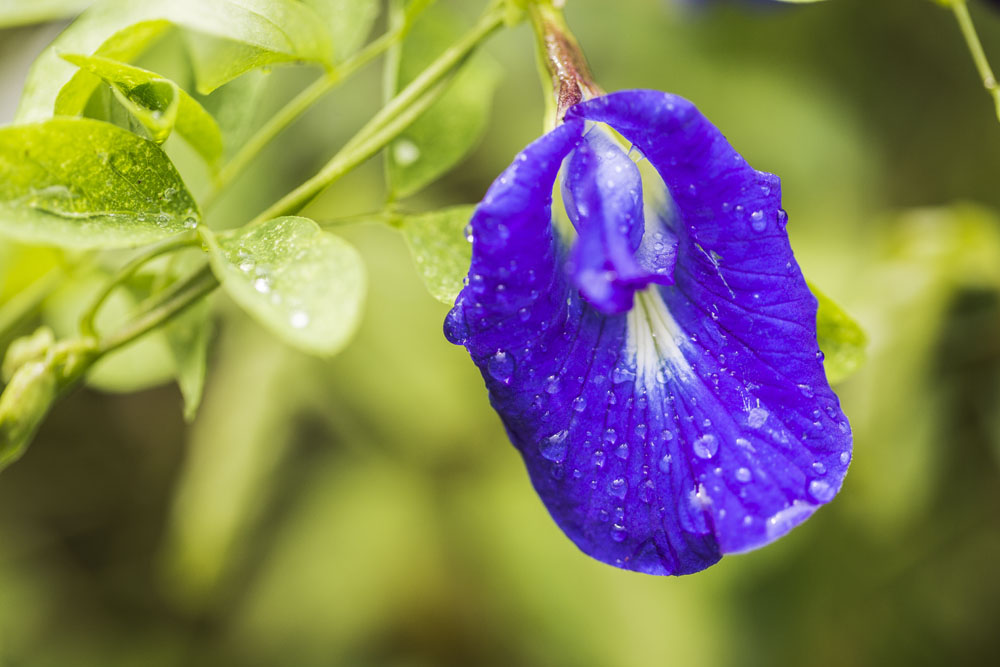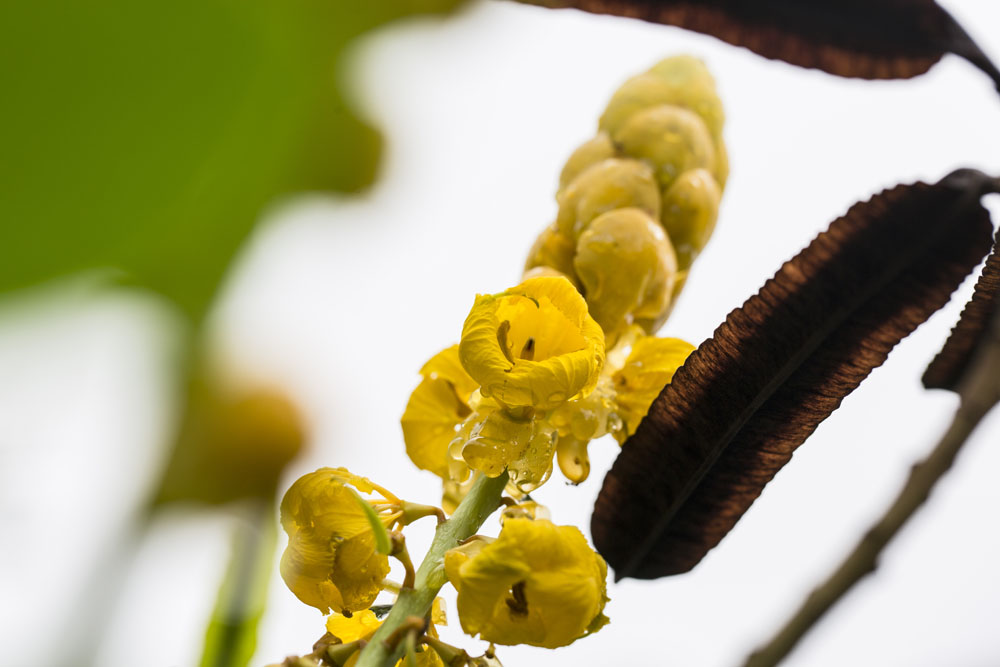 The Inside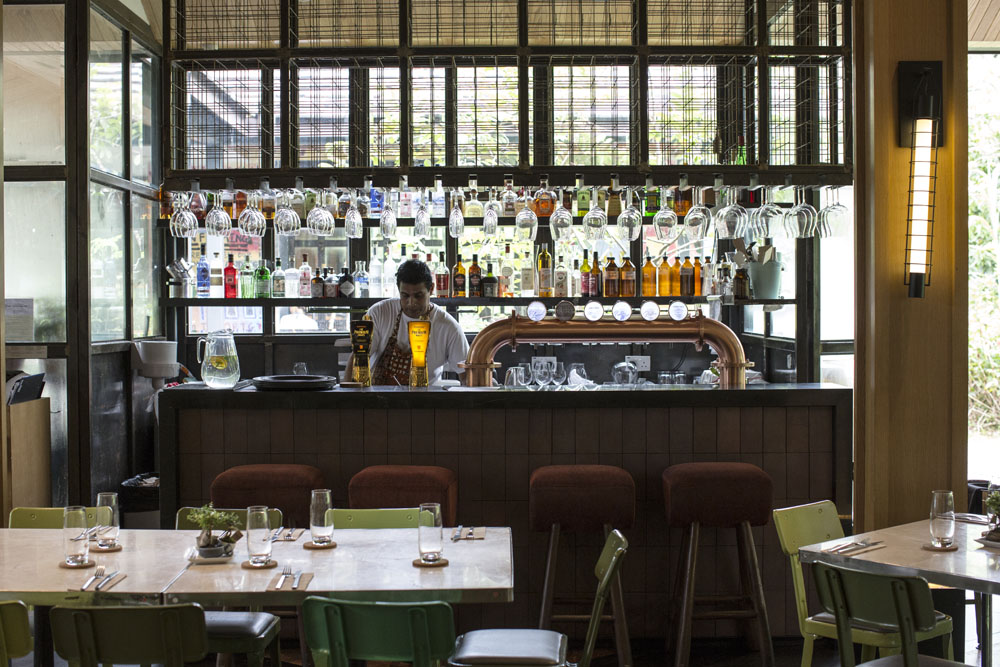 The tranquail setting extends to the interior where warm and natural light that streams in from a wall of grand, black framed windows creating a languid mood that's best for brunch, a mid-afternoon meal or drinks. Of particular note, is the stock of organic wines in the menu. Organic wines, as the name suggests, are from small production vineyards that shun or minimise the use of herbicides and chemicals in its processes. So, apart from benefitting the environment, it might save you from a headache or hangover that often intensifies with the increased use of sulphites as a preservative.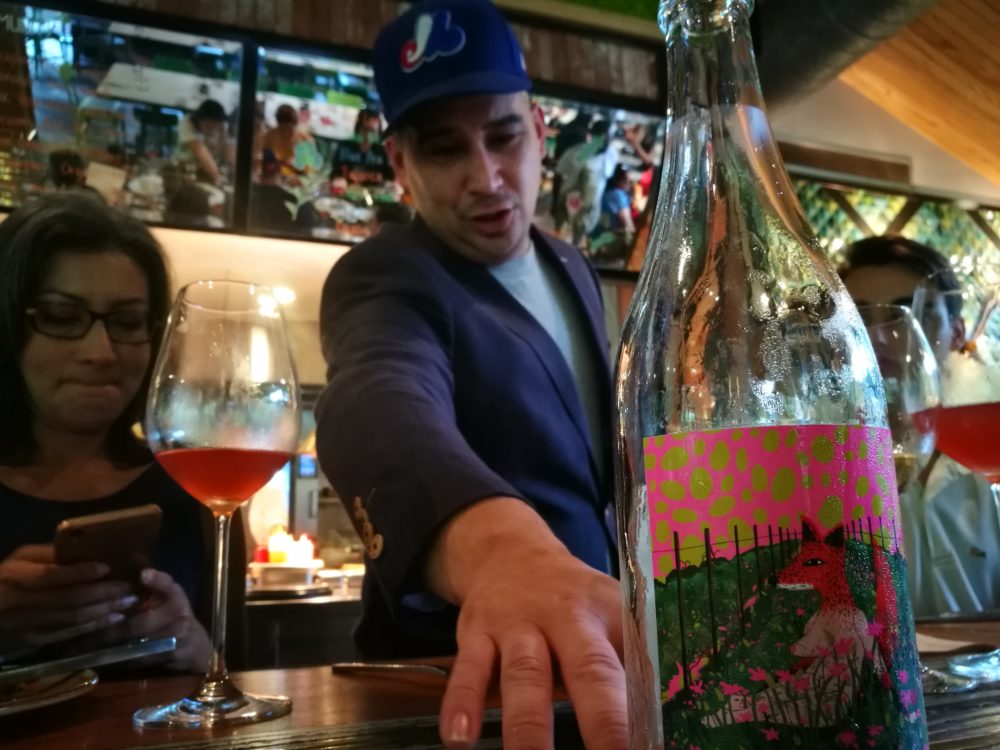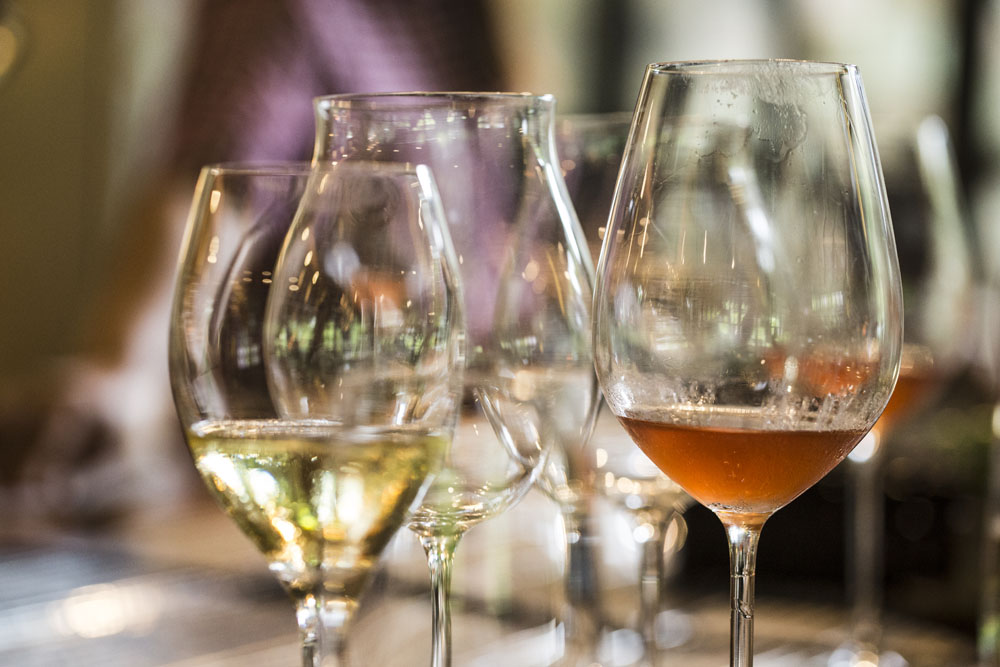 Healthy Eating
The menu at Open Farm Community isn't completely a vegetarian's delight but a healthy portion of hale fun greens is surely a primary focus of every menu entry from appetiser to entrée, with exception of desert. That, is still sinfully good, even after being dressed up in a pretty flower from the garden.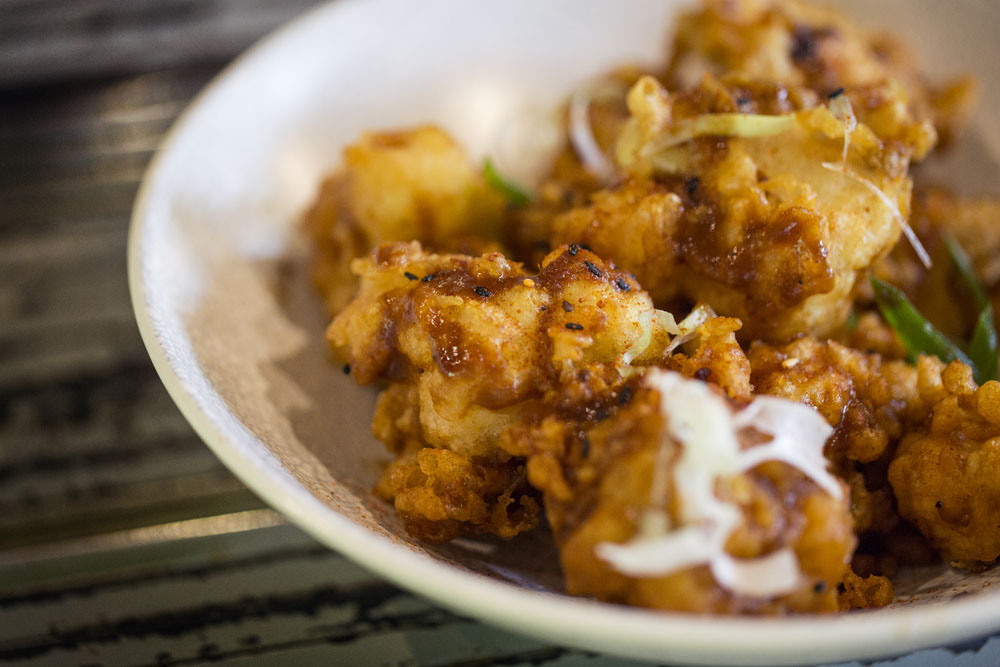 – Fried Cauliflower 'Wings' ($16)
Similar to the versions that hail from India, these savoury, cruciferous greens are battered and then deep fried. The mix here, however, comprises miso, togarashi, spring onion which, makes it a little sweeter than its South Asian cousin.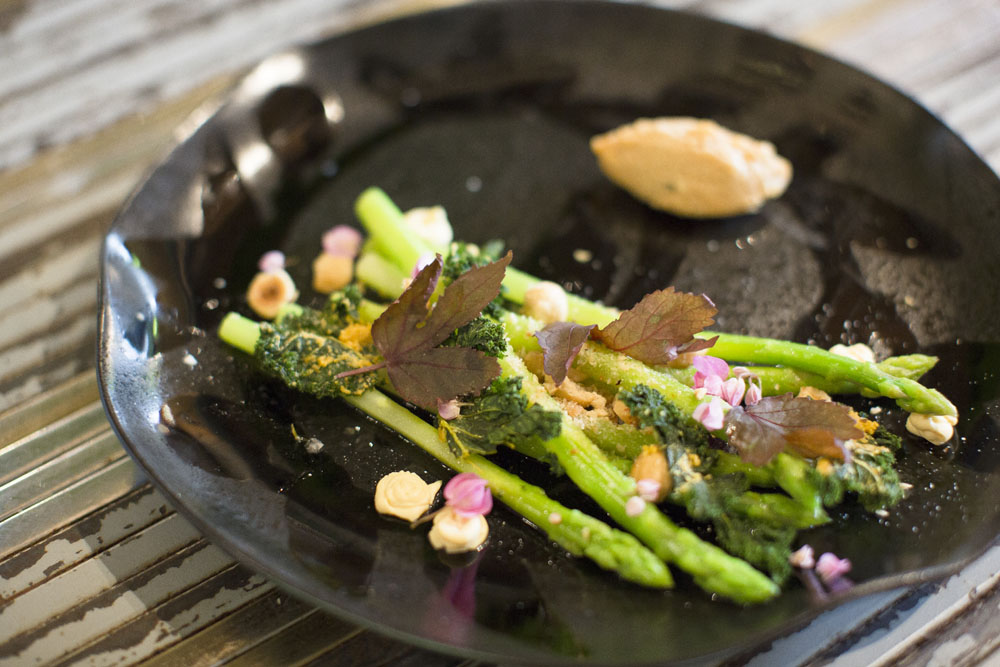 – Thai Asparagus Salad ($18)
Moist, with clean flavours without being too astringent, the stalks of asparagus is prepared with just the minimum amount time to qualify as having been cooked. A brown butter emulsion, house kale chips, and hazelnut come as an accompliment..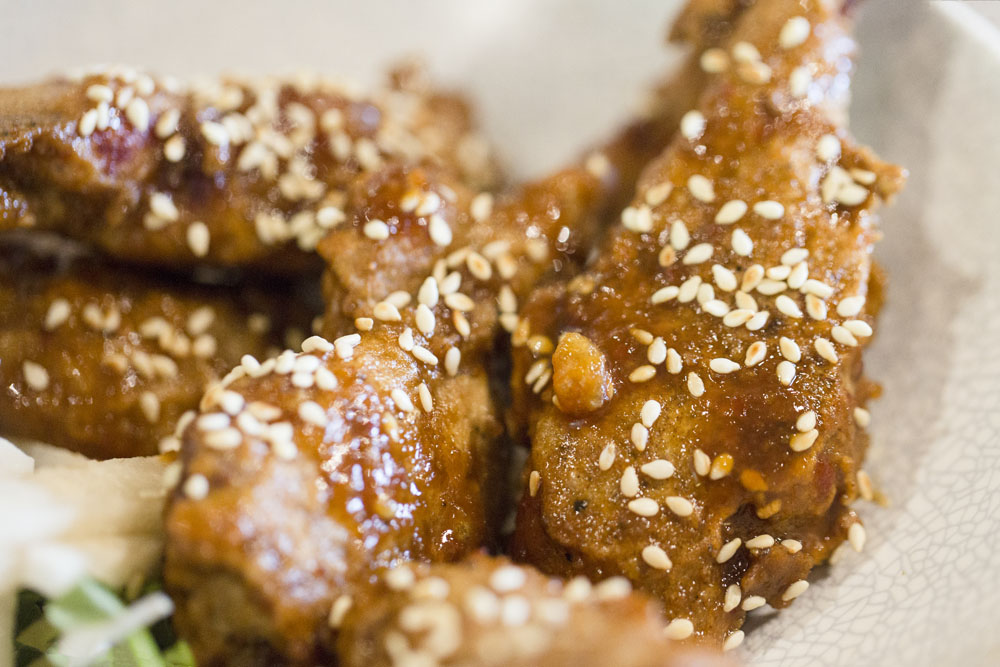 – General Tao's Toad ($17)
Chef, Oliver Truesdale-Jutras must be the comedian behind the naming of this dish. But then again, the taste of frogs' legs has commonly been compared to chicken. Like it's American-Chinese buffet original, this dish is battered, deep fried and slathered with a sticky sweet sauce.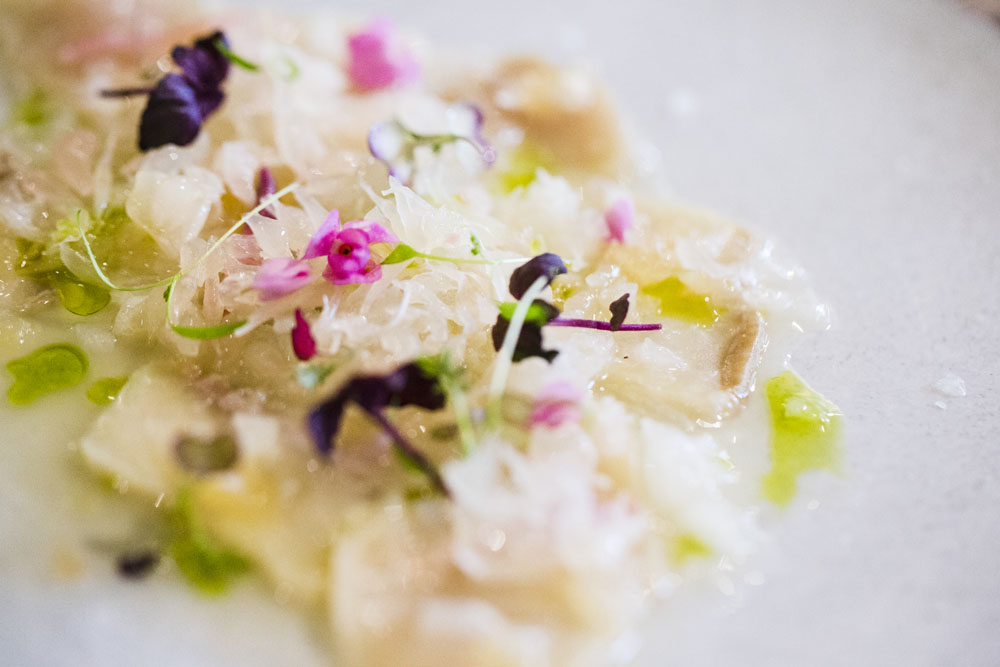 – Citrus Cured Hamachi ($20)
Light, floral, flirty and playful. The subtle flavours of the sea, and from the garden tease with savoury and sweet notes. Inside, you will find green mango aguachile, ginger blossom, and pomelo that accompanies the slices of Japanese Amberjack perfectly.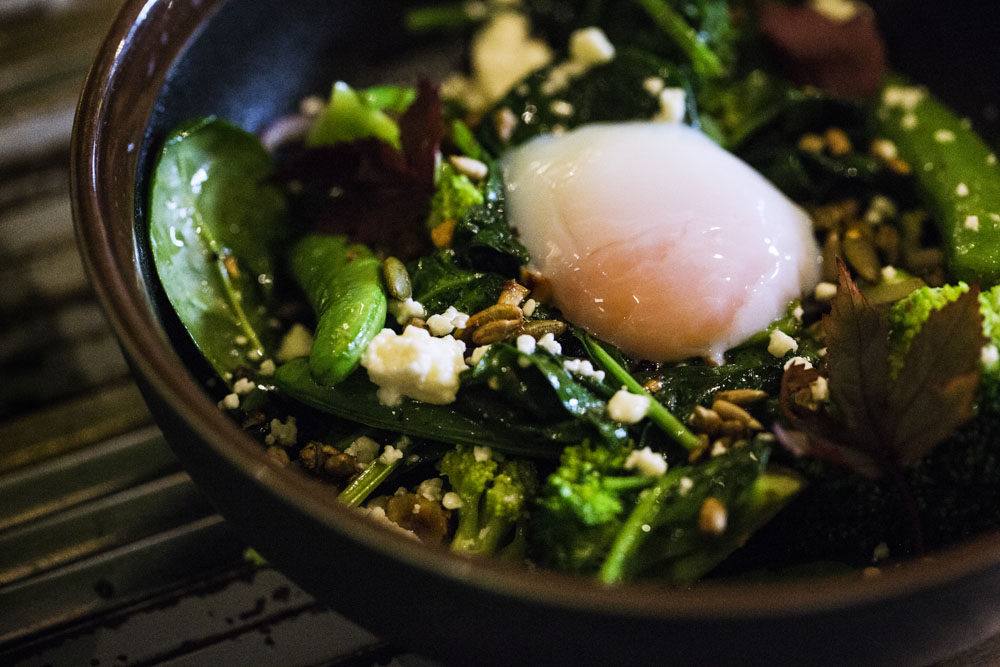 – Warm Broccoli Salad ($25)
This medley of broccoli, snap peas, nuts & seeds, and onsen egg is delightful. For the occasional vegetarian, the presence of egg as the sole protein might prove insubstantial if not unconvincing as to why this entry has been classified as a main. Despite this, the crisp vegetables are worth a mention, if not deserving of a medal d'or. The first bite will have you sold on its freshness and full taste. These are certainly a class above the peninsula's best at NTUC or even those that have descended from the hills of the Cameron Highlands and onto our plates in recent years. The thick yellow gravy oozing from the broken onsen egg crowns the dish off nicely enough for me to take a stab with my fork for another mouthful.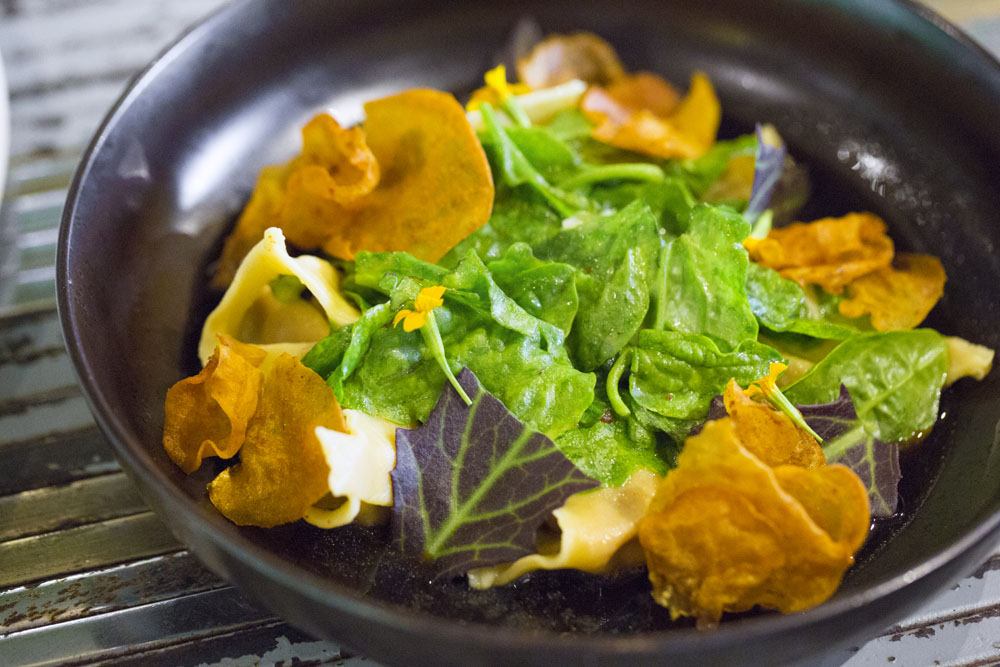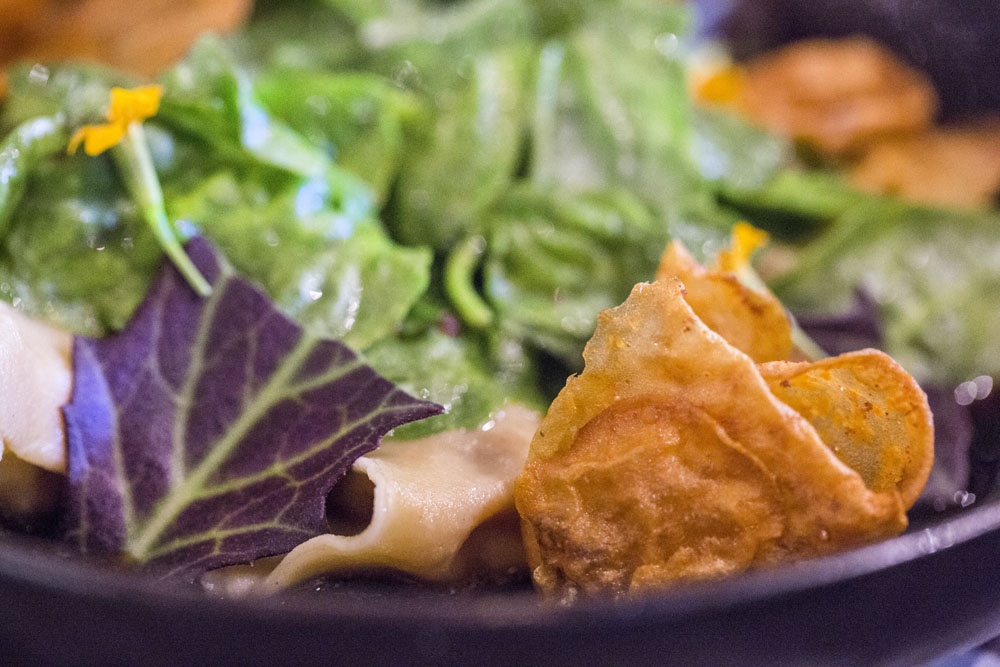 – Sweet Potato Tortellini ($27)
black garlic broth, ti huang miao, chips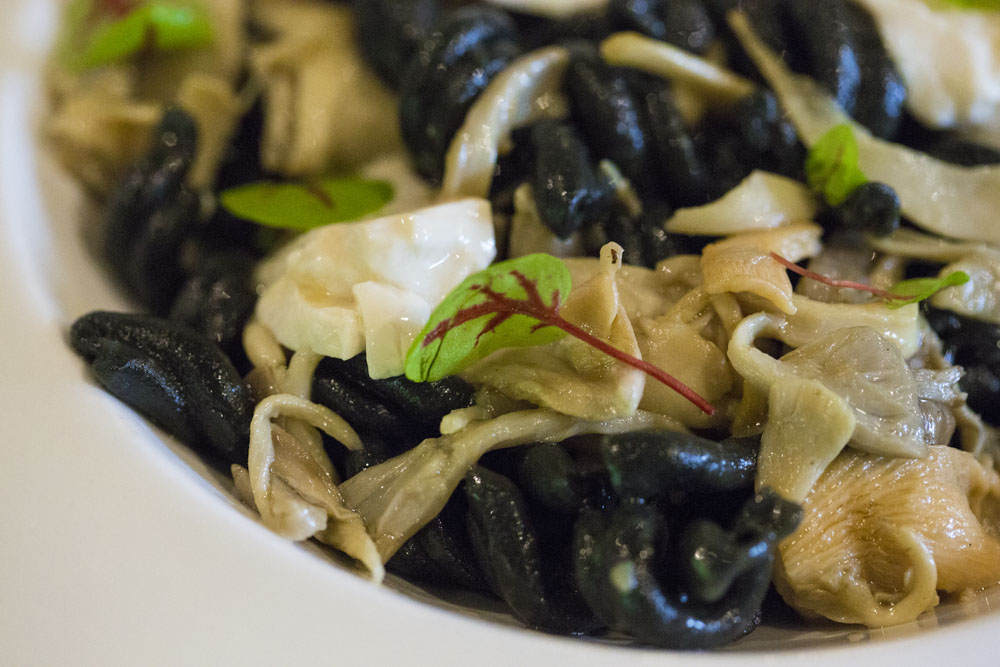 – Black Bean Strozzapreti ($27)
This one is for mushroom lovers and features home-grown mushrooms from Kin Yan, smoked silken tofu, and oxalis. A light, savoury sauce adds flavour without a lingering oily taste.
– Steamed Tiberias Barramundi ($30)                                                                                                                                         By this time, I was wondering where all the meat had gone. This did not disappoint. Still swimming less than half a day ago from being filleted and served, the Barramundi is sourced from Pulau Ubin fish farms and delivered within 6 hours to the restaurant. It is lightly seasoned in dash to retain the flavour of the fish. What I really liked were the fried pearls of wild rice that provided for an interesting variation in texture.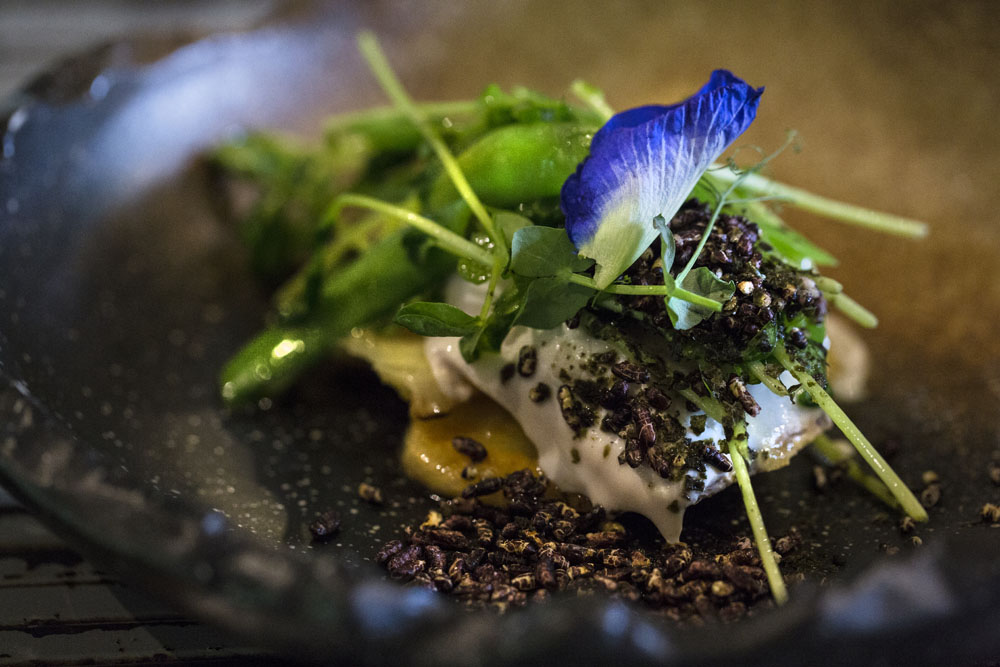 – Slow Cooked Beef Cheeks ($32)
The real "meat and potatoes". This is a hearty, stomache-filler. The beef cheeks are slow cooked to a tender and flavourful finish. The corn croquette at the bottom rounds off the dish with crispy, gritty textures.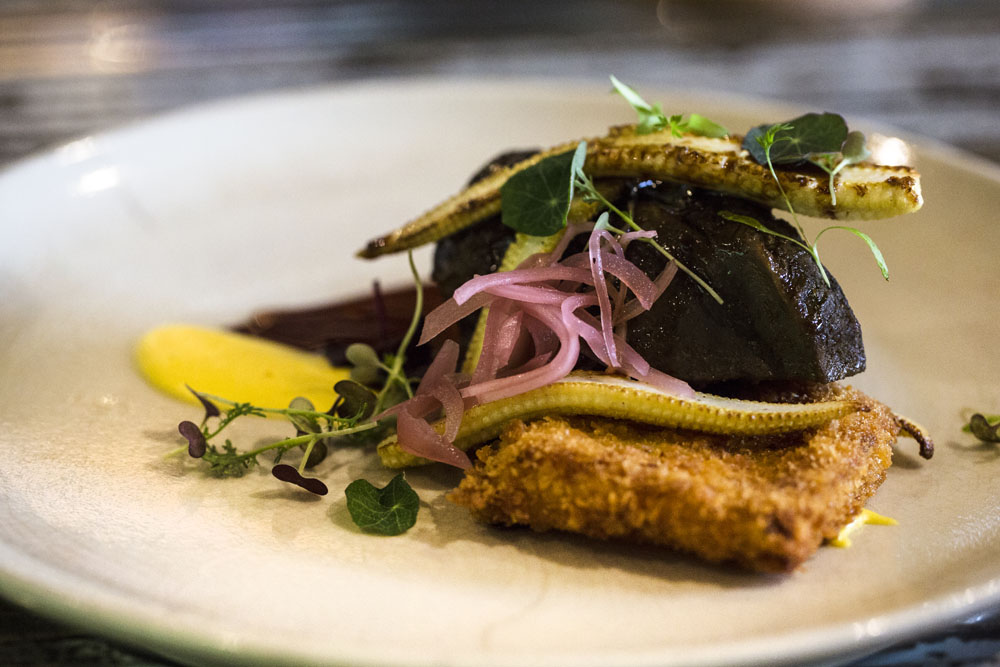 – Singa'smore ($16)
Undoubtedly the most unhealthy option in the entire menu, thank God, someone nick this one in. The toasted marshmallow upper layer is creamy and crispy at the same time, and comes with tamarind fudge, banana mousse, ginger biscuit.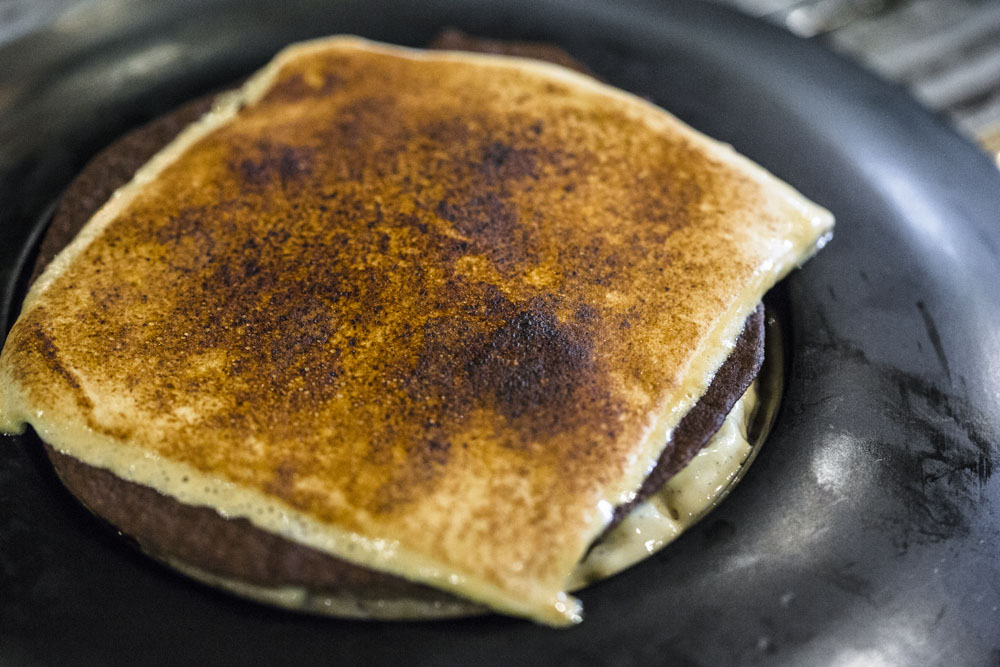 –  Lime in the Coconut ($16)                                                                                                                                                            A tangy palate cleanser, this dessert is refreshing will help keep the post lunch snooze monster at bay. Comes with whipped coconut semifreddo, meringue and kaffir lime granita for kick.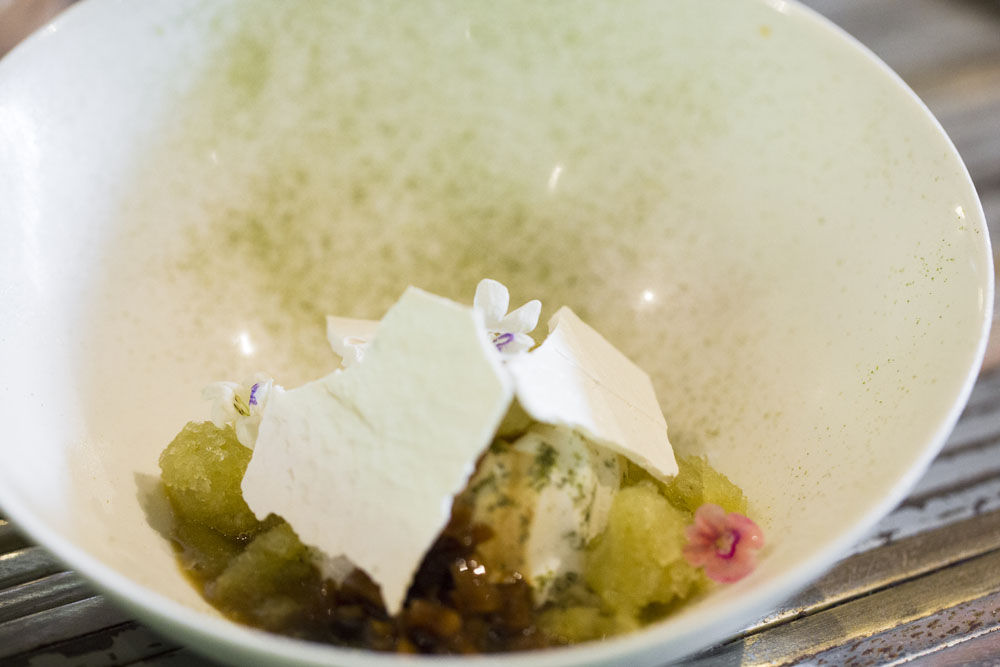 – Thai Milk Tea Tart ($16)
Comes with a side of cinnamon ice cream and stevia. Not as overpoweringly sweet as the beverage, the Thai Milk Tea tart is a nice way to end off the meal. The tea in it, at least, convinces me that I am keeping to the mode of healthy eating.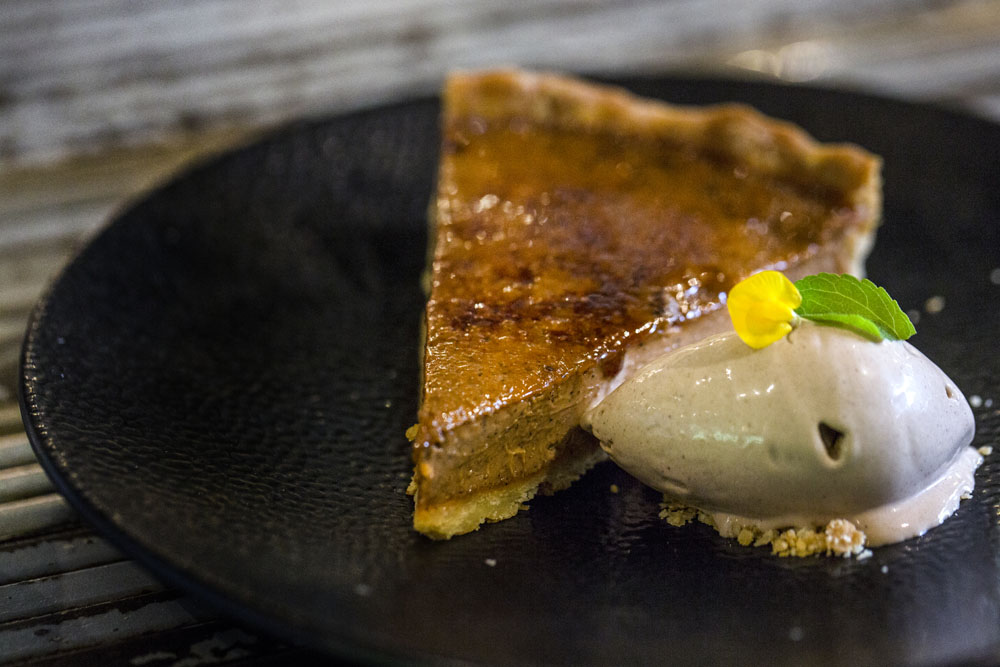 The Round-up
The Open Farm Community brings a whole new meaning to supporting local by buying its ingredients from fish farms, vegetable farms and other agricultural and husbandry farms operating in Singapore. It has a feel-good vibe that runs through the entire operation. It's a peaceful place that I can see myself coming back to with friends and family. Vegetarians will love coming here without a doubt but I would like to see a similar level of creativity with the meat dishes to satisfy my inner Neanderthal. All in all, I would rate the experience 6.5/10.
Open Farm Community
Website:                                                                                                                                                              http://www.openfarmcommunity.com
Address:
130E Minden Road                                                                                                                                                                                   Singapore 248819
Tel:
+65 6471 0306
Opening Hours:
Restaurant:
Mon – Thurs: 12nn – 4pm & 6pm – 11pm
last order: 2.30pm & 9.30pm
Friday: 12nn – 4pm & 6pm–12mn
Last order: 2.30pm & 10.30pm
Sat & PH: 11am – 5pm & 6pm-12mn
Last order: 3.30pm & 10.30pm
Sunday: 11am – 5pm & 6pm – 11pm
Last Order: 3.30pm & 9.30pm
Cafe:
Mon – Sun: 8am – 9pm