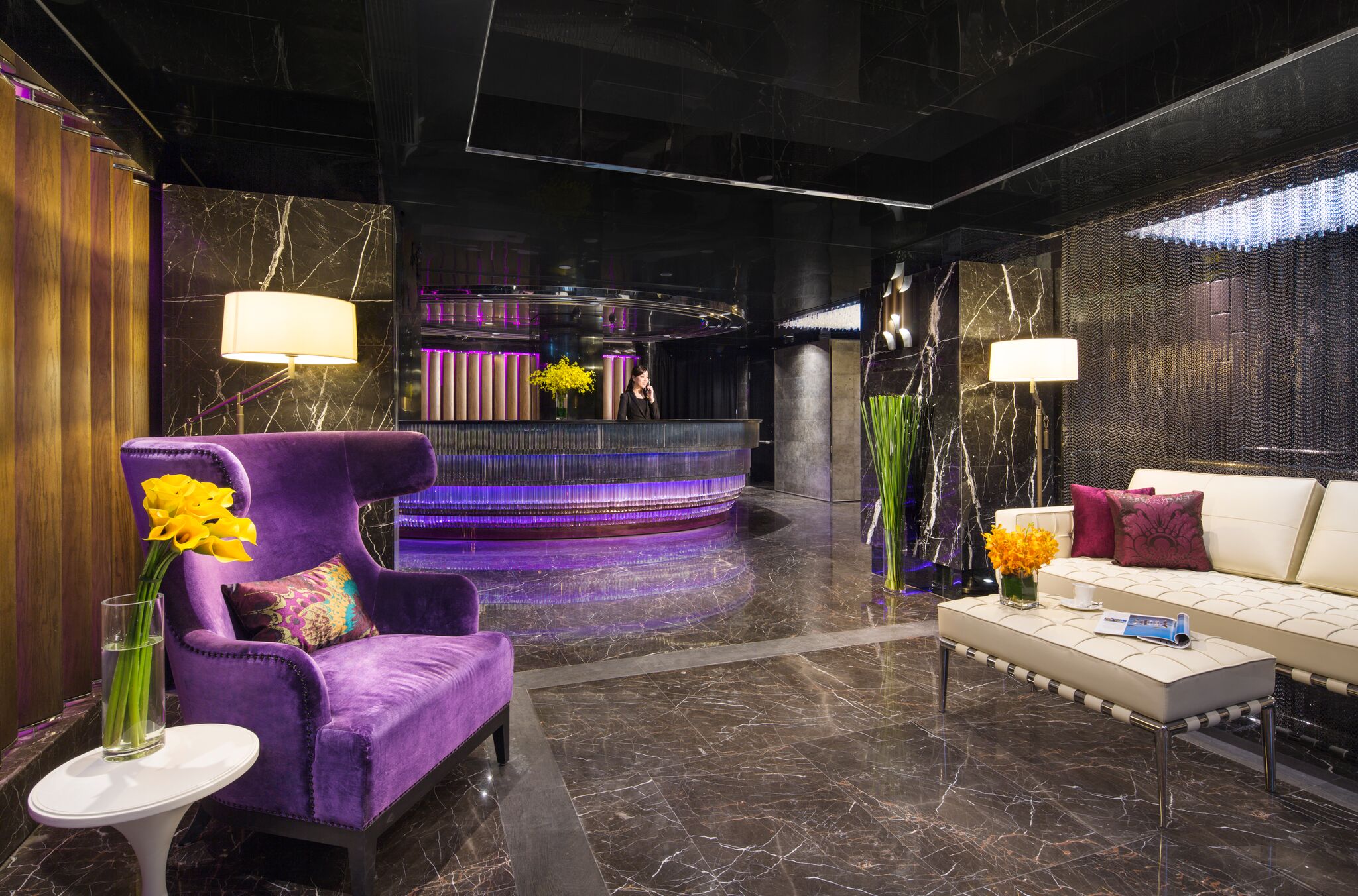 Enter Hotel Pravo Hong Kong, the latest boutique offering by The Ascott Limited located in the heart of Tsim Sha Tsui. Snugly settled between malls such as Sogo, iSquare, and several entrances to the Tsim Sha Tsui MTR, Hotel Pravo's location is more than just convenient – it's a shopaholic square.
FAK3 lends their expertise in carving out 5 different themed rooms, and various parts of the property to give its unique, stylish-chic and art decor vibes.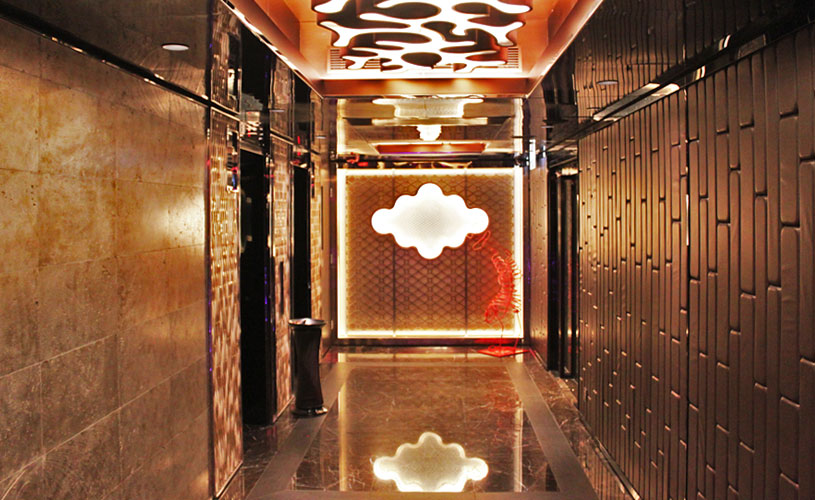 The reception is laid with luxurious sofas  and the area clad with different textured walls, from lush wood panelling to marble clad classiness as you go towards the lift lobby. The devil's in the details as you can see from the four different surfaces just at the lift lobby alone, with the elevator doors framed with art tiles.
The Premier Suite at Hotel Pravo, Hong Kong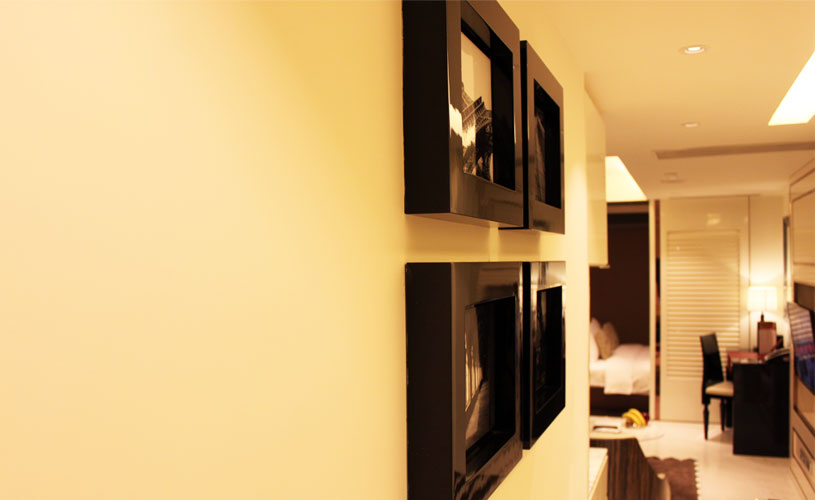 I can't help but feel like I walked into someone's home here, and that's what the Ascott hospitality group is great at, even though this isn't a property that's branded specifically. Photo frames with pictures taken by the interior designer line the entrance as you are ushered into the cosy living area which is equipped with a small but fully functional kitchenette with a stove, sink, and mini fridge all in one.
And hey, the mini fridge is replenished everyday!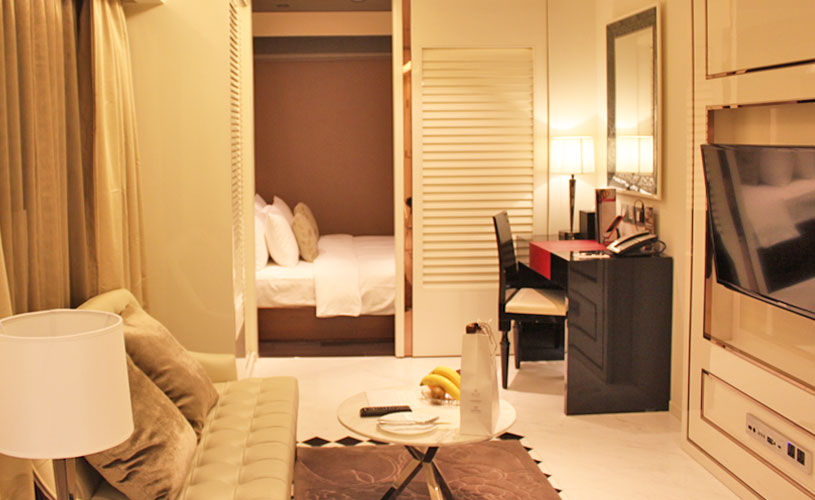 Like most hotels in Hong Kong, space is a luxury and Hotel Pravo Hong Kong has done a good job in maximising it, especially with an excellent configuration that makes it more spacious than others. Having the vanity area, with a sofa and a TV that can be angled to your desired height are little details but necessary in a space that needs to be optimised.
The bathroom – a spacious sanctuary that has it all
So the Premier Suite's designer probably spends a long time in the bathroom, as represented by the amount of space it took up in the total floor plan. Having a tub in a Hong Kong hotel room is quite a luxury, again one that's borne out of good spatial planning. Marble clad walls spruce up the luxe feel, and textured tiles break the monotony of these, giving it a more designer feel.
And what's more designer than Chopard toiletries?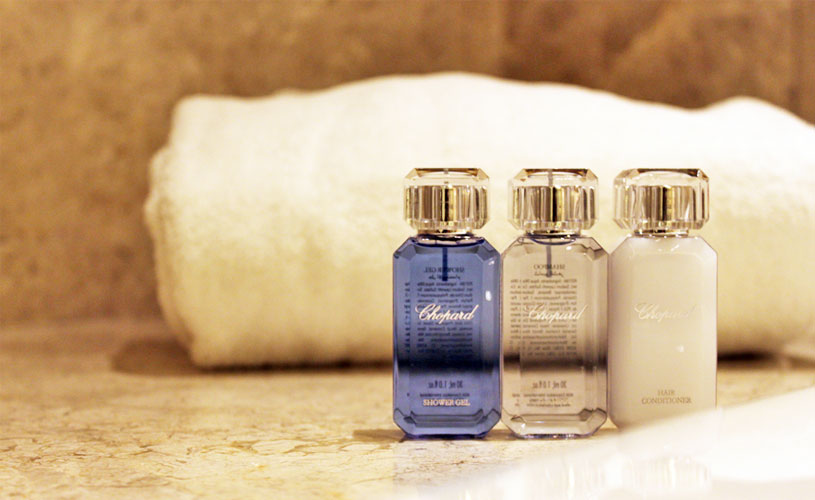 A faceted container gives the illusion of a sapphire, especially with the blue chosen. The Chopard toiletries are a luxurious addition to the property, and the scent's refreshing too, without being overpowering.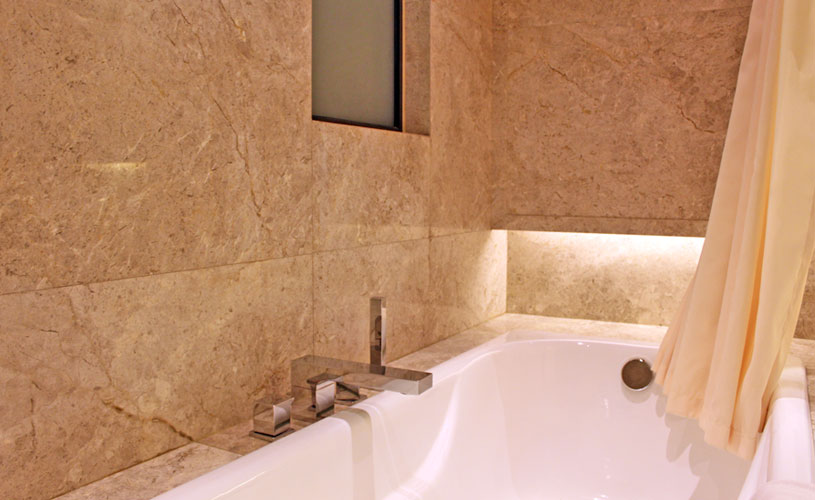 The tub's rather large, and for someone who's about 1.8m in height, believe me when I say it is more than good enough.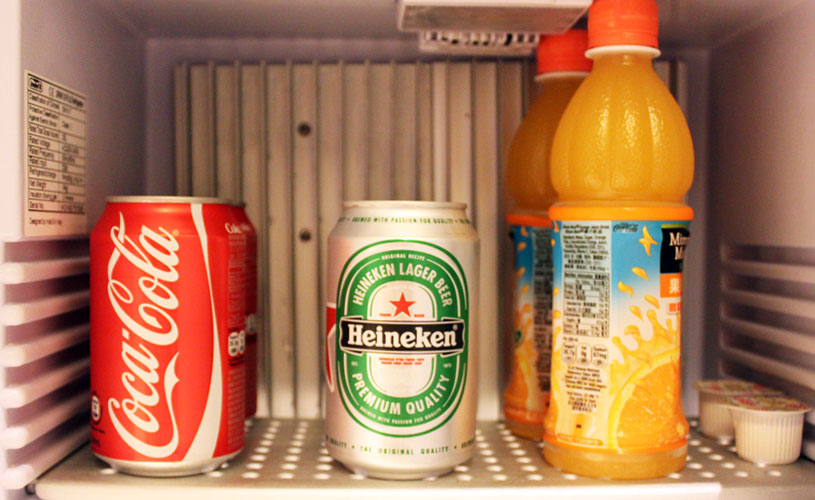 So apart from the mini bar that gets replenished everyday, the Nespresso machine gets fresh capsules too! That's getting both your caffeine and booze levels in check as you scour the streets of Hong Kong for shopping and food.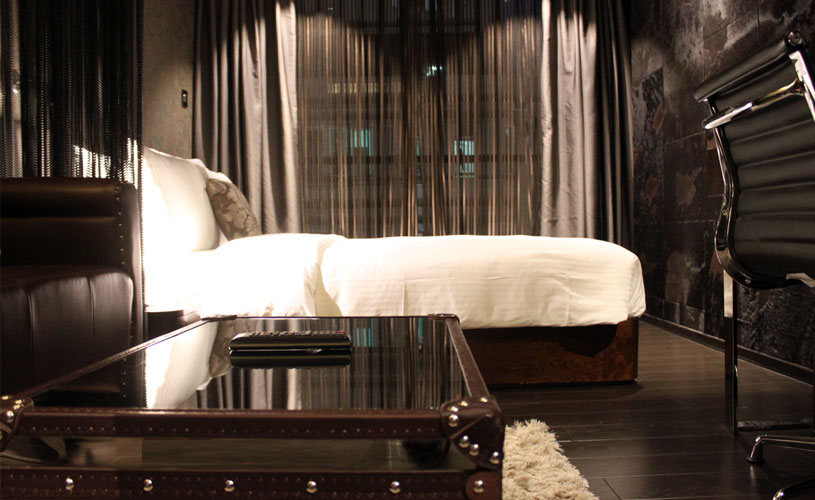 We were privileged to be given a tour of the other rooms as designed by other designers, and this one's vastly different. Darker tones, leather, a wall that's covered in cow hide wallpaper makes the room a favourite for males as it exudes masculinity. Efforts are taken to accord the guest with their preferred rooms when they revisit the hotel, so it pays to have a change of room types once in a while to enjoy the different styles available.
I must say that this is a design that spoke most to me, and I'll definitely stay in this room the next time I'm back!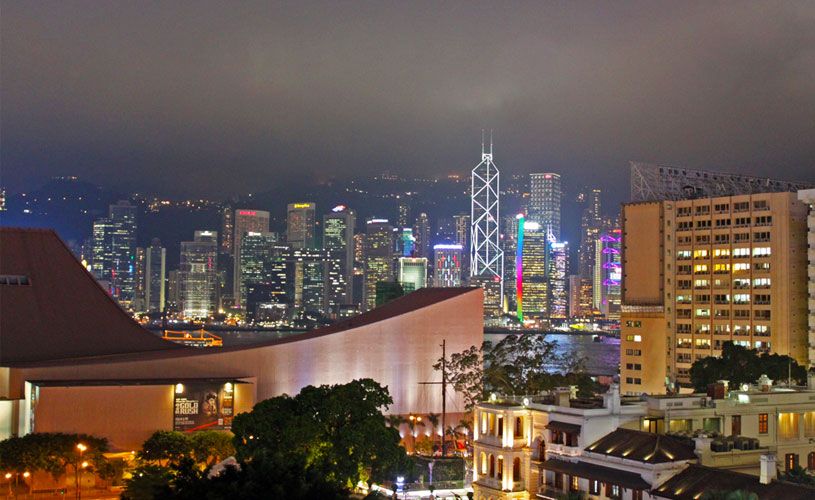 A magnificent view awaits at the rooftop where guests can come up with their own beverages or food and enjoy the wide expanse of space. Enjoy a glass of wine as you look across at Hong Kong Island's skyline and amazing skyscrapers lighting up the night sky.
Review Rating: 8/10
Verdict
Hong Kong hotels try to be centrally located but they usually compromise on size, and the larger ones are steeper. Hotel Pravo Hong Kong has gotten a good balance in providing a great location, in a chic and stylish setting, good size, and reasonably priced as well.
Apart from the fact that they don't have inhouse dining facilities, having the neighbouring restaurants provide delivery options, and a free mobile phone with unlimited calls and WIFI locally – helps a ton.
Hotel Pravo Hong Kong (Map)
10 Peking Road, Hong Kong
Reservations: +852 3188 7888 or via website
Nearest MTR: Tsim Sha Tsui Station or East Tsim Sha Tsui Station