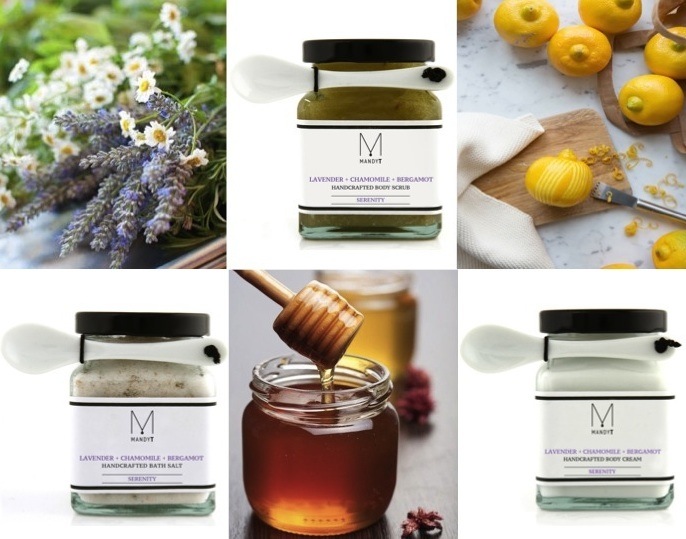 Local award-winning artisanal skincare maker, Mandy T, continues to incorporate product innovation, freshly handcrafted in small batches and eco-friendly bath and body care products.
Indulge in the power of Mother Nature with this new, gorgeously scented Mandy T Lavender + Chamomile + Bergamot. Our Artisan, Mandy Leena Tan has consigned some of her favorite flowers and fruits such as lavender and chamomile flowers and citrus, to the beauty drawing board, combining them as a new delicious bath and body care concoction in her boutique workshop in Singapore.
We did 'In Conversation with Mandy T' to have a more insightful knowledge about owning a skincare business within a bustling city like Singapore!
1. Mandy T Skincare does have a good range of skincare products. To start with the conversation, why do you choose into this segment for business?
Living in the hustle and bustle of a city like Singapore, I find it even more important to use and consume natural ingredients which offer the ultimate in natural personal care, free from the myriad of harsh chemicals used in many mass commercial products on the market today.
Over the years, I found myself disappointed by many skincare products that claim to be natural but yet use synthetic dyes, parabens, animal testing or petrochemicals in products. I also researched skincare ingredients and was shocked at how many dangerous chemicals I saw listed in the products I was using. I realized that I wanted to create something more holistic, pure and effective that I could not only use myself but to share with others as well.
2. Which will be the most popular products off the buying consumers' popularity chart? 
Caffeine Arabic Coffee + Coconut Body Scrub, Detox Lemongrass + Lemon Body Scrub, Lavender + Serenity Chamomile + Bergamot Body Cream
3. The florals theme seems to be the key focused category of ingredients for the products. Why?
Mandy T offers a new approach to skincare. Each product has its unique blend of ingredients and branding to create a different experience and mood.  Besides having floral ingredients, we also have various bath and body care collections containing ingredients such as fruits, herbs, spices, tea and coffee.
4. Where are your ingredients from, in terms of the countries that you source them?
Today, most of the raw ingredients that we use for our products are imported directly from reputable producers from all over the world, while the formulas are handcrafted in small batches at our workshop in Singapore.
5. Where will be your boutique workshop in Singapore? Do you carry out interesting skincare related themed workshops for keen participants?
Our workshop is currently based in Rochester area. For now, we prefer to concentrate on our product production.
6. Will you be expanding into more product lines for the skincare, or diversifying into other beauty products?
Mandy T currently has a total of 28 varieties of bath and body care products that consist of body scrubs, bath salts, body cream, bar soaps and hand poured candles. For now, we prefer to concentrate on our stable products.
7. What are the plans for next 2 to 3 years under Mandy T?
Mandy T was launched in 2013 and we are still a relatively young company. However we have been very fortunate to receive encouraging support from our regular local and overseas customers, retail partners and local media.
We currently have 8 reputable retail partners in Singapore and in Hong Kong including the prestigious One15 Marina Club, several leading design concept stores and multi-label boutiques.
In fact, we have also received several inquiries from potential retailers to carry Mandy T brand in Europe and Asia Pacific regions. We are definitely interested to further expand our brand internationally in the near future but we are not rushing into it.
Mandy T is currently available online at www.mandytskincare.com and also at One15 Marina Club Spa Sanctuary, Kapok @ National Design Centre and Kapok in Hong Kong, Keepers, Strangelets, Et-i-Kit and The General Company.