Kaskade, Showtek, Ferry Corsten and Far East Movement amongst the many world class acts ready to set sail on board Asia's largest festival at sea.
Following the success of its maiden voyage last November, The Livescape Group announced today the full line up for IT'S THE SHIP 2015. The 4 days and 3 nights affair will take place aboard the 70,000 tonne Royal Caribbean International Mariner Of The Seas from 20 – 23 November with a pit stop in Langkawi for a show-stopping, epic private beach party to remember.
For the first time ever, Ferry Corsten will be hosting his signature show, Full On, on board a cruise liner here in Southeast Asia that will feature Mark Sherry and a very special guest handpicked by Ferry himself. Previous editions of the show have featured a range of electronic music legends to up and coming talents.
2014 saw close to 2,500 fans from over 49 countries and set the tone for this annual music festival at sea. "Our maiden voyage last year was one that created many lasting memories for those who were onboard. We created many firsts in this region last year and this year, we are looking to top that. One thing's for sure, you won't want to miss IT'S THE SHIP this year. We're looking at providing even more intimate activities with the international acts, a more diverse music lineup and an even greater cruise cum music festival experience," said Iqbal Ameer, Group Chief Executive Officer of The Livescape Group.
The highly anticipated full lineup slated for IT'S THE SHIP 2015 is found here!
"One of the key takeaways from fans who attended last year's festival was the fact that they not only got to see their favourite acts perform live but they also got to interact with the artistes in person over the duration of the festival. When booking acts for IT'S THE SHIP, we take into consideration how outgoing and sociable the acts are because we want them to interact with the fans not only through their music but also via the other activities onboard the cruise as well. Due to the laid back, vacation-like atmosphere, it is very possible," explained Iqbal.
The floating music festival is expected to attract a sold-out crowd of over 3,800 fans of which 80% will come from international destinations such as Malaysia, Indonesia, Thailand, Australia, Taiwan, South Korea, the USA and Europe. To date, the ship is currently at 60% capacity with 41 nationalities making up those already on-board.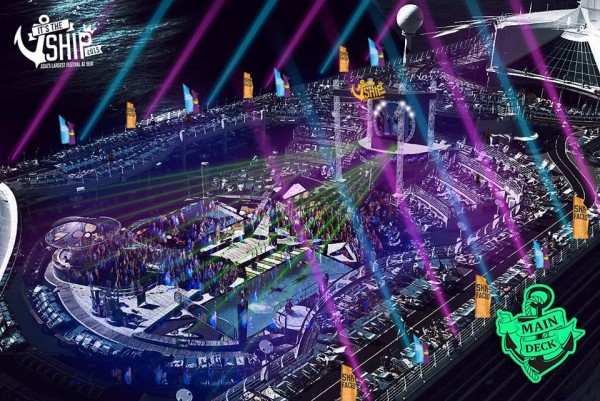 As part of the holistic IT'S THE SHIP experience, the 15-deck Mariner of The Seas will flaunt a casino, 10 pools and whirlpools, 17 bars, clubs and lounges, a duty-free shopping promenade, a full service day spa, an ice skating rink, a mini golf course, a full sized basketball court and a rock climbing wall overlooking the sea. Entertainment wise, aside from the numerous music stages, this year IT'S THE SHIP has also partnered with Playboy Thailand to host an exclusive after-party on-board the cruise. Organisers are promising various activities where fans will have the opportunity to mingle and engage with the various international acts from the lineup.
Cabins on IT'S THE SHIP 2015 vary in price from USD588 to USD1,288 per person (exclusive of taxes and gratuity fees). All suites available on board are sold out with only limited cabins left for purchase. Cabin prices are inclusive of complimentary 24-hour dining and room service, selected non-alcoholic beverages and free usage of most of the ship's facilities. A monthly installment payment plan is also available for the cabins starting at just USD134 per month.
Cabin sales end on 10 November 2015. For more information on cabin options and prices, updates and other details, log on to www.itstheship.com.
For instant updates, highlights and queries on the festival, follow IT'S THE SHIP on Facebook.