The industry website AirlineRatings.com has awarded Lufthansa as the "Best Long Haul Airline (based in) Europe" second time in a row. The highly respected editorial team also honoured Lufthansa as one of the Top Ten airlines globally. These awards acknowledge the best in the airline industry, helping passengers to choose who to fly with in the coming year.
A panel of experienced industry experts judged based on the best in comfort, innovation, value and safety across all classes – Economy, Business and First Class. As a result, Lufthansa stood out on the innovation that has resulted in exceptional performance in market position, customer service, financial performance, fiscal management and operational safety.
"For decades Lufthansa has been a pillar of dependability, safety, inflight service and environmental leadership. AirlineRatings.com editors were unanimous in their praise for Lufthansa's leadership in the industry in aircraft selection, product innovation and dependability," said Geoffrey Thomas, Editor-in-Chief of AirlineRatings. He added, "Lufthansa is a technology leader constantly seeking ways to make travel safer and more environmentally sustainable, yet affordable. The excellence continues with the airline's subsidiary Lufthansa Technik, the world's leading independent provider of maintenance for the world's airlines."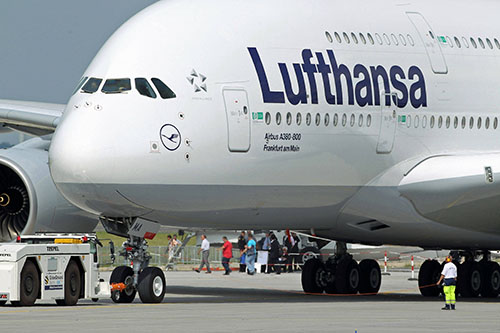 Jens Bischof, Member of the Lufthansa German Airlines Executive Board and Chief Commercial Officer of the Lufthansa Group said, "We take pride to be Europe's No. 1 as this award reconfirms our leading position as a quality airline. Thanks to a product-investment programme of more than 4 billion AUD over the past few years, our customers enjoy a consistent state-of-the-art product, at the airport and onboard our entire fleet." He added, "This award especially goes to our crews on board and on the ground, whose personal service makes for an outstanding travel experience every day. This recognition given by Airlinratings.com for a second year in a row motivates us to continue to go the extra mile."
Recently, Lufthansa has been presented with other important awards as well. During the World Airline Awards in June, they came top in the categories "Best Airline Transatlantic" and "Best Airline in Western Europe". The airline also received the award for "World's Best First Class Airline Lounge". Business Travel Awards 2015 honoured Lufthansa with the title of "Best short-haul Airline". With innovations such as the Premium Economy Class and the new Restaurant-Service in Business Class, Lufthansa have taken further important steps to becoming a 5-Star Airline.