Evident in Chef Matthew's creations is his artistic flavors and presentation. He is also naturally talented in sketching and carpentry, complementing his great culinary skills – The Rabbit Stash.
Combined with classic French techniques, 'ENSOPHI' was developed with Asian and Singaporean flavors.
The 7 elements empower us with a high level of PURE imagination.
'Just Like Flintstones' Age' Snacks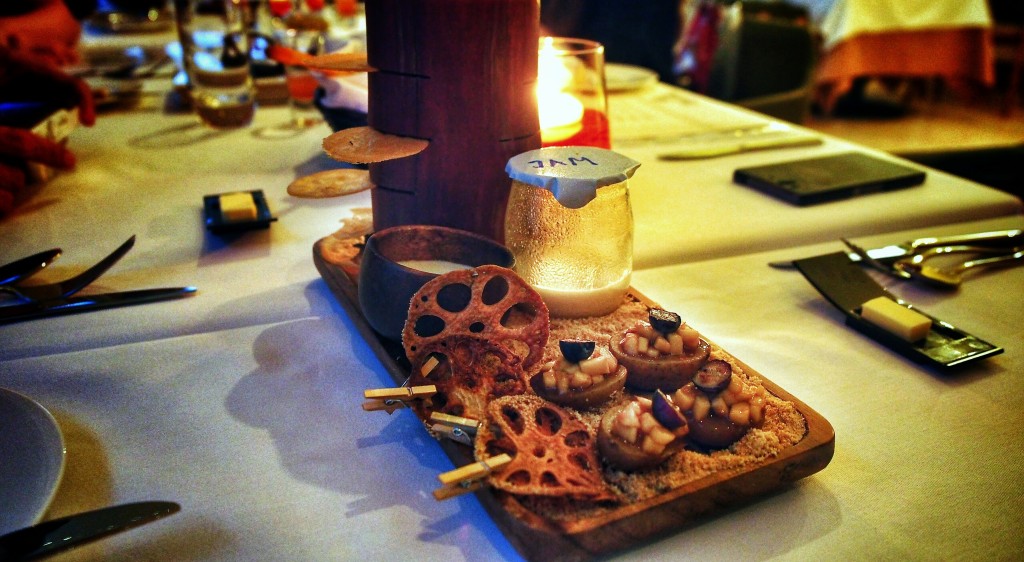 Set along with his crafted wood log, you can find Lime Mayonnaise, Lotus Root Chips, Yam Jam with bread crumbs and cookie bits as the soil.
By combining one to two food elements together, there is a nice burst of flavors and textures.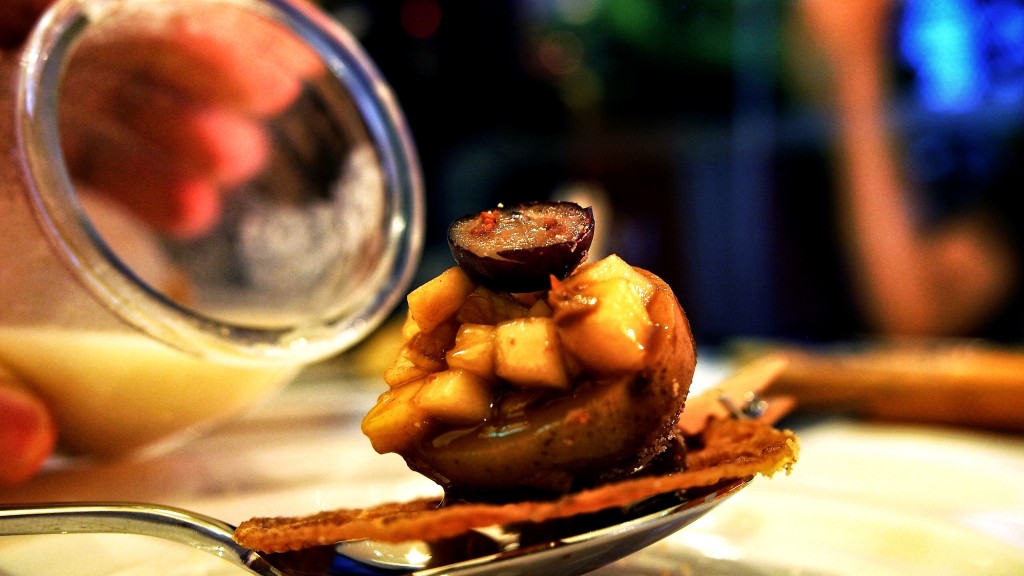 SOIL
asparagus, beurre noisette, beetroot "mushroom", olive crumbs
Comprising of various elements, they blend tastefully and artistically well with the black olive crumbs, cashew bits, burnt butter, parsnip puree and beetroot flavored sorbet. The green pudding is made of asparagus.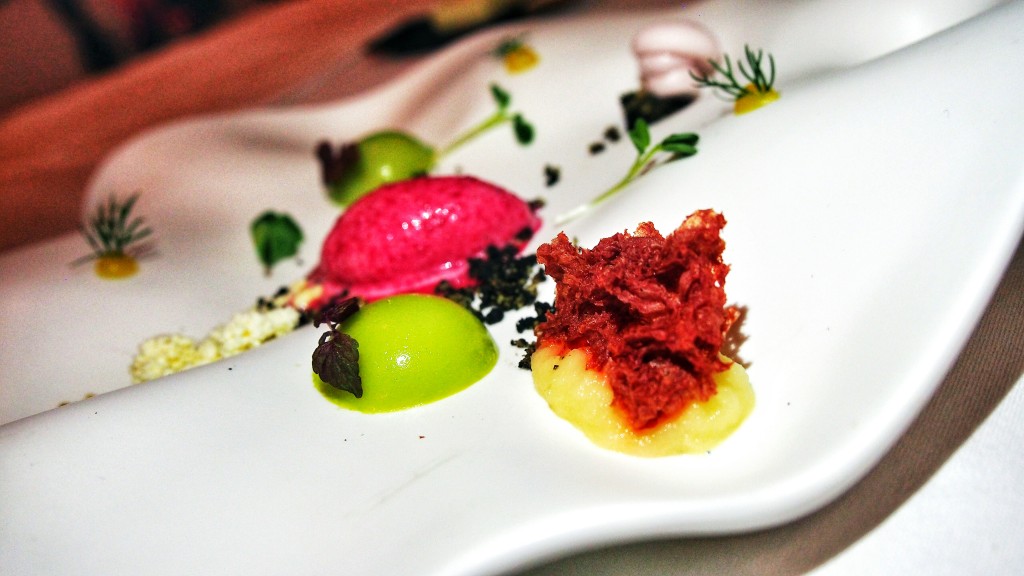 Dill leaves placed atop the mango drops somehow elevate the taste.
PRISTINE
langoustine, cabbage dashi, organic 1st born egg, brown rice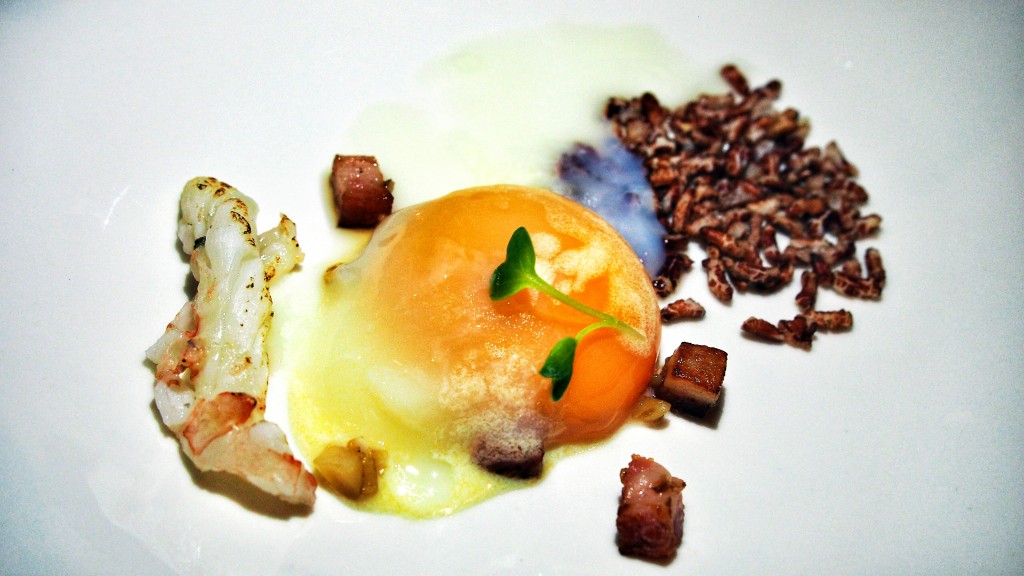 The 1st born egg is indeed the first egg from a hen. Pure and extra nutritious.
The langoustine is fresh and succulent, the smoked brown rice delivers a crunch with the bacon and potato bits, add a touch of cabbage dashi to finish nicely.
The dining journey just gets more creative as we progress with each course.
OCEAN
scallop, black "coral", smoked trout, shrimps & chips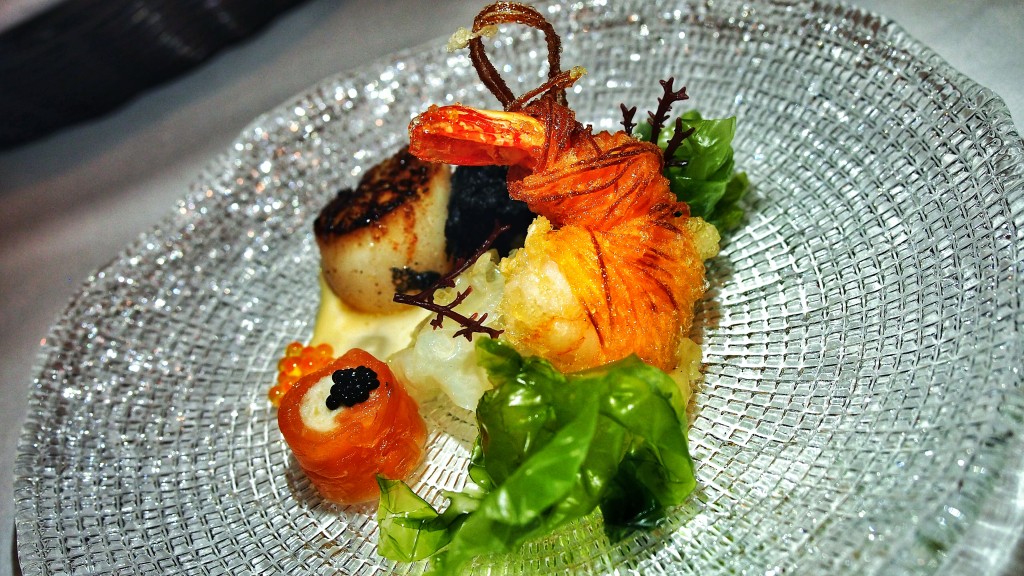 Ocean gives a great perspective of what we can find in the big blue ocean.
The fresh ingredients such as the shrimp and scallop go well with the caviar. The prawn fritter sits on a dollop of banana paste – which seems to bring back memories of our childhood favorite 'Goreng Pisang'?
NOSTALGIA
lobster broth, purple crab, handmade noodles, black roe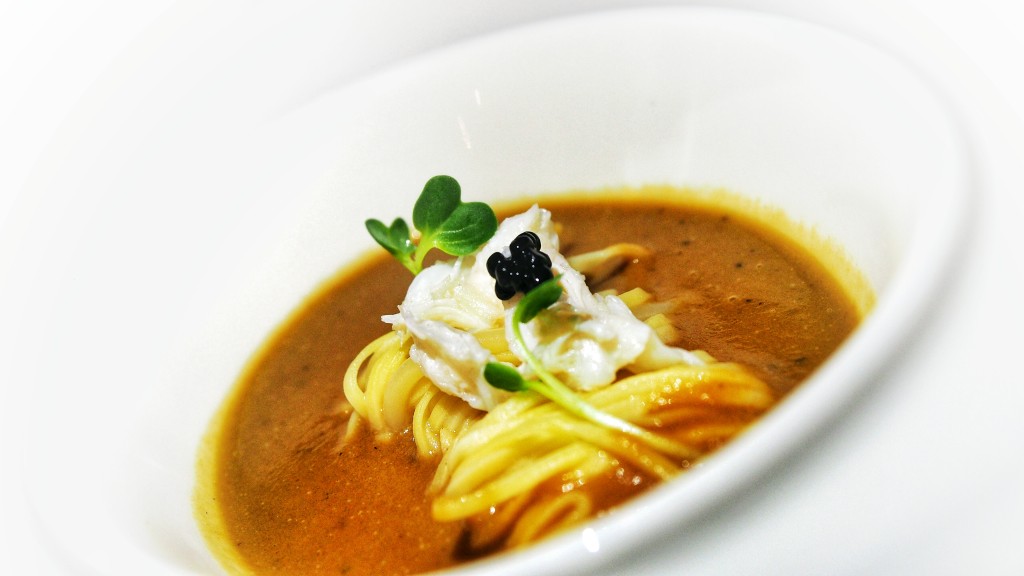 Infused with Chef Matthew's childhood memories, this dish is greatly inspired from 'Mee Rebus'! However, the western flavors are well kept in this dish of fragrant lobster broth with handmade noodles.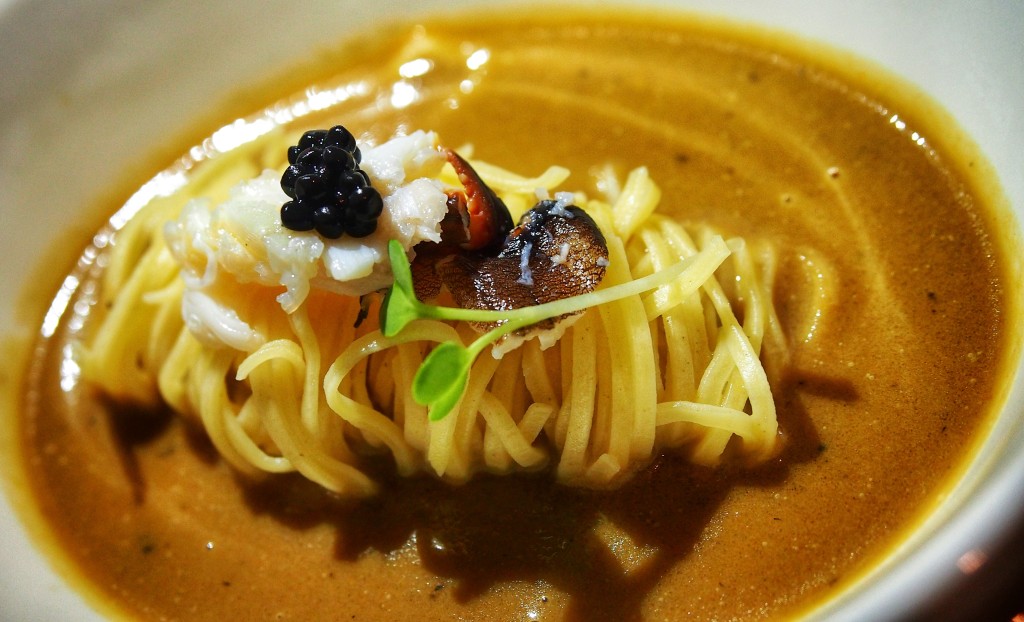 IMPRESSION
berkshire pig, Granny Smith, potato "mud", watermelon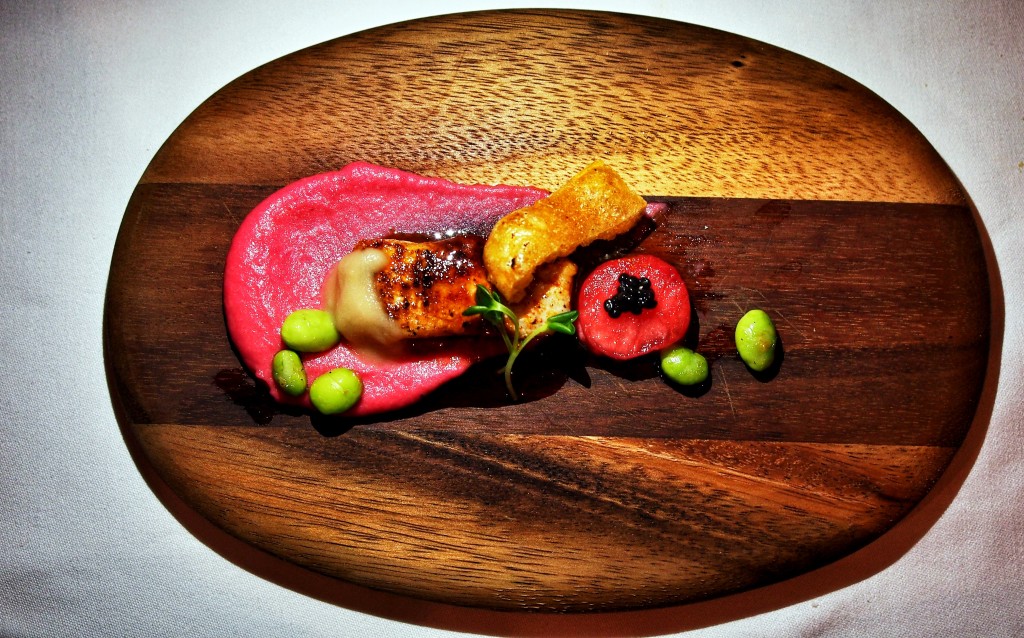 To summarize, this dish is a creation of all foods that a pig will eat. The finished piece is just like an art canvas. The deep fried skin is awesome and it blends well with the potato 'mud' that is infused with beetroot. How impressive!
The watermelon acts as a palate cleanser for the next dish.
HERITAGE
beef jowl, port-soy, barley porridge, red date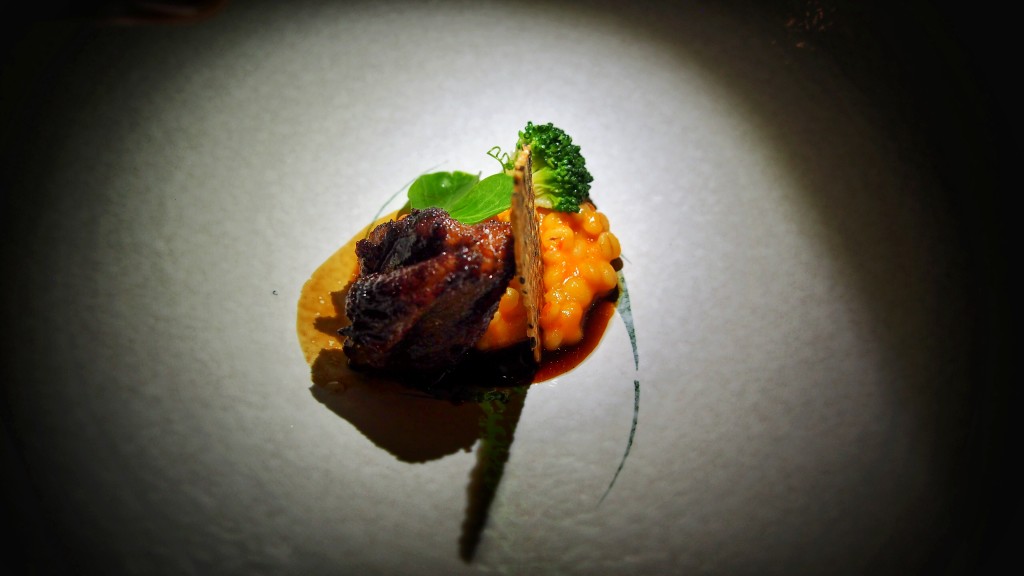 Consisting of contemporary prepared beef cheek, barley porridge with capsicum purée and a white and black sesame chip. The beef cheek melts in your mouth!
EXOTIC
mango fromage blanc, snow wine pear, green curry
It is always possible to try something out of the box. 'Exotic' runs wild as a dessert, with a wide array of colors like a walk in the garden.
The Mango Tiramisu blends surprisingly well with the Green Curry Sorbet. How amazing.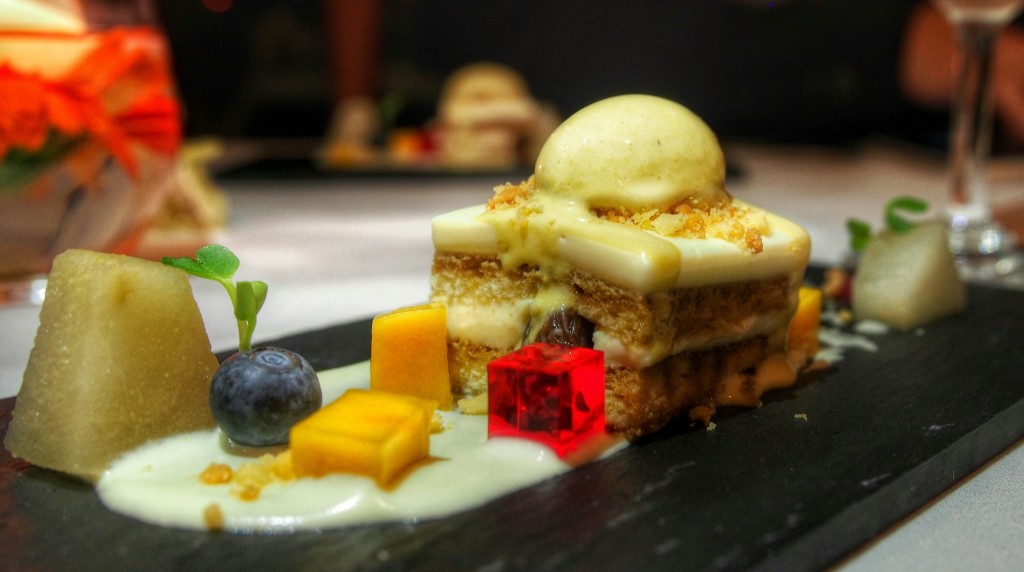 Thank you Rabbit Stash and Chef Matthew & Team for the great invite! It has certainly been a whimsical and adventurous dining journey.
Do visit The Rabbit Stash for 'ENSOPHI' with the details given below!
The Rabbit Stash
Wangz Hotel, 231 Outram Road, Level R, Singapore 169040
Degustation Menus, changes quarterly:
Dinner (7-course, 5-course, 4-course): $148+ / $108+ / $90+
Lunch (2-course, 3-course): $36+/ $54+
Lunch hours: Tuesday to Friday – 12noon to 2pm (last order at 1.30pm)
Dinner hours: Monday to Saturday- 6.30pm to 10.30pm (last order at 10pm)
[Article and photography are : Co contributor and Ex founder, Tay Yong Chuen]