Here's our Bali guide. IZE Seminyak is the perfect stay found in Seminyak Square.
Here's our first Bali guide. From the bustling nightlife to the tranquil moment on the beautiful beaches, Bali offers a myriad of experience. IZE Seminyak, like its name, is arguably best trendy hotel to explore the "Beverly Hills" in Bali. 
IZE Seminyak attracts any modern young traveller looking for a unique place to recharge with its chic and upbeat vibes.
Sui Generis Architecture
We were greeted with the unique modern architecture of IZE Seminyak upon arrival. A geometrical theme was featured on the hotel's facade and this was carried on within the hotel's interiors. 
The series of clean lines and cool tones made IZE Seminyak standing out from other resorts and hotels. 
Unparalleled Accessibility 
For the frequent traveller in Bali, getting to your hotel after your flight is best to be fuss-free. Given the close proximity to the airport, our 25-minute airport transfer was swift and easy. Airport transfer could easily be arranged with the hotel for a seamless experience!
The hotel is located in the heart of Seminyak Square with hip cafes, luxurious spas and gastronomical delights, all just a stones throw away. For the shopaholics, boutiques are all lined up along the road leading up to the popular Seminyak Square.
Comfort Just Like Home
When we stepped into our room, it was surprisingly spacious with modern zen vibes. The decor was calming with its turquoise accents and glass.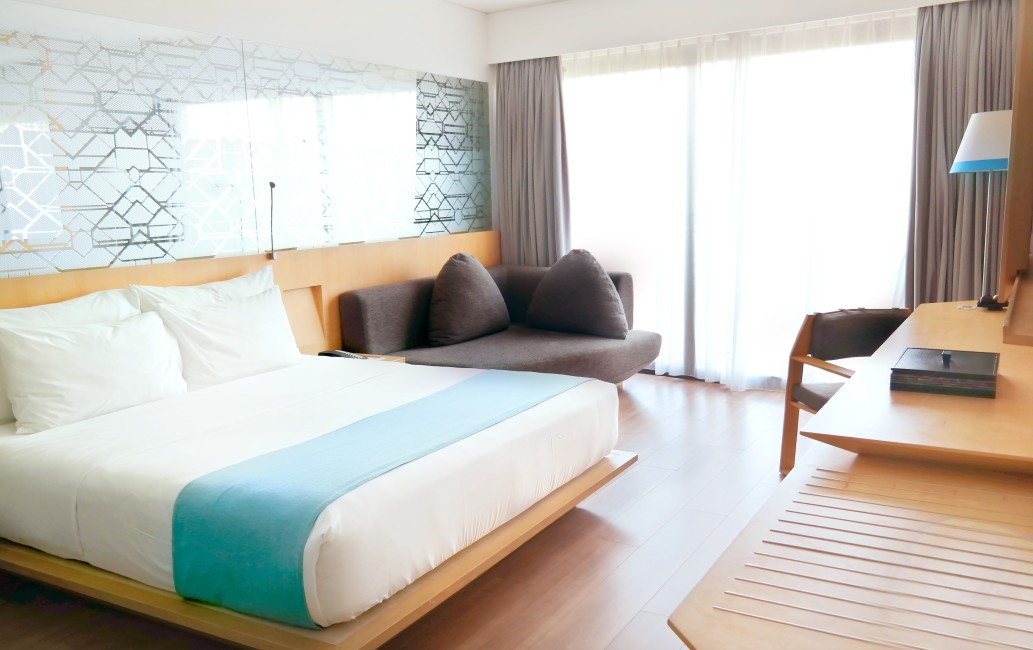 We took a fancy to the day bed in our Deluxe Room, as it was the perfect place to relax after a day of activities. The room featured a small balcony that boasted stellar experience of sunrise views.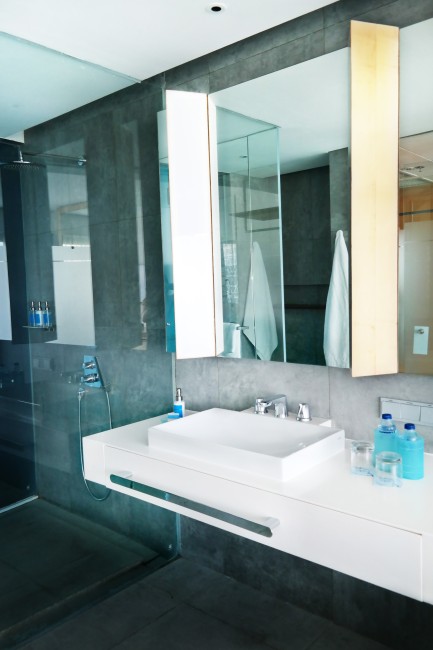 The bathroom was well equipped with a rain shower, modern fittings with an array of toiletries nicely packaged with signature IZE Seminyak colors.
Although the trendy hotel is located right in the heart of Seminyak Square's busy streets with no lack of bars and nightlife, IZE Seminyak offers a tranquil and peaceful night's rest with no hint of noise.
A Breakfast To Start Any Day
Meja Restaurant fulfilled us with amazing breakfast daily. The buffet offered a wide range of freshly intercontinental offerings to American-style pancakes and waffles.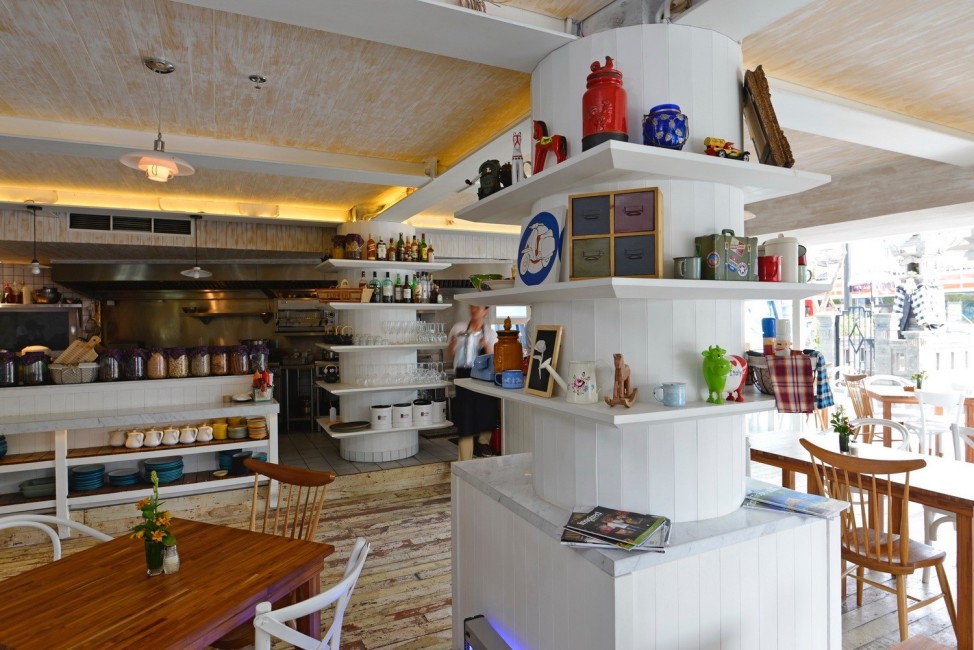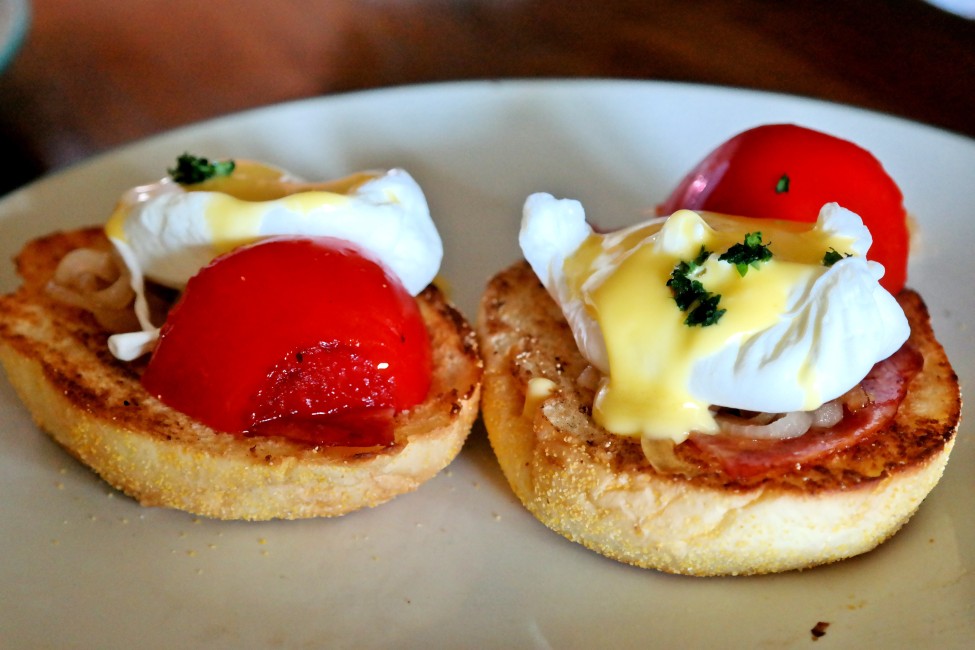 But the best of all were the coffee and egg ale-carte menu selection. We decided that one type of egg order was never enough, so we went for the eggs omelette and the poached eggs!
Thoughtful Amenities
"Is WIFI included?" will be a firm thought that goes into booking a hotel when planning for travels. For those who need to stay connected, there is a business lounge with computers and free WIFI. IZE Seminyak makes our Bali guide perfect.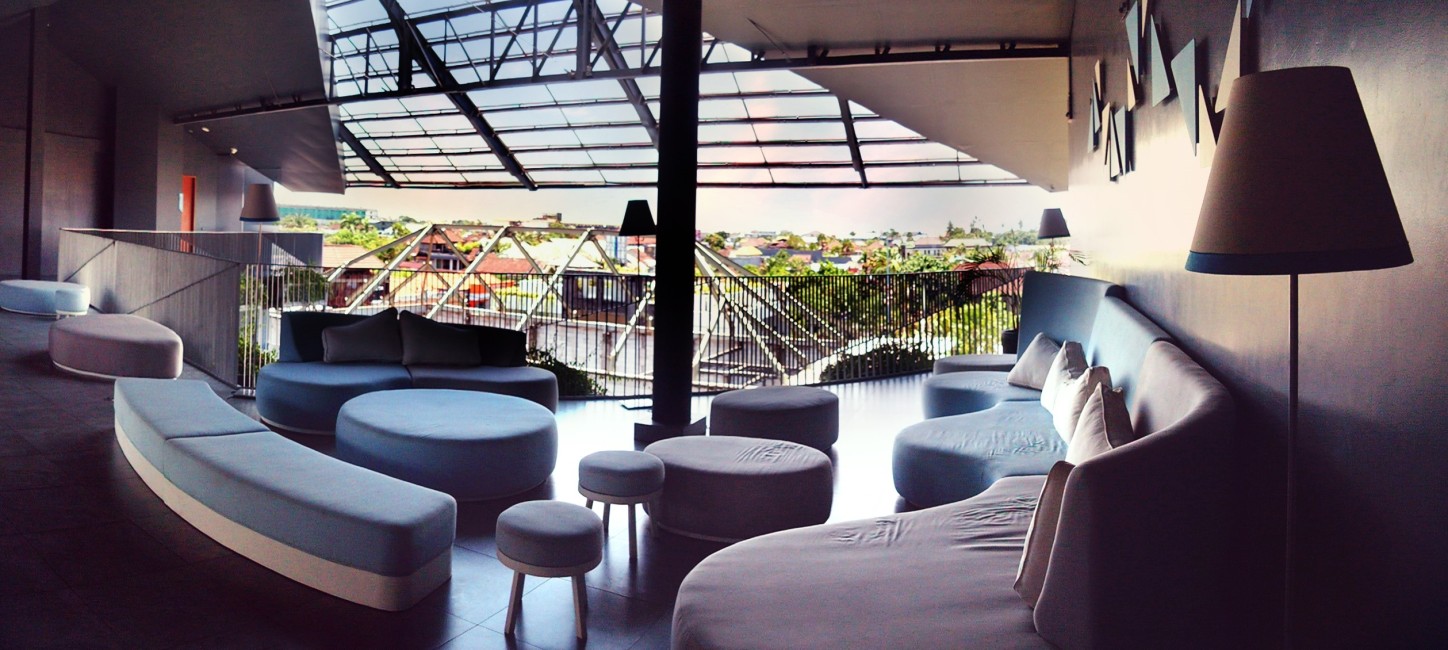 There is another large communal space where friends can meet to socialize or just hang out. The comfy sofas are also great for just relaxing with a book.  
Winding Down Your Evening
Although Seminyak Square has loads to offer, IZE Seminyak's rooftop pool bar provides a good alternative for a quiet night-in.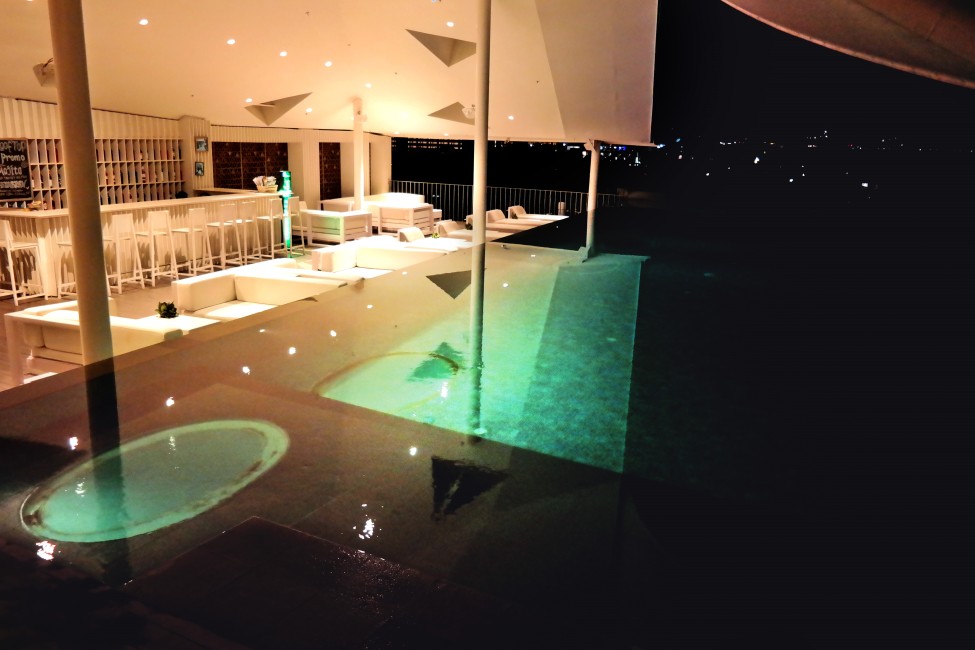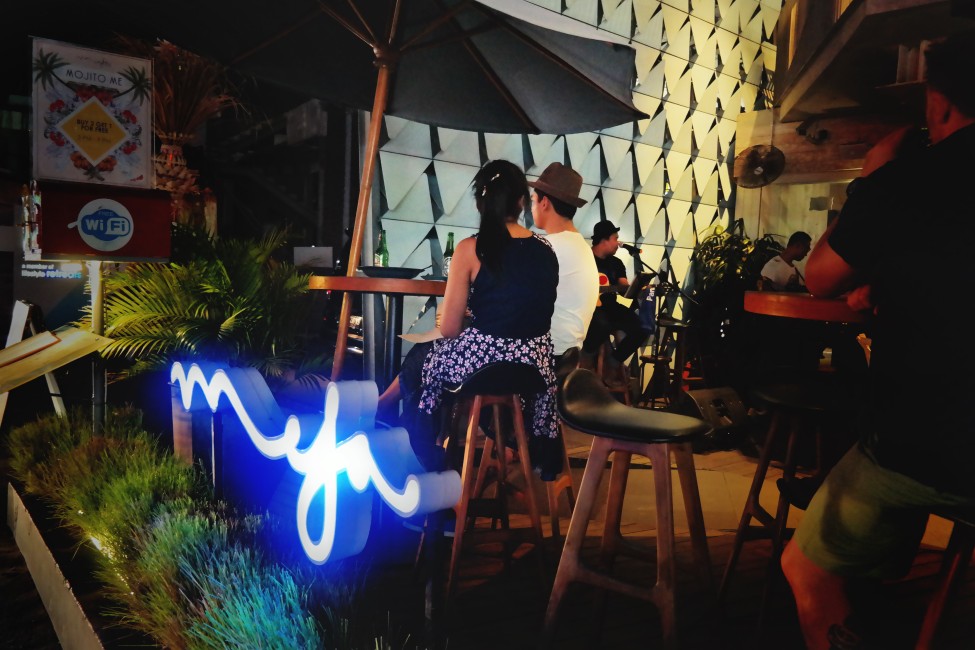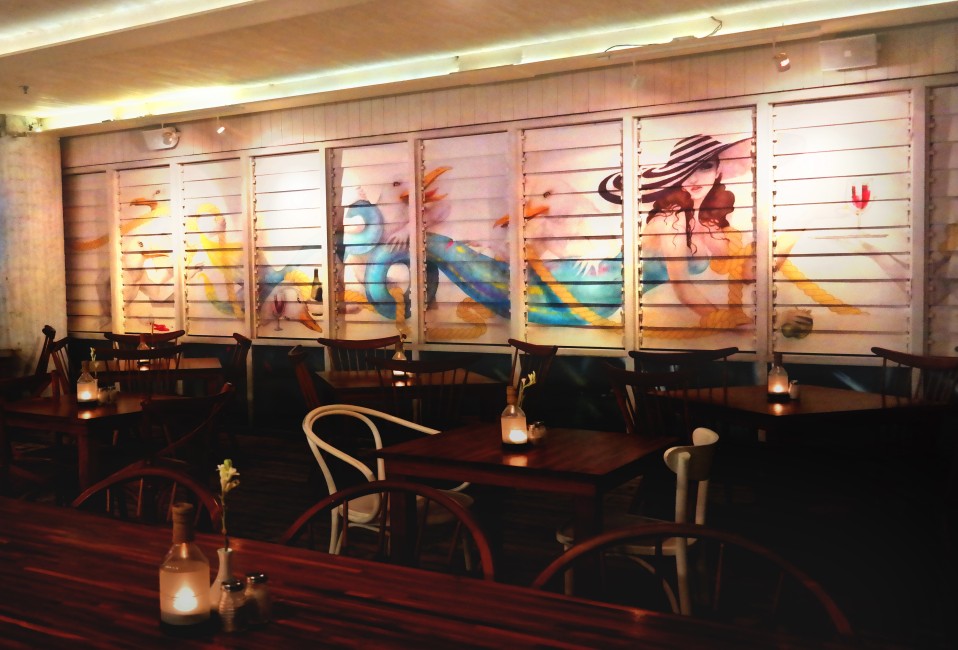 With a wide range of in-house cocktail selections,  you can simply laze around in one of the comfy day beds or sofas. The swimming pool provides an enchanting evening with spectacular sunset skies. For a more social setting without having to leave the hotel, Meja Restaurant transforms into a romantic dining spot with live music playing on its alfresco patio.
For a more swanky boys' night out, you can choose the trendy Single Malt bar, just above Meja Restaurant. It features a wide selection of imported whiskeys. 
Have A Slow Walk Along 
Seminyak Beach
Just a 15 minute walk away with great sunsets and close proximity to popular beach clubs such as Potato Head Bali and KuDeTa, you can take a slow and relaxing walk along Seminyak Beach. This is certainly a must-do of our Bali guide.
Verdict
With its rate starting from USD$79 per night (rates depend on seasonality) for a Deluxe Room, it is a very modern and chic choice to stay in Seminyak Square. The zen vibes and privacy is a winning point for the stay.
If you are looking for something modern and sophisticated yet it will not break your bank, this is a definite choice to stay in Seminyak Square – IZE Seminyak. This is probably our best Bali guide.
For more booking details, please visit IZE Seminyak for more information.
Hotel rating: 8/10
Jalan Kayu (Laksamana) No.68, Seminyak 80361 Bali, Indonesia
Tel: +62 361 846 6999
Hours: Daily
Website: http://www.ize-seminyak.com/
Nearest Station: –