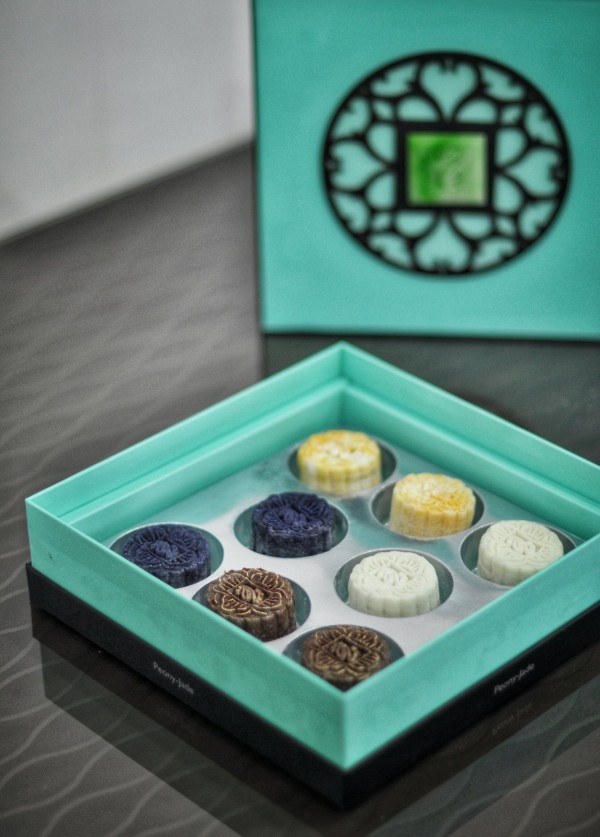 Peony Jade's unmistakable perfume of its freshly made, lovingly handcrafted award-winning mooncakes is once again in the air. To celebrate the abundance and togetherness of the mid-autumn festival, the brand's culinary team is proud to present the 4 new heavenly kings with one new creation under each of the four cornerstone categories (baked, flaky-Teochew, durian snow skin and limited edition snow skin), 5 new fruity flavours and its popular signatures in the traditional baked and flaky-Teochew ranges.
We picked up some favourites over the flavoured mooncakes!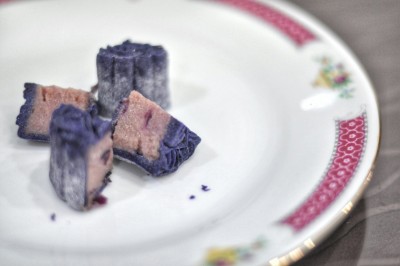 Japan Kyoho Grapes, 顶级日本巨峰葡萄
Japanese Kyoho Grapes are famed for juiciness and rich grape sweetness. . Primarily grown in Yamanashi and Nagano prefectures and harvested twice a year in August and September, they are graded carefully for colour, size and imperfections.
The grapes' fragrance and flavors emerge well together.  Additionally, you could taste the good texture of the mooncake filling that has a little icy feel.
Peach-Passionfruit-Chocolate with Champagne Mousse centre, 桃子及百香果香槟慕斯
The key element about this flavoured mooncake is certainly about the champagne mousse. The champagne is about 12.5% content in the mousse. The passionfruit flavour is tasted as sweet and citrus.  It is one of the most sweet flavors tasted here.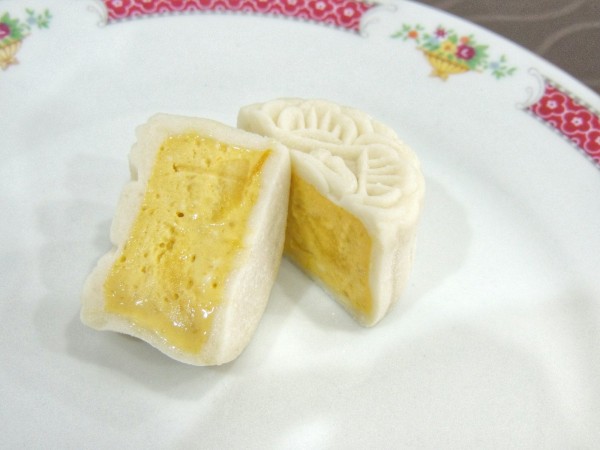 Honey Mango-Philadelphia Cheese 
We totally love thick and creamy cheese! It is like eating cheesecake ice-cream with a hint of savoury flavour.  It balances well with Honey Mango.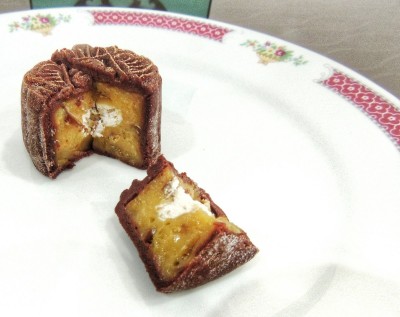 Chestnut-Salted Caramel, 栗子咸焦糖慕斯
The salty bits of the caramel in the mooncake is just like sticky muah chee. We love the soft moisture over it.
We do feel that Honey Mango-Philadelphia Cheese is our top favorite!
From 25 July to 27 September: Online purchases on www.pjmooncakes.com and www.peonyjade.com.
From 3 August to 27 September: Onsite purchases at Peony Jade's restaurants.
From 27 August to 27 September: Onsite purchases at 9 malls / Takashimaya Shopping Centre. Chevron House, Raffles Place. TANGS VivoCity, Level 1. Jurong Point, Main Atrium. TANGS nex@Serangoon. Century Square. Junction 8. Lot One. North Point
[Article and photography are : Co contributor and Ex founder,  Tay Yong Chuen]