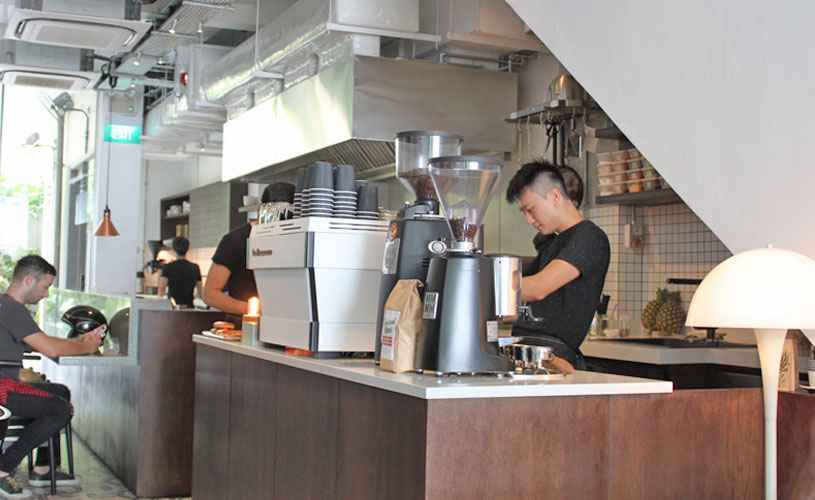 Brought to you by the guys from The Plain and Ronin just around the corner at Hong Kong Street, Punch is no newcomer to the cafe scene. The location is pretty well placed with a large, gorgeously green courtyard and a really wide working space that rival cafes secretly envy. To be honest, I was expecting some kind of cocktail menu, relating Punch to the kind you mix with alcohol varietals. While I'm pretty sure they serve a good list of drinks over dinner, it isn't the highlight for brunch.
Can't decide what to have for brunch? Surprise yourself at Punch.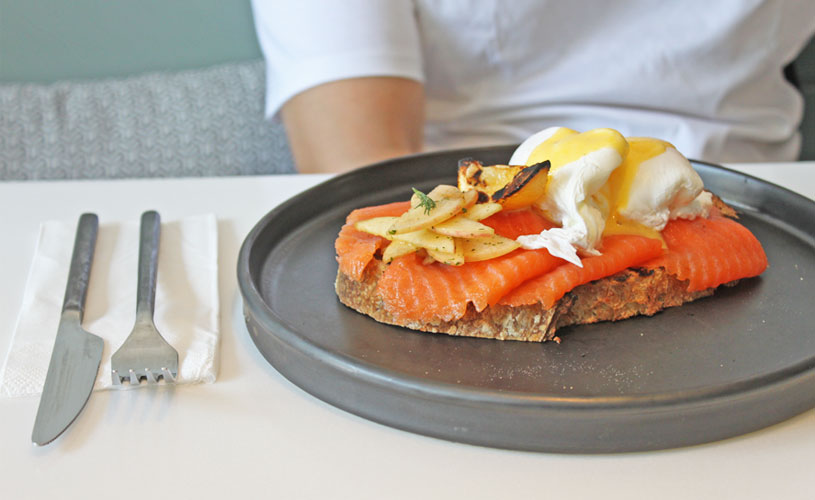 At just S$15 for this plate for amazingly heaped slices of smoked salmon with two gorgeous poached eggs drizzled with Hollandaise sauce – I'm quite sold. So they don't have a menu like I said – you can either pry your ears to listen to every detail, or have the poor gentleman repeat it till you know what you want.
The eggs were well-poached, and the hollandaise sauce, creamy and delicious. They probably used a rather good quality of smoked salmon because it didn't have the bold salmon meaty flavour that can be a little overwhelming. The bread recommended as the base was a brioche but we had it swapped to a tasty rye which had an option to be "french-toasted". So much customisation involved!
When I was there, there were 3 poached eggs option and two others, one of which is the Frittata pictured below. And there might have been others, but there's only so much one can remember…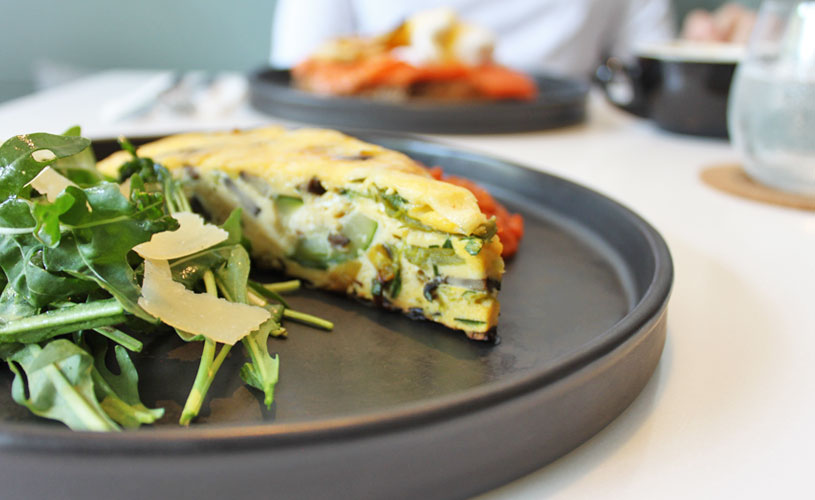 The vegetable frittata was an unlikely choice for me because I'm definitely a Benedict fan but just for variety's sake, I chose it. It was a good one though, with the eggs cooked rather fluffy and not dried out like most frittatas' fates are. The mushroom and linguine chunks gave really good bite and texture to the overall cakey presentation.
The argula salad was simply dressed with olive oil and good ol' sea salt and pepper and savoury shavings of parmesan. Tasted absolutely fine for something so simple. And at S$14, it's quite a bargain.
My companion had a Latte (S$5.50) and I chose the Long Black (S$5.50) to beat the heat. Coffee's not out of this world but really decent, and I might add probably the same roast as Ronin's if I'm not wrong.
I really enjoyed the coffee at The Plain more though.
Verdict
Having menus limit the choices as one is considering brunch locations so with this formula, I think people are keen to be surprised by the open options they can get. I really like the idea, and I think the food is very well-priced, and of really good quality as well. I most certainly will be back for more, and dinner's next on the munchlist.
Review Rating
7.5/10
Punch (Map)
32 North Canal Road
Singapore 059288
Hours: Tue to Fri 10m to 10pm | Weekends 8am to 6.30pm
Nearest station: Clarke Quay