For our very first curated event, we are collaborating with Rainbowly Singapore for 'RAINBOWLY X ASIASTYLEASIA WORKSHOP'! This will be a workshop to learn about their specialized hands-on chocolate bouquets with a lovely after tea party! This is happening on 11th October 2015, 2pm – 4pm at Cravings 6 Tebing Lane #01-05 Singapore 828835.
Kindly click HERE to view the workshop's details. Reserve your slot today! Alternatively, please call 9499 5224 or email order@rainbowly.com (It will be $40 per pax for general public after 20% discount.)
We did a short conversation with the girls from Rainbowly Singapore! Hear from them about their innovative brand!
1. Kindly introduce about Rainbowly brand. We are well noted about your upcoming workshop. Tell us more about it too!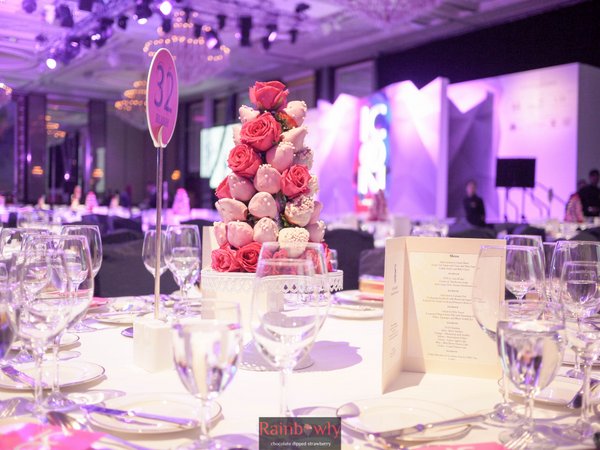 We are the only fresh fruit arrangement company in Singapore that offers chocolate designed strawberry. Yes, you might find other companies providing fruit baskets but have you seen such Instagram-worthy product as ours?
To be honest, we highly focus on the designs of our bouquets, stay up-to-date with the popular toppings, innovative ideas-yes there is a fashion for food industry. We participate in the life of Singapore and involve with events happening here. This is done by introducing special designs for occasions like Halloween, Christmas and other grand happenings.
As a part of SG50, we managed to reach out towards people from younger generations who wanted to thank their pioneers and we gave away 50 edible fruit bouquets. As a result, touching photos were shared with us and a wall of sweet "thank you" by younger generation was also created.
As for the upcoming workshop, we feel that DIY is always the most touching gift! Therefore, we would like to share our tricks on how you can make delicious yet affordable gifts that will simply WOW the receiver! What can you expect from the workshop? First, lots of chocolates!!! Secondly, we believe that cooking classes make us closer so be ready to meet like-minded people! Finally, we expect to have a tea party after that, where you will have a chance to taste some of our home-made desserts while sharing the pictures on Instagram. I`m telling you, 20% increase in likes is guaranteed.
2. What are the type of chocolates used during your arrangement? Any specialty?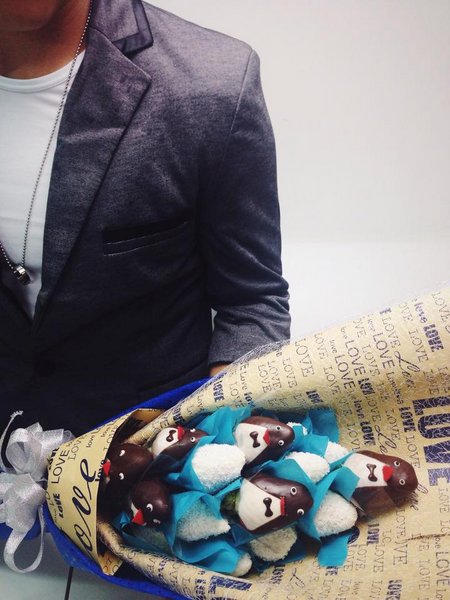 When it comes to chocolate we are the masters, the chocolate artists. We use artisan Italian dark, white and milk chocolate and are always glad to work on various colour themes for the customers. Did you know that Tiffany Blue and Powder Pink are in trend now?
3. Why do you use fruits? Will there be new featured products?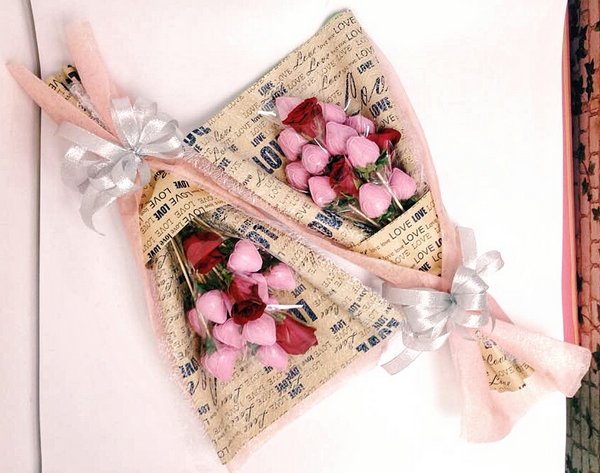 Why do we use fruits….OK, we try to make nutritious desserts-no baking needed when the nature provides us the source of vitamins. Also, we believe that colourful food is very appetizing and fruits work the best here. Having introduced edible fruit bouquet idea in the country where fruits are in such easy access, we are planning to expand our product lines and offer single piece strawberry as a dessert for your afternoon coffee/tea time. We are constantly searching for new dessert options for our sweet table.
4. Quoted from your website, 'Success lies the contribution of partners and the support of mentors to whom we are very grateful.' How will you advise someone who wish to venture into F&B entrepreneurship?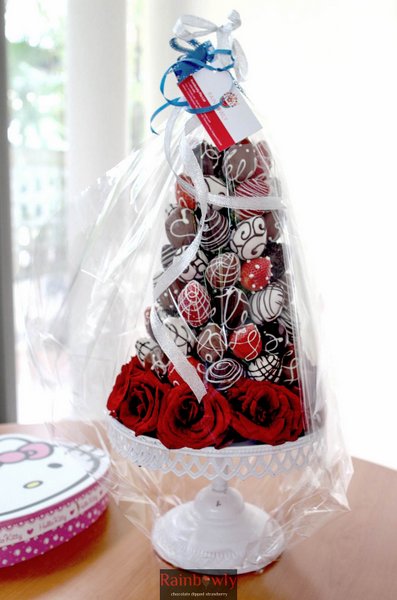 We don`t like to be considered as another dessert/flower/gift company. We are in the business of creating unique experience.
Yes, we have competitors and we love it. To us, business is the ultimate sport. There would always be someone trying to beat you but your willingness to outlearn and outwork everyone is what keeps you moving and improving. Probably, that`s how we expanded our product lines. Recently, we introduced unique dessert tables where we added cheesecake lollipops to traditional floral arrangements, replaced cupcakes with a lighter fresh mango and chocolate mousse, presented biscuits in a form of crust on the top of French vanilla pudding. Strawberry tower forms still a centre piece for the dessert table.
Secondly, we are very practical and promote this philosophy to our clients – why spend money on flowers when you can have edible bouquet? Imagine there is an event, you can have a pot with designed chocolate dipped strawberry as a 2-in-1 centre piece – flowers and dessert.
Lastly, don`t start a company unless it`s an obsession and something you could relate yourself to. We started the company as a need to surprise the beloved one who doesn`t consume sugar-that is how a healthy dessert option appeared. You can`t work in a tobacco company and promote a healthy lifestyle, can you?
For more information about Rainbowly Singapore, do visit www.rainbowly.com