Restaurant Week review at Fort by Maison Ikkoku
Ethan Leslie Leong is not an unfamiliar name. Maison Ikkoku at Kandahar Street was one of my favourite cocktail hangouts – till it got crazy packed. But taking the path of a chef, without any culinary training, Ethan is now Chef of Fort by Maison Ikkoku. Slightly drawn away from the quirky style of Maison Ikkoku, but stylish by itself anyway, Fort by Maison Ikkoku is nestled on the peak of Fort Canning Hill.
A retro industrial space, with polished copper counter tops, oil lamps, and solid timber blocks as support form the backdrop of today's Restaurant Week review. Gorgeous copper tungsten lamps hang from their high ceilings, with the counters soaking in and reflecting the orange luminescence.
3-course Restaurant Week menu at S$38++
Fort is serving a surprise menu at restaurant week so I hope this isn't a major spoiler for you guys, it's probably likely he'll make some alterations to the menu depending on audience feedback.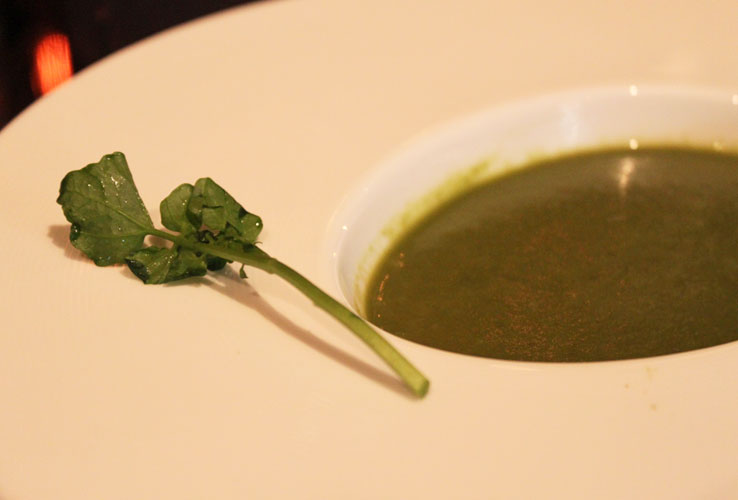 The first of three courses was a starter, the Watercress Soup with Chicken Consommé. This soup's a playful trial on the senses because in Western cooking, you don't typically use watercress because of its 'greener' taste. But with the tasty chicken consommé reduced to form a thicker broth, together with blended watercress, it's a pleasantly uplifting soup that's hearty and delicious.
It was a rather confusing moment as I felt like I was drinking a double-boiled watercress soup but in a more luscious form – and mind you, it's not from copious amounts of cream. This soup is hearty, and healthy – but certainly not for those who are allergic to the taste of greens.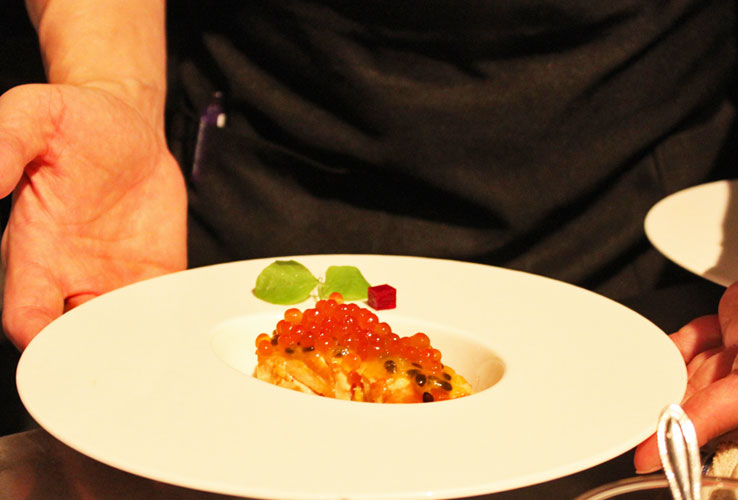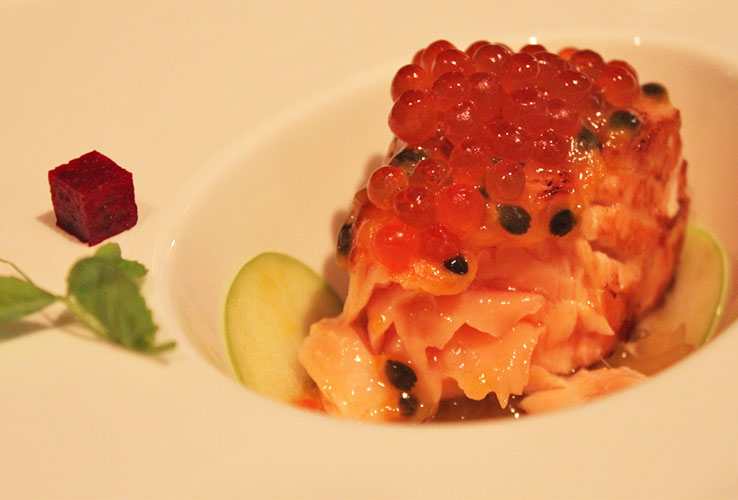 The Sous Vide Salmon with Passionfruit was nothing short of amazing. With the stack of Ikura, you would think that's the reason but it's not. What struck me was how well-balanced the dish was. With the often overly sour passion fruit, and to top it off, slices of green apple at the base, it was interesting how he married the delicate seafood flavours together into one.
Grilled for the toasty and slightly crisp exterior, the salmon was perfectly cooked pink in middle.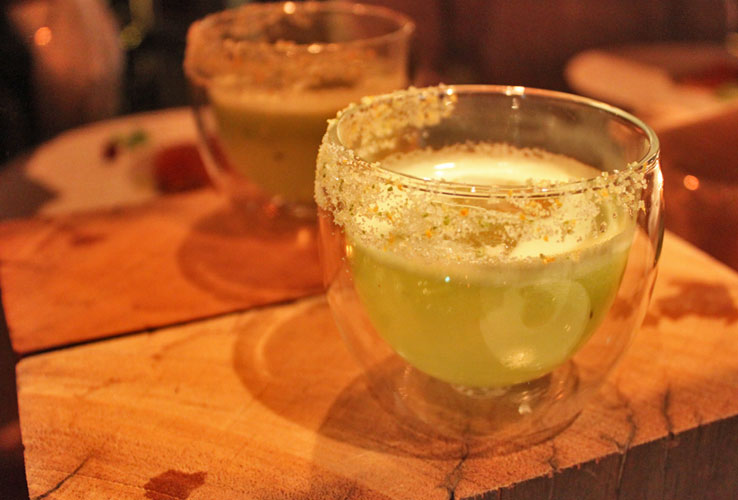 Just at $20++ more, you can get two cocktail pairings, one with the main, and another with the dessert. For the salmon, we got a rather refreshing kiwi vodka-based concoction with homemade citrus sugar. Might I add it went rather well, with the slightly tart kiwi flavours, and sweetness you can add when you want with the sugar only coating one side of the glass.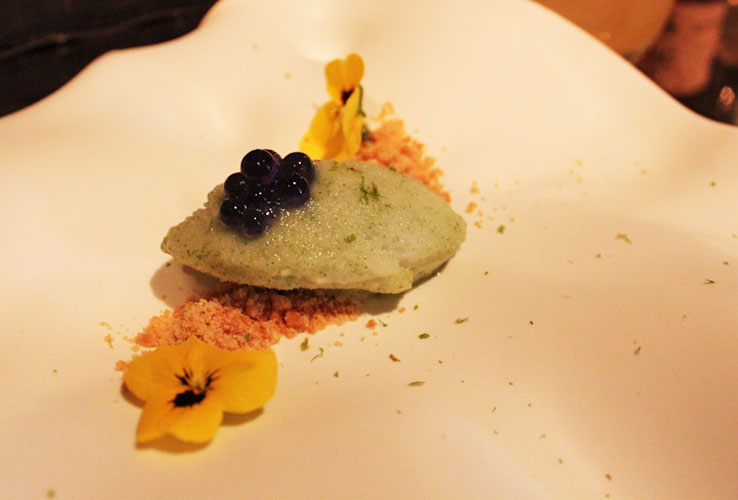 I daresay I haven't had a Shiso dessert in Singapore before. The Shiso Sorbet is made from scratch, with fresh Shiso that's clearly used in adequate quantities to not be too overpowering. The crumble below gave texture, and made the dessert fuller and the lavender caviar just tops the scent off interestingly.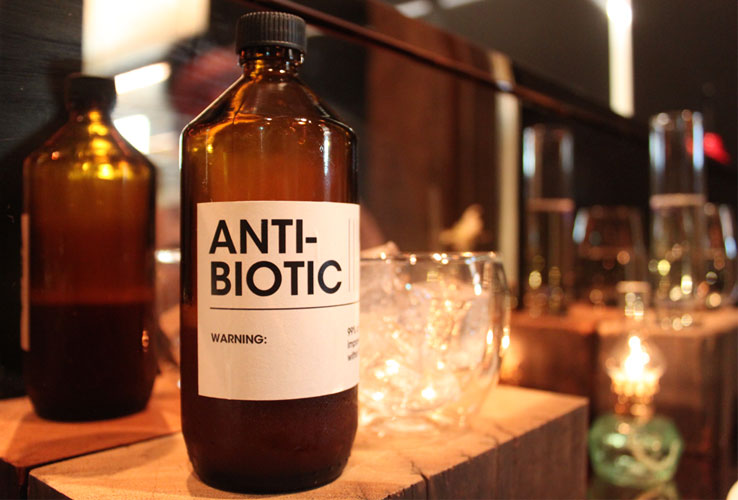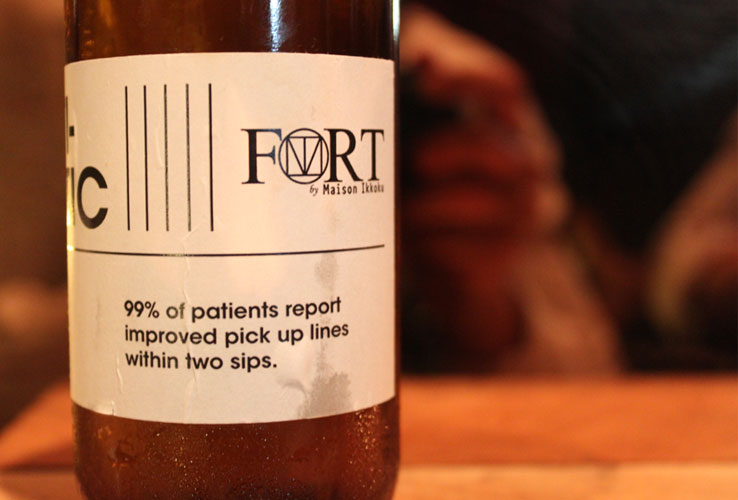 Apart from the Restaurant Week menu, Fort IS by Maison Ikkoku and you can't say no to ordering a cocktail or two from them. The Antibiotic is my all-time favourite whiskey based drink – smoked in sherry for the deep but fruity fragrant and a dose of ginger bitters in the whiskey did an amazing job of raising the sweet profiles of the liquor.
I can have two more of these and it'll still not be enough.
Overall, Fort by Maison Ikkoku has literally surprised us with their Restaurant Week menu. With an excellent build-up of fresh, well-balanced flavours and those cocktail pairings that were perfectly executed – you'll be up for a good evening out.
Book a seat before they are gone! And, look out for Restaurant Week Trials Part II!
Quality of food: 8/10
Fort by Maison Ikkoku (Map)
5 Cox Terrace,
Singapore Pinacothèque de Paris,
Singapore 179620
Tel: +65 – 6336 0507
Hours: Sun to Thu 4pm to 1am | Fri & Sat 4pm to 2am [Restaurant week timings may defer, check the website for more details] Reservations: Either via phone or click here for restaurant week bookings