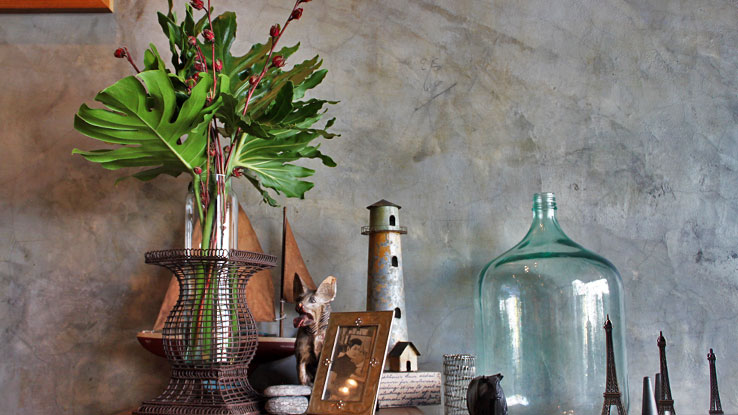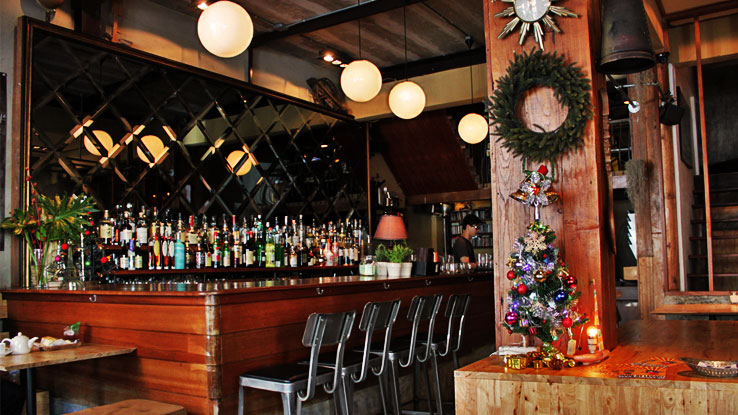 If it's already your 5,429th time to Bangkok and you're still looking for the next best Thai cuisine to wow your palate, stop. Bangkok is home to scores of international citizens, made up of tonnes of different ethnicities and races that have tried their hand at the bustling F&B scene there. None have gotten it quite right with Mediterranean selections though – Seven Spoons authentic Mediterranean-inspired menu, and their accidental association with it being a vegan restaurant, has shown its mettle in producing the freshest, most original, but yet inventive menu that cuts across a wide range of international flavours.
The mark of a good restaurant is their bread, and it being homemade says a lot. The olive foccacia was served piping hot with roasted onions over the top, and paired with a rich, creamy and salty seasoned butter – there's no better start to meal. I had to shove the plate back to them so I wouldn't finish the entire loaf.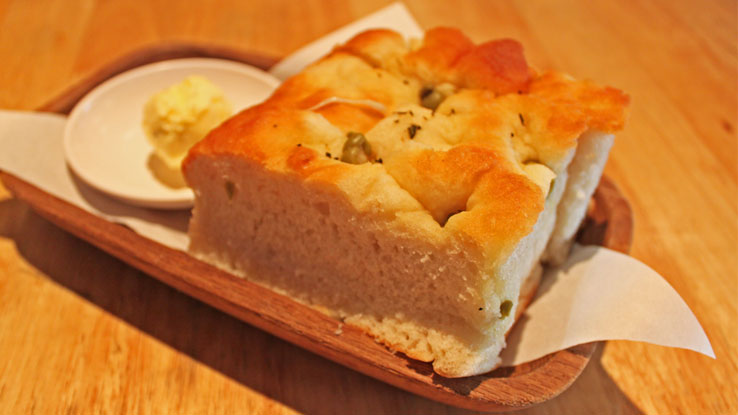 Luscious leaves and salads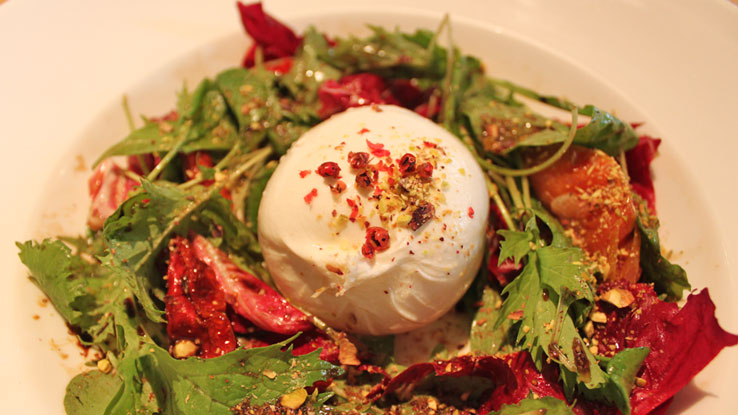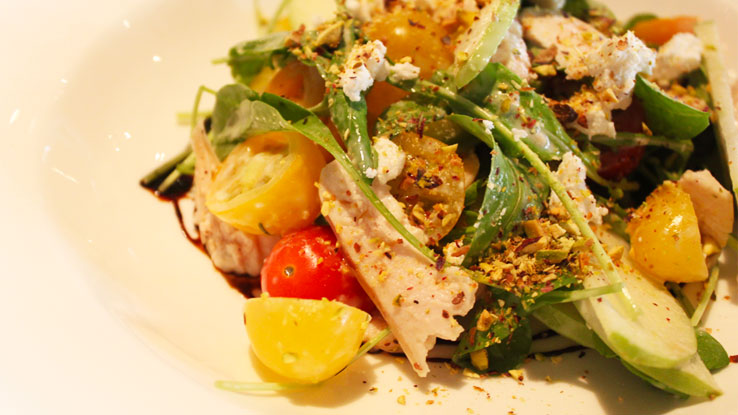 Despite having an already extensive menu, just on starters alone, there was a 'specials' menu with easily over 15 items for you to choose from. We chose a fresh burrata tossed with mixed greens in wild honey dressing, and a chicken confit salad that's on their regular menu.
Restaurants in Bangkok has seen the emergence of clean/healthy-eating habits and Seven Spoons was quick to jump on the bandwagon. While not all items are entirely organic, Seven Spoons source their ingredients locally, and that's not just restricted to Bangkok. Their procurement is based on specialty produce that's unique to specific regions within Thailand, conferring a wide variety of flavours from all parts of Thailand.
The burrata is freshly made by a local cheese maker, and naturally, the greens organically grown. And with less import costs incurred, the resulting creamy, freshly made burrata was generously shaped close to the size of a lady's fist – a substantial savoury accompaniment to the arugula. Unsurprising was the effort taken to prepare a chicken confit as the salt-conferring partner to the Waldorf salad. The tart green apples, sweet baby tomatoes and mildly bitter arugula medley came fabulously well together with the goat's cheese crumbs.
Bar bites & small plates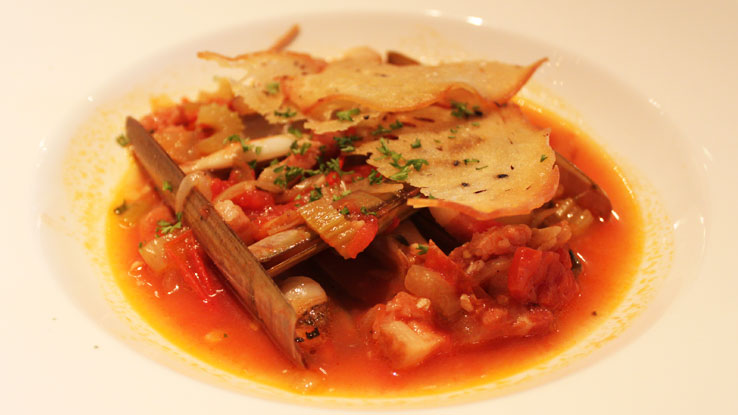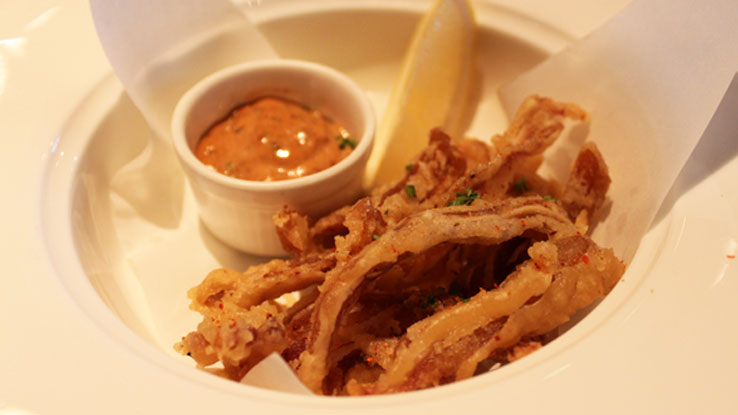 The bar bites were next, ranging from a modest THB140 to THB240. We had a daily special of razor clams with chorizo (a la tapas style) and their popular deep fried pig's ears with a homemade harissa mayo. The clams were undisputedly fresh, and clean-tasting with only the fragrance and salt from the chorizo to enliven the flavours. The fried pig's ears came with an amazing crunch but the harissa mayo was the star, cutting the grease (despise being creamy itself), and inflicting a fiery heat that I thoroughly enjoyed.
Hearty and sumptuous mains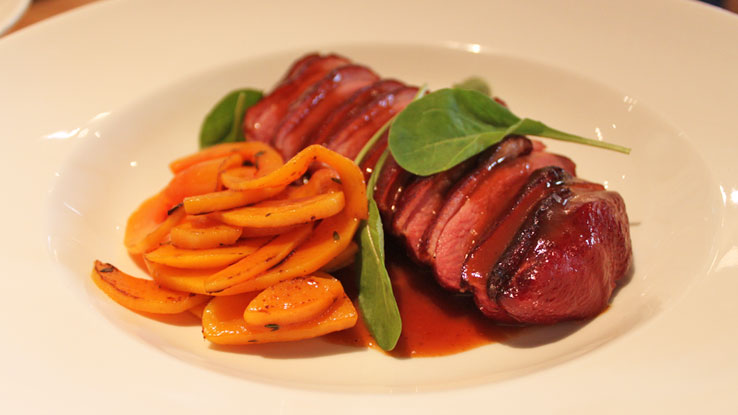 If you still have room though (pace yourself well), after the generous portions that have been consistently presented, the pastas are a hot recurring favourite, and we were recommended the mains of a smoked duck as well – smoked in-house no less. The smoked duck was deliciously seasoned in a deep, star anise spiced sauce that masked the typically strong, red meat poultry. Slightly torched to caramelize the surface, the earthy, sweet butternut squash, bundled together with the crisp duck skin AND duck was heaven.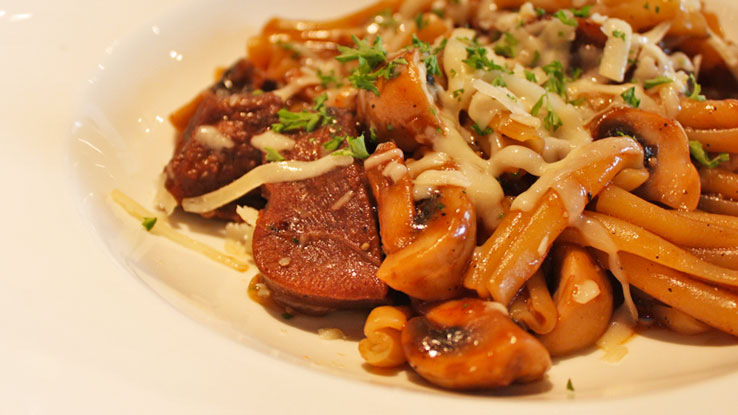 If your hunger is still not yet satiated at this point, the ox tongue with gruyere mushroom sauce and casareccia (twisted s-shaped) pasta is a hearty selection. Generous chunks of ox tongue tender to the bite, devoid of any gamey-ness you may expect come heavily peppered, but yet not overdone. The casareccia pasta is an excellent choice with the shape made to soak up the meat juices and the umami gruyere sauce. If you are planning to have more starters, this might be a tad too heavy for you to add on but we loved this dish all the same.
Seven Spoons isn't the easiest place to get to around Bangkok but post-lunch, ask them for directions on how to get to the riverway where you can hop onto a river taxi that will take you right to the heart of Siam, near the famous MBK Shopping Mall. And the ride costs a mere THB 9!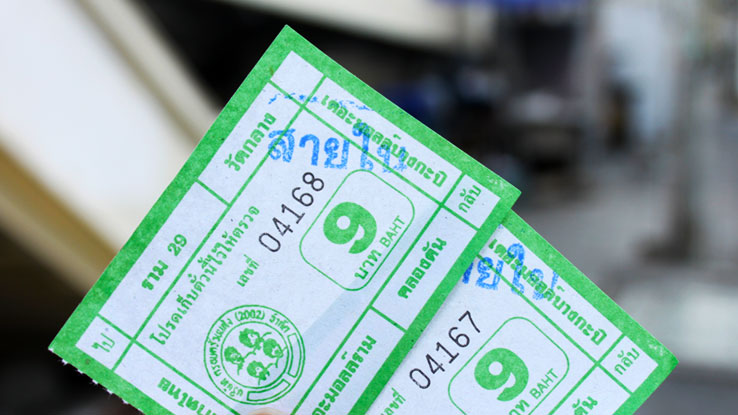 All photos taken by Canon 500D.
211/8 Chakkrapatipong Road, Bangkok 10100, Thailand
Tel:+66 2 629 9214
Hours: Mon to Sun 11 am to 2pm | 6pm to 11pm
Nearest BTS: Ratchathewi (But please be prepared to take a cab/tuk-tuk there because it's potentially a long walk)