Henk Savelberg's possibly one of the few Michelin-starred chefs that still cooks and manages all his restaurants in the Netherlands. His first restaurant out of his home country, Savelberg Bangkok, is a modern French restaurant that serves up exquisite French cuisine, with nuances of his Dutch influence in it.
French cuisine with Dutch influences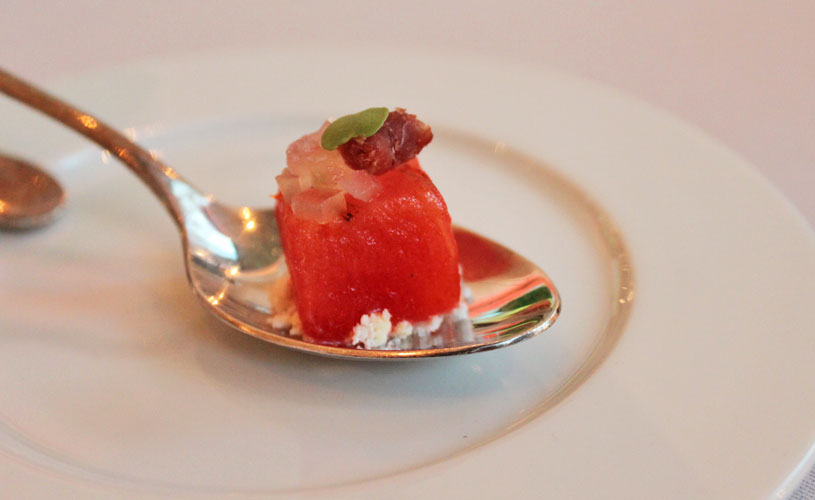 Dutch cuisine is simple and straightforward, with more vegetables than meat. Marrying that with the richer, more luxuriant of cuisines, French – one is curious to what the results may be. A simple amuse bouche of a cube of watermelon, roasted to bring out the sugars in its surface, made a strong entrance with the juice of the watermelon harmonising all the ingredients in one, culminating in a sweet and savoury start.
A trio of salmon themed appetizers were next, arranged to be somewhat like a sushi platter, with the various sushi types present.  Seafood is flown in as often as needed, to ensure absolute freshness in all ingredients. And despite the different ways the salmon is prepared and presented, the clean tasting salmon persists as a canvas for the different condiments to lend their flavours.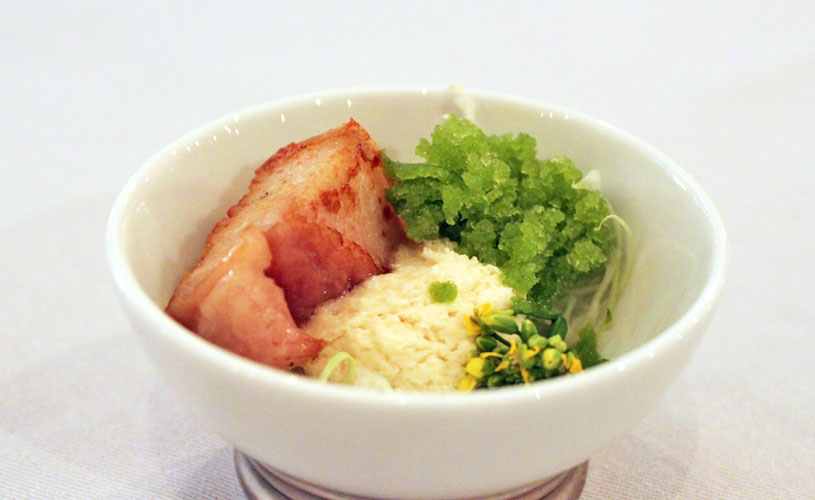 We were treated to the 6-course Savelberg Experience (THB 3,700) which is a seasonal menu that changes on a regular basis. Moving on to my third amuse bouche, a roasted piece of pork lard on a bed of polenta. You can just imagine the unctuous fragrance flowing into the tasty polenta, but we could taste it – and it was delicious.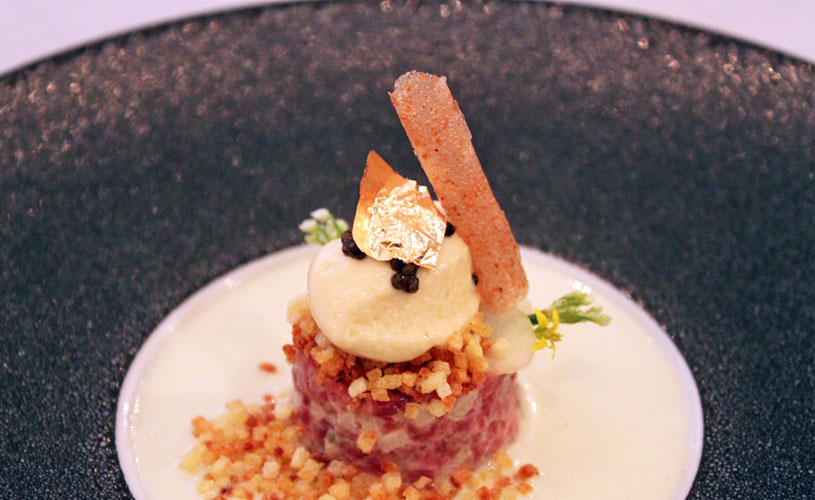 The Veal Tartare is a mainstay on their a la carte menu, for good reason. Crispy fried pieces of potato and bacon are mixed into the minced veal and seasoned simply with salt, pepper and a hint of mustard. The dollop of yoghurt with the caviar bits serve to bind them all together for a smooth delivery into the mouth. And every bite's a delicious crunch with flavours exuding from each individual ingredient.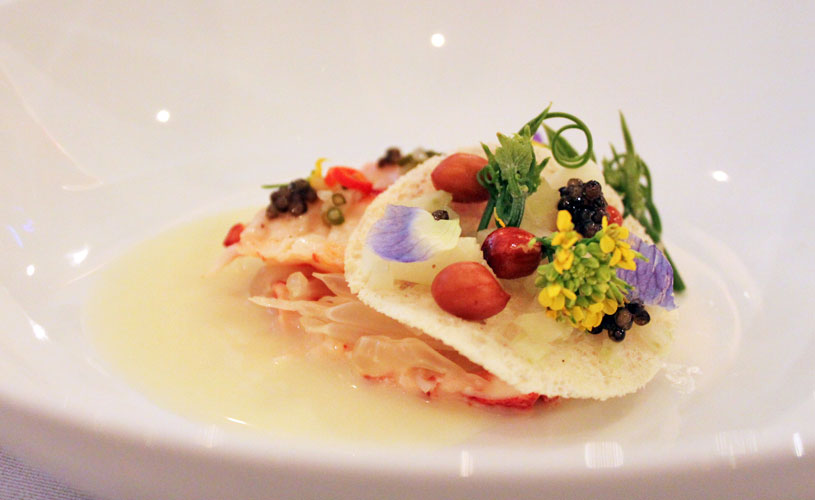 The Lobster is a delightful assembly that takes on a hint of local flavours with pomelo and papaya. Topped with a tart yuzu dressing and caviar, this dish was a great starter that's immaculately presented as well.
The Oyster and Beetroot is a simple dish seasoned with chives and beetroot relish but we were coerced to chew the oyster carefully, and we did. And the result was an interesting coordination of the minerals from the oysters and juices that I can't even describe. As expensive as it was, it was really tasty.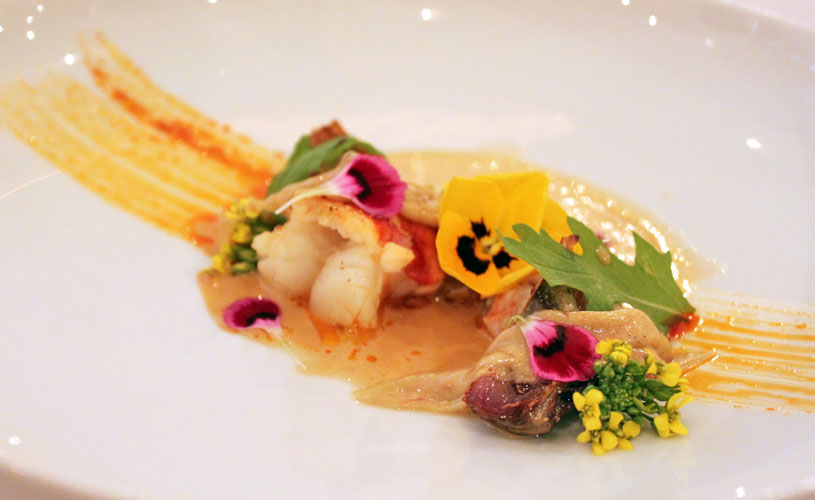 The Langoustines were next. And I'm sure you have noticed by now how much effort is put into garnishing each dish. There's literally an assembly at the front of the house where a few chefs will fuss over what goes into dolling up a plate – exactly how a Michelin restaurant is set-up. Laid upon a brush stroke of gazpacho, this dish is all about the natural sweetness of the langoustines which were fortunately, left by itself to shine.
And finally, the mains we've been waiting for…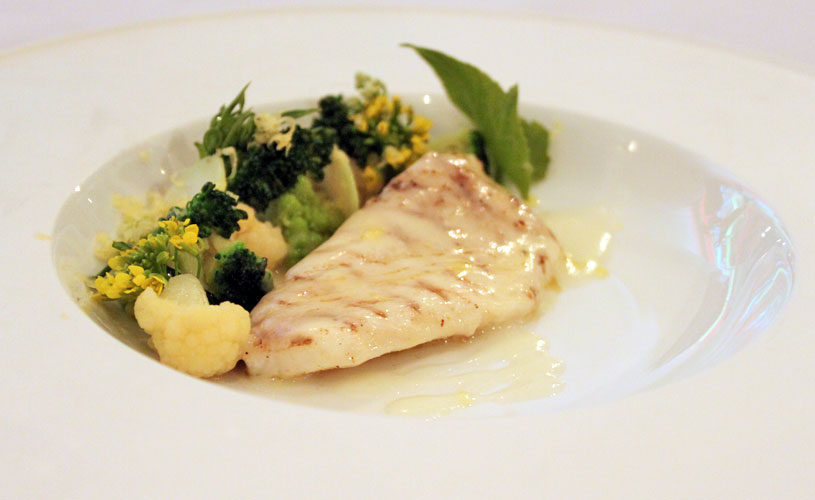 The Grilled North Sea Turbot honestly looks a bit bland, but one might say it's minimalist. But a bite into the firm flesh releases the smokey flavours from the grill, and displaces whatever notion you have about being a plain dish. What's interesting is the use of a lemon dressing with pistachio that gives it a fragrant nutty flavour, and the tangyness that cuts away the briny flavours.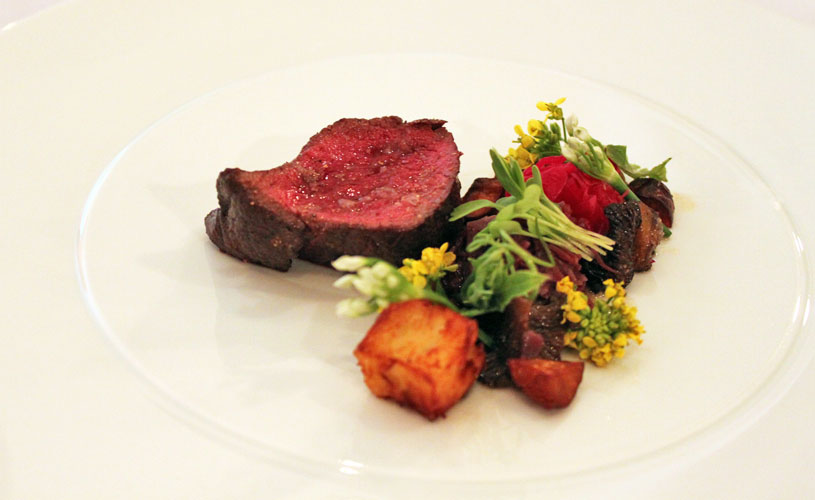 What's not on the menu is the Roasted Deer Meat, and not any deer. The doe is specifically prized for its richer, more tender meats compared to the stag. The tasty meat jus (this picture is taken before the jus was poured) is a wholesome, rich broth that's concentrated to complement the tender medium rare cooked meat. It was an absolutely satiating finish to the entire menu.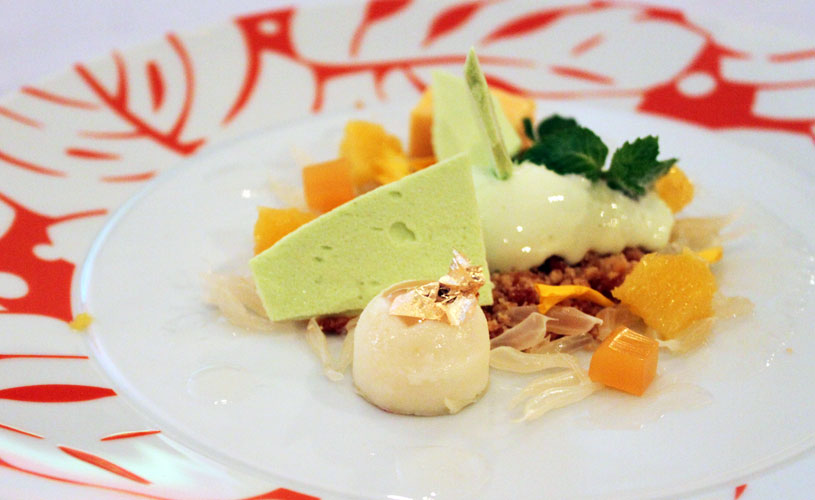 The sweet ending, finally. I would like to say that I couldn't really remember what went into this but what struck me the most was the yuzu mousse which was a good palate cleanser at the end of a full course. A refreshing option amongst others like Valrhona Chocolate and their imported cheeses.
Their signature cocktail was a Mint Martini which is a brilliant start (and close) to a meal. The mint isn't the first thing to hit you though, it's the generous vodka that makes it a really stiff drink that's easy to drink at the same time.
Verdict
Like most Michelin restaurants you have visited, you would have expected great service, and an excellent rundown of what the next course is going to be, and what goes into your current course at the table. What really struck me was how well-trained their Thai floor staff are, being able to distill the cooking methods and ingredients to every detail – something I haven't experienced in a fine dining establishment here.
And of course it helped that the whole experience was sealed with delicious courses one after another, with the top quality produce that's imported from France. Restaurant Savelberg may be the Michelin star Bangkok deserves.
Review rating: 8/10
Restaurant Savelberg Thailand (Map)
Oriental Residence Bangkok
110 Wireless Road. Lumpini. Pathumwan Bangkok 10330
Tel: +66 2252 8001
Hours: Mon to Sat Lunch from 12nn to 2.30pm Dinner from 6pm to 10pm