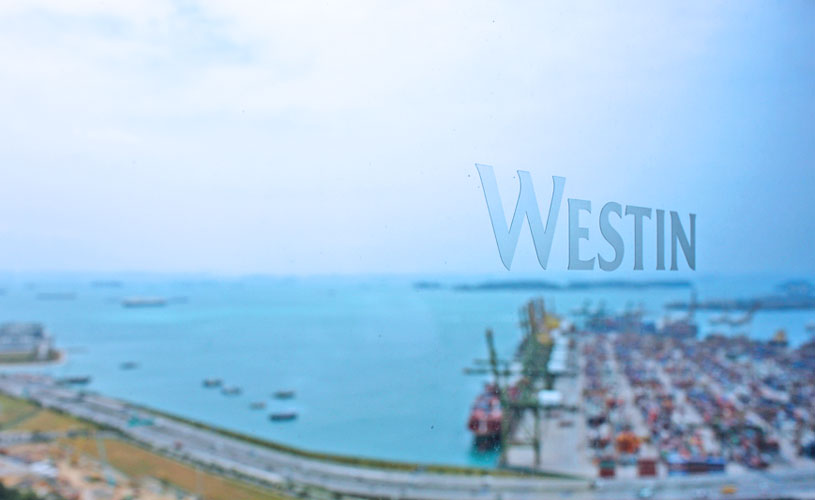 Perched atop the 32nd floor of the Westin Singapore, Seasonal Tastes is a buffet restaurant overlooking the Marina Bay Harbour, and our colourful docklands.
Hands up, who likes buffets? Honestly, we all say we've outgrown them but who can deny the variety that spellbinds us to them? This Mother's Day, Seasonal Tastes is having a Mother's Day Lazy Lunch buffet that will be sure to please the almighty matriarch, and the rest of the family.
Starting it right
Break in the buffet with a great selection of freshly pressed juices, and smoothies that have been mixed to bring out the health benefits in each of the ingredients. If you think Noni juice is an abomination to drink, you'll not have a problem with their fruit juices, and still reap the health benefits!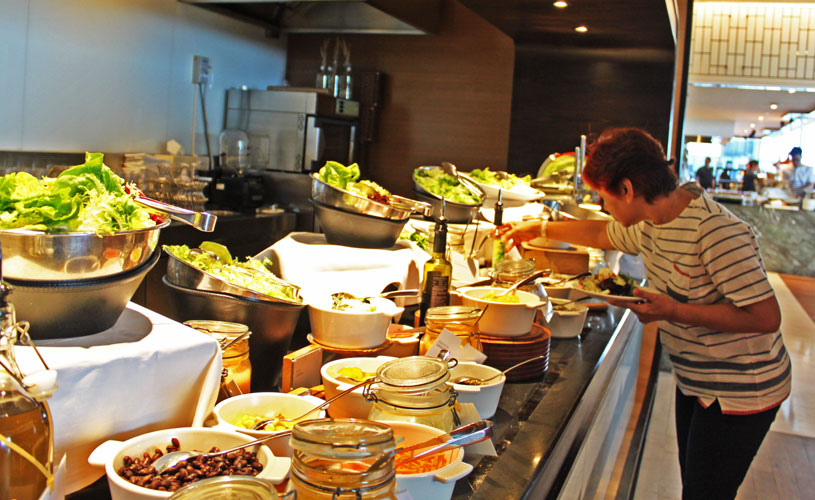 The mother peering at what brand of olive oil is used at the huge salad bar. She's a big fan of eating clean and the long bar with a myriad of toppings and condiments to go alongside a healthy salad really tickled her fancy. And you know what they say about eating at a buffet – start with the salads so you don't binge on the rest!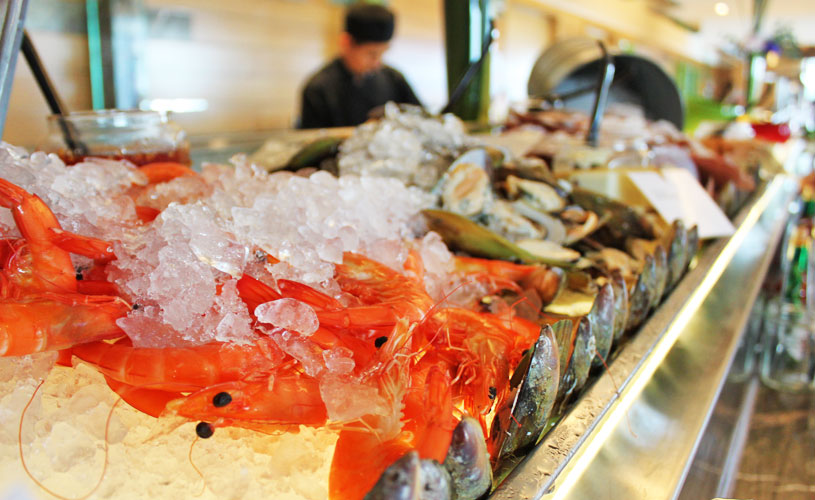 Fresh seafood is a mainstay for most buffets now and the highlight for me was the fresh scallops and crabs that were simply sweet without dipping in any sauce. There's a separate line for the sashimi lovers as well featuring fresh salmon, maguro and yellowtail.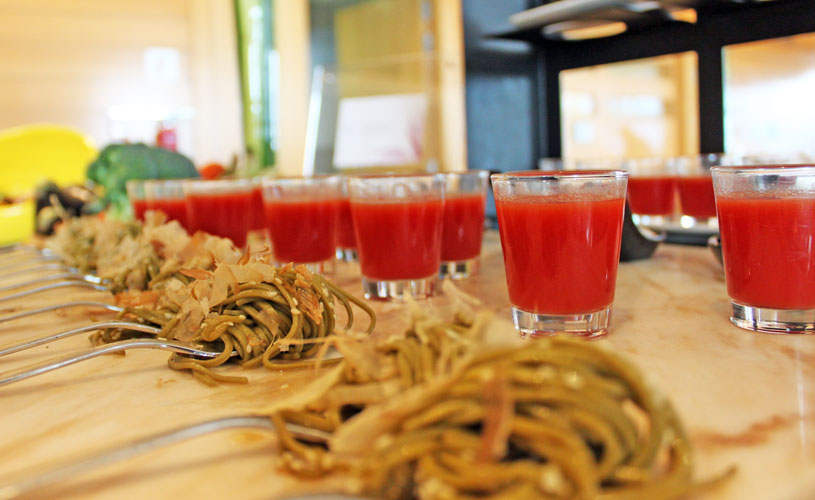 Pasta, freshly made to your liking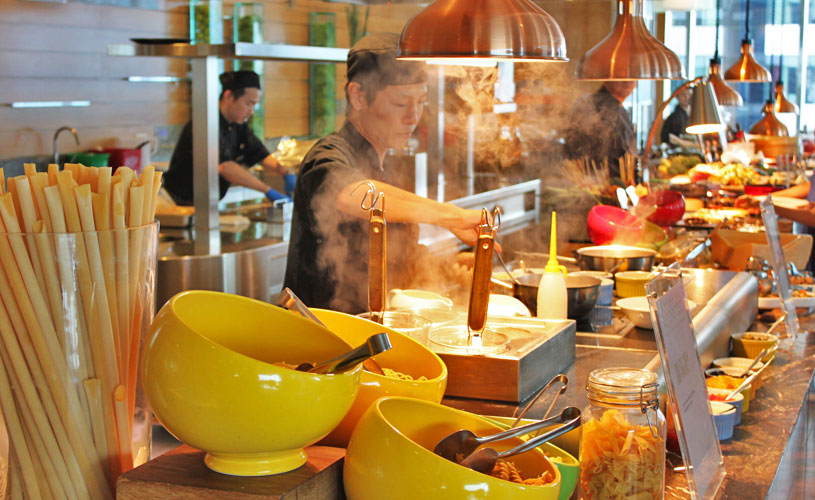 There are quite a few buffet lines in Singapore that have pasta stations but I must say Seasonal Tastes at the Westin Singapore comes as a close champion for me. Not for the sheer fact that everything is made fresh and tastes fresh but the chef, is more than competent of course, and the options you have on cooking the pasta is quite varied. Choose from 3 pasta types, and a few different tomato bases, or with cream – and spice it up to your preference.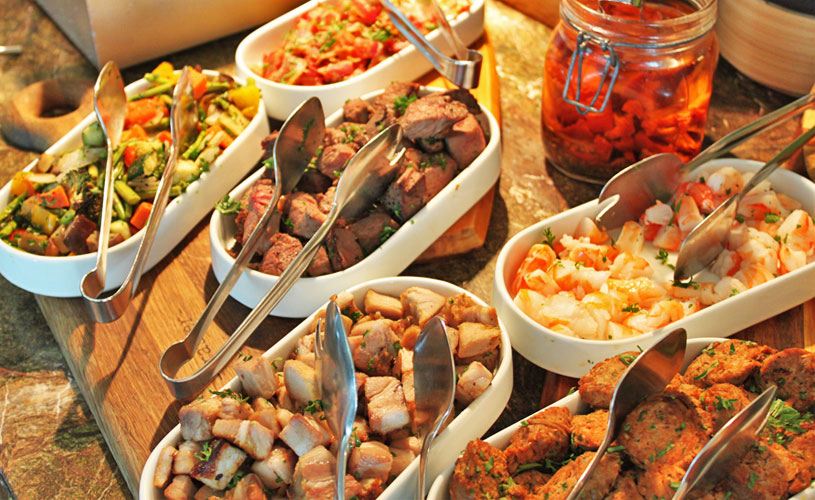 If you're not a pasta purist, go crazy with the condiments to make a Marinara Pasta with Prawn, Grilled Chicken, Roast Pork, Italian Sausage or really, anything you want. I chose a Penne and added bacon and prawns in cream with lotsa chilli flakes for that fiery kick.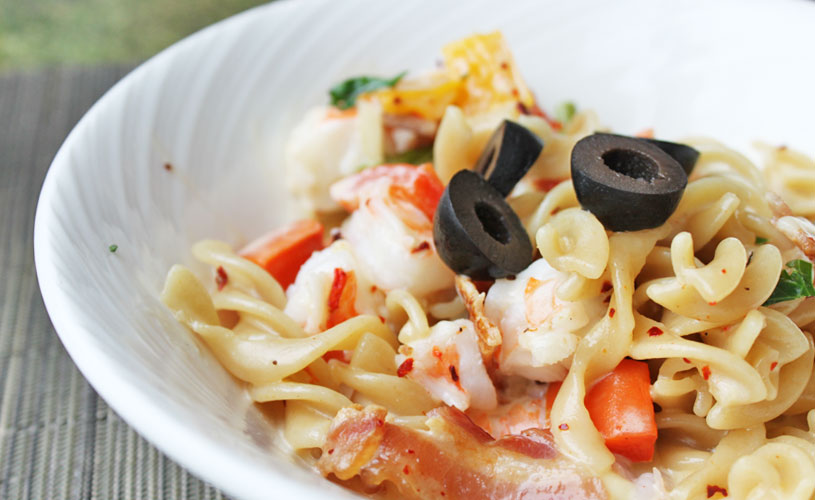 This was really delicious – cooked al dente and fresh to the table.
Cross cuisine favourites and mains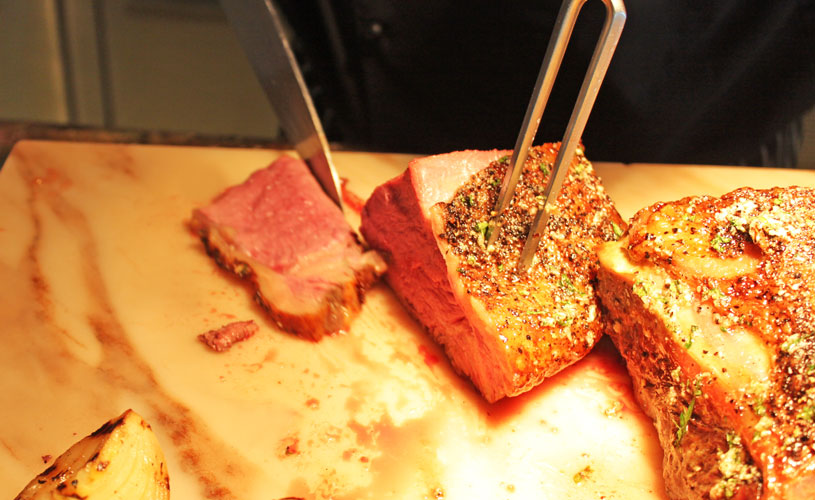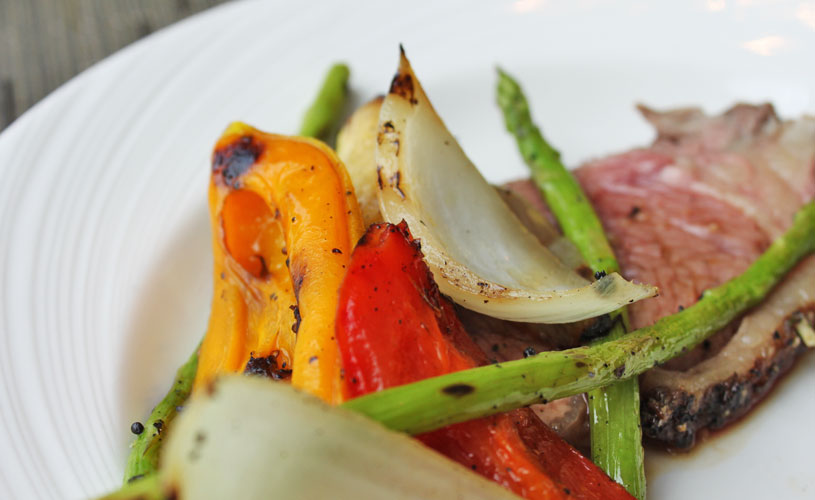 A carving station is always necessary for the theatrics of chef cutting skills and the striploin was a hit with me, and topped with grilled garden vegetables, it's as balanced a meal you can get (only if you have this for the entire buffet). Haha.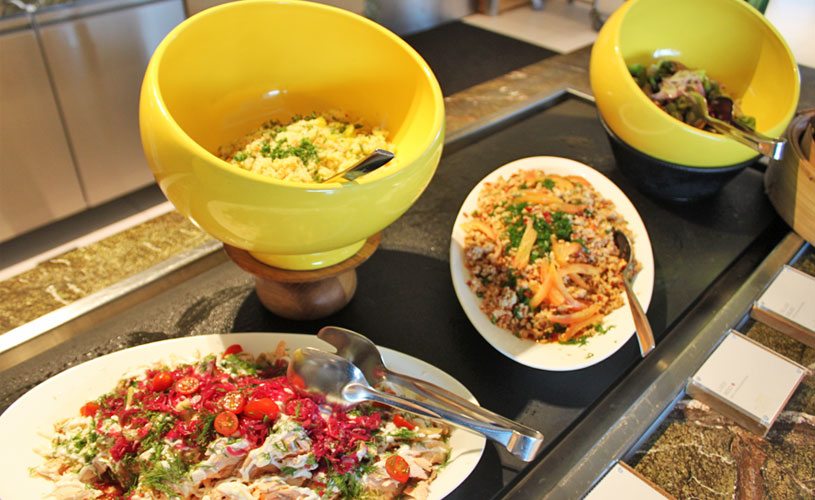 Having a range of local and international cuisines is a necessity for most hotel buffets as they cater to both guests, and locals. The most represented cuisine is probably Western, but there are Chinese, Japanese and Indian selections as well that will cater to a wide variety of palates. I particularly thought the freshly grilled satays were a great touch, and their peanut sauce is an excellent accompaniment. You have to try it to believe it.
Face it, ladies love their sweets
I'm personally not a big fan of desserts, unless it's dark chocolate but the breadth of dessert offerings is not for the light-hearted (or diabetic).
I always call this the "Happy Fountain" because kids just turn wide-eyed and a bit wild whenever they see a chocolate fountain. I don't have to imagine why, it's a rich, delicious chocolate sauce you can have with everything and anything you desire. Stuff that no longer need to be made in dreams.
What struck me is how family-friendly Seasonal Tastes was, with offerings for the entire age spectrum. Kids really get their own happy corner when it comes to desserts and this ice cream station boasts more than 10 different toppings to make any bad day go away.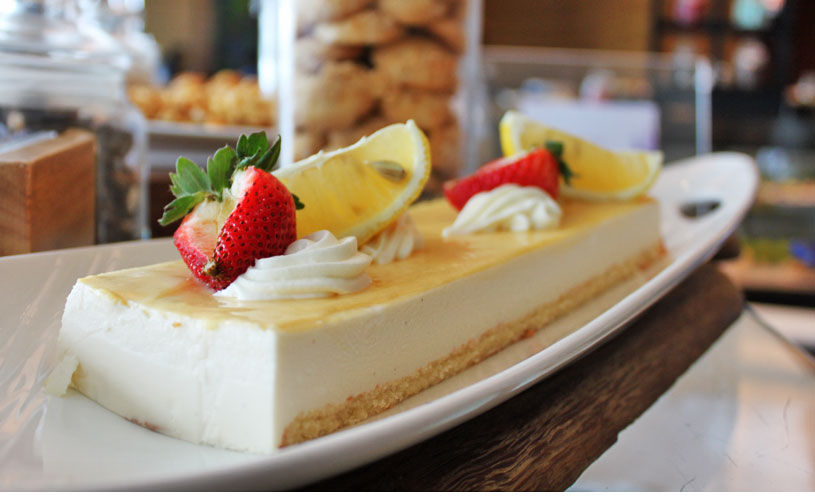 The Citrus Cheesecake was really light and creamy, and the obvious notes of citrus gave it a light tang that makes it less heavy than you would imagine. Really enjoyed this.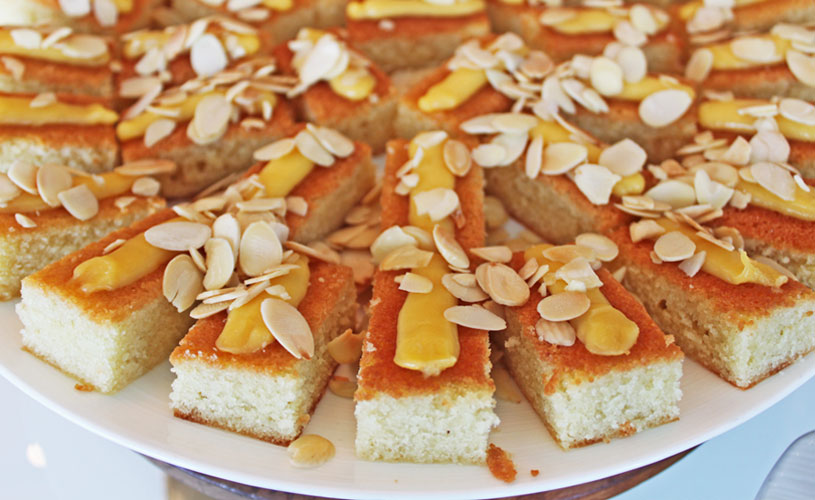 Choose from tarts, scones, sugee cakes, traditional peranakan kuih kuih and so much more. Take a bit of everything because chances are, you won't be able to finish a full portion yourself.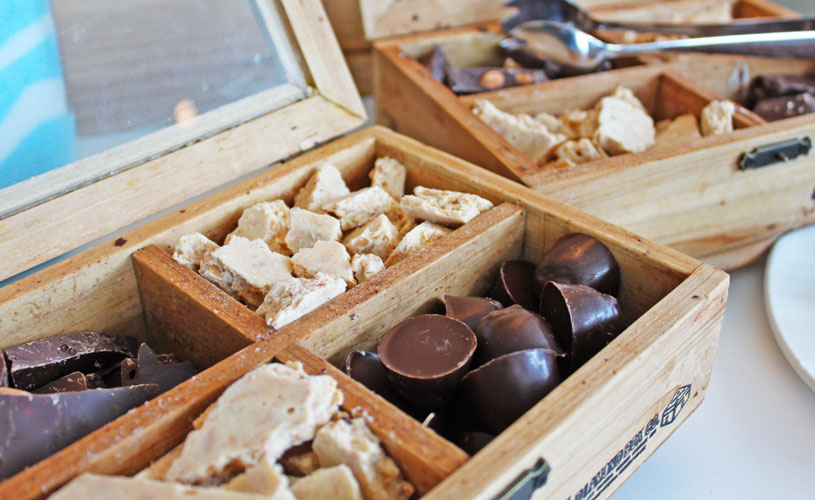 I know it's Mother's Day but this is what I'm talking about – chocolates for me. Their homemade chocolate pralines and pieces were terribly delicious, even though not all of them were dark chocolate. And the chocolate orange brownie was my favourite – a portion so small, it's just right for the end of the meal and delicious too!
Verdict
A buffet at Seasonal Tastes at the Westin Singapore isn't the more conventional option but the recent visit has more than convinced me to go again whenever they have themed buffets. With a wide variety of cuisines, and several stations that freshly prepare food on the spot, it's hard to go wrong.
And just for Mother's Day, indulge in a Rosemary Rack of Lamb, Calamari with Sundried Tomatoes and Basil, and other local favourites like Laksa, Beef Noodles, or get your own pasta made on the spot like we did! The Mother's Day Lazy Lunch costs S$88++ per person (adult) and S$44 per person (child). All mums will receive a special gift on the day too! Look out for more offerings of The Westin Singapore!
Review rating: 7.5/10
Seasonal Tastes at The Westin Singapore (Map)
The Westin Singapore, Level 32
12 Marina View, Asia Square Tower 2
Singapore 018961
Tel: +65 6922 6968
Hours: Weekend brunches run from 12pm to 3pm but the Mother's Day brunch is exclusively on 8 May 2016 only
Email: seasonaltastes.singapore@westin.com