A Good Saturday people!
Shimbashi Soba sits away in the basement of Paragon Shopping Mall for the longest time. We bring you on an interesting epicurean journey about their handmade buckwheat soba noodles. Set up by RE&S dining group, they are operating other established Japanese restaurants like Ichban Sushi and Kuriya Dining.
They are always dedicated about their innovative creations of fine and real Japanese produce. Shimbashi Soba impresses with the high quality of buckwheat soba noodles. Here are some benefits of having buckwheat soba:
It has high dietary fibre which helps to eliminate cholesterol.
The proteins in buckwheat prevents fat accumulation.
Buckwheat seeds promote bowl movement.
Soba are low in calories. This allows you to pile more on your plate.
For RE&S dining group, their Japanese products are able to cater to different consumers' palate across various regions. Like Shimbashi Soba, they produce their own buckwheat seeds, being milled into refined flour. The soba is then specially handmade by a good Japanese master. Without the need for strong flavours, the high quality soba noodles taste good by itself.
We had a splendid dinner spent at Shimbashi Soba as the making of good buckwheat noodles by the skilled Japanese master unfolded in front of us. They are always freshly cooked and simple to be served!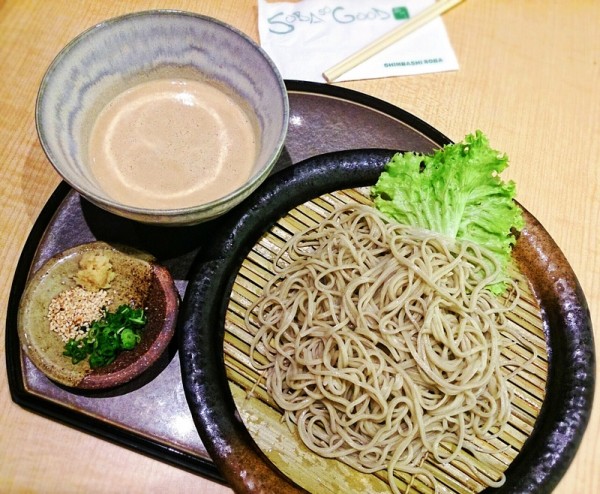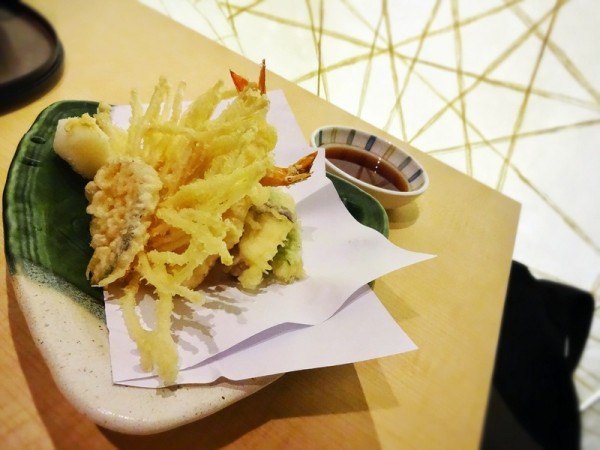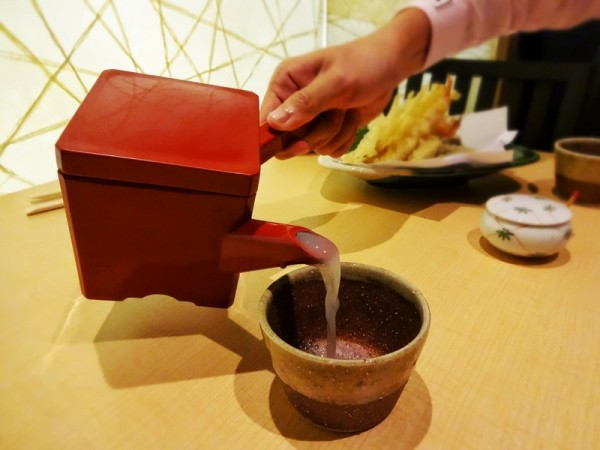 We are very impressed over how Shimbashi Soba pairs the dishes in their mains. And, we were even more impressed  by its vegetarian menu, because it was very difficult to find a restaurant that serves vegetarian menu in Orchard.
Like their Chilled Soba with French Duck Meat, the noodles are really refreshing as you dip them into the bowl of dipping sauce. You will be able to taste over the authentic Japanese ingredients as the noodles tasted light and good. Their soba noodles come in chilled and warm versions.
Verdict
Shimbashi Soba has a very extensive menu and it comes with a great assortment of side dishes to choose from. Try their fried tempura, they are fried with a light aftertaste, they tasted amazingly tasty with the dipping sauce.
Two things deserved the thumbs-up, though—the unusual but spectacular matcha cheesecake with vanilla ice-cream and red bean, and the prompt, pleasant service even during peak hour.
Not to say, how many times will there be a skilled Japanese Master who will be preparing your meal?
Review Rating: 7/10
#B1-41 Paragon Shopping Centre, 290 Orchard Rd, Singapore 238859
Tel: 6735 9882
Opening Hours: Mondays to Sundays, 11:30AM–10PM
Nearest Station: Orchard Road
Facebook: https://www.facebook.com/ShimbashiSobaSingapore/?fref=ts
[Article and photography are : Ex contributor and founder, Tay Yong Chuen]