Held in conjunction with Singapore: Inside Out, after its successful run across the globe in key creative capitals, Singapore Takeout features Singapore's innovative, and longstanding culinary talents that have kept our food heritage intact.
I'm stoked that Keng Eng Kee Seafood, my all time favourite Cze Char stall is featured in this showcase. And what's more thrilling is Chef Wayne, the Head Chef, is stepping out of his comfort zone to combine his prowess with Chef Han from Labyrinth, well-known for his molecular Mod-sin adaptations.
We are proud to have scored an interview with Chef Wayne out of his busy schedule, as he uncovers his favourite Cze Char restaurant (besides his own), his thoughts of the modern culinary scene, and his secret project that will be unveiled in December.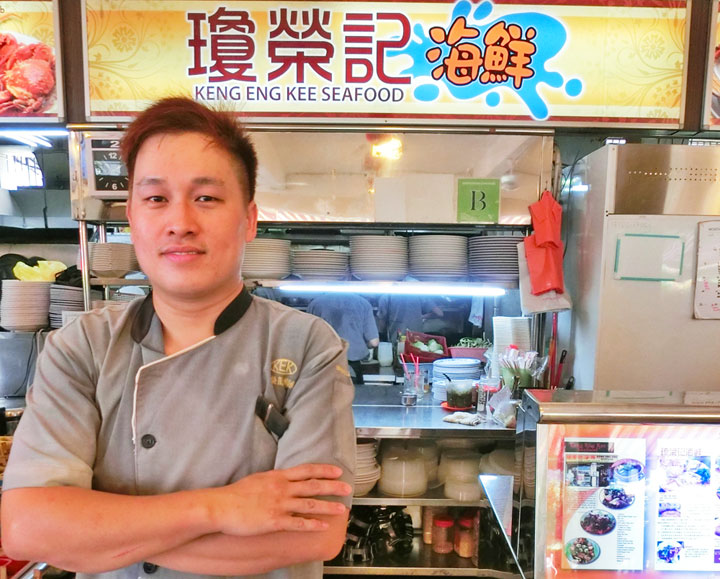 Image credit: Keng Eng Kee Seafood
Interview with Chef Wayne, Head Chef of Keng Eng Kee Seafood
1.       KEK receives throngs of local and foreign visitors alike, did you feel a need to include new items on your menu or adjust the flavours to suit varying tastes?
KEK has been serving diners for decades, and now in the hands of third generation, locals are our majority customers, and through the power of media, there has been an increase in foreign visitors, despite our isolated location. What makes diners return is our consistency in maintaining our quality and flavours, with dishes tasting the same way it was years ago. And for foreign visitors, many have visited us in the hope to enjoy the familiar flavours the locals are enjoy. Despite that, we accommodate to special requests sometimes, like making  our black pepper crabs less spicy, as we cook as per order, so we can adjust the flavours to varying tastes.
We, as chefs, understand the reason how dishes are cooked from scratch, unlike cooks who simply follow procedures, so adjusting flavours to the needs of customers can be done, but not always, as certain elements have to be present in certain dishes.
2.       Mod-sin is a dining concept that has been attempted by many popular restaurants in Singapore, Labyrinth being a really inventive partner. What is it about Mod-sin cuisine that drew your fancy for this collaboration?
We are a traditional cze char place for 3 generations, and I am trained the Cze Char way, starting from the lowest rank in the kitchen team. My mentor, my dad, who is a old-school cze char chef, cooked using his only equipment, the wok, be it steaming, frying or stir-frying. So I am trained inthis way, learning how to master dishes using the most basic of kitchen equipment.
When I got to know Mod-sin chefs, like Chef Han, I am exposed to modern cooking equipment like sous vide, ice cream maker and molecular gastronomy, which open my eyes to the world of culinary, that food can be cooked and presented in so many ways. And during this collaboration, the exchange between Chef Han and I was like a "couple who just fell in love"! People who possess different culinary backgrounds, but share the same passion, when put together, will definitely create chemistry. We are excited to present this together for Singapore Takeout.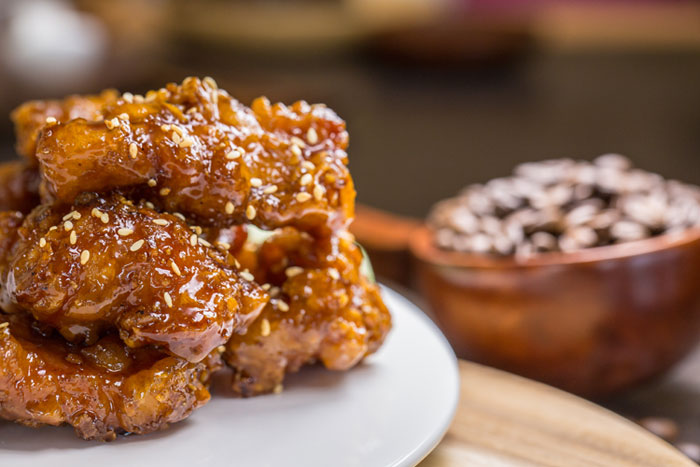 Image credit: Keng Eng Kee Seafood
3.       In my experience with Mod-sin cuisine, I found the "wok-hei" part sorely missing, or replaced by other cooking methods like torching and grilling. For KEK, a lot of my favourite dishes have the distinguishing "wok-hei" sealed-in flavours. How do you suggest marrying the two?
"Wok-Hei" is definitely one of the elements diners are looking forward for in cze char dish, and this thin line between achieving "wok-hei" and getting burnt food, greatly depends on the skill of the chef.
Mod-Sin, to me, is the reinterpretation of local cuisine, using modern technique to achieve the same taste, but different presentation and ways to enjoy it. So for cze char, the fundamental is the element of "wok-hei", thus the technique of cooking the food has to remain, like locking the flavours in the ingredients by tossing the food in wok under high flame, and creating the "wok-hei". And through this part of the process, diners will be satisfied with the aroma and flavours. The modern part can be achieved by how we create the pairing, like the sauce or how the dish is typically enjoyed can be altered.
For example, the black pepper crab ice-cream sandwich, we used the cze char recipe, so the taste and smell will not be compromised, combined with Chef Han's technique in creating the ice-cream, which will be served with soft shell crab and steamed mantou. The same way Singaporeans enjoy our black pepper crab, the usual taste and ingredients, just a different approach of enjoying it.
4.       Aside from KEK (of course), which is your personal cze char favourite, and what are the dishes that particularly stand out?
There are many good cze char places in Singapore, but my personal favourite will be Double Joy Restaurant at Petaling Jaya, Malaysia. The chef came from the same mentor as my dad, thus their cooking skills and taste are similar. Because of the competitive cze char industry in Malaysia, their push to innovate has been nothing short of intense.
I tried their pumpkin basket during my recent trip, where the whole pumpkin is steamed to softness, and the flesh was taken out and braised with seafood and placed back in, and the whole dish is perfectly edible, so nothing is wasted. Every trip to this cze char powerhouse has been a different experience with an ever-changing menu, but yet the flavours give me a familiar heartfelt warmth. Guess that is my comfort food away from home.
5.       Lastly, will you be surprising us with a new dining concept in the near future? Because, we. can't. wait.
Thank you for the thumbs up in what we are doing. We are thrilled to announce that we are opening a new concept come December this year, at Pandan Gardens. The food concept will be what we are best at, Cze Char, but with a twist. We strongly believe that cze char cuisine is ever evolving, where the recent salted egg crab has gained equal popularity as our national chilli and black pepper crab, cze char regular sweet and sour pork ribs giving way to coffee pork ribs, and many more.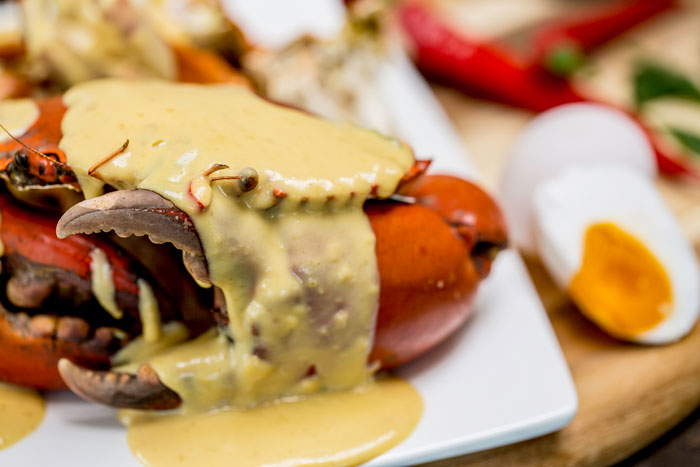 Image credit: Keng Eng Kee Seafood
In this new outlet, diners will find some usual cze char favourites like Moonlight Horfun and Salted Egg Crab, and also inspired dishes like Popcorn Crab, Singapore Style Beef Wrap and Claypot Calf Liver. Wine and craft beers will be also available, and this dining experience will bring Cze Char cuisine to another level.
To differentiate, our KEK outlet at Alexandra will keep to its roots as an old-school cze char place, allowing diners to have their comfort food the way they had first experienced at KEK, whereas the new outlet at Pandan Gardens, will be a place for modern and creative cze char to be unveiled, and we will call it our version of modern cze char, or "Mod-C".
Besides Chef Wayne and Chef Han's showcase, you can look forward to other popular local chefs like Chef Malcolm Lee from Candlenut, Chef Yew and Chef Lee from Resorts World Sentosa.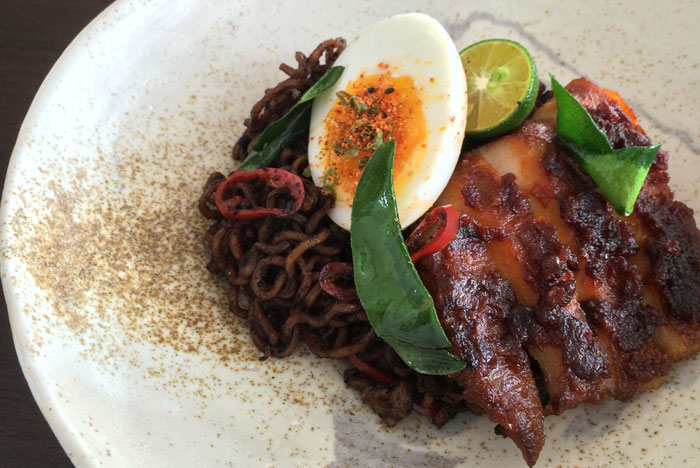 Image credit: Candlenut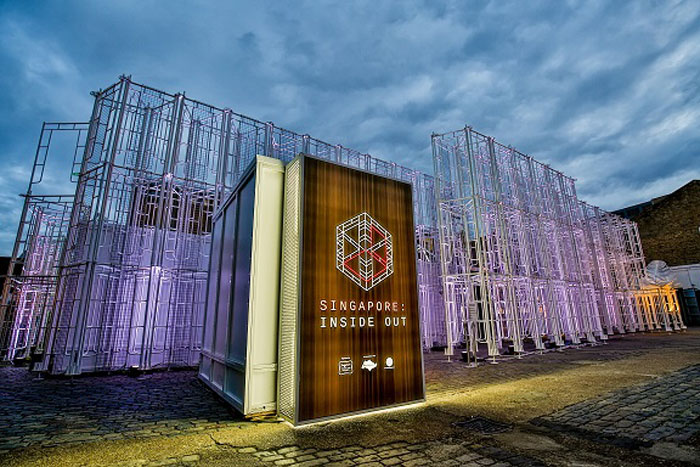 The 10-day Singapore: Inside Out showcase will be held at Tan Quee Lan Street, opposite Bugis Junction from 27 Nov to 6 Dec 2015. Look forward to a music and arts extravaganza that showcases Singapore's thriving creative scene.
Dates: 27 Nov – 6 Dec 2015
Location: Tan Quee Lan Street (Bugis) – MAP