Smoke & Mirrors is still THE bar to be seen at.
Boasting a spectacular view of the Padang and the competing skyscrapers, Smoke & Mirrors is more than well-placed for a good night out. But there's only so much a view and good company can do for you – a bar needs to be competent and their latest cocktail menu is one that has attended to the feedback of the loyal patrons, and further crystallized by Barman – Yugnes Susela.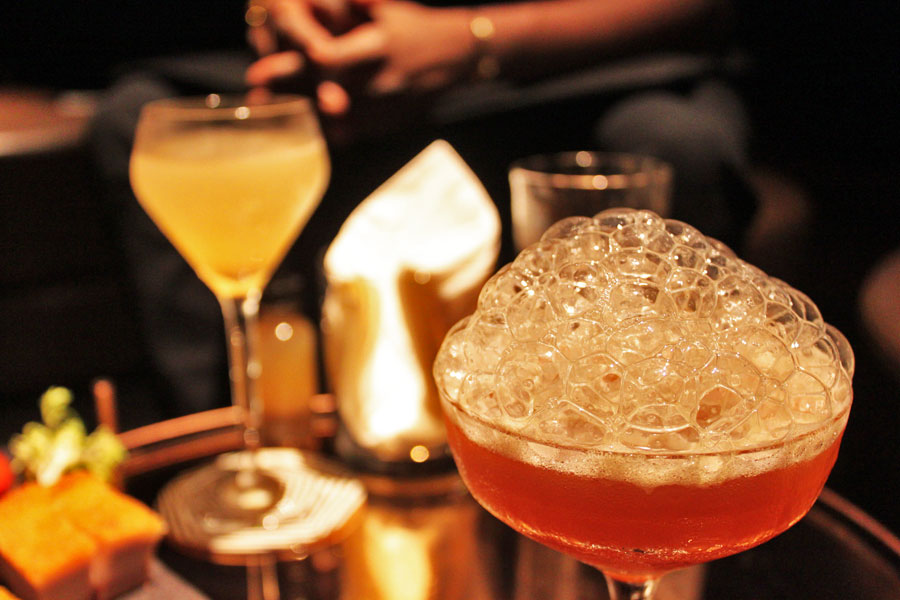 In the foreground's the reinvented "Old and New Sling", a drink I chose mainly because I like rye in cocktails as they tend to round-off the sweetness of other syrups. The bubbles aren't just aesthetics – infused with bitters, the delivery is unique as consume the citrus flavours with the bitters.
And what's in the background, isn't there because it's lacklustre. The "Duck's Fat Hope" is an amazing concoction of (no surprise) duck fat, freshly rendered on a daily basis from their sister restaurant, Yàn, a few floors down. It sounds funky but the fragrance of the roasted duck is concentrated into a few drops of this fat, and dripped into rum based cocktail, with a flavour that's similar to the sour plum dip. What results is a savoury cocktail that's a delight to drink.
Great bites at the bar
We weren't thinking of having food here but the bar bites are really something to shout out. The Crispy Tofu Skin with Salt & Spices (S$8) were a crackling delight and so tasty. And other Cantonese staples such as Crispy Roasted Pork Belly (S$16) and the Tender Beef Rib Cubes (S$16) were highlights for us.
And all these food and drinks did not come together by chance. Barman Yugnes Susela is not just a mixologist by training, he's a foodie at heart and everything's about getting the right harmony. We had the opportunity to get to know him better, and what goes behind his cocktail inspirations, and how he's allowed his individual bartenders to shine with their own concoctions.
The Barman with the View, Yugnes Susela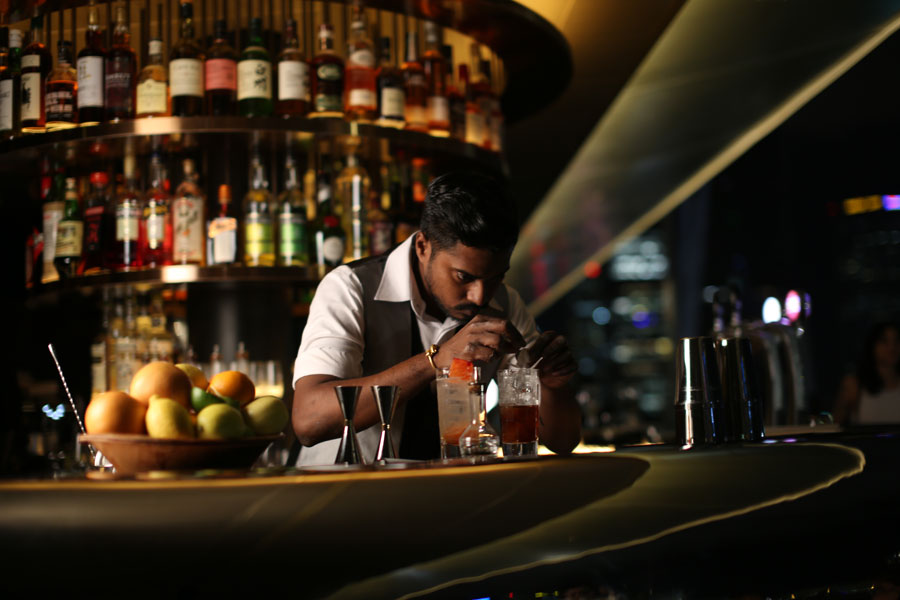 1. Having interviewed a long list of mixologists, we've found that everyone's got something unique up their sleeves. What sets you apart from the rest?
I started literally from a bottom of the food chain as a dishwasher in different restaurants, slowly climbed my way into the kitchen, and eventually found myself behind the bar. All of these experiences shaped me as a bartender. Having trained under the wing of a chef during the early days of my bartending career made a huge difference. I've been taught to think like a Chef – from using chef's techniques to learning how to contrast and compliment flavours and applying these into making drinks.
2. Close to a year after the official opening, what's the inspiration behind this new menu?
The old menu had quite a bit of theatrics to the drinks. I wanted to move away from that, and put my creativity to good use. Every drink has to have a touch of what I learnt in my bartendering career, especially exploring culinary techniques and elevating flavour profiles. Our guests also served as an inspiration behind this menu. We actively sought for feedback from the previous menu to find out what they liked and disliked. Some of our guests mentioned that the old menu drinks weren't strong enough, so our new menu actually has a 'High & Mighty' section dedicated to spirit-driven concoctions!
3. Throngs of people visit Smoke and Mirrors day in and out for a view of the perfect horizon of our city, how do you keep up with making sure the customers get more than that, to keep coming back?
You can get nice views at a few other rooftop places in Singapore too, but what we're offering is something much more – which is a unique cocktail experience that plays with your senses, leaves you intrigued and keep you coming back for more surprises. Our new menu has a drink for everyone, from cocktail connoisseurs to adventurous drinkers – there's even a bespoke drink option if you want to try something off-menu. We also know that service standards can make or break a cocktail experience, so I'm conducting weekly training sessions with the team to impart some basic knowledge because I believe that it's important for each staff member to be able to answer questions and make suggestions.
4. Which is your favourite restaurant in Singapore that you will never get tired of?
Cheek By Jowl. Chef Rishi is a brilliant chef and his food is just impeccable.
5. If you have a culinary/mixologist hero you would love to partner with to develop a restaurant / bar menu, who would it be and why?
My culinary hero would be Grant Achatz from Michelin-starred Alinea restaurant in Chicago. He inspires me both in my career and in life. He's one of the pioneers of molecular gastronomy, and his ideas are just out of this world! I mean, this guy creates edible balloon for dessert. Chef Achatz was diagnosed with stage four tongue cancer, but this didn't stop him from continuously pushing boundaries to become a better chef.
For a bartender, I would love to partner with Luke Whearty from Operations Dagger. He's such a chill guy, but inside his mind are just filled with pure insane ideas. His ability to pair up flavours is simply incredible, and I think there would be a lot to learn from him.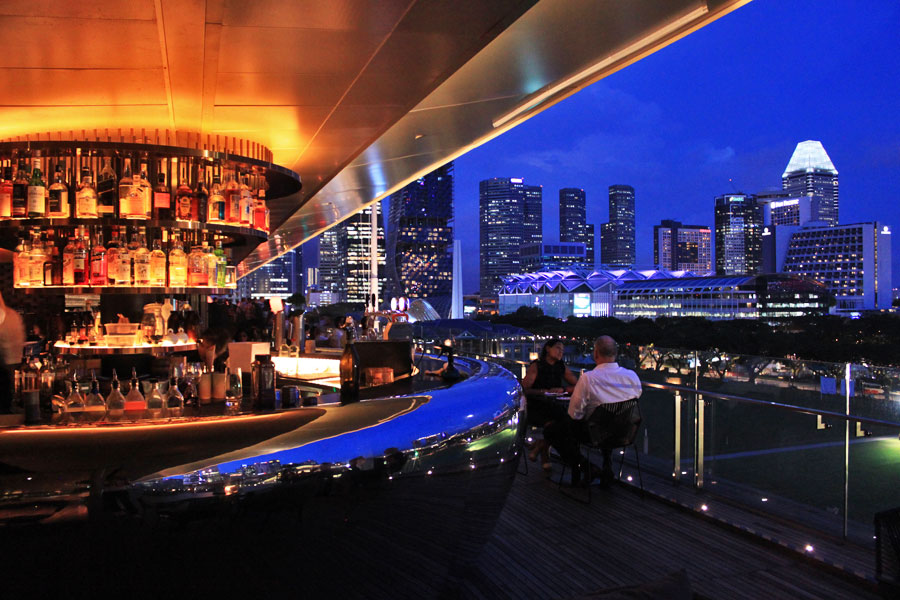 Smoke & Mirrors (Map)
St Andrew's Rd, 01 National Gallery, Singapore 178957
Tel: +65 – 9234 8122
Hours: Mon to Thu 12nn to 12.30am | Fri & Sat 12nn to 2am | Sat & Sun 12nn to 12mn
Reservations: Call or Chope