There are few cuisines that embody the soul of a country as much as sushi. More than a miniature Asian open sandwich on rice, it encapsulates a mindset, culture and history of the island nation. Edomae-zushi, as suggested by its name, originates from the Edo period (1603 – 1868). During this time, the idea of combining sashimi with rice to form the first pieces of authentic sushi was invented. The need for this arose as the city grew and the daily preoccupations of work and city-life made fast-food popular.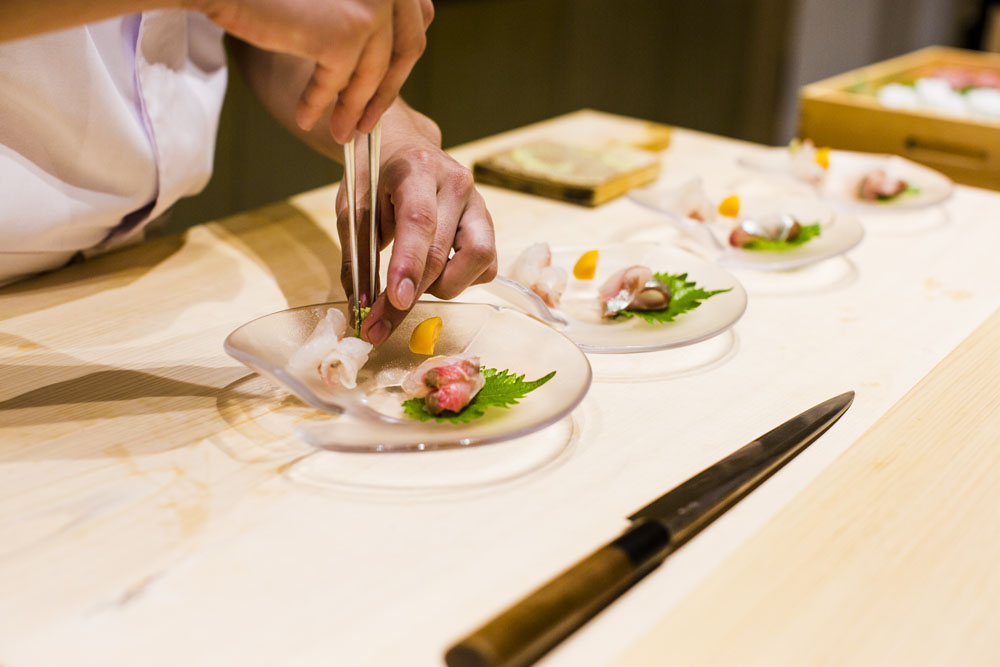 Authentic Sushi, Edo Style
Edomae-zushi and that of other foods of the period is saltier and sweeter. This intense interplay of flavours is a delightful contrast to the cleaner tastes of modern Japanese food yet still retains the familiar characteristics of Japanese cuisine. Refrigeration was a nascent to almost non-existent technology in those days and methods of preservation methods such as simmering in broth, immersion in soy sauce and curing with salt or vinegar were employed. Although a time-honoured tradition, Edomae-zushi is no longer bound by the objective of preservation and continues to evolve as more diners discover and grow to appreciate its finer points.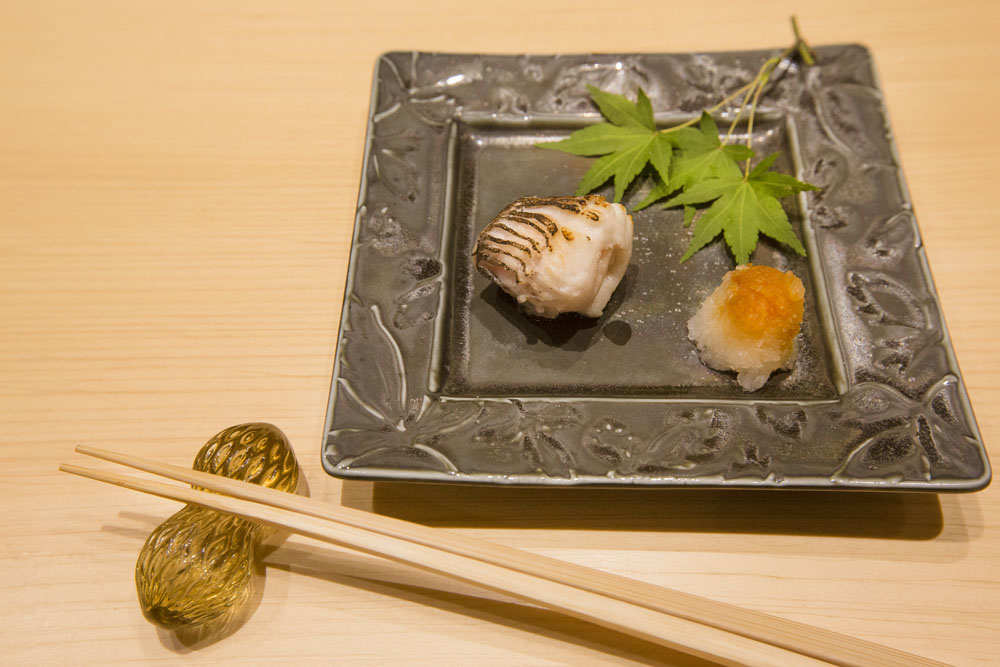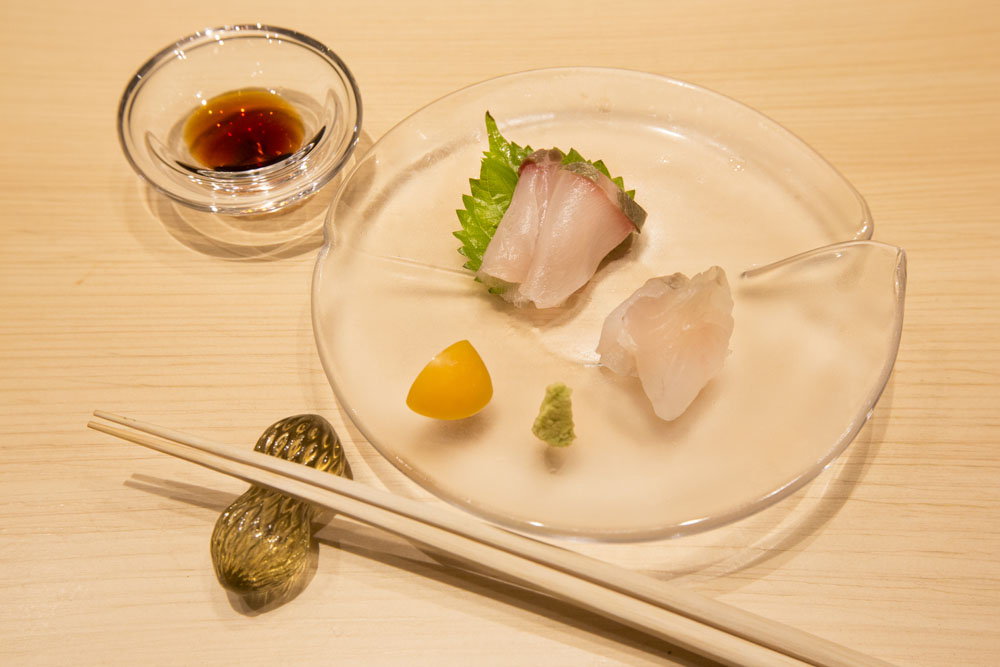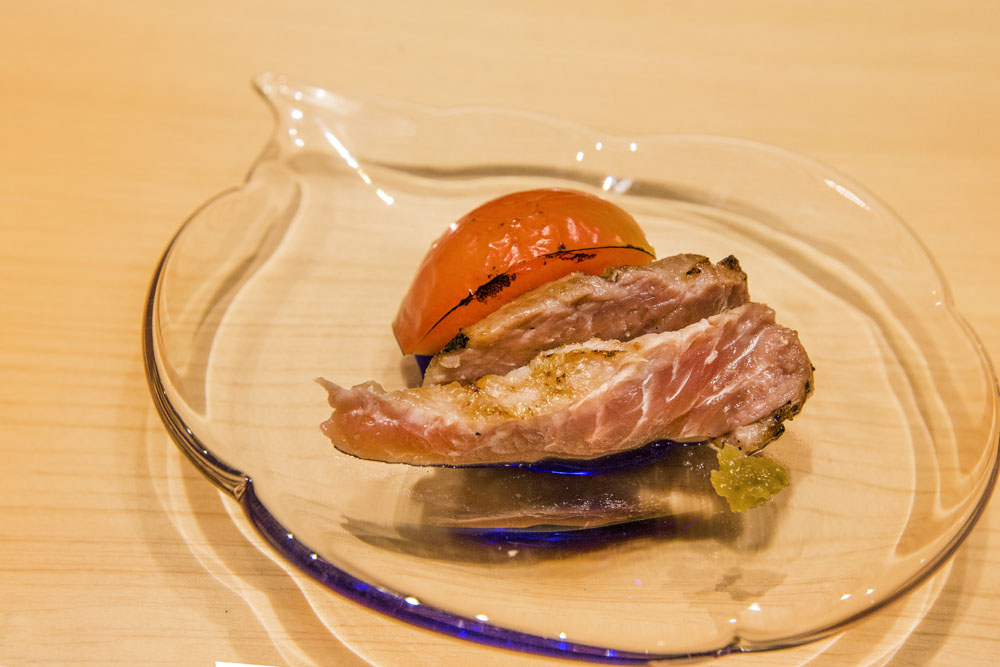 Sushi Chiharu Brings Back Time Honoured Tastes
Authentic Sushi does not get any more genuine than this. Attention is paid not only to the ingredients and preparation but also in the décor and service. From the interiors to staff, Sushi Chiharu is the real deal and you would just about swear that you are in Osaka where, its flagship store is located. Incidentally, this store was also recommended by Michelin's Bib Gourmand for 3 years between 2016 and 2018.
With fresh ingredients imported twice weekly, this 12-seater restaurant features 3 menus: the chef's special course (SG$200++ ), a 10-piece Nigiri Sushi Course (SG$90++ )and a 18-course Omakase Menu (SG$140++ ). Ala carte options are also available and to wash it down, Sushi Chiharu stocks a range of sake that is on sale from SG$118++ to SG$300++.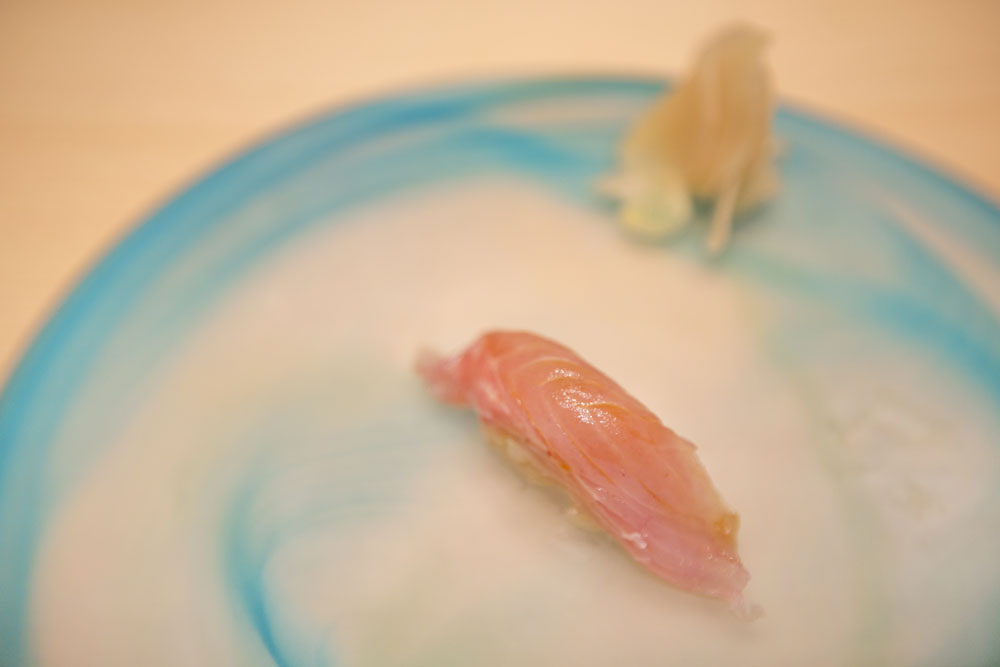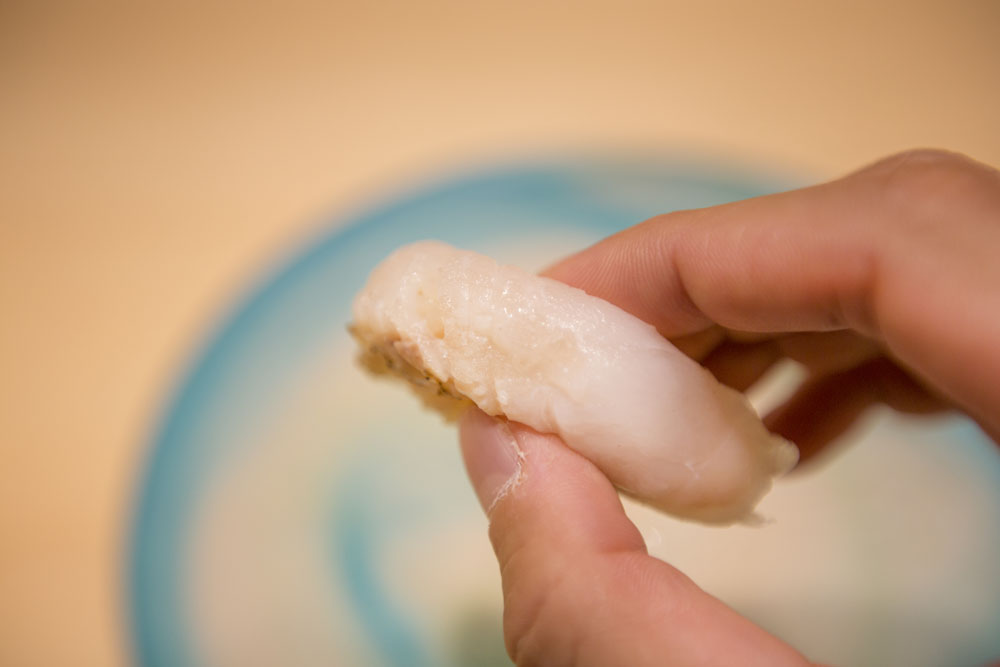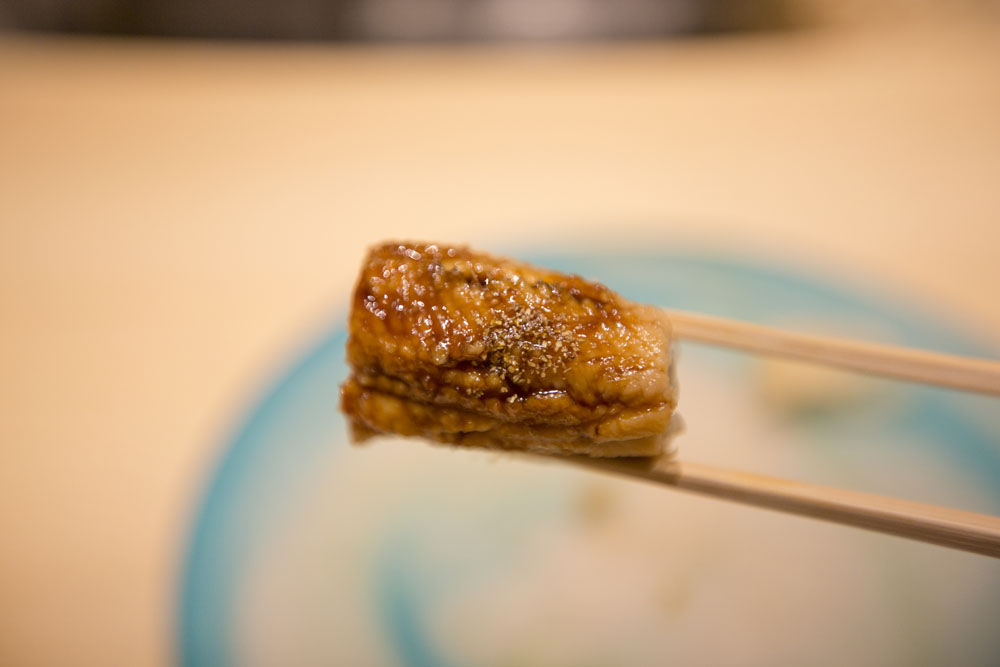 A Treat for the Taste Buds
Unlike regular sushi, the slices of fish on Edomae-zushi were darker and more intense. The texture, however, was similar; still smooth, fresh and appetising. This is due to the seasoning process that is characteristic of the style. I found this to make the meal more complex, heavier and richer. That is certain to please those more fond of food heavier on the palate.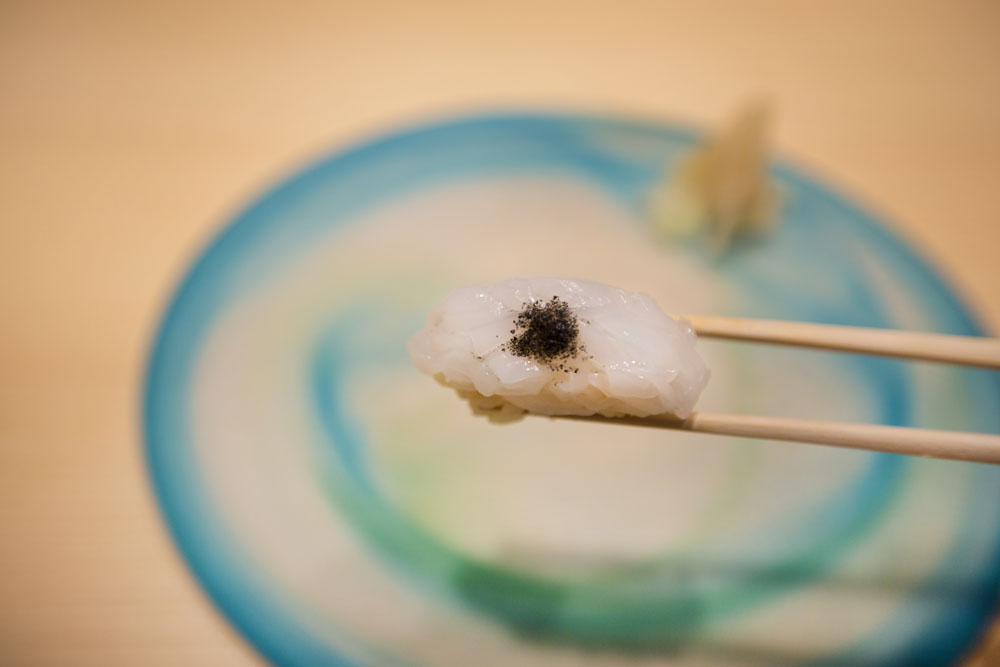 The Ika Somen ( Squid with Squid Ink Salt) is a favourite for its crunchy texture and a taste that blends savoury and tangy from the salt and a drop of lime.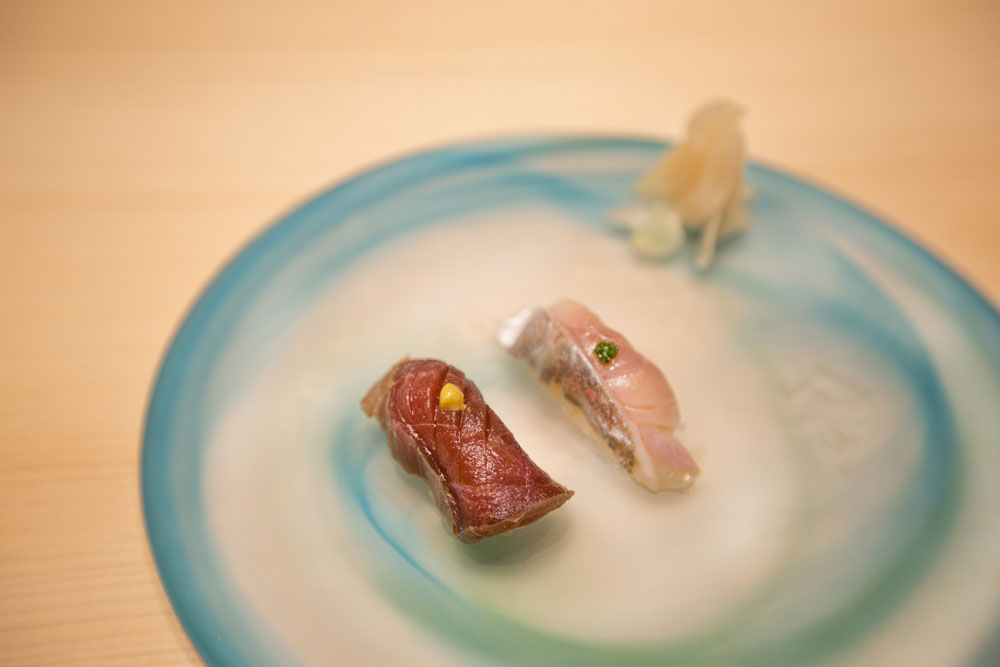 Zuke Maguro (Tuna with Japanese Mustard) is one of the heavier tasting options having been marinated in a special blend of shoyu, sake, and mirin. The hot, spicy bite of the mustard helped to elevate the otherwise very grounded taste of the base flavour. Truly, a consummate pairing of ingredients.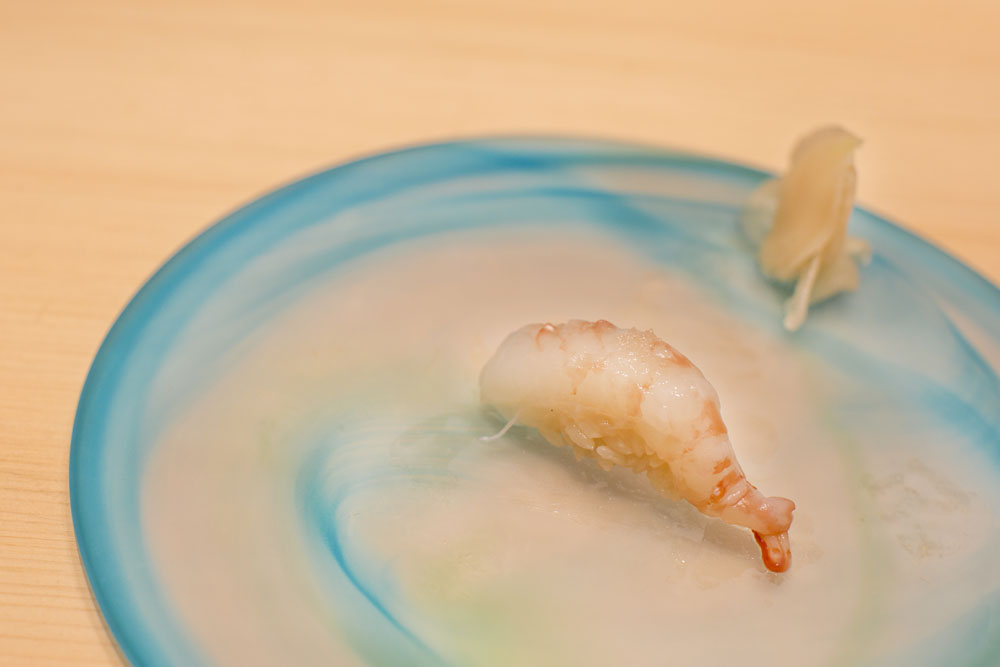 Boten Ebi (Large Shrimp). Seasoned with a splash of white soy sauce, this was one of the items that was closest in taste to regular sushi.
Hotate (Scallop). Sweet seafood made sweeter with a glaze of thick teriyaki-type sauce. Enjoyable to the last bite. I especially liked the crunch of dried seaweed.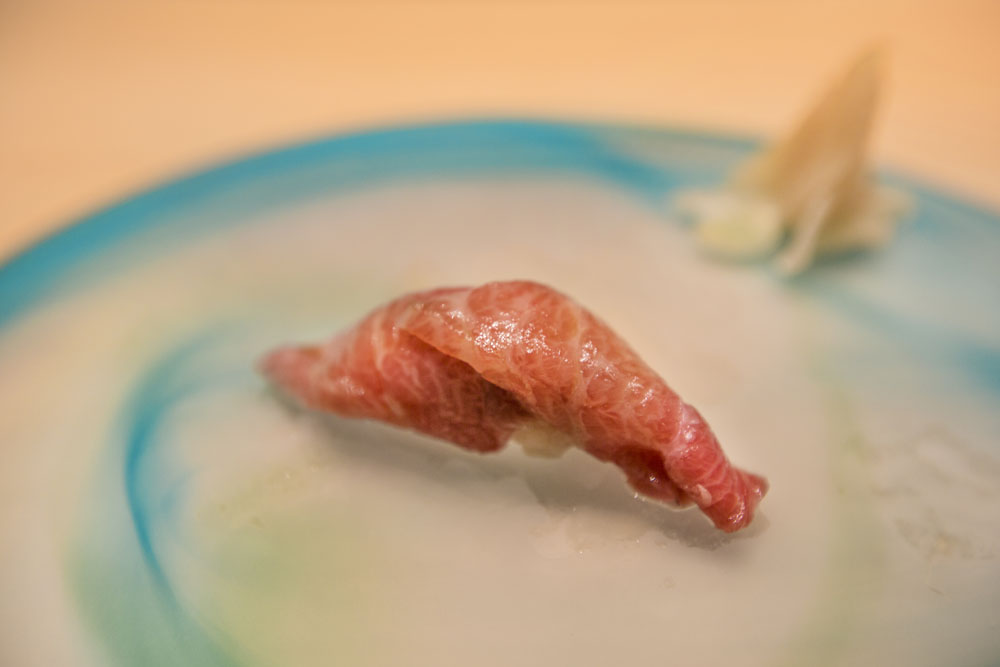 Ootoro (Fatty Tuna Belly). Fresh tuna seasoned the way you would in soy sauce unless you are a purist.
Aji Sujime (Japanese horse mackerel cured with vinegar). Richly favoured with vinegar that it is soaked in for several minutes then seasoned with some more soy sauce for good measure, the spring onions and grated ginger cuts through the strong flavours with a bit of zing and zest.
I liked the history of this variant of sushi aswell as the tradition of the whole suite of ingredients and seasonings and the centuries-long study of how what pairs well with what. However, I like the versatility of regular sushi where the diner can season each piece according to mood and personal taste. That said, there are still many hits and reasons to come back here for a meal, especially the Awago (sea eel grilled in a teriyaki sauce), Awabi (Abalone), Ootoro (Fatty Tuna) and Maguro-Hoto (Tuna cheek) which, for me, attested to the quality of the ingredients from the taste and texture. Overall, I rate my experience a 8/10 for great food, service and atmosphere.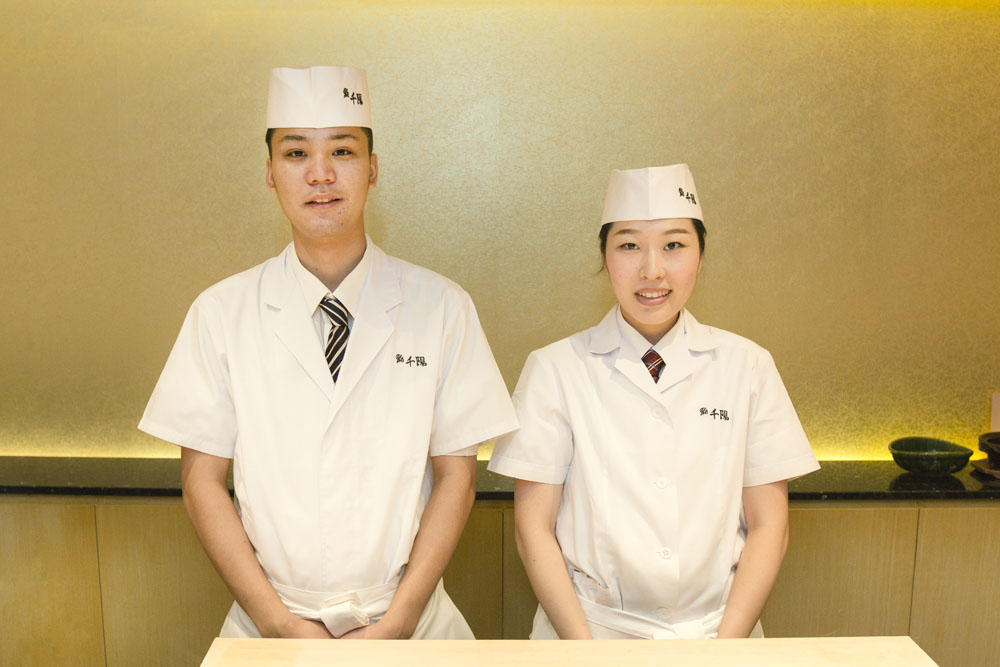 Sushi Chiharu:
Address: 45A Cuppage Rd, Singapore 229464 (Located inside Tamaya Restaurant)
Opening Hours: From 6pm everyday until 1130pm, except Sundays until 1030pm
Tel: 91013407, 68353539
Website: http://chiharu.sg/