Osha Bangkok is a Thai restaurant that is pushing the culinary boundaries of traditional cuisine. Sure, we've heard so many of the younger, bolder chefs that have come forth bringing their overseas training in top restaurants. Because it used to be helmed by Purida "Chef Pu" Theeraphong, Corporate Chef of OSHA Thai Restaurant & Bar Bangkok, of"The First Female Chef Winner as an Iron Chef Challenger 2012", modernity comes second nature, and that has been the staple recipe of success that keeps the restaurant well above most fine Thai dining standards, winning restaurant awards year after year.
A Thai restaurant decked in royal opulence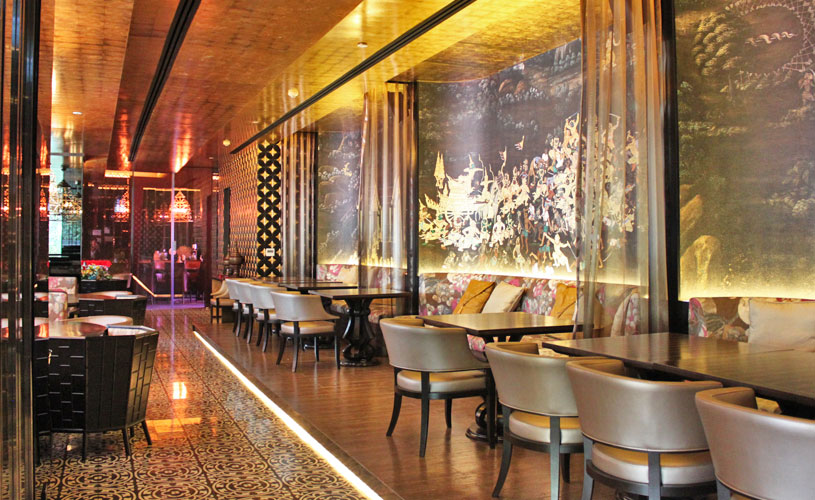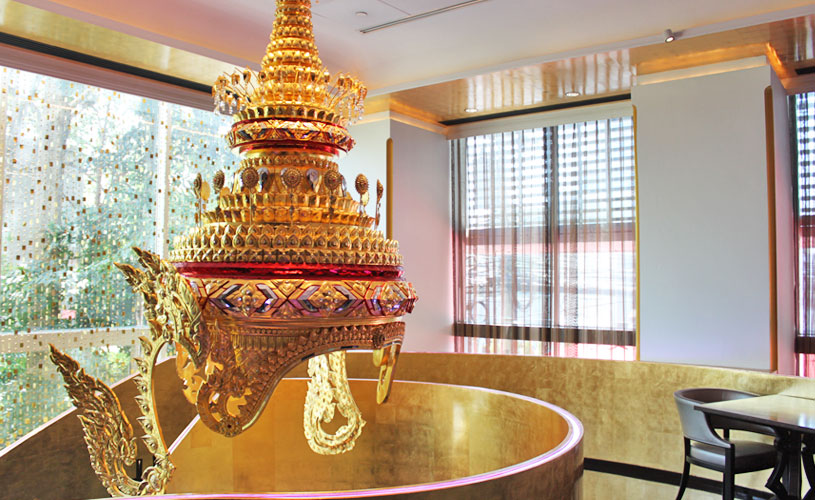 The restaurant interior oozes opulence. From gold-casted wall papers, to a large traditional Thai golden headdress hanging from the second floor of the restaurant, all that glitters IS gold. And fortunately, it is done tastefully with bold, darker accents of black strategically placed to lend a modern, chic style.
A large space like this isn't easy, nor cheap to design especially with high ceilings but they have managed to break the space up quite well with a mezzanine dining area separating a more private dining corridor.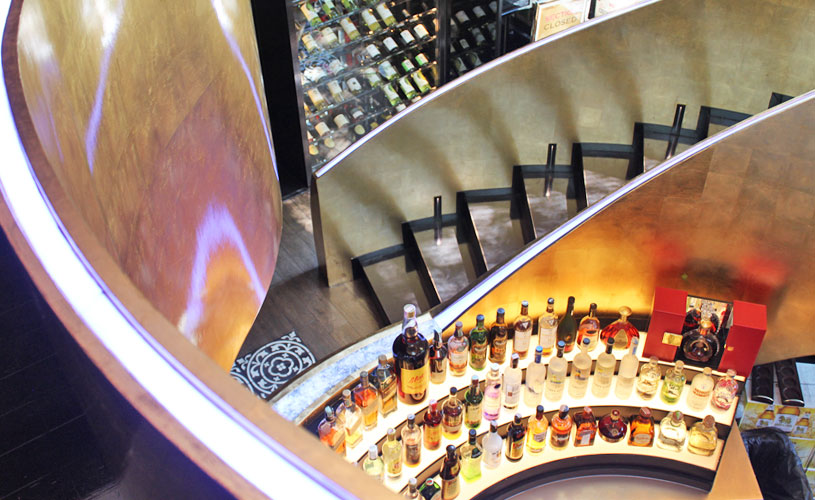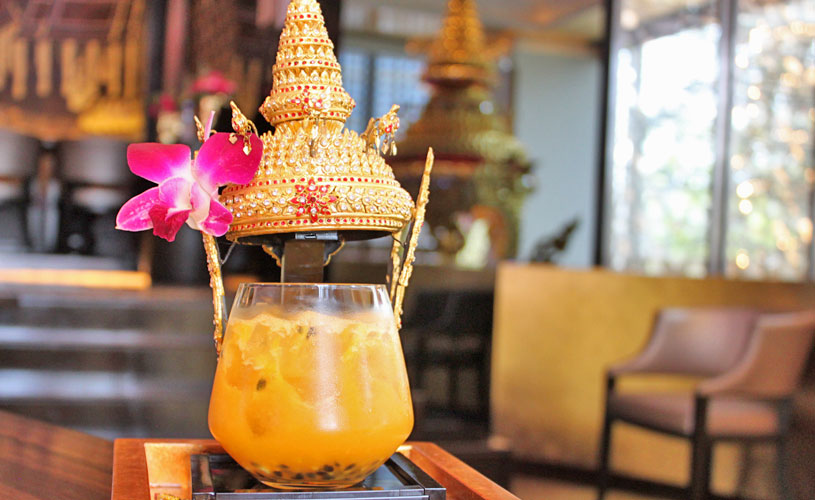 As with most high end Thai restaurants now, bar-tending is a serious affair that gets a restaurant in or out of a serious review. Osha Bangkok has a rather interesting list of specialty cocktails, and the usual few bar favourites. Here's one that's elaborately 'dressed' with an Thai traditional imperial headgear no less, adorned with a fresh orchid. Refreshingly tangy with the passionfruit seeds giving an excellent texture on a gin base, this was a great starter to the blazing Thai weather.
A floral-themed starter menu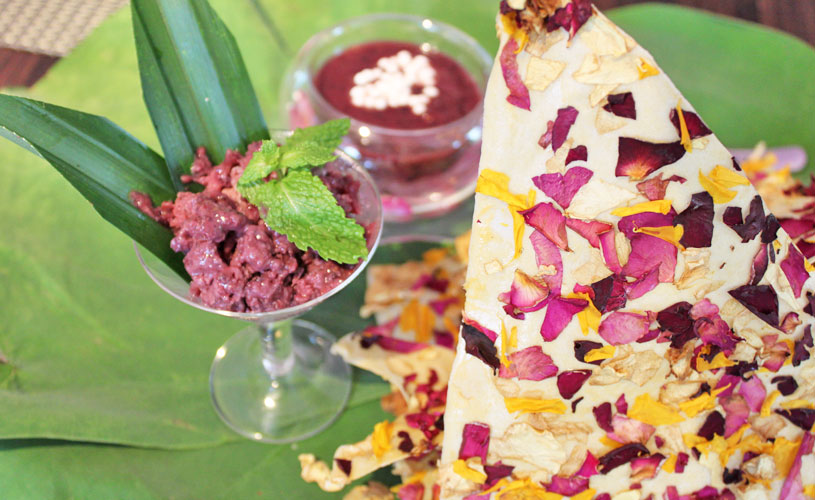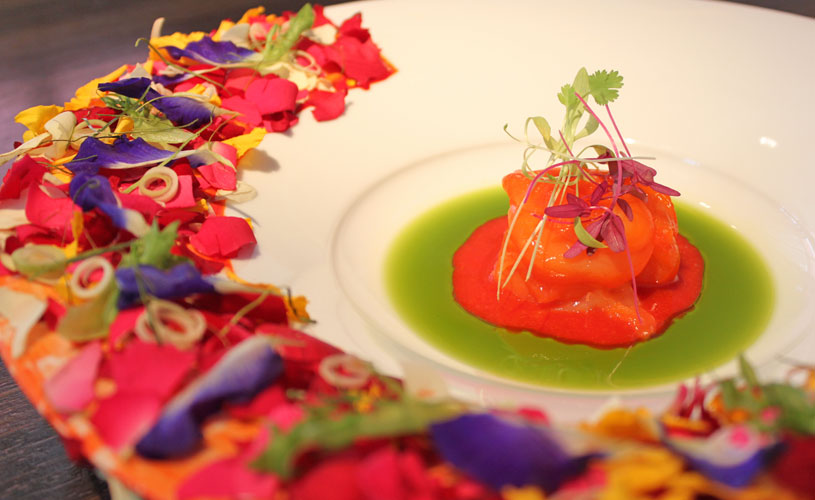 The starters were impressively dressed up. I have never seen so many flowers being used for cooking before, and they are all edible, and harvested within Thailand itself. What looks like a pizza base is a savoury and crispy crepe that has petals plastered over it. The two sauces in purple, are Thai prawn pastes, one frozen up with liquid nitrogen, the other warm and topped with coconut pearls – both with influences of molecular gastronomy.
The scallop looks strangely too orange but this isn't the work of photo editing. Cloaked in fragrant spiced oil, and laid in an oasis of coriander oil, the slivers of scallops were extremely soft and fresh. Paired with the petals that are seasoned with lemongrass, basil and other condiments – this dish is not just nice to look at, it's equally as delicious.
Get ready for a display of inventive cooking styles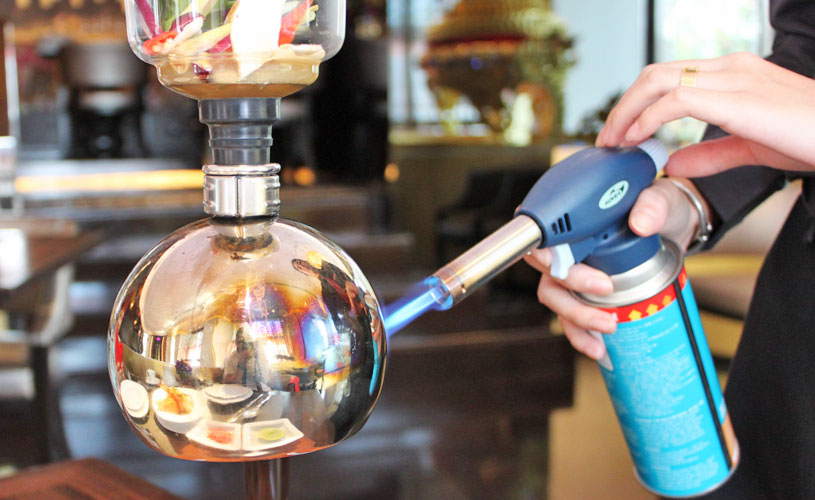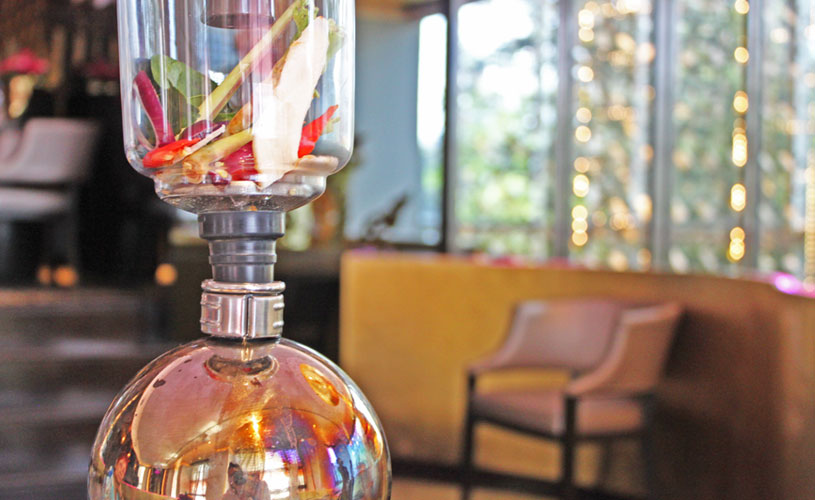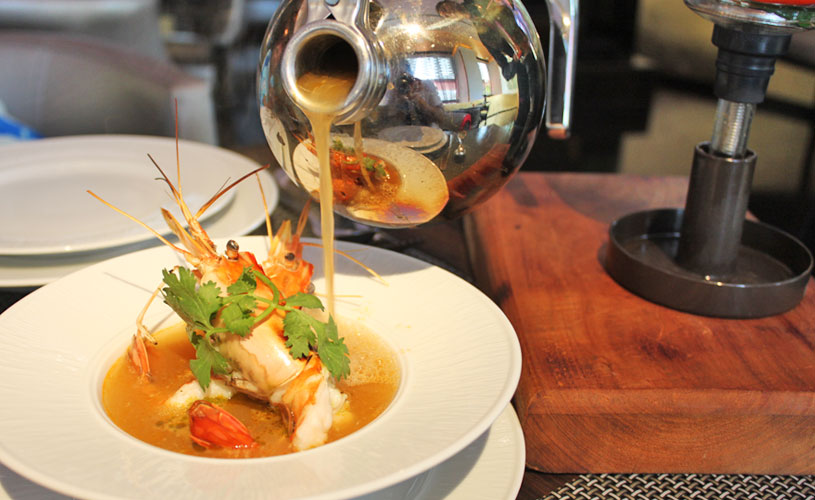 Have you had your Tom Yam Soup cooked with a coffee vacuum pot before? Well, neither have I. I'm honestly not sure how much of the cooking process helps in uplifting the flavours but I can imagine it being a concentrated and quick extraction of the spices that are in the vacuum pot. Having the torch force a hot jet of stock to cook the herbs is really an interesting thought.
But theatrics aside, the Tom Yum Soup with River Prawns was a tasty and rich broth, despite not being cooked with the prawns for more flavour. And those succulent river prawns were cooked perfectly – sweet and springy to the bite.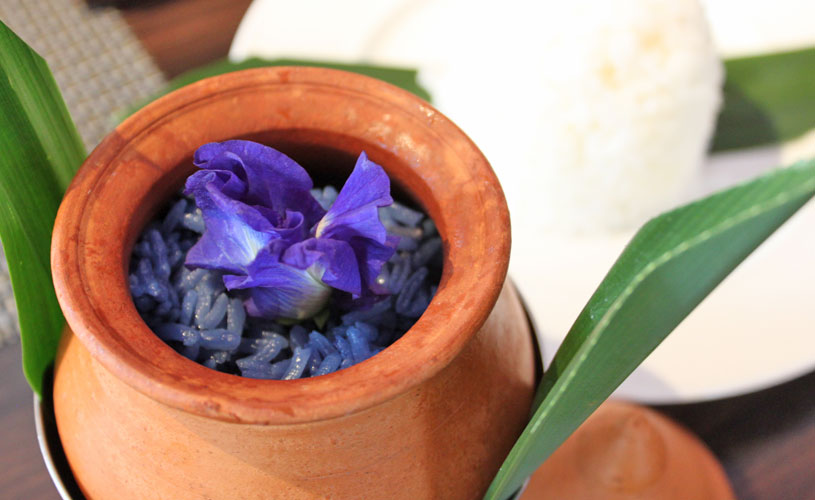 Most of you will be familiar with the Blue Pea Flower used in traditional Peranakan kueh kuehs, but it's my first seeing it used in Thai rice. There's a fragrance of coconut that's infused in the rice, and it goes quite expected well with most of the curries that we were having.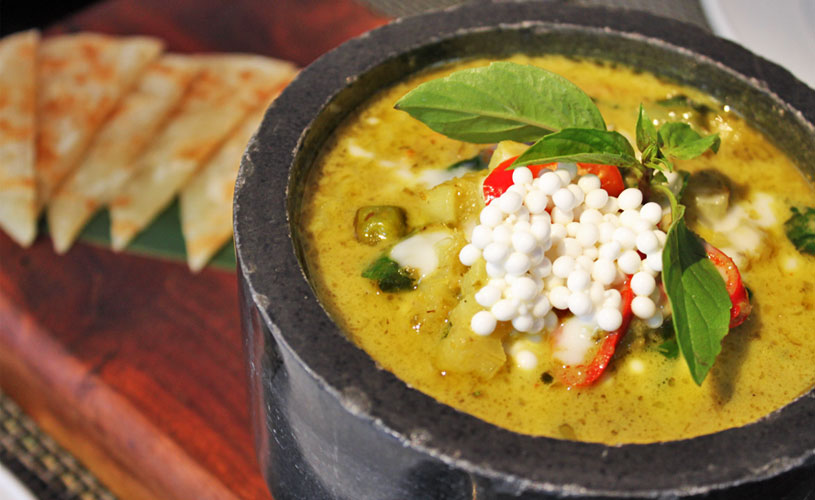 Their signature Bangkok Roti (THB 850), an aromatic green curry served with Wagyu beef and Thai baby eggplant is perfect with their version of Roti Prata. I prefer spooning delicious ladlefuls over the fragrant Thai Jasmine rice I had though. And those coconut pearls explode with sweet and salty bursts that should be taken in moderate amounts lest it becomes overpowering.
Overall, my favourite dish here – especially with the tender Wagyu (uncommon in Thai restaurants) that melts in your mouth. Nope, it's not a waste at all for that premium cut to be immersed in so much green curry flavour!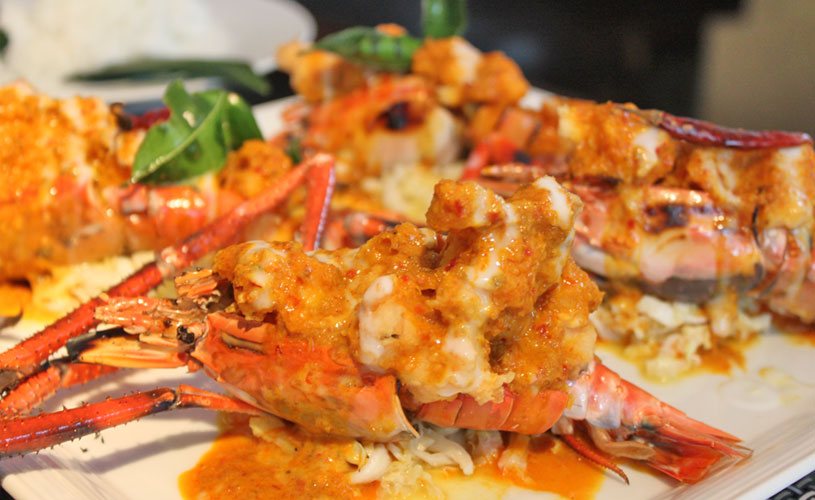 Their Grilled King River Prawns with Red Curry or Choo Chee (THB 980) was one of the highlights that we had. The prawn meat is first flash fried to ensure it's not overcooked, and thereafter it's cooked in a rich, red curry and plated onto the prawns itself. Finally, a drizzle of coconut cream helps to cut the spiciness.
All in all, an amazing seafood dish that is a must-try, especially eaten with the cabbage relish that tastes suspiciously like sauerkraut. Quite an interesting and delectable medley of flavours.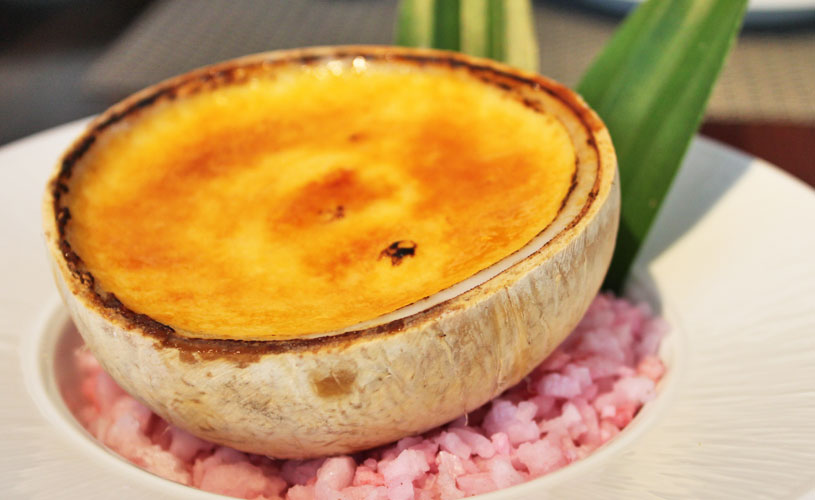 The Coconut Creme Brulee was an excellent close to douse the flames from the meal. Not that it was too spicy, but the sweetness of the sugar crust, baked into a fresh coconut kernel that's already brimming with sugary flavours – this dessert's an absolute must have. Especially coming from someone who typically only does chocolate-based desserts.
Osha Bangkok is a Thai restaurant that may warrant repeat visits because they regularly update their menu with new items. And built in a venue that resembles an opera house with balcony seatings, and circle booths, on top of theatrical displays of culinary prowess – what's there not to like?
Review rating: 8/10
Osha Bangkok (Map)
99 Wireless Road,
Lumpini, Pathumwan
Tel: +66 2 256 6555
Email: Bangkok@oshabangkok.com
Hours: Sun to Thu 11am to 2.30pm and 6pm to 11pm | Fri & Sat 11am to 2.30pm and 6pm to 11.45pm
Reservations: By phone or Chope