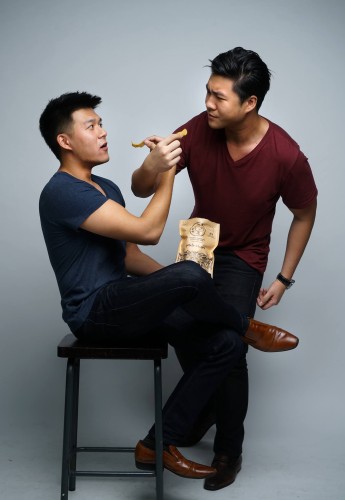 Jonathan Shen and Chris Hwang munch on their The Golden Duck gourmet salted egg chips while we talk. With the looks of successful geeks showing off their latest winning project, The Golden Duck, they transformed the salted egg craze into a  very serious business.
Despite their ages – Shen is 27, Hwang 24, both challenge preconceived notions of the millennial entrepreneurship in the F&B industry. See what they have to say.
1. Please introduce yourself and what you do
J : Jonathan Shen, Marketing Manager for the Massive Collective Group of companies, and Co-Founder of TGD (The Golden Duck) Singapore.
C: Hi! I'm Chris Hwang, serial entrepreneur and potential law school dropout. Most days I'm found dabbling in one of the following businesses: Co-Founder, TGD (The Golden Duck) Singapore; Co-Founder, Impressionist: The Interview Specialists; Investor in Suite 26, Vanity Lounge, and Armoury Gastrobar; Investor in Massive Collective.
2. What inspired you to begin The Golden Duck?
J : We have been doing business for awhile and a large part of being in that ecosystem is spotting new opportunities. We conceptualised the idea over a year back when the Salted Egg craze was just starting to grow and were fortunate enough to catch this wave in the F&B industry.
C: When Jon first broke the idea to me I thought it was ridiculous, but very often that's exactly what business is all about – going against the current. Salted egg yolk… on chips? Sounded crazy.
Fast forward 4 months of painstaking planning and a ton of hard work: we formulated a full rollout and readied our product, branding and business expansion plans… there was no stopping us at that point.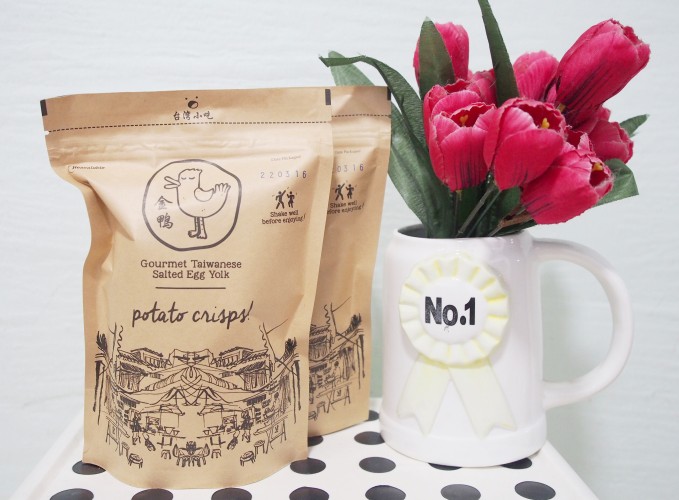 3. The market has seen a boom of salted egg derived foods – What made you take the dive and decide your product can carve an edge out of the clutter?
J : Many of the players in the market now deal with made-to-order dishes like croissants and buns. Being in the fast-moving snack category gives us a little more edge because our products can be enjoyed anywhere, and are not confined to meal-timings and retail environments.
C: I think it's time for the snack industry to have a shake up. When's the last time a big player from our shores made a move on these markets? Customers want something fresh. I say let's give it to 'em 😉

4. What's that one salted egg yolk dish (besides your own) that you thoroughly indulge in and would go back for again, and again?
J : Liu Shar Bao! I believe the rise in popularity of this traditional dim sum dish was what originally led to the mad snowball effect we are seeing today. My favourite LSB can be found at Mouth Restaurant (Chinatown and Plaza Singapura).
C: I'm an absolute sucker for salted egg yolk prawns. Can't seem to go wrong with this! I know the prawns aren't fresh at most restaurants but they're still so good?!
5. F&B industry is a very saturated market. Managing various businesses at one go, how do you stay on top? Tell us about your approach.
J : It's very important to have a good assessment and feel of the market. Similar to other mature markets, players in the F&B scene have to differentiate themselves more through the use of business strategy and branding so that their services and products are able to cut through the clutter. They also need to think more from the consumers' point of view and balance their needs with the needs of the company. Not many people are able to do that successfully these days and that is why the closure rate in the local F&B industry is so high.
C: A good magician never reveals his secrets.
J: Dammit Chris.
6. Many of your age will be busy with climbing the corporate ladder. What have you learnt from entrepreneurship at such an *ahem, tender age?
J : Being an "entrepreneur" (such a loosely used term nowadays), is first and foremost an attitude. It's an attitude that changes your perspectives on daily matters, and the difference between looking at a problem and going "someone should fix this!", as compared to "can I fix this?". The top two excuses I get from people when I ask them why they cannot turn their ideas into a business is, "I don't have money" and "I lack the experience", but in reality the only thing they're lacking is the right attitude and mindset – possess that and everything else will fall into place.
C: You're as young as you'll ever be and you're wiser than you've ever been. The time is now. You have a dream, go for it. Why climb the ladder when you can build it?
I started my first business (Impressionist) with no experience and a capitalisation of $1. It took me two years to start making money because we was always riding on a cyclical business wave, but hey it's the school of hard knocks in business. If you can't take hits, don't play.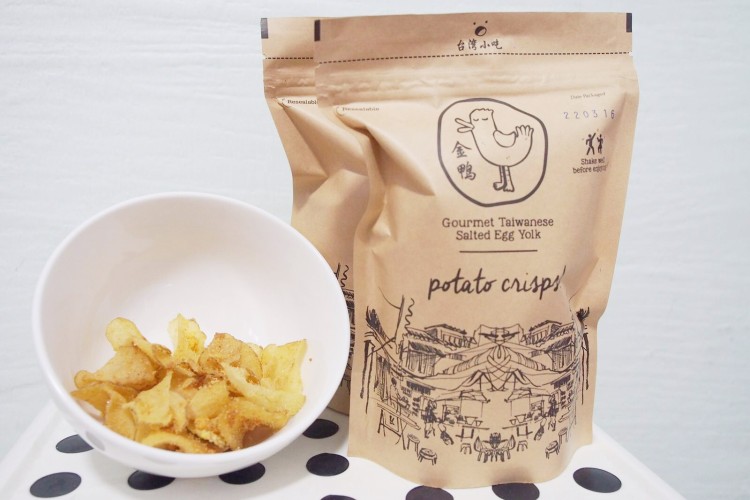 7. Are you hatching any new products beyond your successful salted egg chips?
J : Definitely. One thing that makes Chris and I good business-people is our constant discontent with the status-quo. We bring this attitude into everything we do and likewise for The Golden Duck, we're already looking at new products under the brand. We can't say what yet, but we'll tell you that we've got quite the creative chef. 😉
C: We a​re​ sooo game to bring the next big surprise to the market. Are you ready? Cos I sure am.
And this is exactly why The Golden Duck gourmet salted egg chips shines. In a time when the food industry clutters, they stand out by teasing out surprises from familiar favorites that add new inspiration to our food memories.