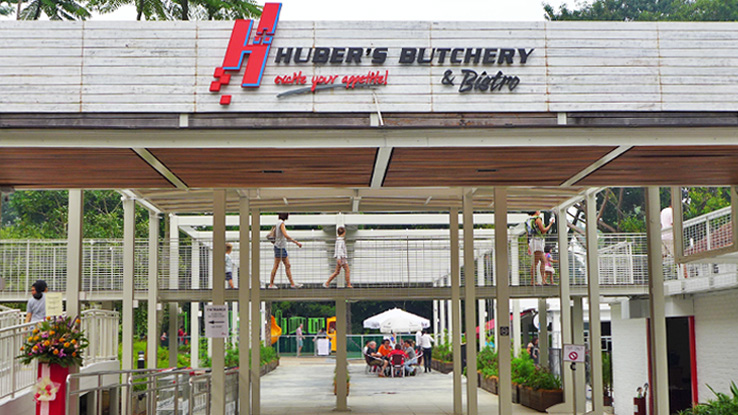 When it comes to determining just how authentic a restaurant serving foreign food is, nothing is more telling than the clientele. So last weekend, when a couple of German friends invited me to join them for what they considered to be a traditional Bavarian breakfast at Huber's Butchery, I was quite stoked to check it out.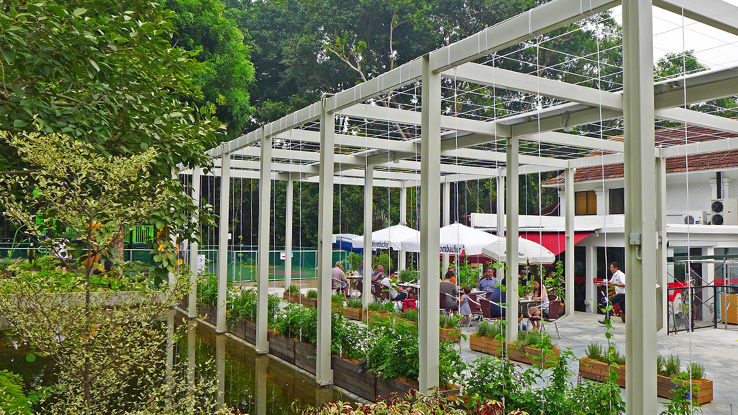 Truth be told, the fact that this Bavarian breakfast had gotten stamps of approval from my two German friends, was only half the reason I agreed to getting up early on a Sunday. The other, more important, half was the fact that a traditional Bavarian breakfast consists of sausages, pretzels and beer!
In fact, when I first heard the words "breakfast" and "Sunday", I was all ready to take a rain check when they knowingly whispered the magic word "weissbier" (German wheat beer), to which I could only respond "Prost!" (Cheers). I mean beer for breakfast? I could wake up for that.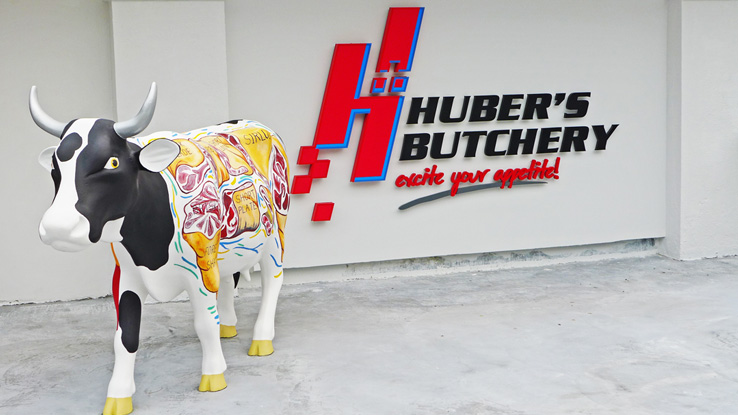 Dempsey Hill regulars will know that Huber's has been around for a long time now, and is both a butchery and a bistro. The butchery offers a wide range of high-quality meat, steaks, sausages and cold-cuts, but also deli items, wines and cheeses. Its bistro serves up casual European cuisine, and is known for great food and exceptional value, especially compared to other dining options in the area.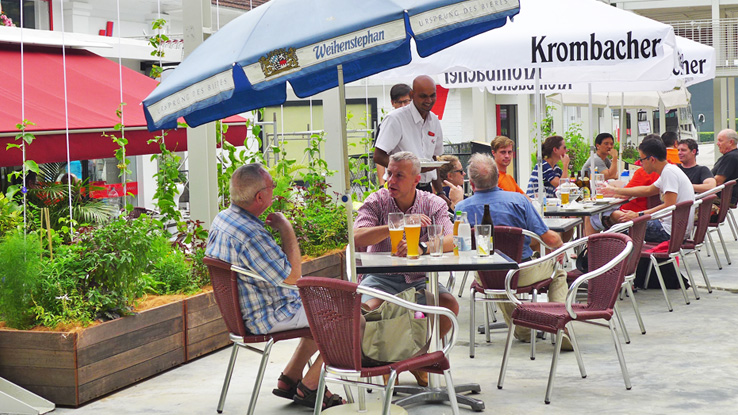 The bistro has a blackboard of specials that change daily, but all-time favourites include their gourmet sandwiches and sausages which, naturally, are made with fresh ingredients from Huber's own butchery. Most mains are only slightly more than $10 and soup of the day less than $5.
Despite the many attractive options on the menu, all of us opted for the weisswurst frühstück, which is what the traditional Bavarian breakfast is called in German. We had come on a mission after all, and we weren't about to be distracted.
The three main components of a typical weisswurst frühstück are weisswurst, brezel and weissbier, or white sausages, pretzels and wheat beer in English. In fact, purists will tell you that having the sausages without either the pretzel or beer is considered poor form in Bavaria.
According to my German friends, one of whom is actually from Bavaria, the weisswurst frühstück at Huber's comes very close to the real deal. Each order comes with a pair of weisswurst served in a pot of hot water, sweet mustard to go with the sausages, a freshly baked pretzel and a bottle of weissbier (which you'll have to order separately, $12.60 for 500ml).
The weisswurst were delicious. Made of finely chopped veal seasoned with herbs and spices, they were almost as white as their namesake and had a mild, delicate flavour. The filling had a smooth, slightly pasty texture, similar to pâté.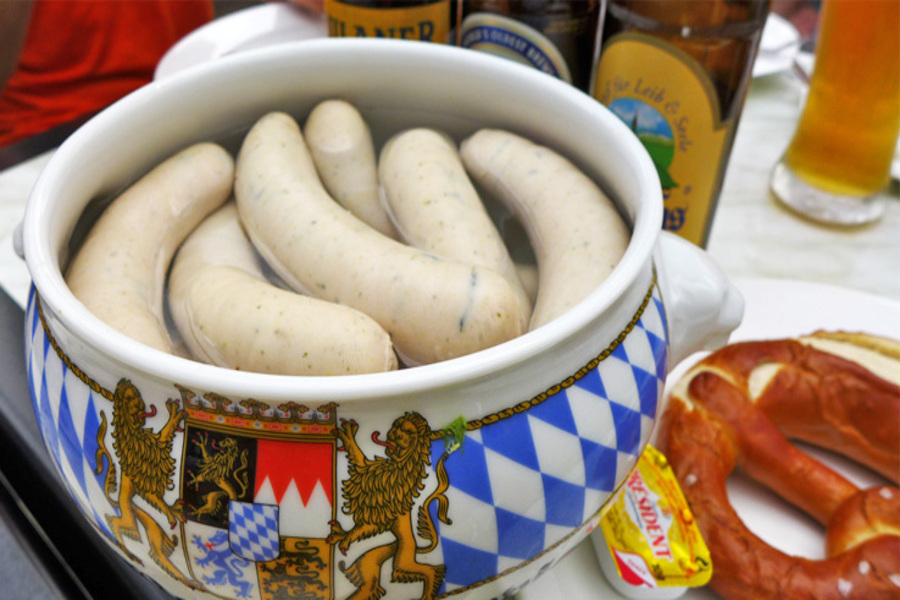 There is a saying that weisswurst should never be allowed to hear the noon church bells ring and are therefore always consumed before mid day. Actually, this tradition stems mainly from the fact that weisswurst are made early in the morning and because they do not contain preservatives, are extremely perishable.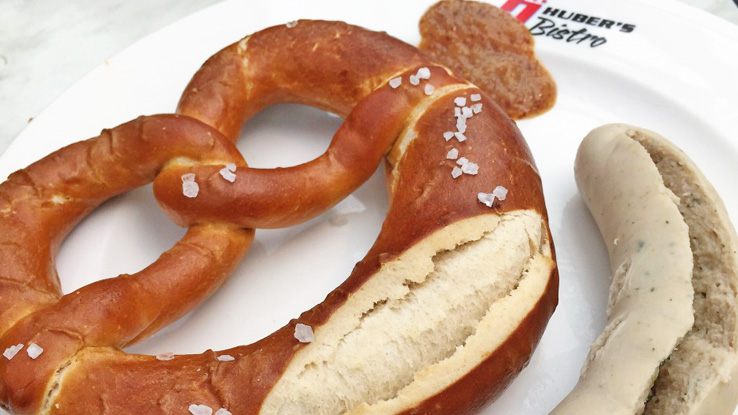 My friends also explained that you do not eat the sausage skin and traditionally there are two ways to eat a weisswurst. The first, is to remove the skin by cutting into it length-wise then rolling the meat off with a fork. The second method, called zuzeln, is a little more … interesting, and involves cutting the ends off the sausage and sucking the meat out from the skin. I recommend sticking with the first method if you're in polite company.
The pretzel came nice and warm. Deep brown and slightly salted on the outside, white and doughy on the inside. Exactly how I remember pretzels to be when I holidayed in Germany.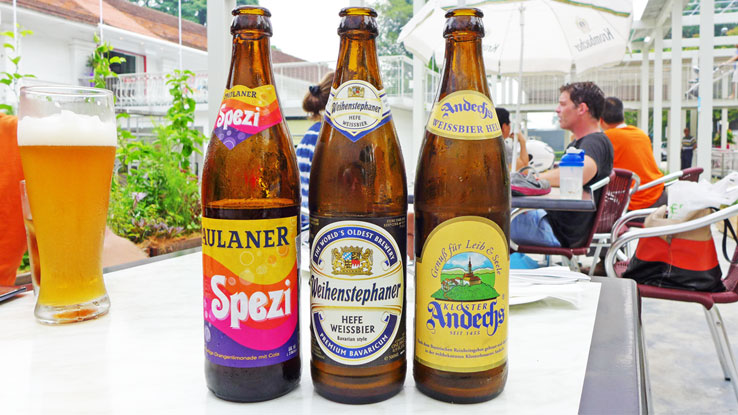 The sausages were awesome, the pretzel was great but for me the icing on the cake had got to be the weissbier. Huber's has an impressive selection of wheat beers. In fact, my friends were surprised to find that Huber's stocked brands of beer which you would not be able to find just anywhere even in Germany.
Most of the beers on the menu are pretty good but if you're only planning on having one bottle, we recommend trying the Weihenstephaner (oldest brewery in the world) or the Andechs (a Benedictine monastery brewery). If you're under 18 or beer's just not your thing, you can try the Spezi, which is a classic soft drink made in Germany with cola and orange soda – it even comes in an old-school Paulaner bottle.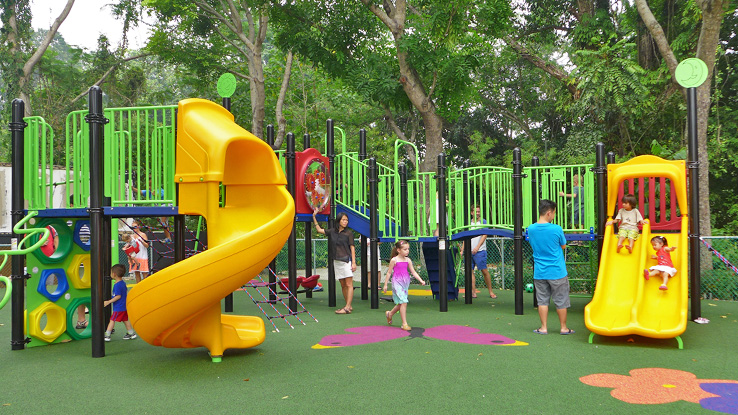 Huber's recently moved to a larger, more spacious location just down the road from the old place. The butchery now sits on an upper floor and the new bistro has indoor seating as well as al fresco dining so you can enjoy sitting out amongst greenery or in the shade as you please. Parents with young'uns will also be happy to know that there is a playground next to the bistro, where you can park your kids while you relax over brunch.
Review Rating: 8/10
22 Dempsey Road
Singapore 249679
Tel: +65 6737 1488
Bistro Hours:
Mon: Closed
Tues to Fri: 11am to 10pm
Sat, Sun & public holidays: 9.30am to 10pm
Last order at 9.30pm
Butchery Hours:
Mon to Fri: 9.30am to 8pm
Sat, Sun & public holidays: 9.30am to 7pm
Closed on Christmas Day, New Year's Day and Lunar New Year