If you're thinking of where to stay in Bangkok, Dusit Thani, is a five-star hotel with faultless service and one of the cities' best restaurants – Benjarong
If you are thinking of where to stay in Bangkok, Dusit Thani Bangkok is conveniently located in the centre of Thailand's vibrant capital, super accessible by both BTS (Saladaeng) and Metro (Silom), and an amazing, warm and sincere hospitality. It makes you feel at home, away from home.
Hospitality oozing with style
The luxe Dusit Thani Bangkok comes at a surprisingly affordable starting rate of THB4,900 and with world class standards of the Dusit International Group. Embellished with Thai contemporary nuances, Dusit Thani Bangkok appeals to a diverse clientele, notably business travellers, with families and Japanese tourists as well.

Facilities for that relaxing weekend
Despite a bold reflection of Thai royalty from its opulent finishing and fixtures, the property manages to interject a tranquility from its brilliant landscaping. Besides having an outdoor swimming pool with sun deck, there's a water fountain feature that I love so much.  This is also a favourite spot for many guests who will kickback over cocktails from the bar at sunset.
Soak in the lap of Thai royalty luxury  
The Dusit Room is luxuriously furnished in elegant Thai style with a delicate display of traditional materials made of silk and teak wood. The warm hues create a tranquil and homely atmosphere that lets you forget about the hustle and bustle of city.
With a breathtaking view of the bustling Bangkok city, the room's spaciousness just draws you in to stay indoors. The owners have made full use of the space by having the bedroom, lounge and bathroom connected adjacently. With a separate living room to relax in and a comfortable bed room, the rooms here are furnished like a home so guests can enjoy their stay as though they have not left their own.
Heartfelt Thai hospitality
From hospitable doormen to the receptionists with glowing smiles, the great attention to detail is another point to be highlighted here. Everyone is sincere, attentive and exude warm hospitality. Other services are included such as 24-hour room service, butler service on call for club-benefits, baby-sitting service, and etc.
Gastronomic traditional Thai cuisine at Benjarong
Clocking 23 years as a haven for traditional Thai cuisine, Benjarong, a renowned, legendary fine dining restaurant in Dusit Thani Bangkok has gone through a magnificent change.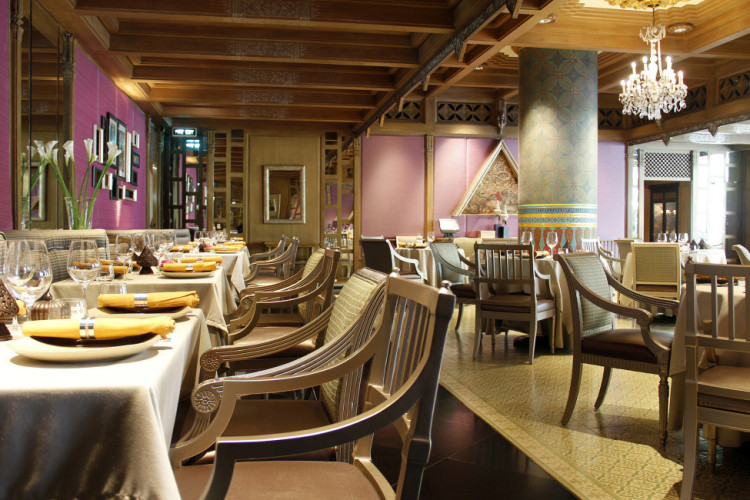 Keeping to its heritage despite being slightly renovated, it introduces a novel interpretation of Siam cuisine, with modern techniques, but are distinctively Thai at heart. The ambience is presented in a warm, inviting atmosphere that retains traditional Thai charm and essence.
An appetizer I highly recommend is the crispy catfish salad and green mango with crab meat and tom yum custard (THB370). It's an atypical combination but yet savoury and so addictive. The deep fried catfish comes de-constructed , and when paired with the sour and spicy custard, offered an impressive plethora of textures and tastes.
You definitely should not miss the Tom Yum Goong (THB$340). With an impressive presentation, the lemon grass scented clear soup came with sizeable, fresh and flavourful prawn chunks. Totally delectable.
The main is lamb shank braised in aromatic massaman curry (THB690). The bold lamb was perfectly grilled first and immersed in an aromatic curry that complemented its strong flavours, and with a spicy kick as well. And to top it all, Benjarong's paad thai is smoky (think wok hei), fragrant, and such an great close to the mains.
All the desserts at Benjarong are supposed to portray traditional Thai sweets – the preference of most Thais. Don't miss out on the authenticity of the flavours, that are infused with modern culinary techniques.
Apart from Benjarong, you will definitely be spoilt with choices like Thien Duong and The Pavilion. The breakfast line at The Pavilion comes with an elaborate selection of Asian to Western cuisine. There is a great assortment of breads and pastries, premium cheese and cold cuts, and of course traditional Thai staples such as paad thai.
The Verdict
Honestly, you can't beat the location. The well-connected public routes is an all-important criteria for Bangkok city lovers to beat the traffic. And despite its accessibility, it feels like an enclosed oasis that allows you to retreat from the bustle once you're done with it for the day.
And when night falls, nearby streets are lined with all kinds of food and retail therapy that will keep you up in a city that never sleeps. Fall back into the warm hospitality of the property, and the luxurious rooms, when you're done for the day to recharge for the next. Have a better suggestion on where to stay in Bangkok? Let us know in the comments below!
Hotel rating: 7/10
946 Rama IV Road, Bangkok 10500, Thailand
Tel: +66 2 200 9000
Hours: Daily
Email: customerservice@dusit.com
Nearest Station: Sala Daeng BTS Skytrain Station and direct access to Silom MRT
Reservations: Via phone, email