[GIVEAWAYS]
2. Comment 'Liked and Shared'.
3. Name one of the celebrity groups who will be performing at Skechers
Sundown
Festival! Send your winning answer and contact details to
asiastyleasia@gmail.com
!
Contest will end on 6th November 2015.
5 pairs of tickets
($88 each ticket) to be win and announced on 9th November 2015!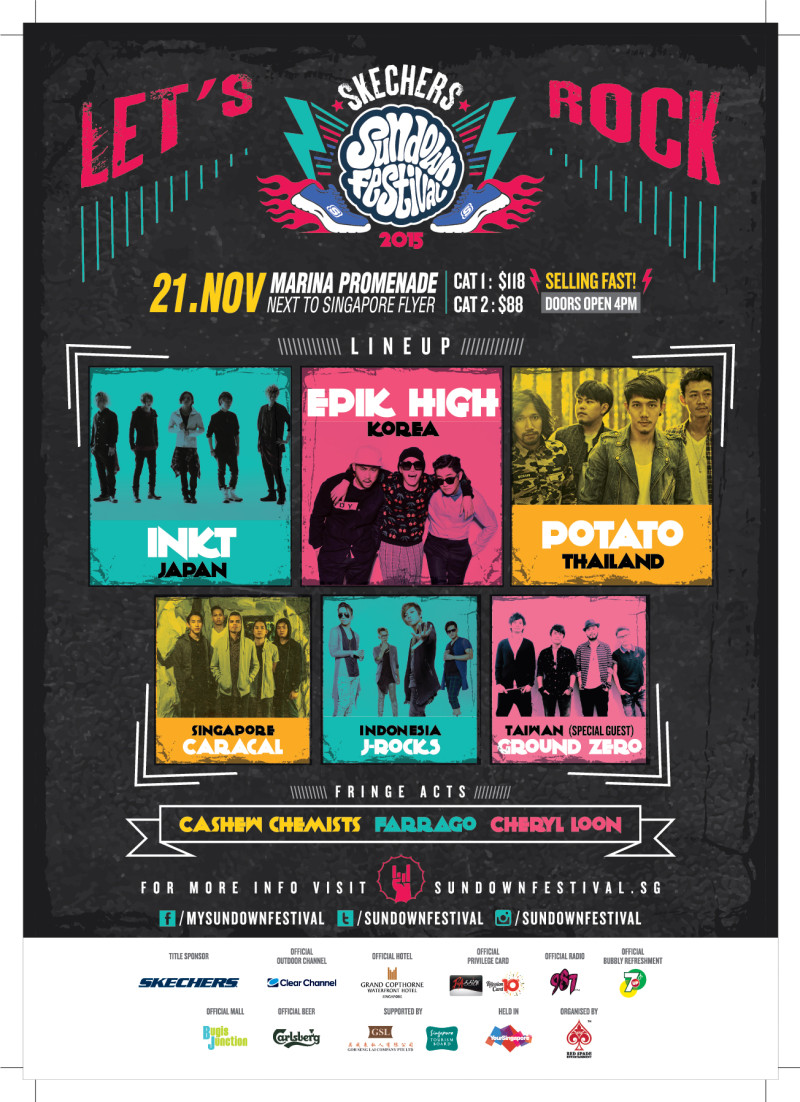 Asia's leading music festival returns for the seventh year with some of the biggest Asian artistes of the moment scheduled to perform in Singapore on 21 November 2015.
Featuring artistes from around Asia, Thailand's 'Potato', Japan's 'INKT', Singapore's 'Caracal' and Indonesia's 'J-Rocks' are the initial line-up of headline acts scheduled to rock it out at the Skechers Sundown Festival 2015, with amazing artistes from Korea joining the ranks soon, like EPIK HIGH.
Staying true to its mission, of uniting Asia through music as well as creating a platform for local talents to showcase their skills, the Festival will also feature fringe acts comprising up and coming artistes. Homegrown Singaporean musicians 'Cheryl Loon', 'Cashew Chemists' and 'Farrago' are some of the exciting artistes performing this year, with special guests 'Ground Zero' from Taiwan!
Fans can expect a day of great music and indulge in mouth-watering local delights at the Skechers Sundown Festival.
Samantha Chan, Director of Red Spade Entertainment, "The local music scene has evolved positively over the years, and we now see more local bands making it big within Singapore and internationally. We are keen on giving them a place to showcase their talent, especially one where they can share the stage with other top regional bands."
Added Kelvin Goh, Director of Red Spade Entertainment commented, "Over the past 6 years, we have brought over 70 acts and artistes from 11 countries across the region together and achieved our INKT Caracal J-Rocks Potato, uniting Asian musicians on one platform. Now, we have our sights firmly set on growing the Sundown Festival even more and taking it to regional locations around Asia in the future."
"Skechers has a long history working with global music artistes. We're excited to be presenting the Festival once more to show our support towards the progress of Asian music, giving a platform to Asian musicians to showcase their unique sounds," said Susan Chua, Vice President, Skechers ASEAN.
The iconic Skechers Sundown Festival is held each year at the Marina Promenade, F1 Pit Area, bringing one singular platform to bridge Asian artistes, fans and diverse Asian cultures through music and food. Since its first showcase in 2009, the festival has now grown to more than three times in audience size.
Tickets (Early Bird @ $68, Category 2 General Admission @ $88; Category 1 Mosh Pit @ $118) go on sale from 18 September 2015 onwards. Grab your tickets now at www.sundownfestival.sg
For more information of the festival, please visit Sundown Festival's Facebook page at www.facebook.com/mysundownfestival.