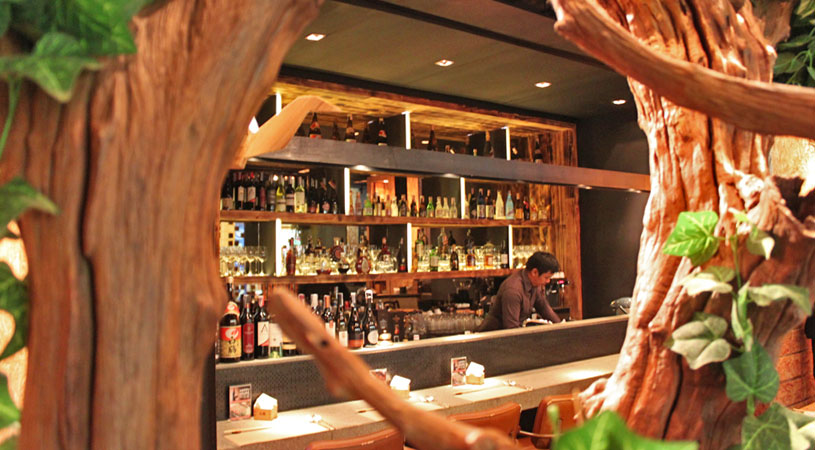 The cocktail scene is crazy bustling in most restaurants in Bangkok, with mixologists and bar managers hired exclusively to ensure a bespoke list of alcoholic beverages for the cocktail-conscious. In comes Ogu Ogu, with not just an extensive, well-curated list of sakes in their cellar, but a very competently crafted Japanese-inspired cocktail menu.
The interior decor is warm and wooded, subtly mirroring a traditional Japanese izakaya, but with Western influences seeping in from the leather-upholstered chairs, cement-cast bar counter, and towering mirrors which create depth.
Omotesando is not just another street in Tokyo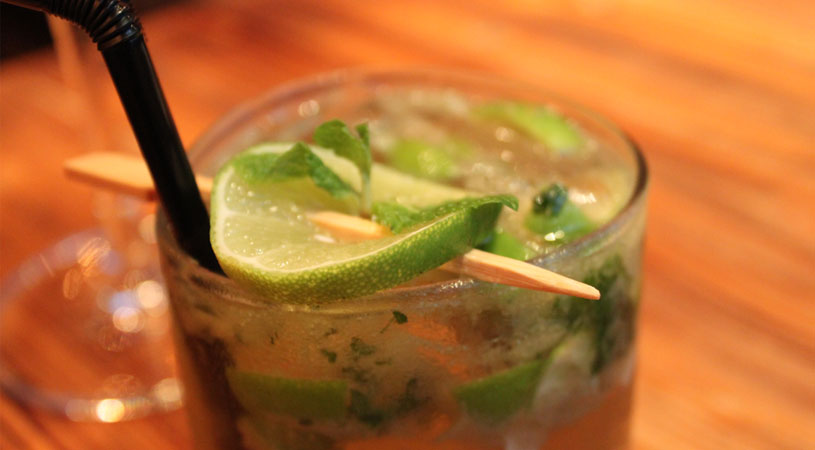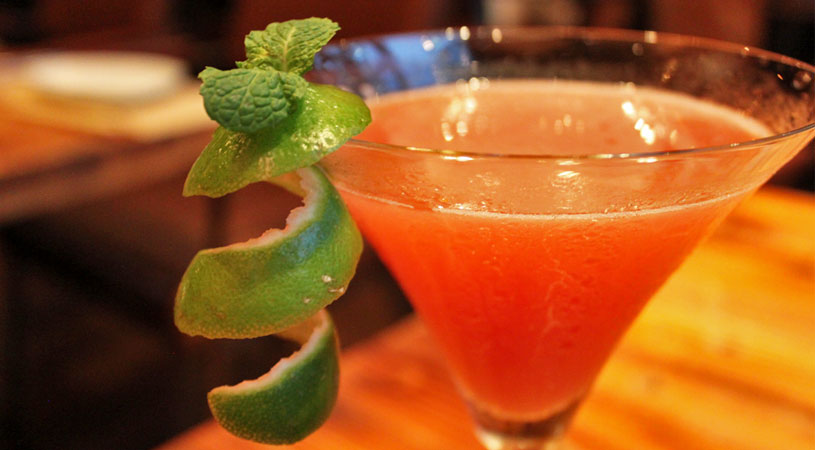 Taking care not to mix our spirits for the night, for we had a long night ahead – we went straight to their cocktail menu. Much lauded is the Omotesando Mojito, which packs a real rummy punch, but with a citrus boost that's kept intact, rather than doused by the typical high sugar content. The result is an extremely refreshing and sprightly drink that makes a great palate opener.
The Passion Fruit Martini was just sub(lime), literally, with tangy flavours from the calamansi and the passion fruit – one for the ladies I must say.
Innovative Japanese starters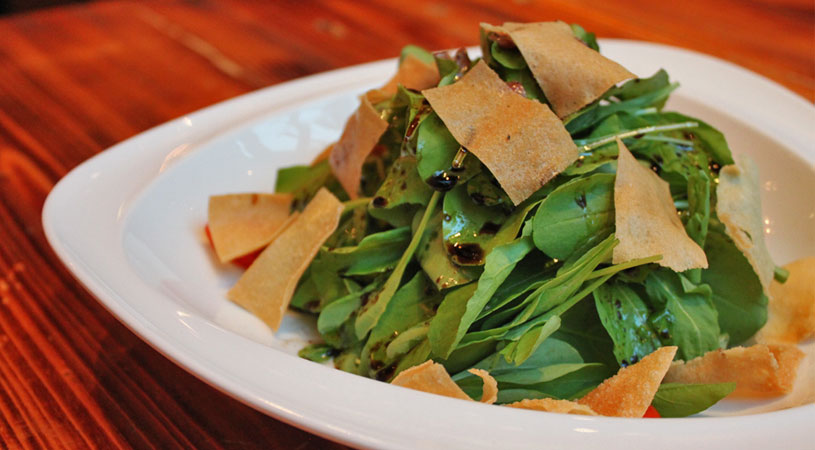 Starting with the Ogu Ogu salad, a medley of rocket leaves with truffle oil and anchovies, was a good choice. With an extensive list of 8 salads ranging from THB280 to THB490, take your pick of Japanese infused flavours with dressings that cover the refreshing yuzu, to the creamier miso and sesame options.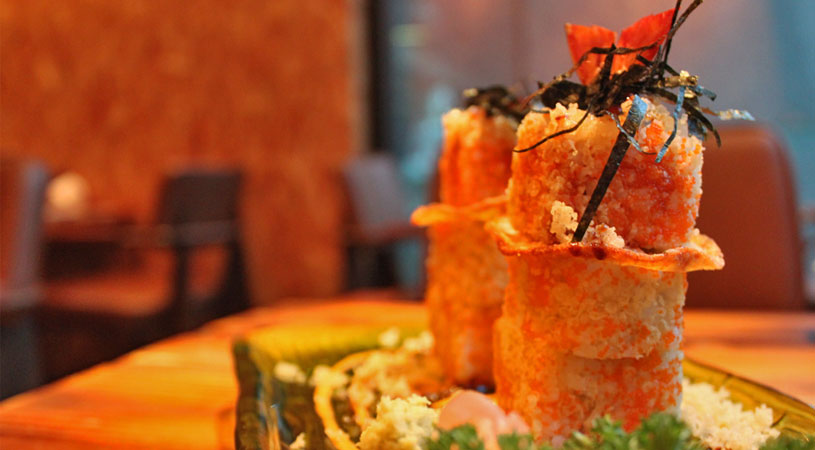 One of their specialty rolls, is the 2 Sky High Maki (THB 390). One rolled with tuna and avocado, the other shrimp and avocado, and both coated with crispy tempura batter and crunchy tobiko roe. The twin towers have a crispy mezzanine disc of lotus root, and everything comes together perfectly – topped with freshly grated wasabi paste. Creativity with authenticity preserved.
Carbalicious mains with a fiery kick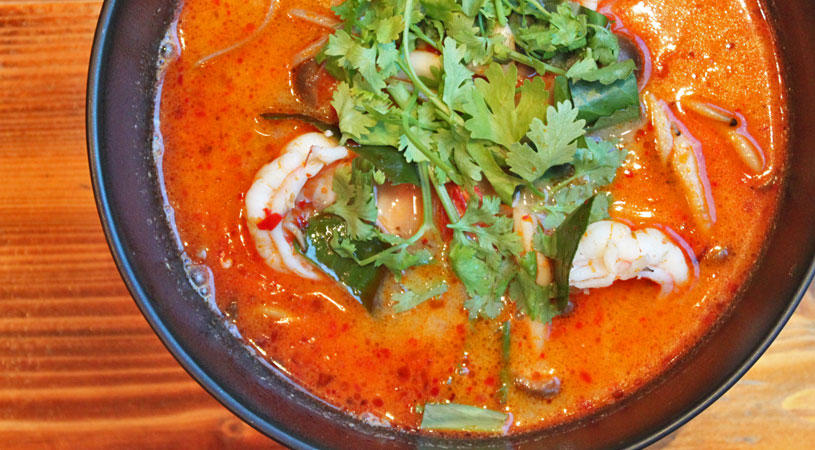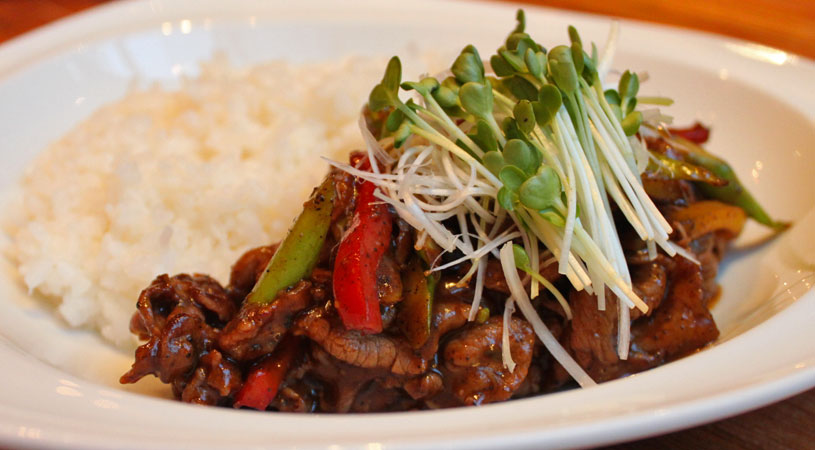 I am guessing for a sake/cocktail driven concept, you gotta line the stomach well enough to get through a long night. With close to 15 rice/noodle dishes on the menu spanning Western and (but more) Japanese influences, you know you (and your stomach) are covered. The Tom Yam Soba was a shining star combining amazing Thai spices and herbs, with buckwheat soba cooked al dente. My absolute favourite dish that night, despite feeling a tad full from the starters.
The Black Pepper Sliced Beef with Rice,  was well-marinated and the generous slivers of beef, tender and cooked medium to maintain the mineral freshness of the meat.
A cheesy, sweet ending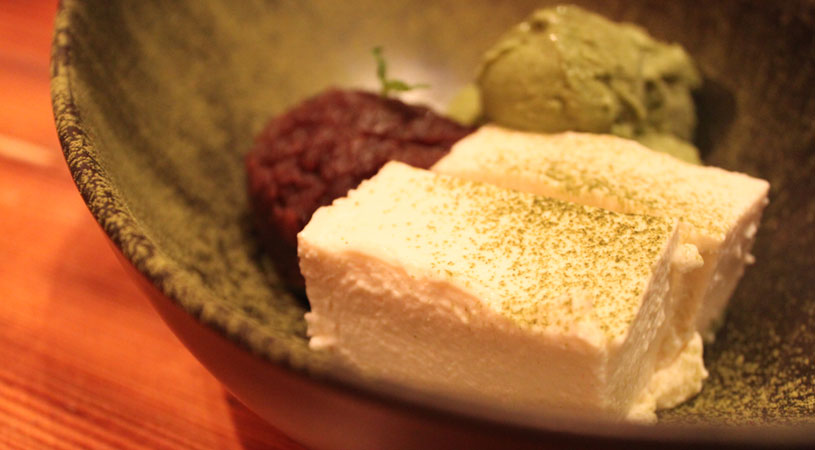 And how can we pass on dessert? The Tofu Blanc Manger was not just nice to look at, the fragrant umami cheese flavours melded with soy curd tasted like sugary, soft clouds. I could have it by itself. The added condiments of sweet Azuki red bean paste, and fragrant Matcha ice cream gave you the option to spruce up the flavours.  Honestly, given the right quantity, and lightness of the tofu cheese combination, this dessert hardly tipped me over and gave a nice round finish to the excellent meal.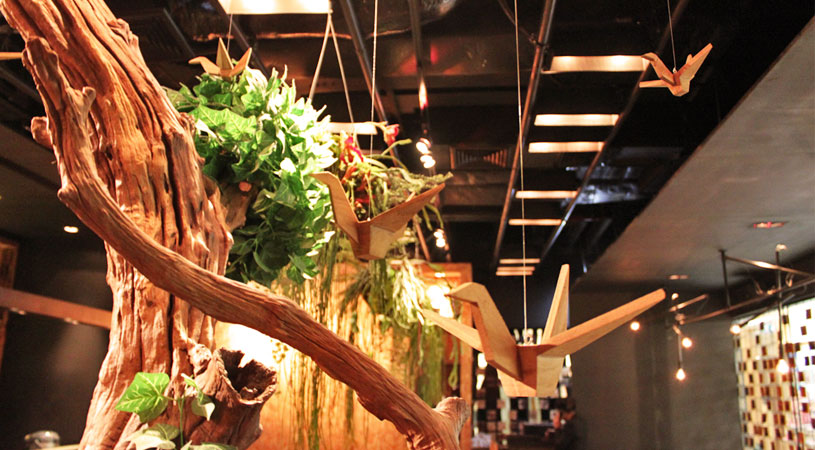 Located conveniently next to Phloen Chit BTS, Ogu Ogu is a restaurant in Bangkok that you shouldn't miss. And just a stop from the freshly minted Em Quartier and Emporium at Phrom Phong, this is one dining venue you should make part of your foodie adventure.
G/F, Park Ventures Ecoplex, 57 Rd., Bangkok, Thailand
Tel: +66 – 02 108 2255
Hours: 11.30am to 2pm | 5 to 10pm
Nearest BTS: Phloen Chit