CURATE RWS (Resorts World Sentosa), may be located at the tail-end of the Asian continent but, it is at the apex of the dining scene in the region.  Hot on the heels of it's recent success at being recognised as Best Dining Experience by Singapore Tourism Awards, CURATE followed up with an exciting tag team feature of Parisian Chef Stéphanie Le Quellec and in-house Chef de Cuisine Benjamin Halat. While both are closely associated with the Michelin brand, their culinary influence and journey could not be more distinct than a fork in the road.
The two come together at the Art at Curate dining series which, has been a quarterly fixture on the island for eleven years. German precision is married with French flair on this excursion, though it must be said that Chef Halat is quite the adventurer himself, having infused Asian flavours into his menu. Having fallen in love with this region, he worked his way into a position at the Mandarin Grill in Kuala Lumpur's Mandarin Oriental, taking a sojourn from Michelin-starred restaurants like Restaurant Dallmayr and Gourmet Restaurant Königshof back home in Munich.
Chef Stéphanie, on the other hand, made her name under the tutelage of the esteemed Philippe Legendre of Michelin three-starred (2003-2007) restaurant Le Cinq. In a short time, she distinguished herself and rose to  the appointment of Executive Chef at Terre Blanche resort in Provence at only 28. Within four years, Chef Stéphanie earned her own Michelin star and is today one of the few female Michelin starred chefs in France.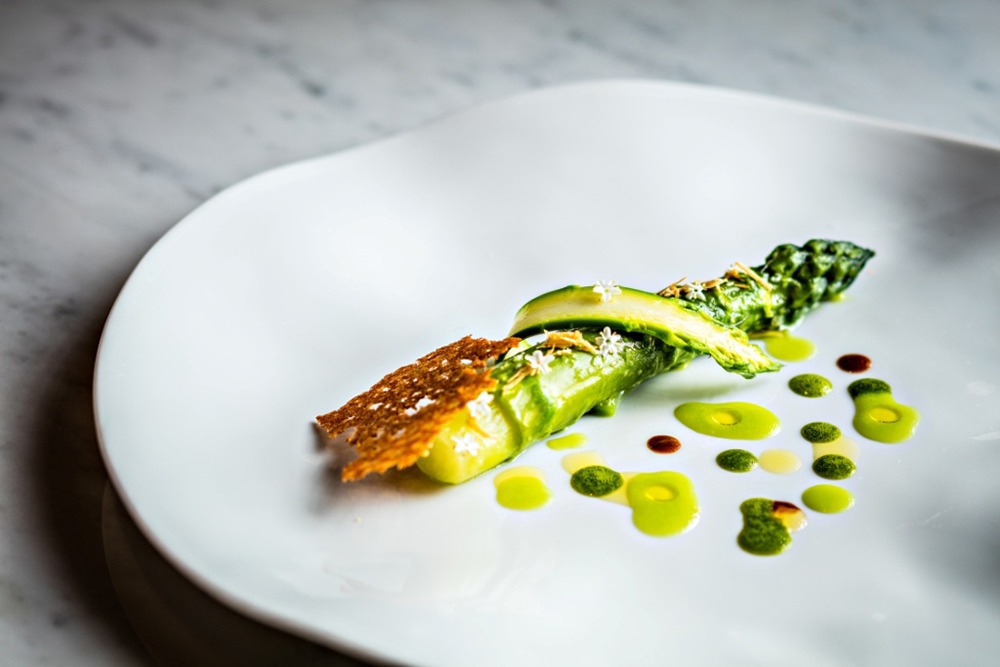 Curate RWS Pushes Boundaries
Since opening its doors to discerning diners two years ago in 2016, CURATE RWS has been the place that the world's best chefs have come to show off their best creations. From Tanja Grandits to Emma Bengtsson and Elizabeth Allen, a litany of culinary luminaries have converged at this special place.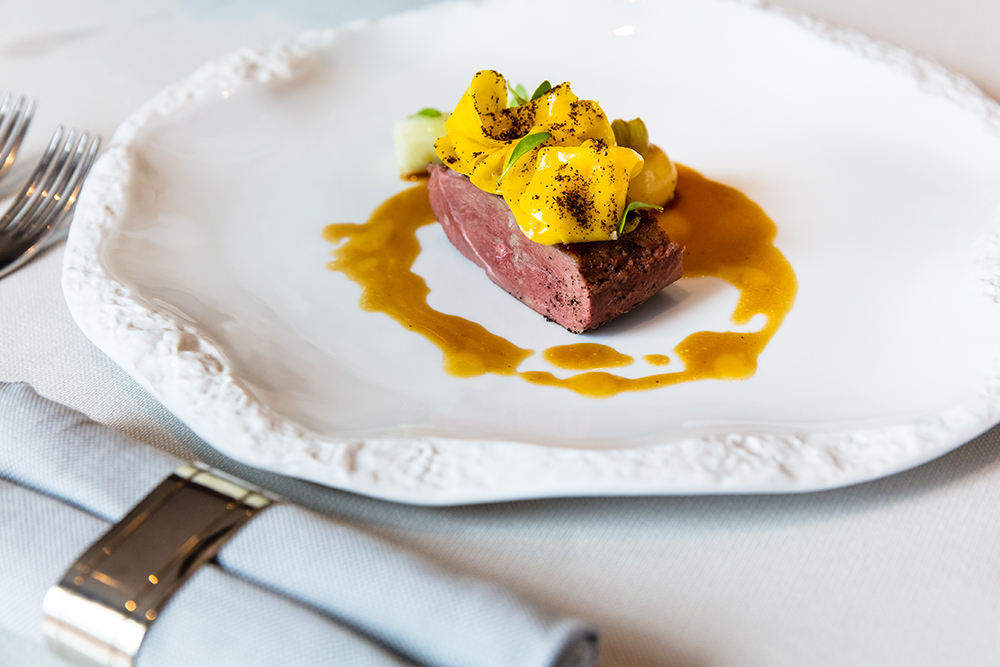 True to its island setting, CURATE RWS has always endeavoured to put a twist on traditional favourites by incorporating local flavours and ingredients. This can be seen in tantalising dishes such as the Farmer's Duck with Timut pepper and mango.
Chef Stéphanie's fame for conjuring up delicious sauces is put to the test in this plating Salmon with Celeraic,
Buckwheat and Vanilla which, again, features oriental ingredients.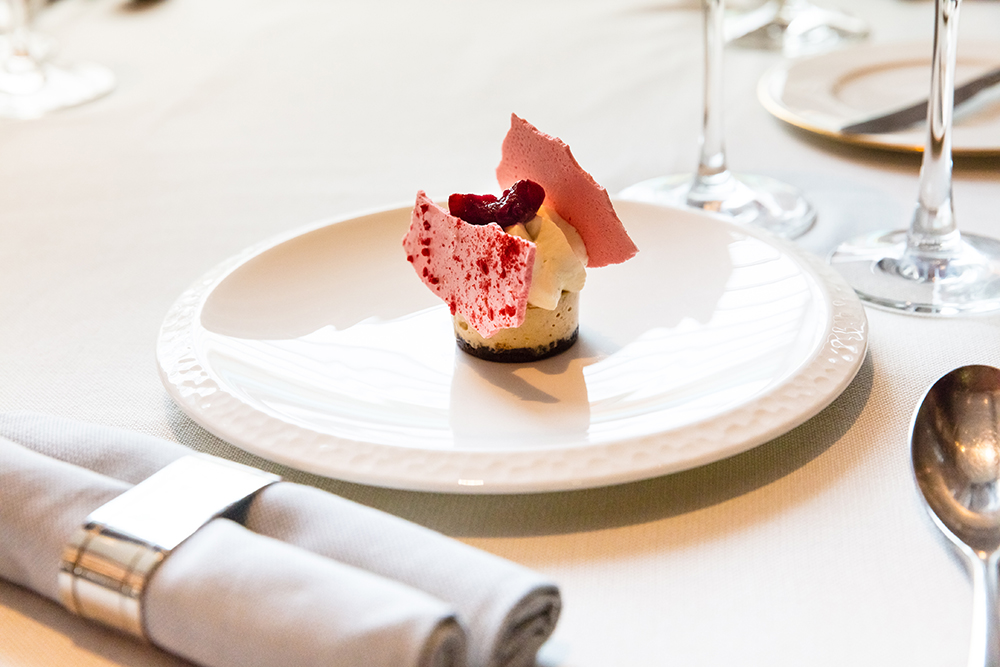 Chef Halat rounded off the meal with a dessert of banana split with chocolate and pecans. A relatively unexciting name compared to the previous courses but exactly what the palate demanded to end the meal right.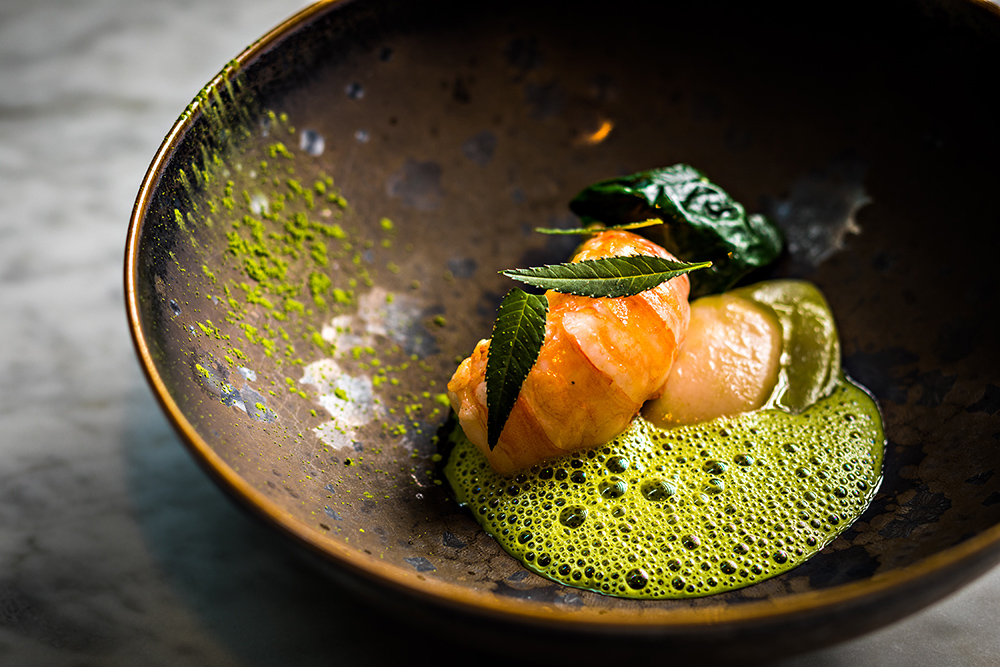 Coming unadulterated from Chef Stéphanie's kitchen at La Scène in Paris is the fresh, sweet and succulent lobsters in Matcha sauce – a popular dish frequently featured at the well-known Parisian restaurant.
If you are already eagerly anticipating the next installment of Art at Curate, pencil the 2nd till the 8th November into your schedule. This 12th installment will feature Chef Bee Santogun of One-Michelin-Starred Paste in Bangkok. Her much talked about ability to melt a symphony of flavours and textures while retaining her roots in Thai cooking traditions is sure to tease your taste buds and leave you craving more.
For more information:
Website: https://www.rwsentosa.com/en/restaurants/curate/overview
Location: The Forum, Level 1
Operating Hours: Dinner: 6.30pm – 10.30pm
Closed every Sun, except Public Holidays
Contact: +65 6577 7288 / +65 6577 6688