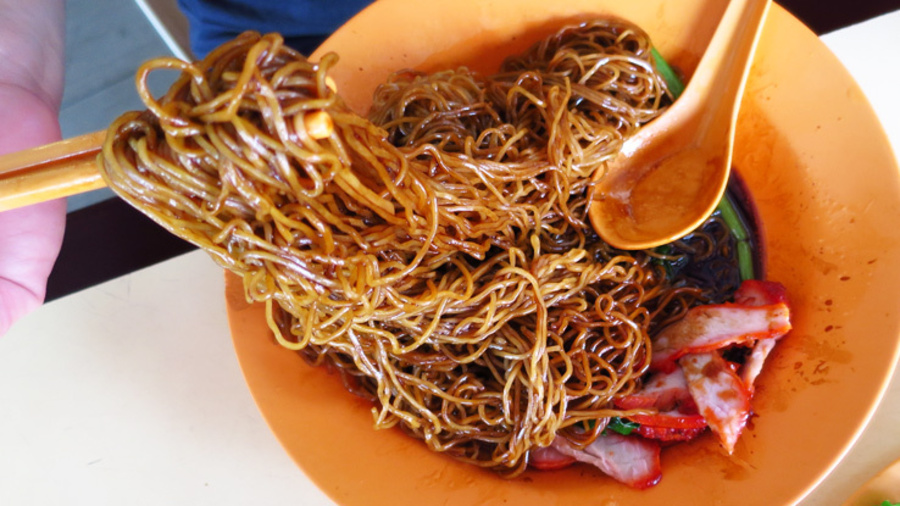 It's not a toss up! We love our wanton mee and recently, we went to a noodle bar which dared to push the limit to bring the everyday household favourite into the CBD dining scene. We have seen it all before, once you pull a stunt like this, this happens:
The challenge to cover overheads – which compromises quantity, and inadvertently quality
The brand re-creation process – usually one that's over-hyped, over-promising most times and doesn't deliver. Great employment of PR, but that's it.
The one size fits all – which results in extending beyond one's capability to provide a wider variety, instead of concentrating on the core competency(ies)
The best wanton mee in Singapore is not one that belongs in an up-scaled bar. Hotel restaurants have done it – and with a solid repertoire of more than capable chefs. But that's what they have, a lot more experience in other parts that will trump that one dish that doesn't deliver. Bincho has done it – but with a spin. Seng's Noodle Bar is trying, but unfortunately falls into the above traps. We will take you through why, with a comparison from just one of our personal favourite wanton mee stall.
Wanton – Seng's Noodle Bar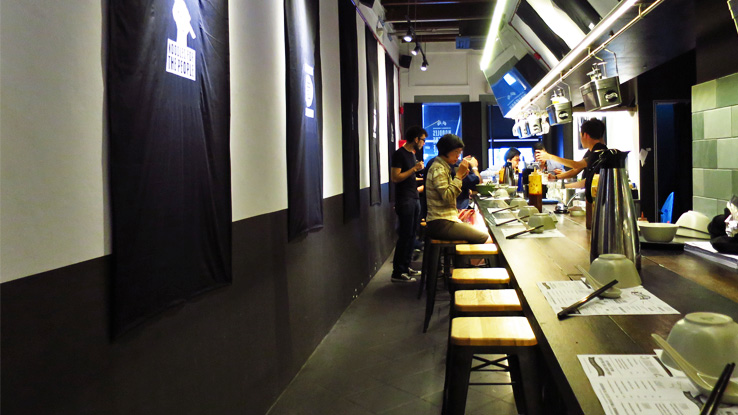 Like the name suggests, Wanton IS a noodle bar. A long bar extends inwards into a shophouse space along Amoy Street with some tables at the entrance. We came without a reservation, but was pleasantly surprised to see that most tables had reservation stands on it. This must be good, we thought – and thankfully, we were given seats at the end of the bar. Two things caught my eye on the table, a bottle that says shiok chilli, and a hot water flask.
On with the ordering, a menu doubles as a placemat with the noodles as the base ingredient at S$2. Add-ons start from S$2 to S$16 with a selection of 4 draft beers, and about 8 wine labels. For starters, we ordered a 5-min egg (S$2) and the Steamed Baby Kailan with Gangster Sauce (S$10) to share. Mains, we ordered a bowl of noodles each, and I did the BBQ Char Siew (S$12), and my friend did the Roasted Pork Belly (S$13).
Lard on, Lard (never) off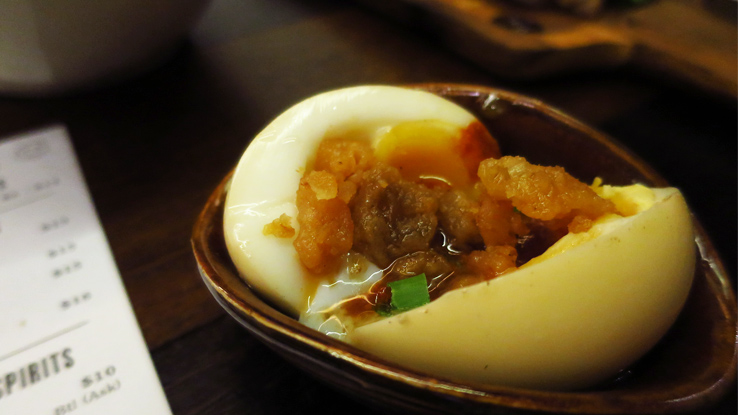 Almost everything came with lard. Yes, we know the secret to any successful wanton mee stall in Singapore is a fragrant, unctuous, piece of lard to lubricate the palate. But it was rather excessive, having all dishes come with lardon, and an alternative (you'll see later). The 5-min egg was cooked in some kind of broth, dark-coloured so I'm assuming produced from dark meat. We couldn't taste any element of that. The egg came undoubtedly cooked well because the sous vide machine can't really go wrong.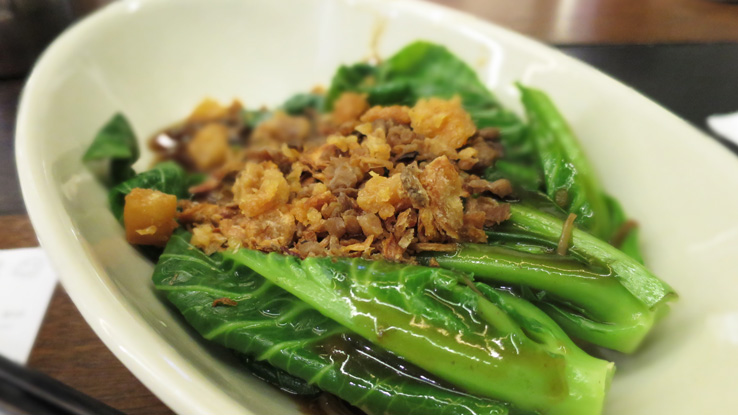 Something as light as steamed vegetables came lard-laden, with fried onions to load up on the greasiness, and the gangster sauce – which tastes simply like oyster sauce. For S$10, they really need to do better.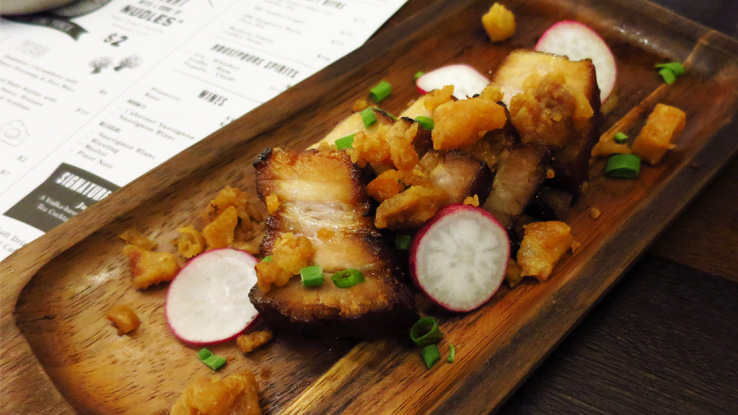 Arguably the best dish that night, the BBQ char siew came with (surprise!) lardon, and slices of red turnip that serves purely as garnishing because they were dry and doesn't go with the dish at all. The char siew was slightly fatty, had a decent flavour which only skimmed the surface (not marinated long enough?), and was pretty dry for something that has fat in it.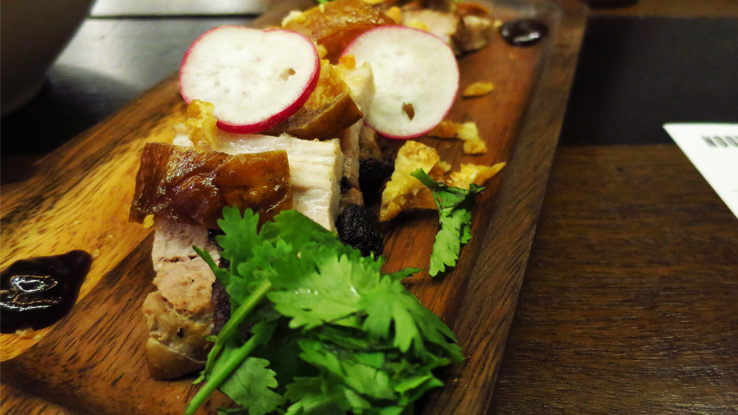 So with a hint of novelty, the next dish was served with chicharon (pork scratchings) instead of lardon but the pork belly was dry, hardly marinated and definitely the most underwhelming dish that evening. The pork belly skin was tough and not crispy, not salted enough and just not anything worth mentioning. The small dollop of BBQ sauce couldn't save its life as it was dense and overpowering – not to mention too salty.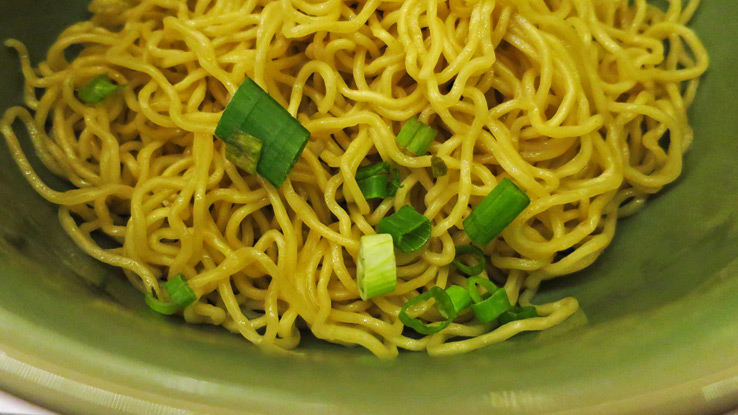 The noodles were sad, and lonely. Deconstructed dishes need to be able to stand by itself. Removing the other condiments that go along with a typical wanton mee is like stripping a tree of its leaves. It just doesn't work. Pork oil was used, and the noodles were stringy and well-cooked but it sorely lacked the meaty, rich flavours otherwise conferred by having everything in one. So therein enters the shiok chilli, which was rather pedestrian. The added dimension from it was spiciness – which is not shiok enough.
The "hearty broth" as described in the menu was in the hot water flask I saw earlier. And it tasted like water coloured yellow by the noodles. Seng's name has been used in vain for this endeavour that promised so much potential, and I feel genuinely bad for them. What's more alarming is when we ordered water, the wait staff gave a look of disdain – really?
We paid S$45 that evening for Wanton noodles.
Review Rating: 5/10
Wanton – Seng's Noodle Bar (Map)
52 Amoy Street
Singapore 069878
Tel: 6221 1336
Email: shiok@wantonsg.com
Hours: Mon to Thu 11am to 11pm | Fri 11am to 1am | Sat 5pm to 1am
Nearest station: Tanjong Pagar
Probably not the best wanton noodles in Singapore, but presenting Koung's Wanton Noodles
We paid S$12 for this meal.
A small bowl, more substantial and tastier depending if you added the dark sauce or not to your preference, costs S$4. S$5 gave you an up-sized bowl that can last you the entire day. The lardons on the boiled kailan (S$4) were fried perfect – fragrant and crunchy, and not soaked in oil. The oyster sauce, was simply delicious oyster sauce with a dash of sesame oil.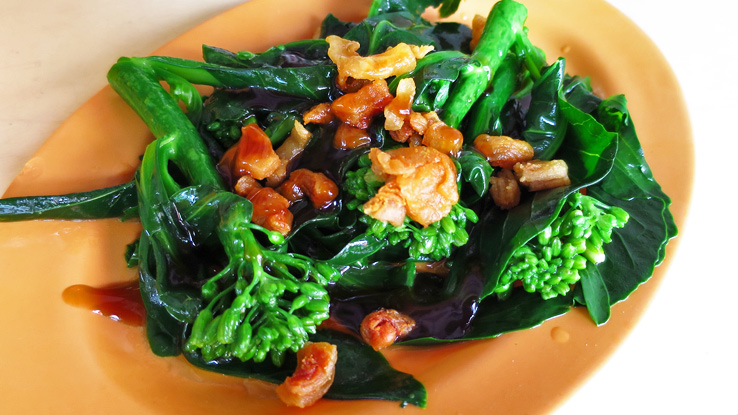 Boiled kailan in oyster sauce and sesame oil tossed with lardon.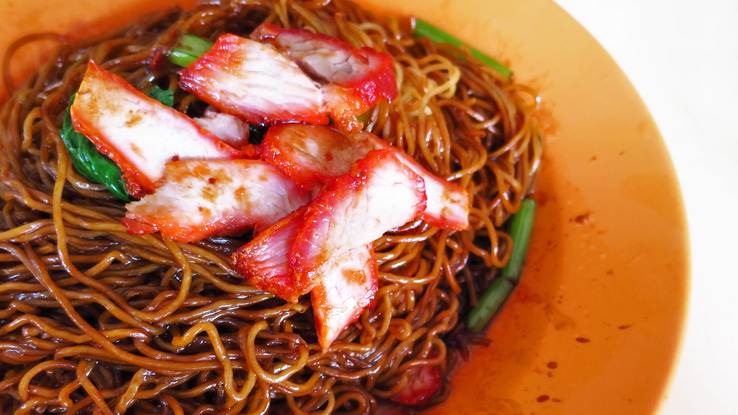 Wanton mee with dark soy sauce – S$4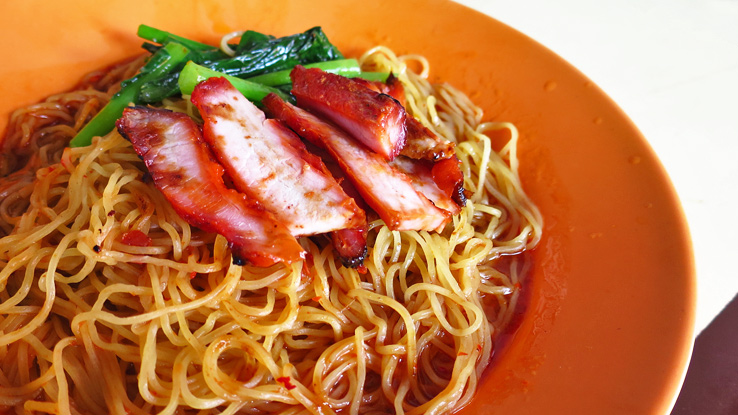 Wanton mee without dark soy sauce – S$4
The chili was something you had to specifically tell them to add otherwise they'll not. It's a slightly sweet, and tangy, spicy sauce that I always need them to add more of – you can't grab it yourself and they'll give you a little frown if you ask for more. Is that the secret to the delicious noodles? The simplicity is to me.
Review Rating: 7/10
Koung's Wanton Noodles (Map)
205 Sims Ave, Geylang Lorong 21A
Singapore
Tel: 67480305
Hours: Tue to Sun 7.30am to 8.30pm | Closed Mon
Nearest station: Aljunied
I didn't have to choose the best wanton mee in Singapore to rank next to Seng's Noodle Bar. My opinion is that if you want to stake a claim in an arena that's so competitive, make sure your offerings are. I don't think it's so much the price that one pays – but the quality next to it must be commensurate.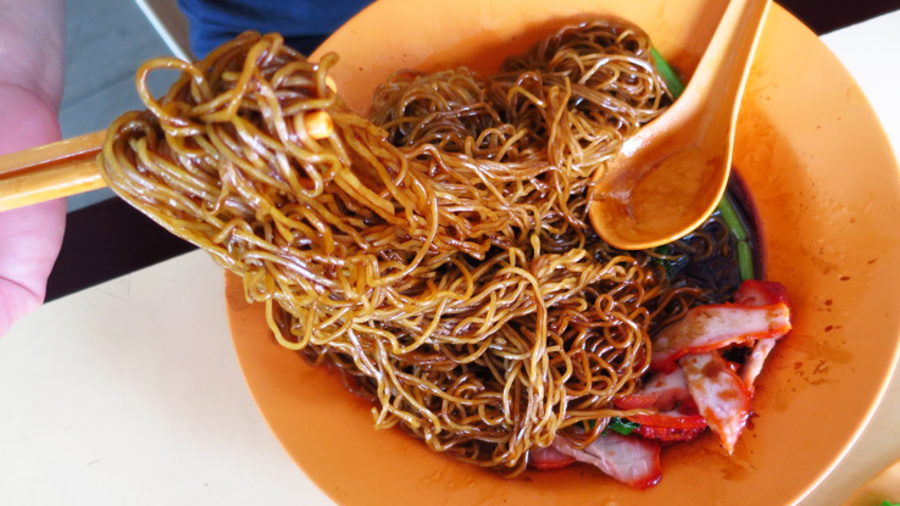 Shiok, and you don't need to spell it out!