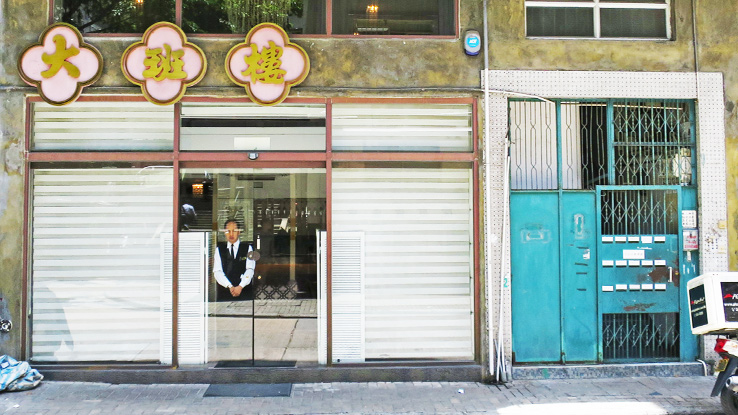 Tucked in a quiet corner of Kau U Fong in Central, The Chairman's humble exterior is more than meets the eye – being listed as #35 of Asia's Best Restaurants List 2015 by San Pellegrino and Acqua Panna. Chef Kwok Keung Tung bans the use of MSG in his kitchen, atypical to most Cantonese restaurants, even high-end ones, and sources mostly fresh, organic ingredients from the region.
A restaurant that has been recommended repeatedly by friends who have visited Hong Kong, I finally managed to get a reservation over a recent trip. The previous times I tried were too last minute, even at a week's notice – the restaurant simply gets packed. Take note though that the food menu isn't something out of the ordinary. The focus is on the natural, fresh flavours of the ingredients and the chefs' culinary skills in accentuating those flavours with other traditional Chinese condiments.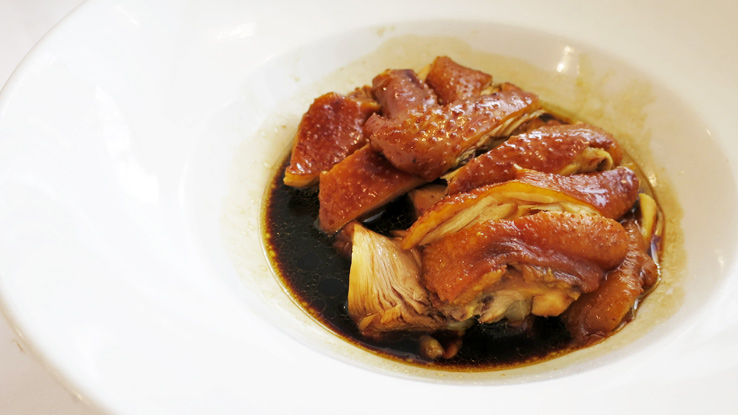 Our first visits to new restaurants will see us ordering the specials recommended by either the wait staff, friends or signature dishes that are named after the restaurant. The first choice was naturally The Chairman's Soy Sauce Chicken (S$31), a small half portion of chicken that's braised in soy sauce and with a strong nose of Chinese herbs. Aside from the size of the portion in relation to the price, the chicken was extremely tasty, seasoned deep to the bone and really tender. A slight sweetness from possibly Chinese herbs like dried dates or goji berries rounds off the savoury flavours very well and makes it a really delectable selection.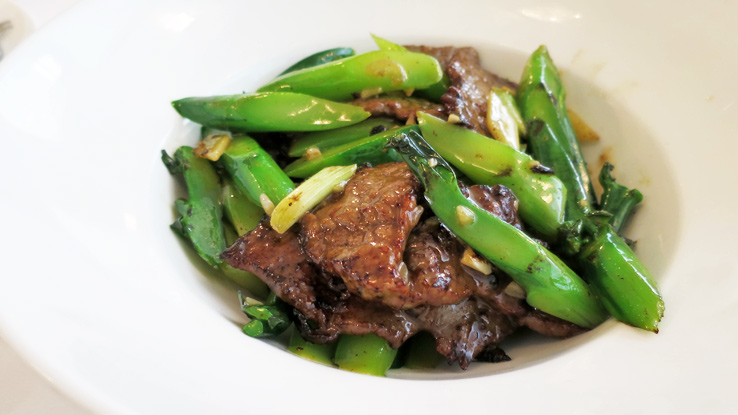 The Wagyu Beef Brisket Stir Fried with Chinese Vegetables (S$32) was our favourite dish at the restaurant. Tender, juicy, unctuous pieces of well-seasoned wagyu brisket balanced with fresh Kailan stalks for that bite that leaves you wanting more. I'm not exaggerating when I say my stomach is growling as I'm writing this. The high heat, flash fry Chinese cooking method seals in all the juices and yet leaves it tender on the inside, and charred on the outside – giving it the smoky fragrance that's oh-so-alluring.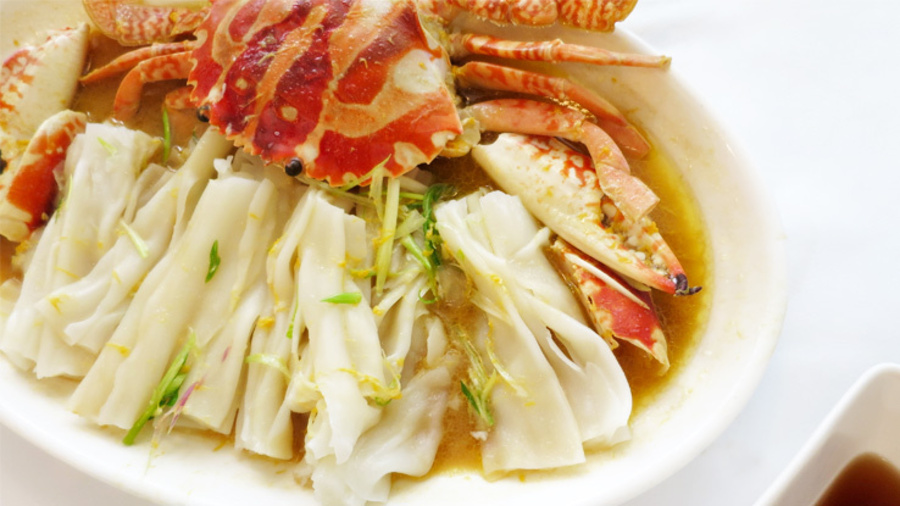 The one "Standout" dish that was recommended on the Asia's Best Restaurant site was the Flower Crab with Aged Shaoxing Wine, Chicken Oil and Flat Rice Noodles. So it's a flower crab right? Singapore has plenty, and it's like entry-level crab on any menu – how high can the market price be? The crab cost us a whopping S$135 but unlike local flower crabs, the Hong Kong varietal was a lot more meatier even with its slim exoskeletal appearance.
The crab meat was exquisitely tender and fresh, and you can trust me when I say that because I don't like getting through crabs because of the fuss. This was a crab that I wanted to get messy with. One thing about the broth though, the aged shaoxing wine was a stiff one, and bore the bitterness of alcohol that did not evaporate along the cooking process. As a result, the flat rice noodles immersed in the broth tasted exactly like that, and I can imagine some people getting turned off by that. It was really fragrant and tasty though, regardless of the strong alcohol vapours.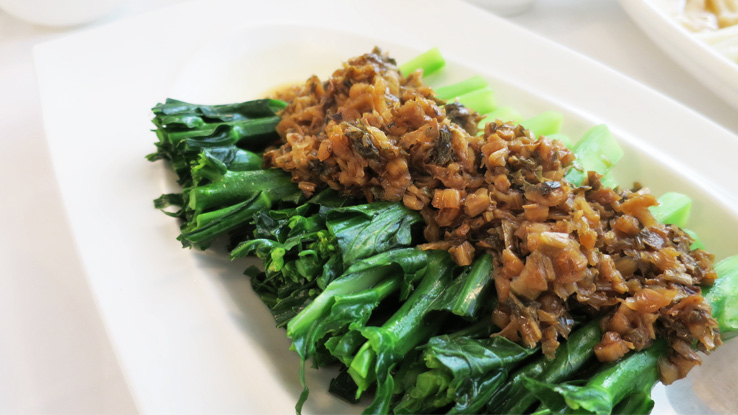 A Steamed Kailan dish (S$23) was added on for the fibre. Dressed in 'cai por', seasoned radish, the dish was simply – steamed kailan.
We ordered a Fried Rice with Prawns Trio (S$33) for the carbs component but didn't take any pictures because we thought it wasn't too presentable. On hindsight, no matter how presentable it was – it would have completed the whole picture. The entire meal cost the 5 of us around S$321, and we weren't feeling terribly full after it. Nonetheless, if you're seeking a high-end alternative to the common household names in Hong Kong, this would be your best bet. I'd say this is probably a great venue for entertaining foreign business visitors if you want to impress as well. The white-washed, 2-storey French-influenced décor with English speaking wait staff is a breath of fresh air.
And if it's coffee after a meal you are seeking, look no further than our list of cafes to idle the afternoon away!
Review Rating: 7/10
18 Kau U Fong,
Central, Hong Kong
Tel: +852 2555 2202
Hours: Daily from 12pm to 3pm and 6pm to 11pm
Reservations: Via Whatsapp at +852 5501 5102 or email at reservations@thechairmangroup.com (Not applicable to same day bookings, and subject to the restaurant's confirmation)
Nearest station: Central
Remember to book early especially if you're heading there for dinner!