Roast Coffee & Eatery
An early morning adventure for most café hopping enthusiasts, Roast boasts (see what we just did there) of a menu that's ahead of most in Bangkok. A strictly Western selection of brunch food and other hearty meat, seafood and pasta mains dominate the menu with a limited but extremely satiating dessert menu for a good closure.
Their caffeine peddler is Roots Coffee, a brewery not too far off from their location at Ekamai. If you like your blends robust and mildly bright, you'll not be disappointed here. Be prepared to queue before you can get a breakfast spot though, it can get quite crazy over weekends.
Seen Space, Thonglor 13
BTS Thonglor Station (Click here for map)
Tel: +66 (0) 2 1852865
Email: admin@roastbkk.com
Hours: Mon to Thu 10am to 11pm | Fri to Sat 9am to 11pm | Sun 9am to 10pm
After You
Ever since the first outlet opened in Siam Paragon, Shibuya Honey Toast has since taken the city by storm, having expanded to 10 outlets littering mainly the shopping districts. There's the original Shibuya Honey Toast, but I strongly recommend the Nutella toast if you're a huge fan of hazelnut. What's great about the toast is the rich, creamy butter embedded in the fluffy-in-the-middle, crispy-on-the-outside thick toast. Combine Nutella, butter and a generous scoop of ice cream on a toast for an afternoon of sweet returns.
We ordered the Panookie as well, a delicious soft cookie in a pan with a generous drizzle of chocolate sauce and a scoop of delectable vanilla ice cream. Dessert is not complete with a coffee, which in my opinion, is a pretty good cuppa.
Get the full outlet listings here. The more convenient locations would be at Siam Paragon, the new Siam Square One and Central World.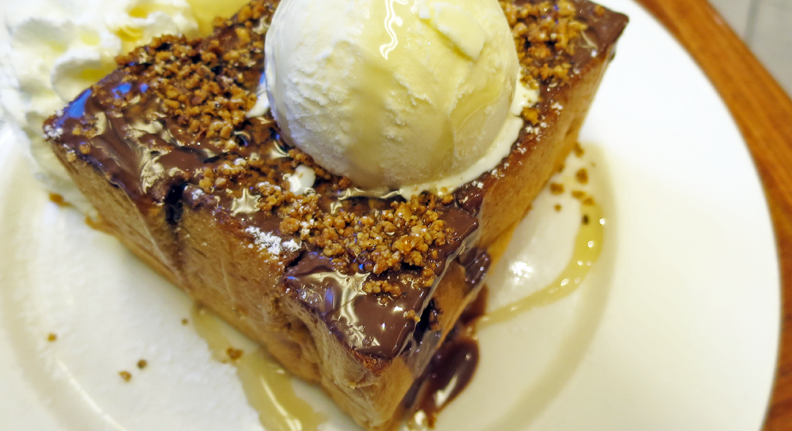 Siam Paragon, Ground Floor
Hours: Daily from 10am-10.30pm
Siam Square One, Ground Floor
Hours: Daily from 12pm to 12mn
Central World, 7th Floor
Hours: Daily from 10am to 10pm
EAT Rice & Noodles by Supanniga Eating Room
A brand new concept from Supanniga Eating Room, EAT's fully customisable menu is tailored for the picky eater. You basically choose either a rice or noodle (several types available) base, cooked in the Thai style you desire. Meats and other condiments can be added on according to your preference as well.
At food court prices, the Fried Chicken Green Curry rice packed a punch with all the condiments of the curry, together with a hot and spicy kick. For a quick and satisfying meal, EAT Rice & Noodles should be the more interesting and delicious choice among the rest of the offerings in the new Emquartier at Phrom Phong BTS station.
Don't compare this to their sister restaurants though – it's in a class of its own.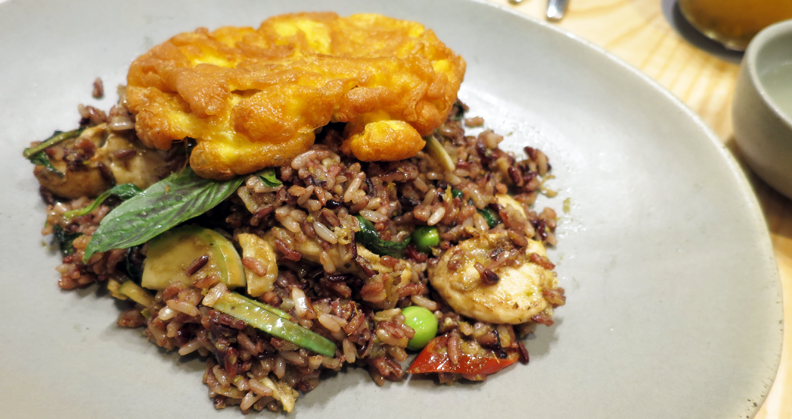 Basement Fl., Tower B, Emquartier,
689 Sukhumvit Rd
Bangkok, Thailand
Hours: Daily from 10am to 10pm
Nearest BTS: Phrom Phong
Karmakamet Diner
Get ready to be swept away by the interiors of what they humbly call a diner. Combining both their scent retail business and a restaurant, Karmakamet diner is a space that's an experience in itself. A lot of natural light flows through what seems like a refurbished godown as most of the beams and pillars were retained in its original state.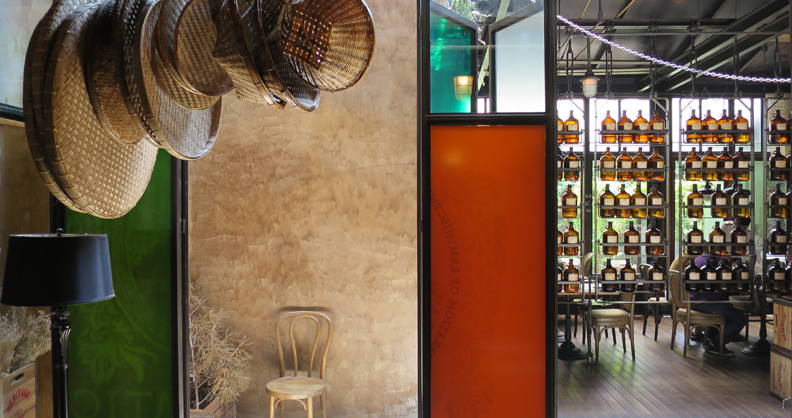 Fashioned after what seems like a scent producer's rustic home, the interior was filled with vials, bottles and drawers labelled with essential oils and its raw materials amidst vintage furniture, and harvesting equipment in its 'backyard'.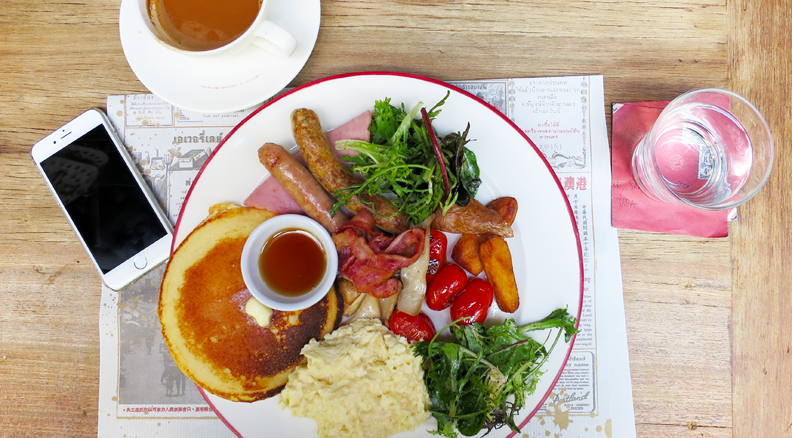 Finding the place can be a challenge though. If you know where the Emporium Suites is, go beyond it, past a multi-storey carpark and you'll find the diner at the end of the first left lane.
30/1 Sukhumvit Soi 24 Bangkok
Tel: +66 02 262 0700 1
Hours: Daily from 9am – 11pm
Nearest BTS: Phrom Phong (Click here for map)
Som Tam Nua
Lauded as Bangkok's best Som Tam, with deep, traditional Isaan roots, Som Tam Nua has expanded from its humble restaurant in the deep alleys of Siam Square to mid-scale mall restaurants concentrated mainly near the Siam area (Central World and Siam Centre). Som Tam, or Papaya Salad as we know it, is dressed with different kinds of meats cooked many ways and condiments, with each dish exuding a flavour and texture of its own.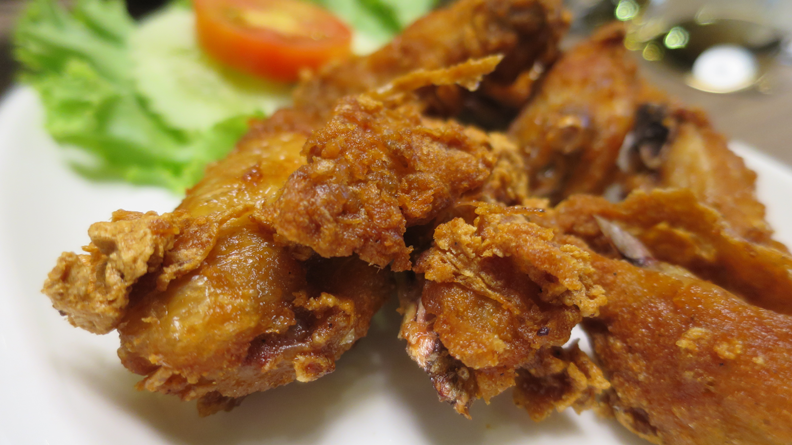 I know Som Tam is their specialty, but they serve one of the best chicken wings and who doesn't like fried chicken? Crispy, juicy tender wings that are seasoned well to the bone – a must-have when you visit. If you like pork cheeks grilled Thai-style, they serve a pretty decent one here as well. If the pork cheeks are too gamey by itself, you can order the Som Tam version – tastes better in my opinion.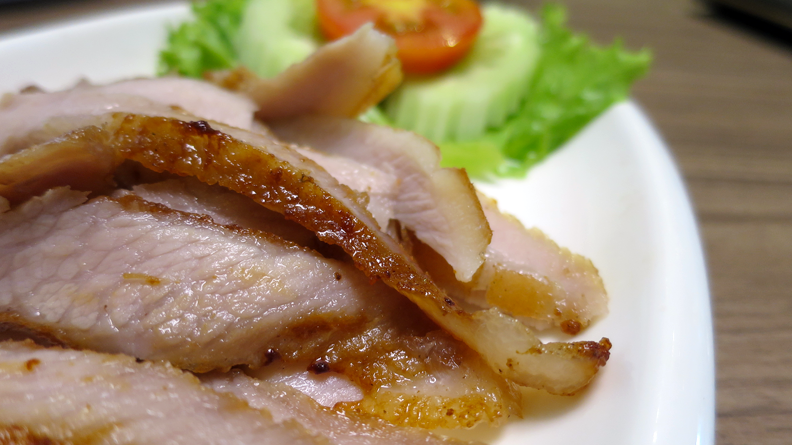 The other newer locations of Som Tam Nua aren't as easy to find on the web, but here's the rest:
Siam Square, Soi 5
Siam Centre, 4th Floor (Click here for map)
New one at CentralWorld
Find #Bangkok on Instagram and you'll know what I mean by the most instagrammed restaurants in Bangkok. These places combine a great experience, and good food, and it's no wonder they keep us going back for more. Share this article with your friends visiting Bangkok!