If a day of relaxing and pampering at the spa is food for just the soul, we would all be stick thin and hungry.  Amara Sanctuary Resort, Singapore, known for its luxurious spa set amongst lush tropical greenery, has just the thing that enhances the enjoyment. Shutters  the on-site,  all-day dining experience has a constantly evolving menu to tempt you with.  For those who squirm at the slightest touch, having your taste buds tickled at Shutters instead is perhaps more gratifying.
Asian Fusion
Fusion cuisine is over-rated; a hackneyed marketing moniker that draws more ennui than enthusiasm these days. However, Shutters put more than a little thought into its creations, ensuring that the pairing is put together better than Frankenstein ever was.
Executive Chef Mr. Jeffrey Tan draws upon European traditions and artfully merges it with Asian cooking styles to delight palettes.
The Hospitality and Food Authority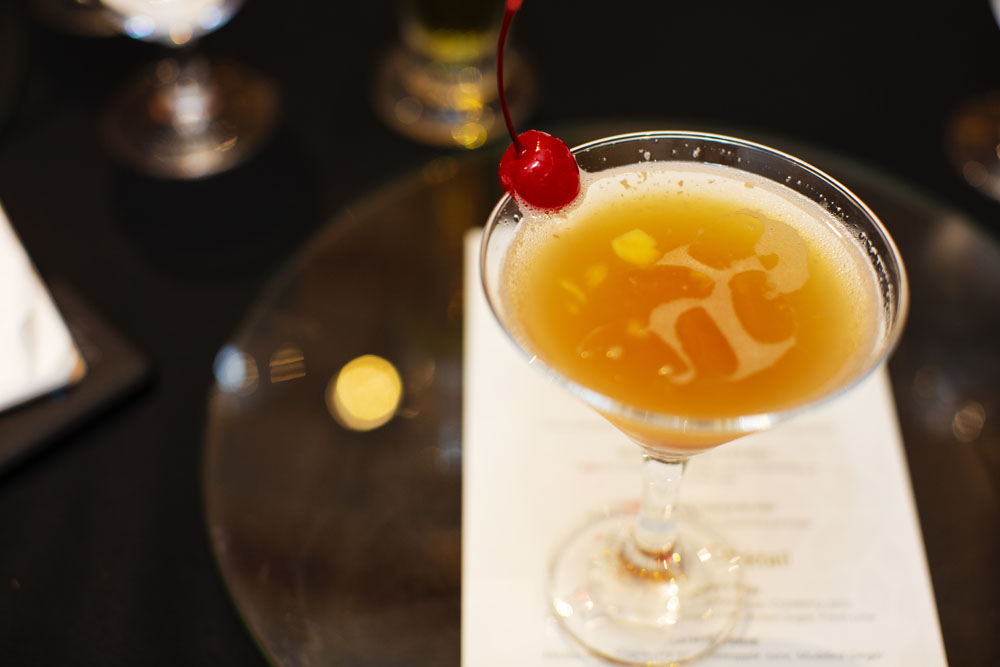 Larkhill Breeze: Malibu Rum, cranberry juice, pineapple juice, muddled ginger.
A good stiff aperitif never spoilt anyone's dinner. The ginger was a nice addition that brings out the flavours of Asia, readying the tummy for more tasty treats.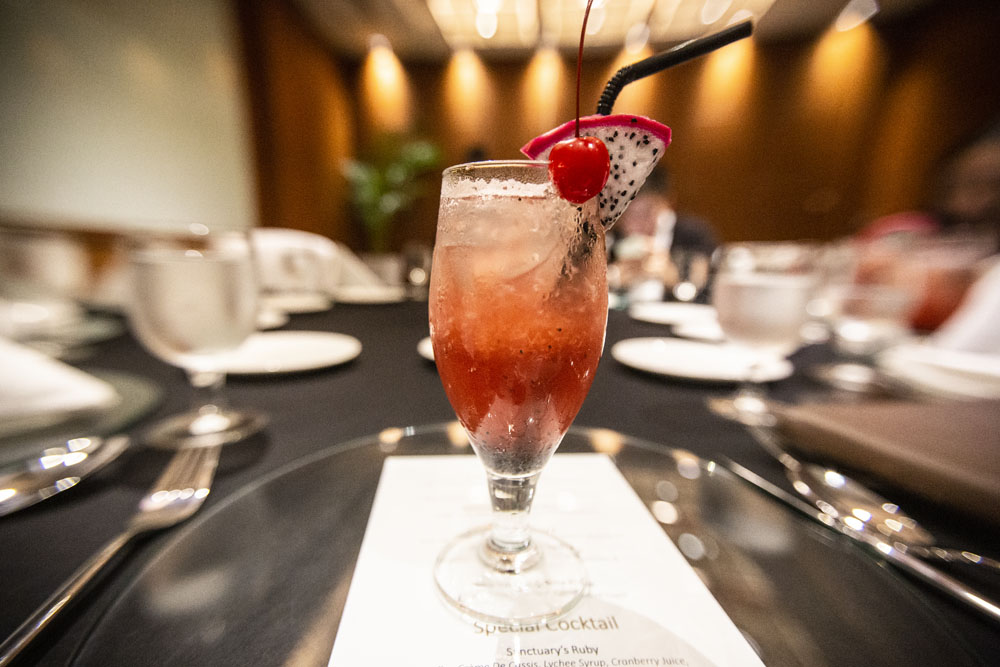 Sanctuary Ruby: Vodka, Crème de Cassis, lychee syrup, cranberry juice, sweet and sour mix, muddled ginger, dragon fruit, brown sugar, fresh lime.
This creation was a bit more approachable. Fruity and friendly, the sweetness of the mixture made sure that this is the drink most would want to start and end the night with. Of the two cocktails, I preferred this one, owing to the fact that I had three before realising that I has to stop myself or start getting woozy.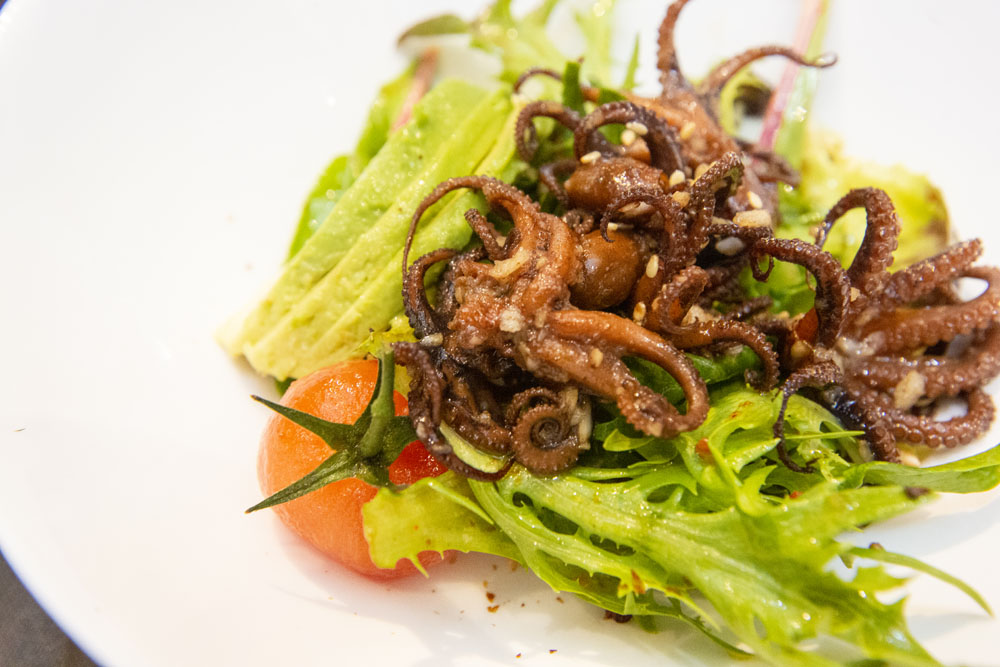 Grilled Baby Octopus Salad: octopus braised in local spices and lightly grilled for a smoky char, served with frisée salad.
This is classic Chinese cold dish meets classic Grecian Htapodi Salata. The smoky char-grilled flavour is all Mediterranean but the marinade is a hundred percent Asian.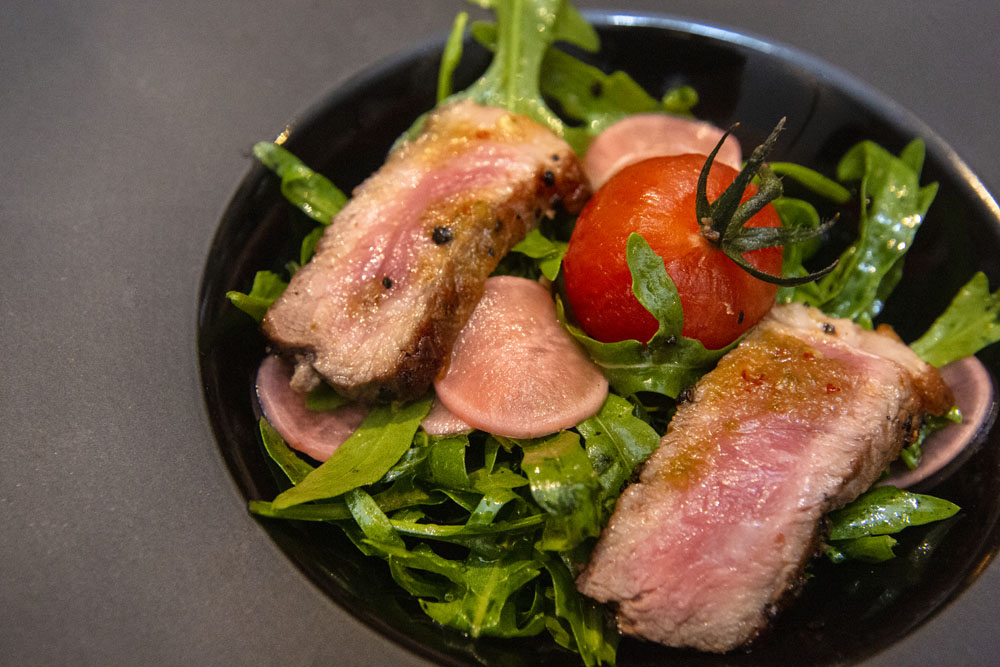 Thai Beef Salad: wild arugula, pickled radish, basil and mint tossed in Nahm Jim dressing and served with sous-vide Australian beef steak.
Of the two appetisers, I preferred the more conservative Thai beef salad. Arguably though, it would be the more exotic amongst the two to Western tastes. The Nahm Jim is a hot, sour and sweet  dressing that just pulls me back to a holiday at the Thai beaches.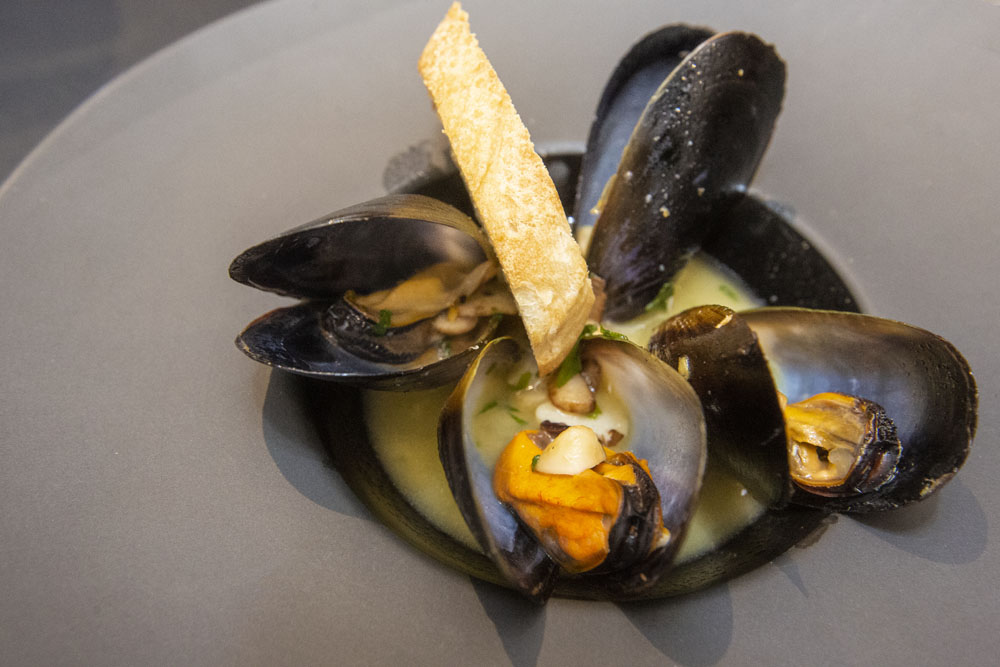 Live Bouchot Mussels: sea-grown barnacle-free mussels in white-wine reduction.
Much less Asian, this entry is straight from Brussels. The broth is very tasty and the hint of alcohol in the white wine brings out the fragrance. A winning dish!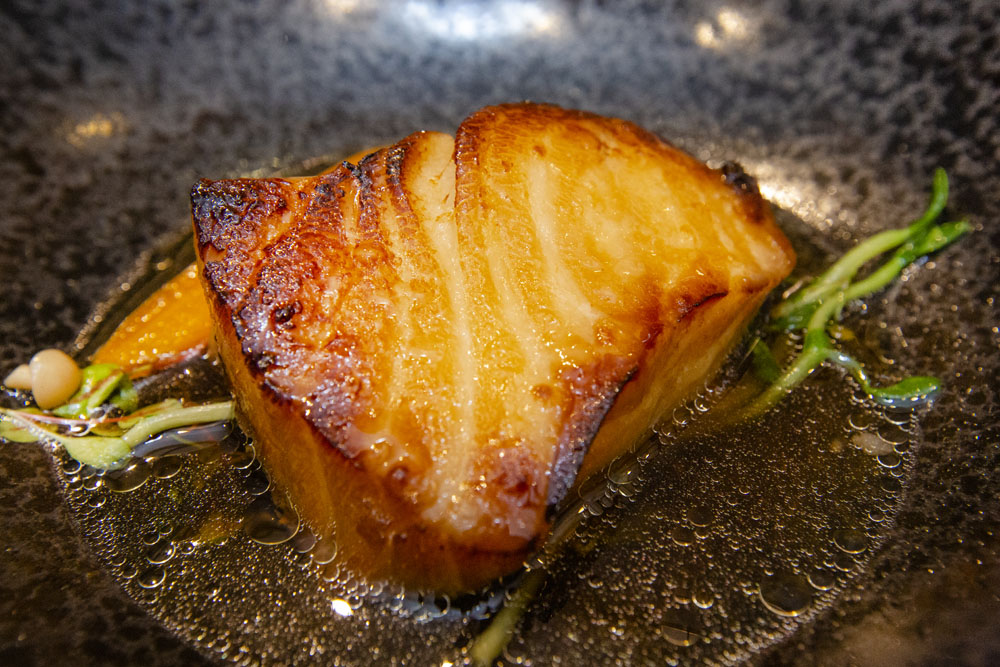 Baked Bonito Cod: baked Antarctic Southern Ocean Cod Fish Steak doused in Japanese Dashi broth.
With Japanese food becoming all but ubiquitous here on our sunny island, the excitement was absent here. Kudos for the freshness of the ingredients, with the fish flaking firmly as the fork pressed into the flesh. The clean taste complemented the heavier bonito stock perfectly.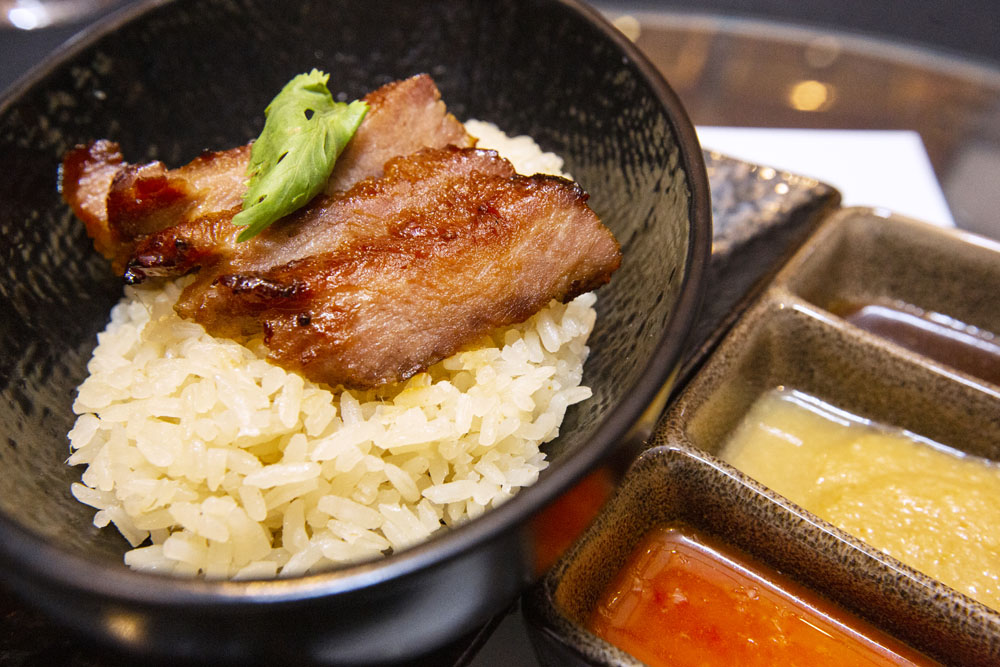 Iberico Pork Char Siew Rice: free-range acorn-fed Iberian pork, with special in-house local
char siew sauce with fragrant Chicken Rice.
East meets East. This char siew/ chicken rice mish-mash was baffling to me. What wasn't in doubt was that the Iberico, famous for its high marbling content and nutty flavour is pure heaven. This dish was nice for what it is but, I can't see myself giving it top billing.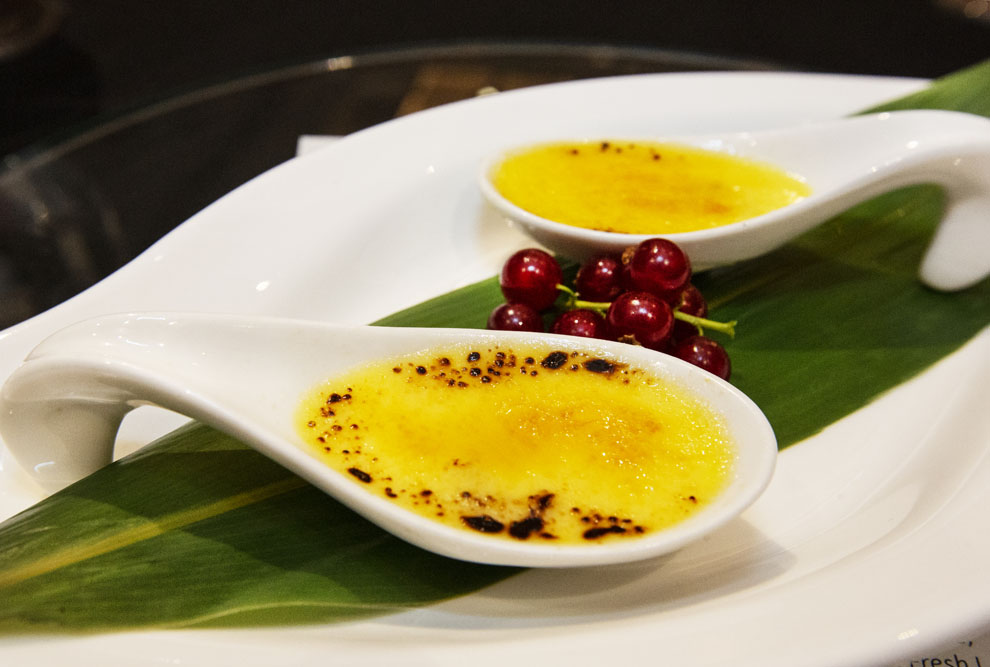 Cempedak Crème Brûlée: fresh Malaysian cempedak fruit pulp blended into luscious custard and topped with caramelised sugar.
This is your favourite, most loving Mak Cik's interpretation of the much prided French dessert. For some reason, deserts take a little better to the melding of influences. One only has to take a peek into Peranakan kitchens and you would find many examples. This was no exception. This item is absolutely delicious.
Tropical Garden
With free-roaming peacocks, squirrels, and other native species scurrying around the garden, the atmosphere here is a paradise of peace. Coupled with some very decent food, this is a great place to while away an afternoon or evening. Overall, I rate my experience a 6/10.
For more information:
Webpage: https://sentosa.amarahotels.com/shutters.html
Address: Sentosa Island, 1 Larkhill Road, Singapore 099394
Tel: +65 6825 3866
Operating hours:
Daily: 7am – 10.30pm
Breakfast: 7am – 10:30am