Issaya Siamese Club hides in plain sight, between the canyons of glass and steel, in the heart of Bangkok city. It is, however, not quite the city's silent secret of Thai Cuisine as it has been feted with rave reviews by 155 year-old William Reed Business Media's 'The World's 50 Best Restaurant", from 2014 until 2017, when it was placed at number 19.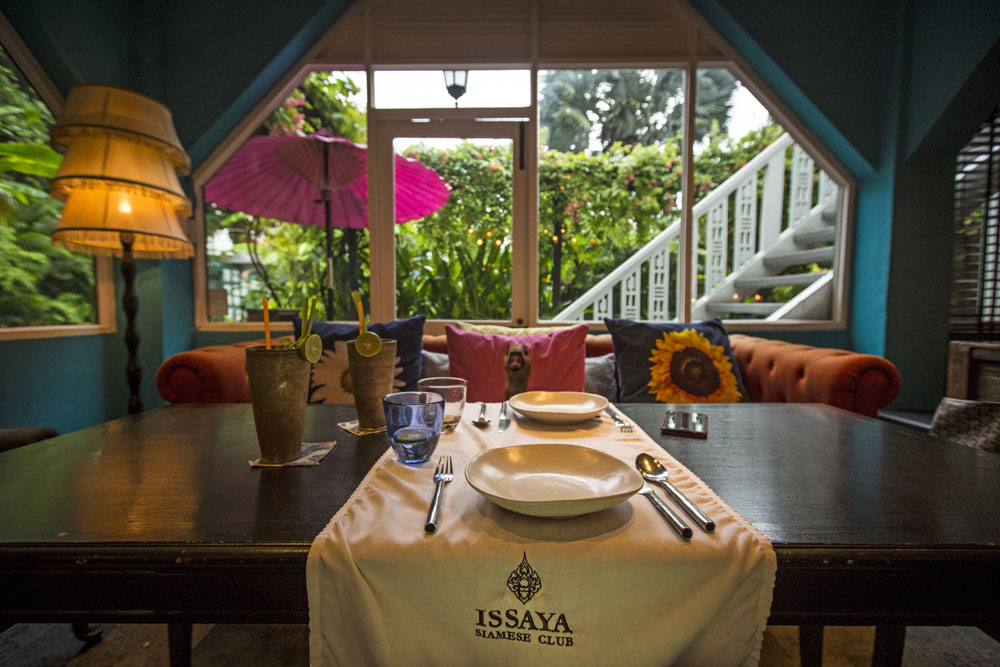 Thai Cuisine Amidst Picture Perfect Surroundings
Dining at Issaya Siamese Club is like visiting an in-between space, a rift in time, familiarity and expectation; the atmosphere is relaxed yet elegant, it is both modern yet nostalgic and also unabashedly inventive yet authentic. The restaurant is housed within a charmingly decorated home dating from 1914. Having survived WW2, it even has an air-raid bunker on the grounds. Slink back into the rattan chair in the terrasse, or gaze out from the large windows into the verdant garden outside; You will soon lose all concept of time and place.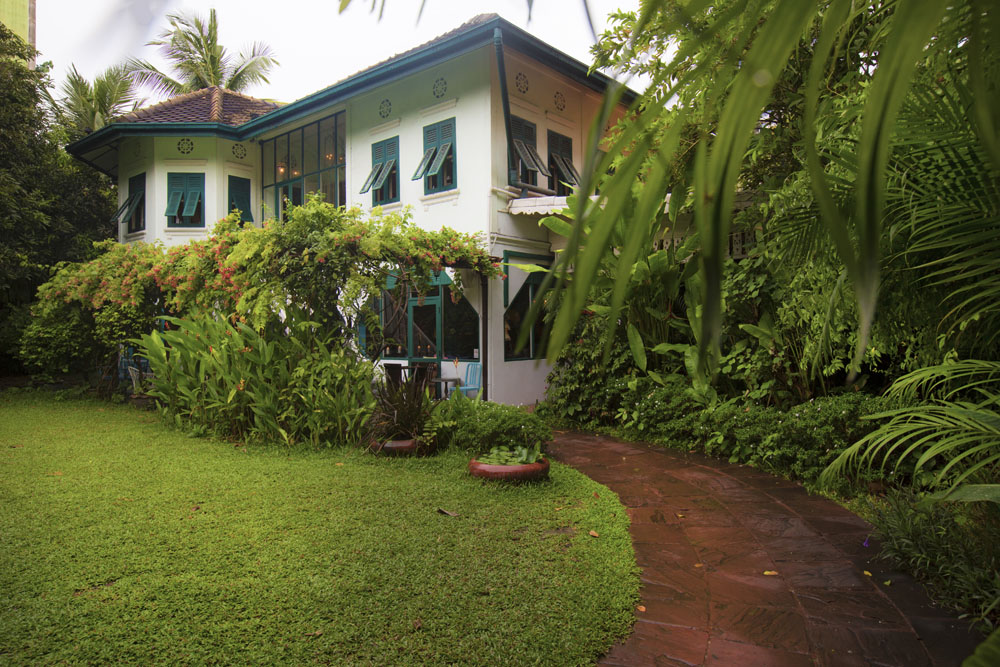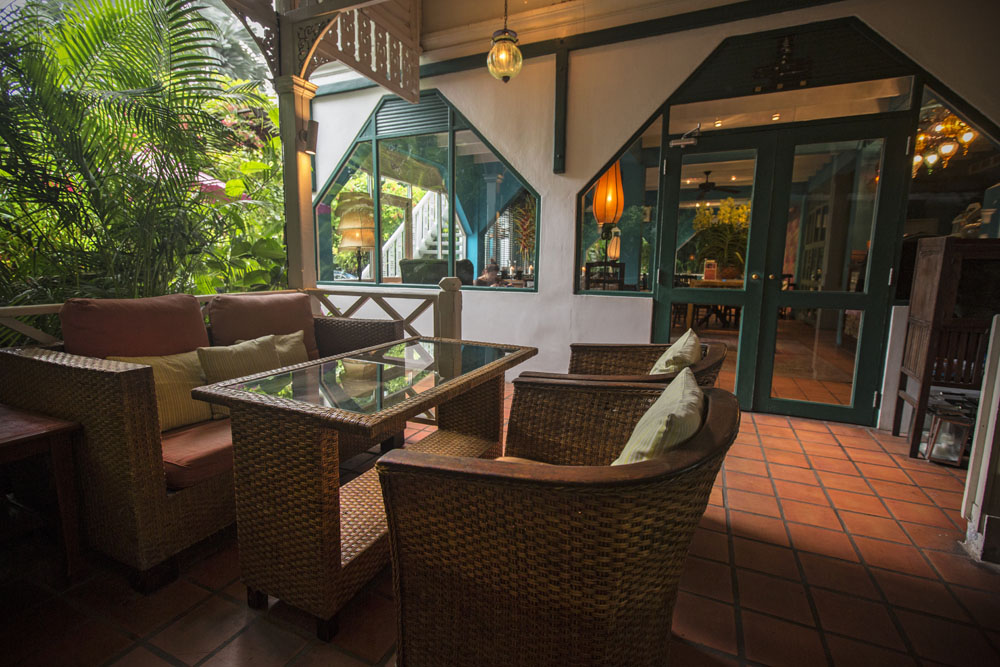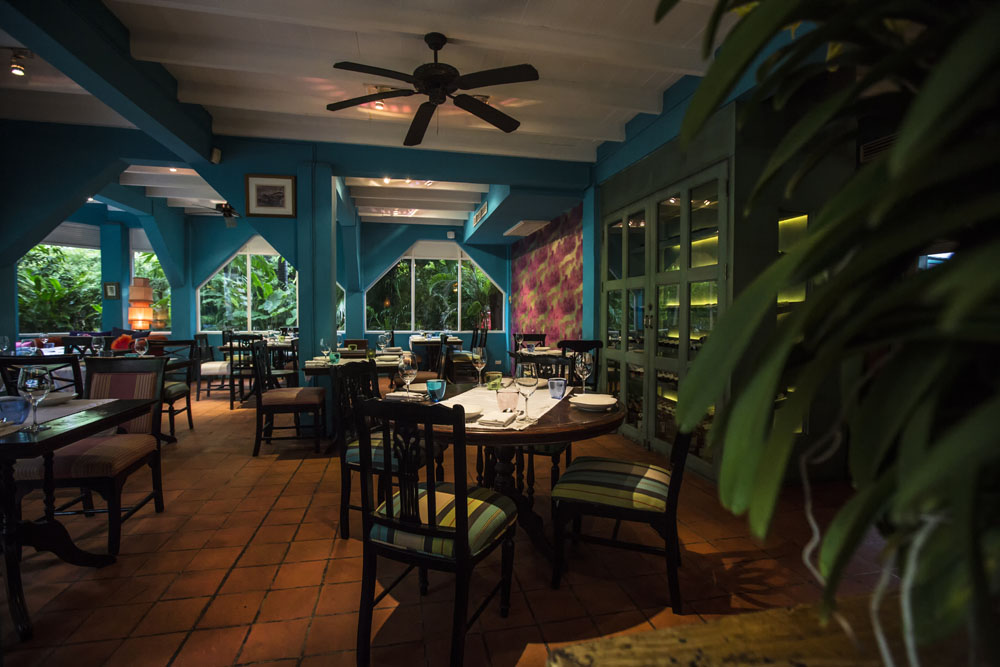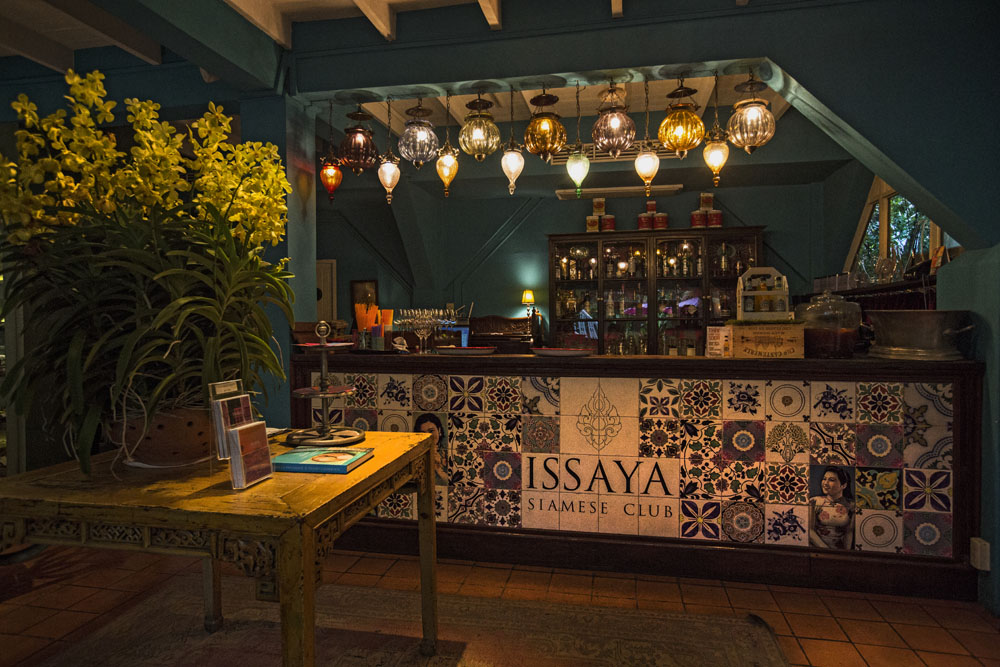 Thai Cuisine Done Right
Thai cuisine resides in a unique spectrum of food styles that does not lend itself well to being played up or stripped down. It can easily bore the diner by being either overwrought or uninspired. The dishes at Issaya Siamese Club falls neatly in the sweet spot and can be described as dignified simplicity.
Mieng Tuna (เมี่ยงปลาทูน่ากระทงทอง)
These pockets of intense flavour consists of chopped yellowfin tuna tartare and peanut with palm sugar-fish sauce dressing. The accompanying betel leaf lends a peppery, slightly piquant and stimulating sensation as an aftertaste. It adds an interesting dimension to the primarily savory appetiser.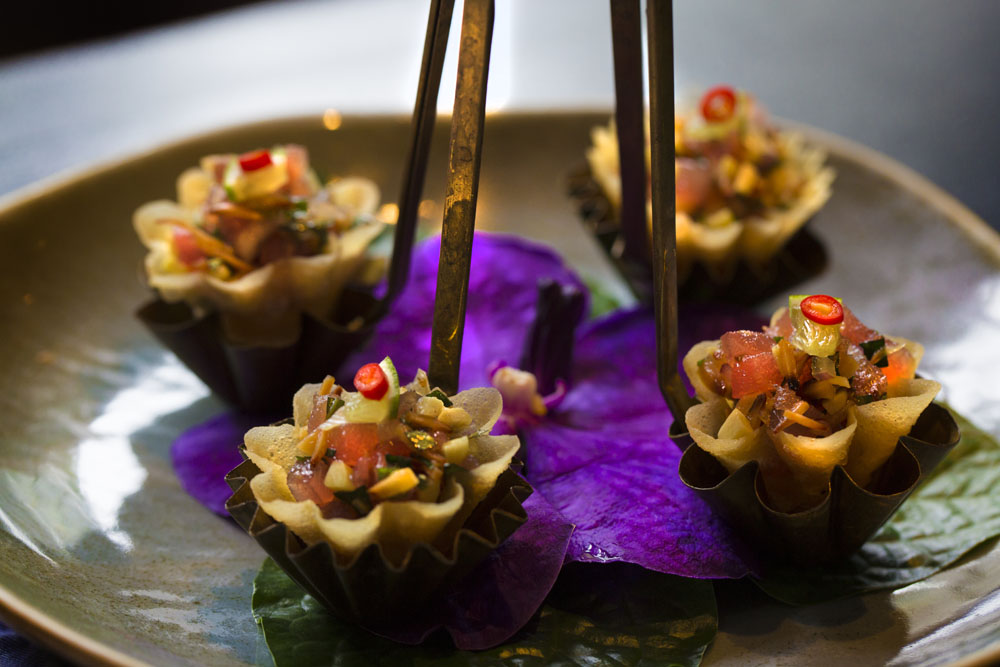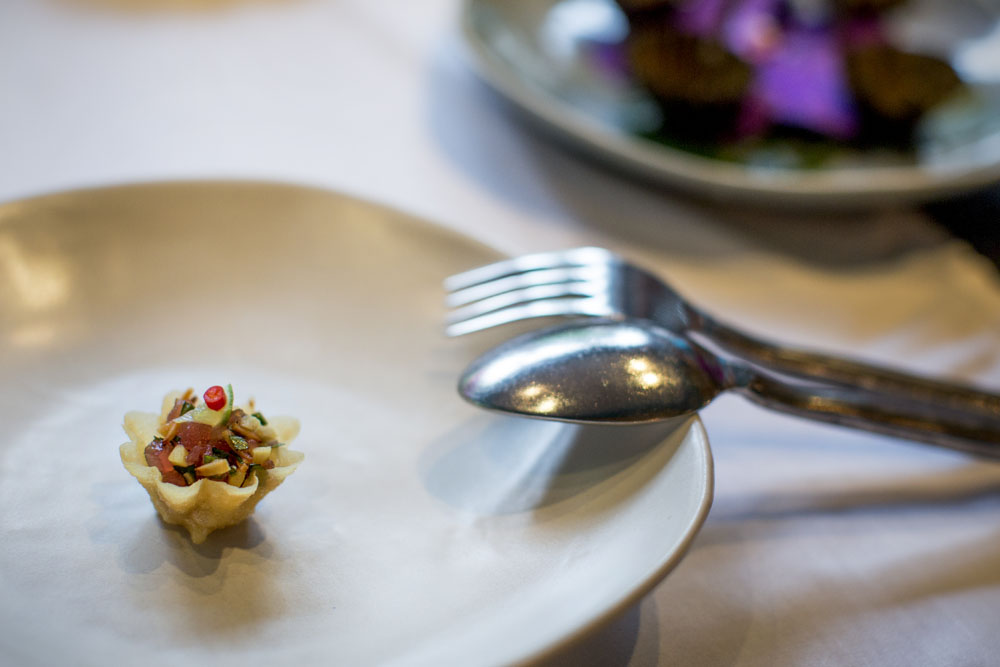 Kradook Moo Ob Sauce (กระดูกหมูอบซอส)
Inspired by similar variants from the North East of Thailand, Issan, the Spice Rubbed Pork Baby Back Ribs Glazed with Issaya House-blended Chili Paste is a delicious, slow-cooked entrée. The meat is tender and yields easily to each bite as it slides of the bone, still moist and still firm enough to satisfy.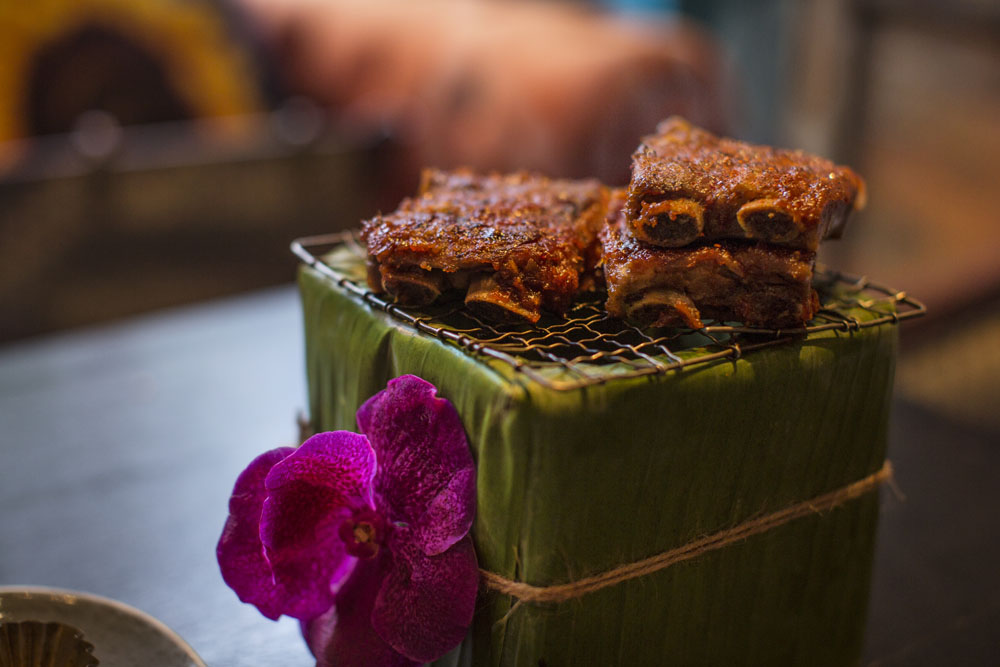 Goong Pad Char (กุ้งผัดฉ่า)
Any fresher and you would have to catch them yourself! Prawns fresh from the water, barely hours old, are the highlight of this course. Its meat is smooth, almost crunches when you take a bite. The natural salty flavour is balanced by a light spicy sauce that is flavoured with julienned strips of ginger and further topped with basil as well as bunches of pepper corn.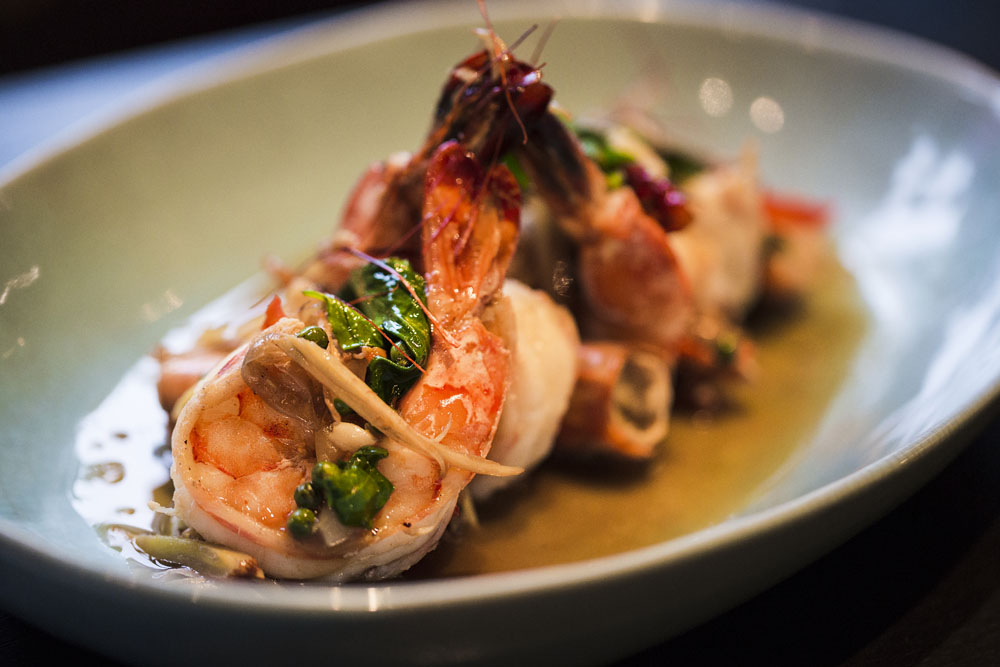 Khao Soy Osso Buco (ข้าวซอยออสโซ่ บูโค่)
Another distinctively Northern entry, this dish tentatively shows off chef Andrew's creativity. The result melds Western styled osso buco slow cooked with a Chiang Mai curry sauce served in an oriental teapot. The union of both is so seamless that there is no air of pretension that sometimes lingers at other similar establishments.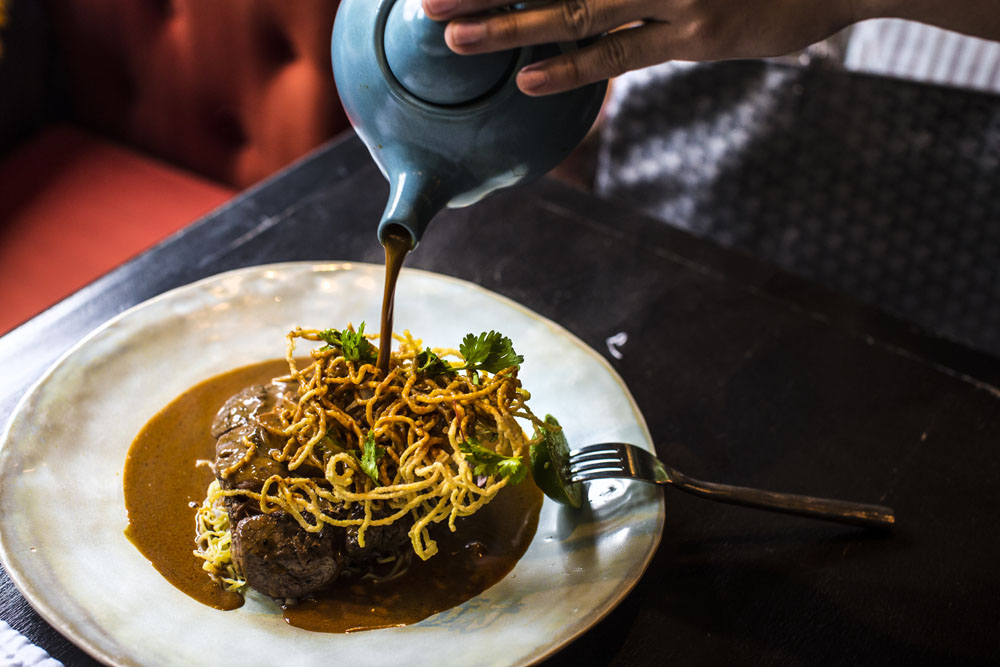 Piggy Bank Vacherin (กระปุกสุกร)
Almost too adorable to eat, the merangue made little pink piggy when broken reveals a sweet treasure of exotic sorbet and chantilly cream. This play creation was as playful as it was a treat to have. It was neither too sweet or heavy.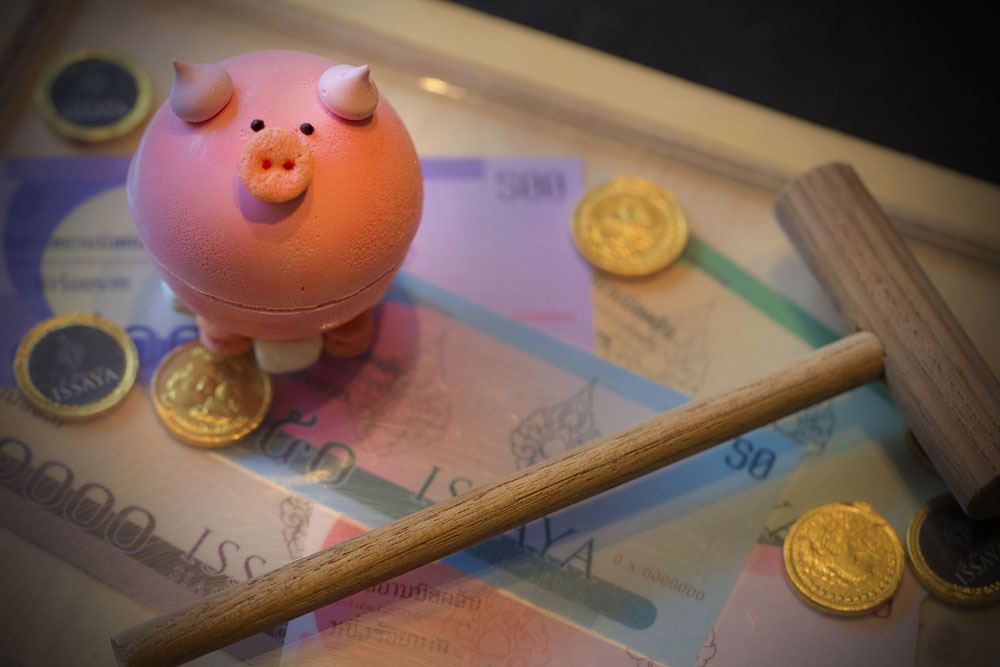 Khao Niew Mamuang (ข้าวเหนียวมะม่วง)
The humble mango sticky rice is turned into satirical piece of art. The message is lost on me but Issaya's fanciful creation is sure to put smiles on faces.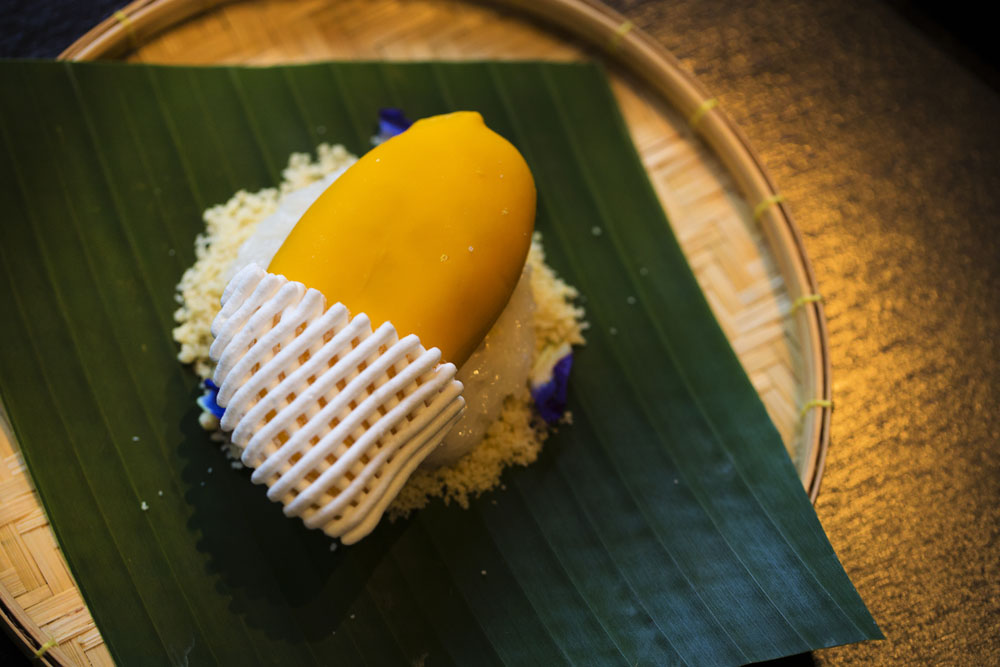 When served, it looks no different from the many others you may have seen, be it in supermarkets or by the side of the road.
However, upon closer inspection, the mango piled on top of the sticky rice isn't the genuine article. Deconstructed and then reconstructed, the creamy chunks of mango is actually concealed within a yellow coloured shell made of chocolate. This is a perfect way to end off a meal with a smile if there was any.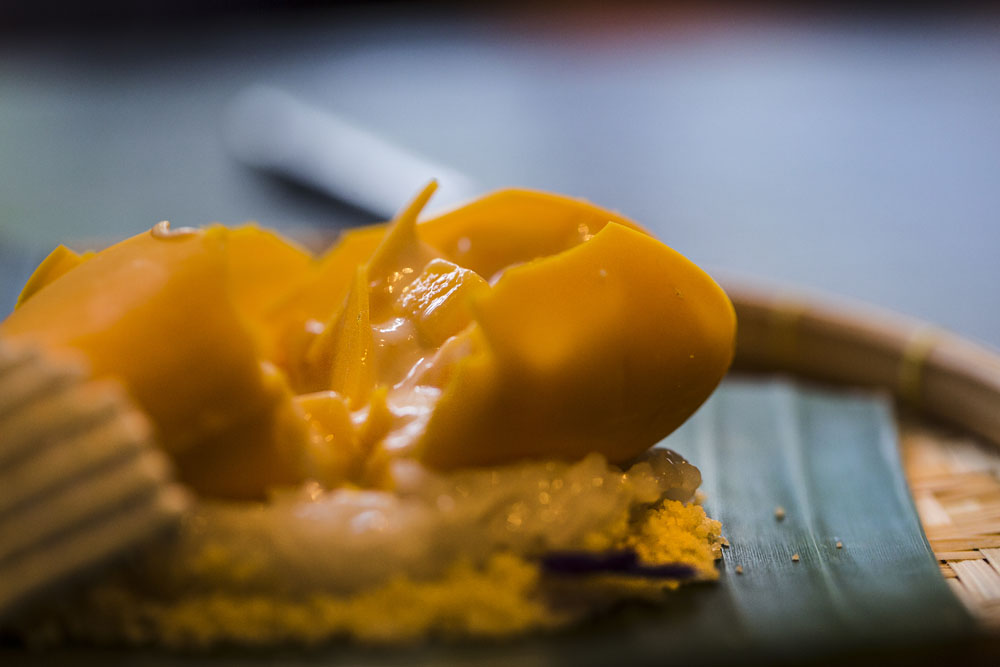 The Smell of Rain
It is evident that Issaya Siamese Club takes pride in the finer details. From the food to the interiors, every flourish and embellishment is clearly carefully considered.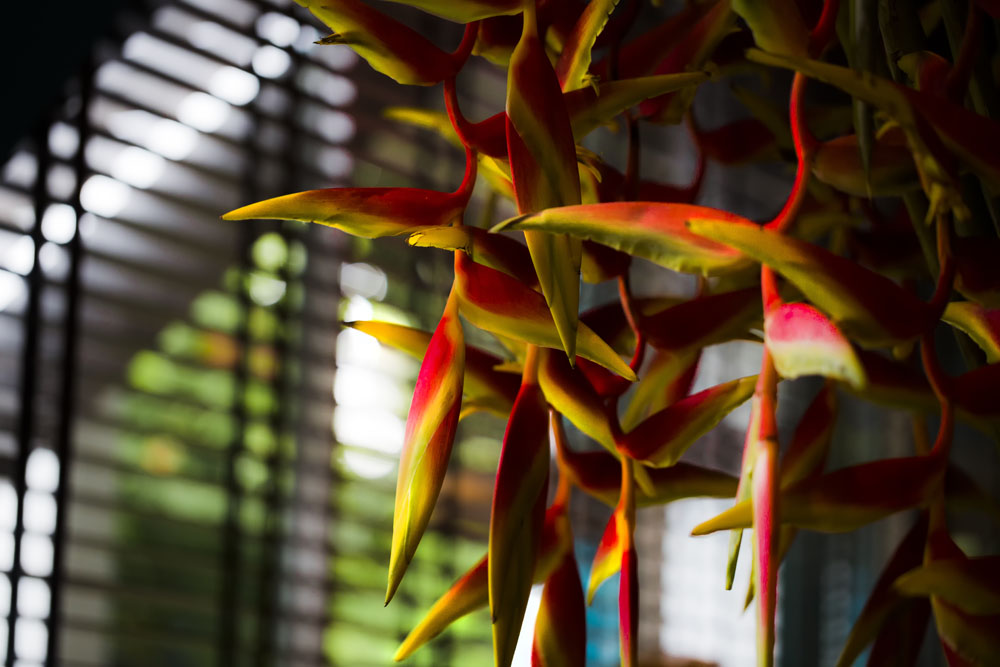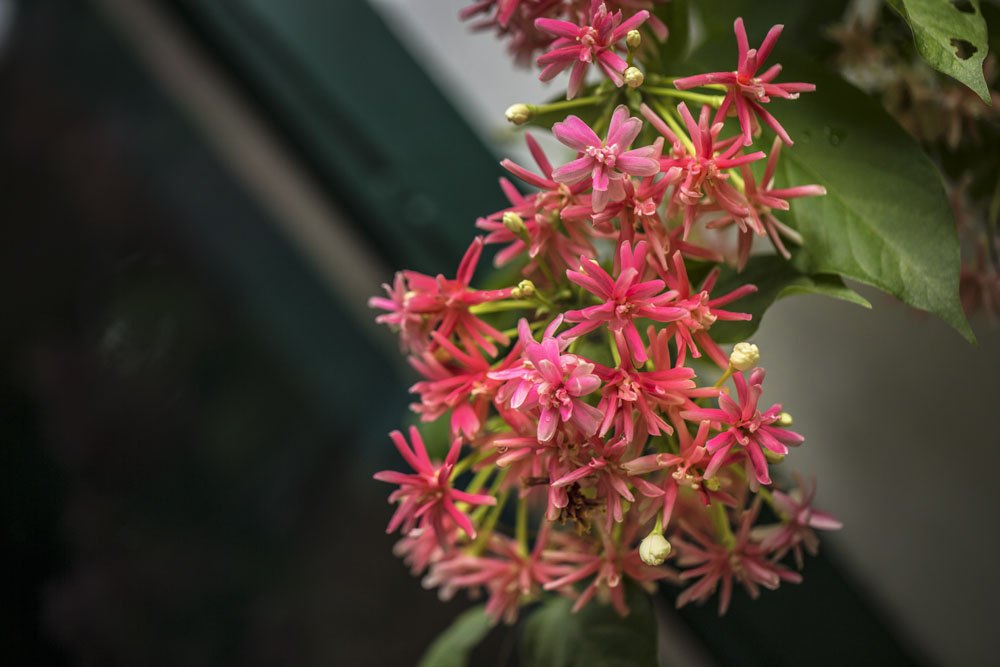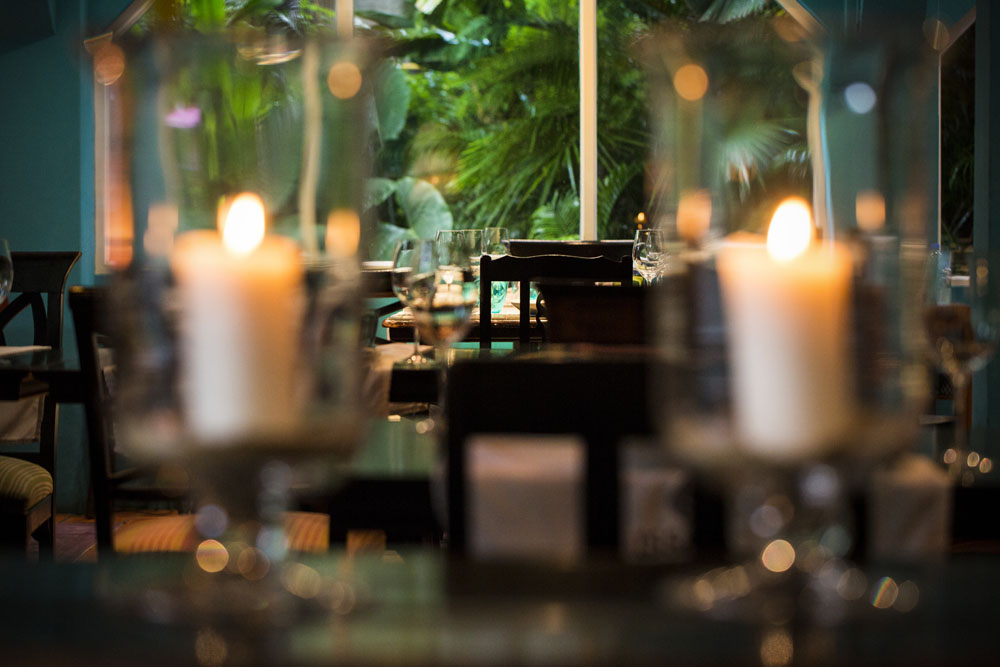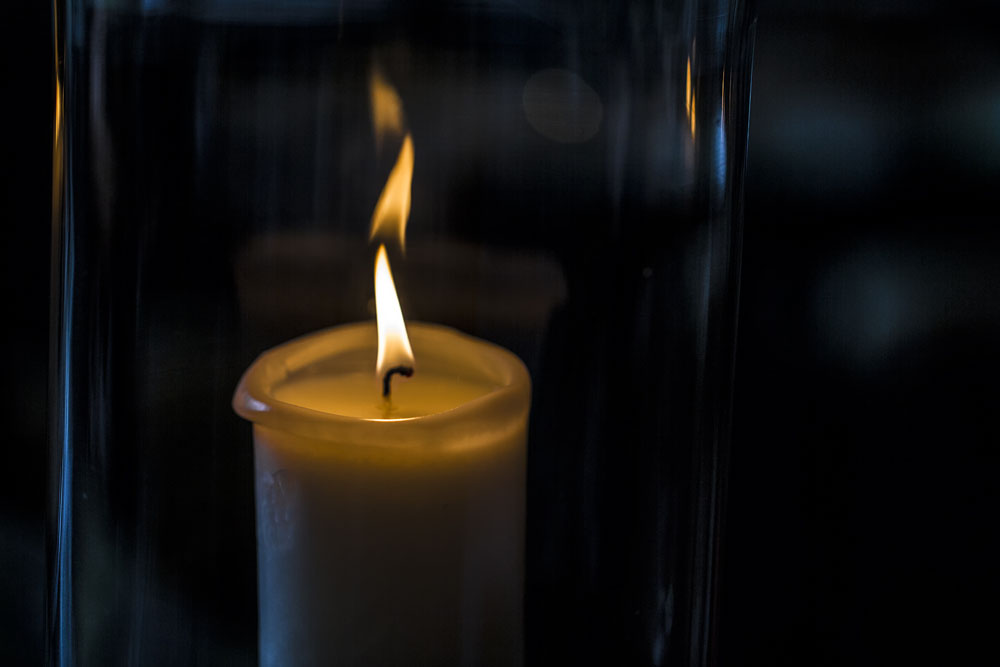 Even more apt was the light drizzle of rain and the earthly smell produced as the ground slowly moistened. It seemed that the restaurant was especially named for that rainy day, as Issaya is the Thai word of the smell of rain, or Petrichor. The setting, the food, the casual banter from chef Andrew, and the relaxing scent of rain, all made the visit a welcoming and tranquil one.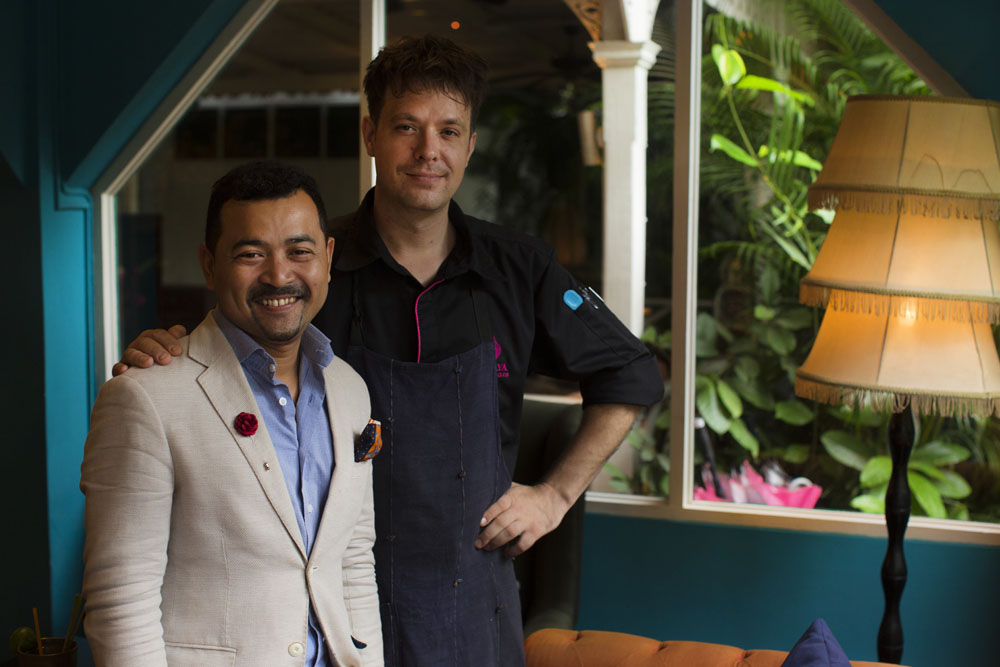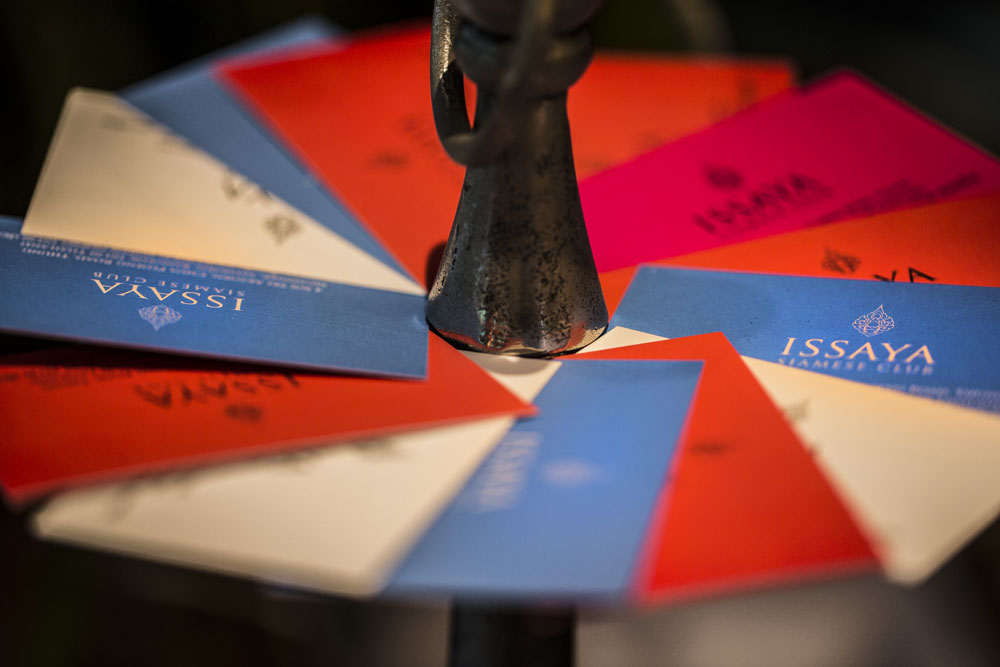 Review Rating: 8/10
More information:
Address: 4 Soi Sri Aksorn, Chuaphloeng Rd.
Tel:  +66 (0)2 672 9040-1
+66 (0)62 787 8768
+66 (0)62 776 3289
Opening Hours: Daily 11:30am-3pm, 6pm-10:30pm
Website: https://www.issaya.com/