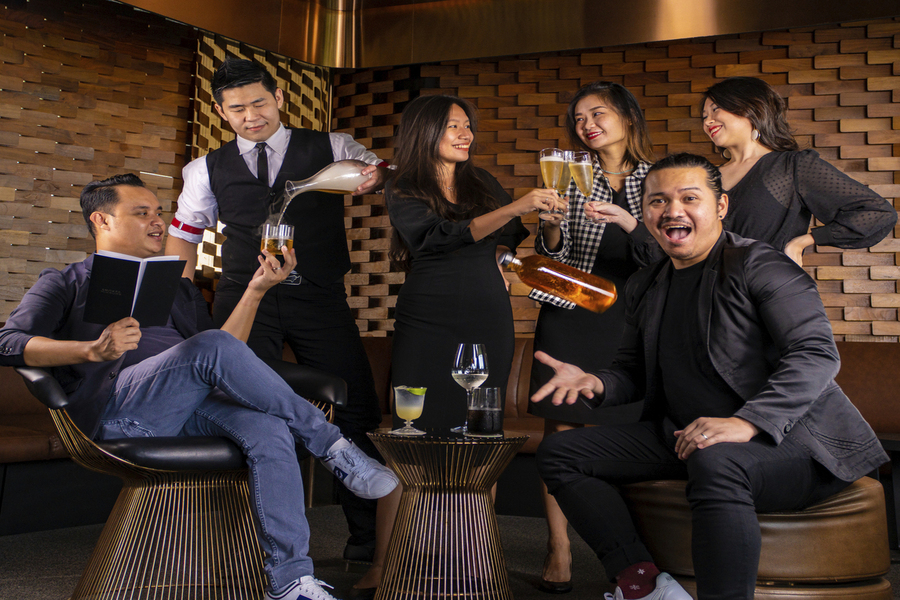 Can a cocktail offer a deeper understanding of a work of art?

Smoke & Mirrors recently launched the full collection of Volume II of the Real Art of Drinking signature menu where it dives deep into Principles of Art such as Contrast, Balance, Movement, Pattern and Focus.
The Smoke & Mirrors bar team effortlessly draws inspirations from its home within the grounds of the National Gallery Singapore, reimagining art concepts within the museum into an interactive cocktail menu.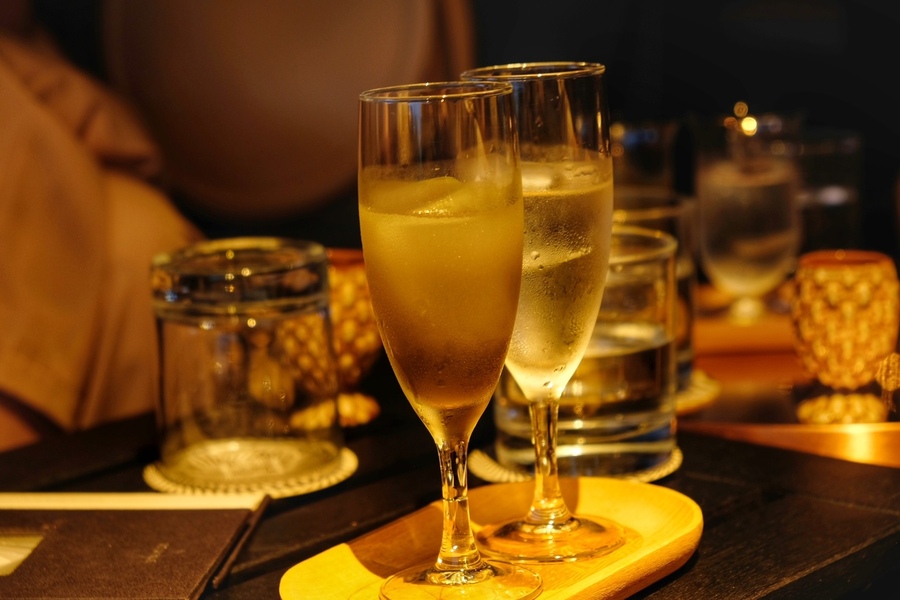 Cha Chat Duet (S$26) complements the art 'Tea Drinkers' by Anita Magsaysay-Ho. The cocktail contemplates a spectrum of earthy, cheerful and sweet flavors from Roku Gin, Haku Vodka and matcha. It completes with oneness when you pour both mixtures together.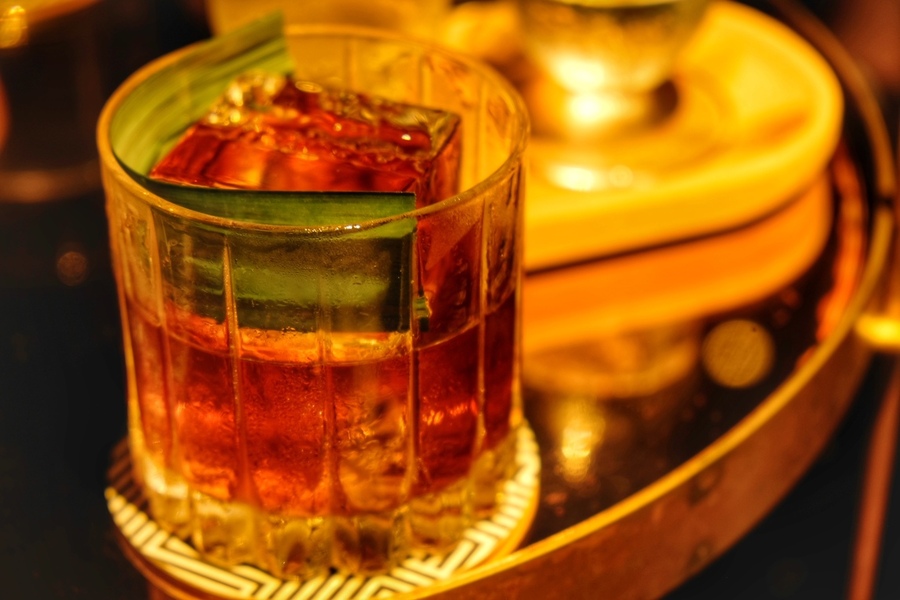 For something a little more sophisticated and unforgettable, you will have to go for Magic Queen (S$29) as it is inspired from Smiling Body by Pinaree Sanpitak, a mysterious yet humorous artwork that celebrates motherhood and womanhood. It sets your mood happy with some aromatic pandan notes while the drink comes as complex, strong and deep in its flavors.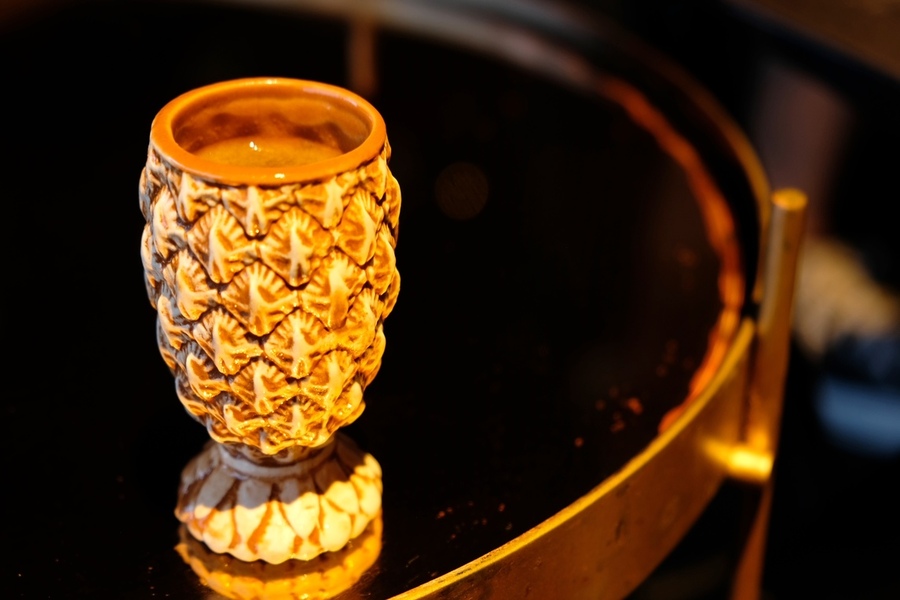 I love how Moves Like Jigger (S$27) sets as a perfect tropical cocktail that triumphs with joyous and vibrant flavors from longan, citrus, bitters and Bacardi rum. It definitely calls for a great celebration.
For now, we also spoke to Wee Siong, the current senior bartender at Smoke & Mirrors. Further proving his mixology might, he is also an SG Finalist of Giffard West Cup, Asia Selections 2022. It's no wonder Wee Siong feels right at home at the bar.
What would you like people to know about Smoke & Mirrors?
I would love for them to know about our art-inspired cocktails. As we are located on the rooftop of the National Gallery Singapore, we drew inspiration from the art pieces from the galleries when we created this signature menu. Besides our creative cocktails, we also have an awesome view of Singapore's skyline! I would say that Smoke & Mirrors are in the go-to bar for the best views, drinks and not forgetting, our friendly team!
Congratulations on being a finalist for the Singapore selections for Giffard Asia West Cup 2022! What are your key learnings from participating in a competition like this?

I always enjoy participating in competitions as it pushes me to learn more and to do more. Through these competitions, I get to meet and connect with fellow bartenders around the globe to exchange and share knowledge on mixology and cultures. Which is what I love the most about bartending – spreading the love!
How did your interest in cocktails begin?
It all started when I was in College. I came across a flair bartending event and found myself intrigued by the movements. I decided to pick it up and that got me into discovering my love for mixology.
How do you manage during last 2 years of pandemic as a bartender?
The pandemic was a tough period for all of us, especially with the Circuit Breaker and restrictions placed on nightlife in Singapore. The pandemic pushed us to get creative and to move to retailing bottled cocktails. For Smoke & Mirrors, we started an e-shop, where we were able to retail our personalized gift sets, for people to gift cocktails and cheer to their friends and families.
What's your biggest source of inspiration for your cocktails?
I draw inspiration from the connections I build with people and the environment around me. For example, in my recent competition for the Giffard Asia West Cup, the cocktail I came up with – A Star is Born, was created to inspire and dedicated to my newborn twin boys, as a positive message for them to always remain positive and be a bright star for others.
How would you describe the cocktail scene in Singapore right now?
The cocktail scene in Singapore is thriving and people are more appreciative of cocktails and in search of a good drink in Singapore. There are new and cool concepts opening all the time and this creates a challenging but exciting landscape for us to push for greater heights.