The Sois of Bangkok are like its klongs, gritty thoroughfares that see a lot of traffic but little love. At the end of a dead-end soi, you might expect to find the most unsavory ingredients that make up any mega city; decrepit buildings forgotten by time, neglected roads and grafitti, for instance. But, here's also where you can find the almost 10-year old feted restaurant, Surface Kitchen & Garden Lab, known for pioneering a fresh take on Bangkok city cuisine.
Soi Mak Mak
It's not the end of the road for this soi, Sukhumvit Soi 53. At the cul-de-sac, the gastronomical adventures continue at Surface Kitchen & Garden Lab which, has established itself in a 50-year old residence. The place is spacious, almost sprawling but that only seems to be keeping in trend with its menu which is several pages long. In it, you can choose from an extensive list of wines, whiskeys and the whole litany of food genres that run the gamut from French classics to innovative mod meals. A dizzying selection is perhaps the reason for its staying power in an industry infamous for burning bright and then burning out in a proverbial blink of an eye.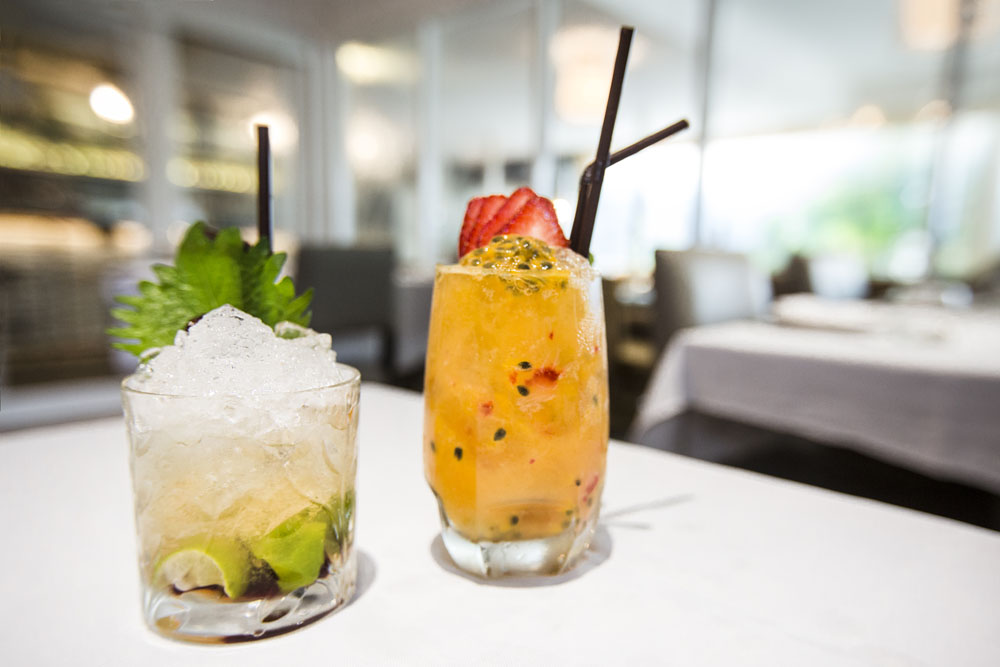 Aside from dinner service, Surface Kitchen & Garden Lab is also a popular place to get liquored up. Its cocktails are inventive and a great way to beat the tropical heat.
Steak Tartare with Bone Marrow – (~500 bhat)
A lot has been said about the bone marrow dish at sister outlet 100 Mahaseth which is also owned by Chef Chalee Kader. The offering here is no exception. Not usually a fan of offal, and other odd bits, I would normally shy away from these parts but I am always game to try out things just once. European fare doesn't really get very exciting and this is probably as far as it goes. The lamb bone marrow was smooth and dense but not over powering. It comes out in a smooth creamy, savory spread. Spread over the accompanying pieces of garlic bread with a chink of lightly cooked steak tartare, this full-bodied, full-flavoured starter is sure to bring you to heaven, one way of the other.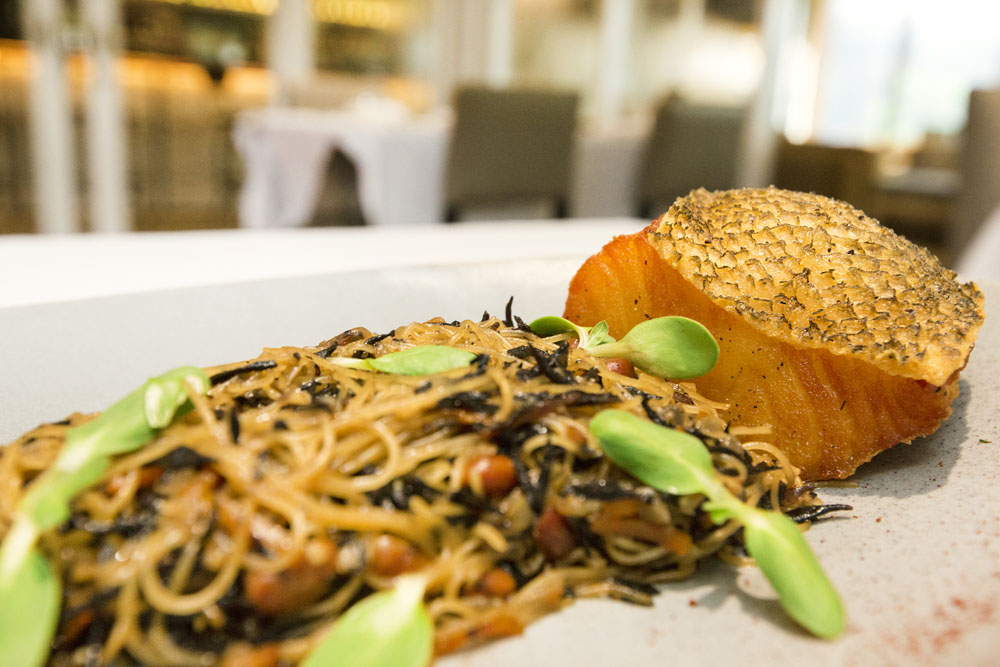 Crispy Alaskan Snowfish with Hijiki and Angel Hair Pasta – (620 baht)
A flavourful marriage of East and West, Surface Kitchen's ever popular pick shows off its deft handing of diverse ingredients. It certainly does make you feel as though you have just travelled around the world by tucking into this dish. The angel hair pasta, an undoubtedly Western element here, is given an oriental treatment having tossed in a sake-infused ponzu sauce and dressed in crispy flakes of Hijiki. A sprinkling of soy beans and drizzle of butter completed the ensemble. The Hijiki deserves a mention if for nothing else but as a rather exotic inclusion. It is a health food of sorts and is touted to be rich in fibre and minerals. A type of sea grass, it is only harvested from March to May and then dried, to be sold at markets. Amongst its many benefits, it is said to promote good health and growth of luscious black hair.
Accompanying this, is a nice meaty chunk of snowfish – fried to a crisp on the outside but still moist and fresh tasting on the inside. The flesh has a smooth, rich and luxurious texture with its own natural oils, making this a satisfying meal.
Beef Sliders – (370 Bhat for 2)
These golden buns of joy are as messy as they are delicious and it doesn't get messier than this. This humble bun is however, more than just a simple treat. It is a hefty, heavy mouthful of juice goodness. Inside, a substantial serving of Himawari beef from Korat really packs a punch and hits the spot. Its preparation involves quite a bit of work, considering that it does down the hatch so quickly, and is grounded twice, rolled then smashed. It is then accompanied by a tomato slice, lettuce, caramelised onions, slathered in a mouthwatering secret sauce and then nestled between a soft brioche bun. There may be 2 of them, but I am not sure how much sharing will happen.
Ending On a (Sugar) High Note
Aside from the steak tartare and bone marrow, I felt that the desserts stood out. Two options that should not be missed is tha Panna Cotta Raspberry 5 ways and Oreo Banofee Cake. As with most dishes on the menu, desserts also fall between 350bhat and 700bhat. Neither were too sweet as is often the case with Thai kitchens. What I liked was that they were balanced with natural flavours such as fresh fruit, berries and nuts. It was also interesting to see the Banofee cake deconstructed instead of its usual form as a pie.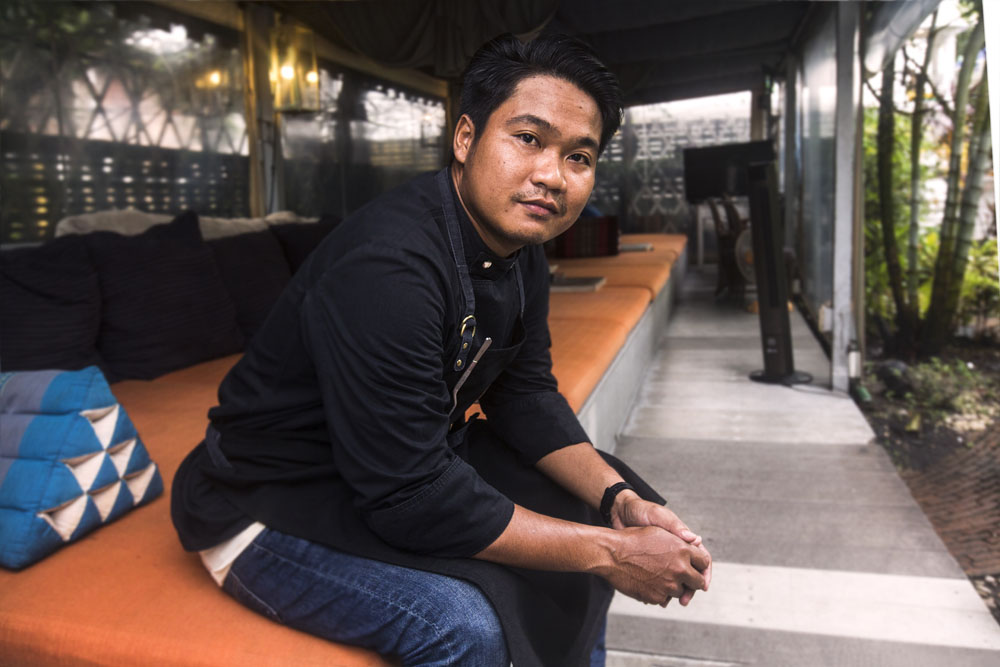 It was a little quiet as I arrived before the crowd. The customary Thai courtesy was extended to me but the service staff were not fully up to date with details of the dishes. However, it seems that even with a new team supporting the operations as Chef Chalee splits his time between restaurants, standards are still maintained. I would give my experience a solid 6/10.
For more information
Address: 107 ถนน สุขุมวิท 53 Khlong Toei Nuea, Khet Watthana, Krung Thep Maha Nakhon 10110, Thailand
Opening Hours: Daily 1800 – 0000
Tel: +662 258 2858