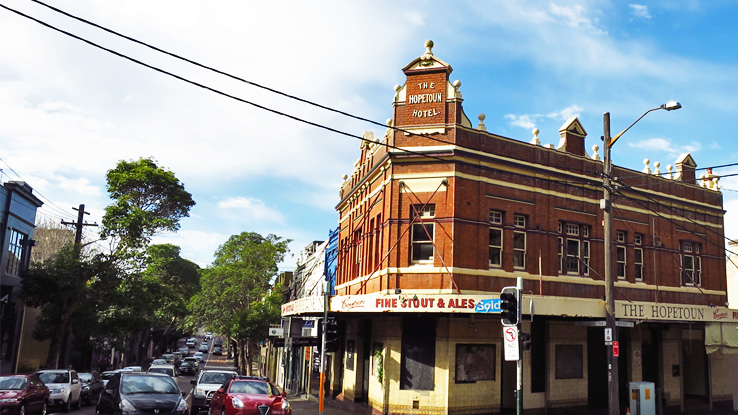 Although lesser known than Melbourne for its cafe culture, Sydney's been making more headway with more  inventive and exciting cafes that has the world talking. In my opinion, it's one of the best cities to grab great coffee just from the vicinity of your office from cafes that don't belong to a weathered chain like Starbucks or Costa Coffee. Here's a list of the best cafes in Sydney I've experienced, for the businessman in the heart of CBD, or the coffee junkie who's willing to take a trip to Surry Hills.
Cafes in Sydney CBD
Gumption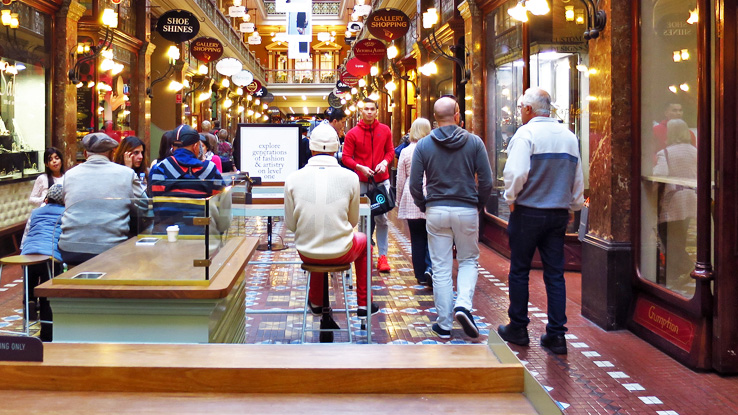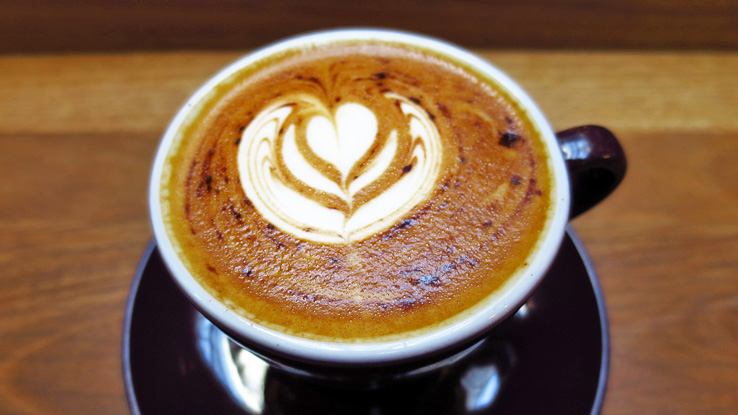 Nestled inconspicuously amongst a leather shoe shop, cuban cigar retailer and spice shop, Gumption may be the resident crowd puller to the otherwise understated mall. With Westfield, David Jones and other retail giants around – the Strand Arcade seems more well-placed for the discerning individual. A beautifully restored 3-storey high shopping arcade dating all the way back to 1891, Gumption's coffee at the Strand Arcade was a surprise find for me. Rich, robust and full-bodied, and with milk of the perfect temperature, the cappuccino is definitely my favourite for this trip.
Shop 11, The Strand Arcade
412-414 George St, Sydney NSW 2000
Tel: +61 2 9516 1997
---
Single Origin Roasters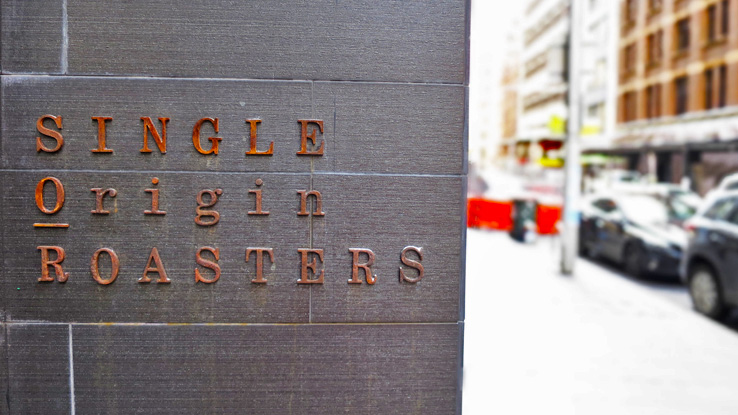 Because I got a cup to go, I didn't take a picture! Single Origin Roasters has 2 other outlets, one in Surry Hills, and another in Botany. The CBD outlet was more a pick-up-and-go place. I vaguely remembered some bar seats but the place was so packed with caffein-edicts that the queue streamed outwards of the small stall. For comparison's sake, I ordered the cappuccino and it was brighter than my usual preference, although I can imagine other people enjoying this light brightness. It wasn't something that threw my coffee palate out the window and I enjoyed it all the same.
89 York St
Sydney NSW 2000
Tel: 02 9279 2677
Hours: Mon to Fri 7am – 4pm
---
Cafes in Surry Hill
Bills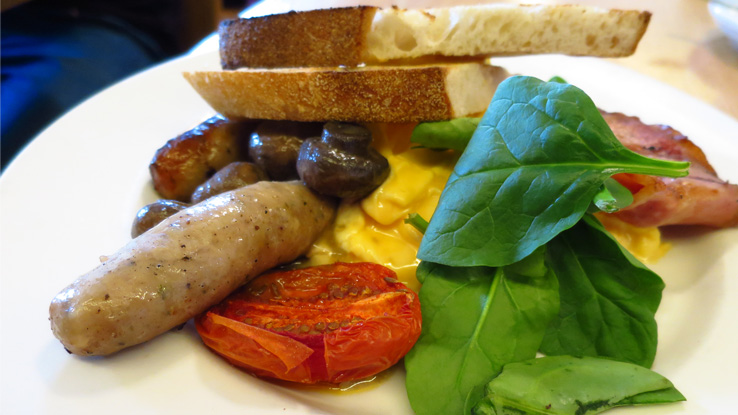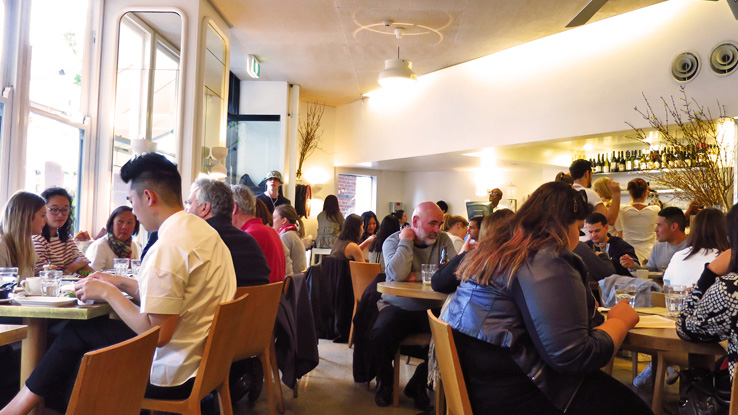 Bills is an institution on Surry Hills. Almost everyone that's been to Sydney has been to the Surry Hills' branch, although they have another two outlets at Bondi Beach and Darlinghust. Known for the best scrambled eggs and hotcakes in town, Bills has expanded beyond the shores of Australia with branches from Tokyo to London.
What in the name is in those scrambled eggs?! A rich and creamy texture which I refuse to let slip down my throat, the fragrance and tastiness of the fresh eggs still lingers in my mind till today. A small but necessary detail, the butter was amazing and went terribly well with the sourdough. What was lacklustre was the cappuccino I ordered, which felt like a poorly balanced proportion of milk vs espresso. I actually didn't finish it. Nonetheless, I overheard the neighbouring table going gaga over the corn fritters, and of course, there's the pancakes which everyone raves about as well.
359 Crown Street
Surry Hills NSW 
2010
Tel: + 61 2 9360 4762
Hours: Mon to Fri 7am – 10pm | Sat to Sun 7.30am – 10pm
Reservations: Here but only from Mon to Fri for tables of more than 8 pax
---
Artificer Specialty Coffee Bar & Roastery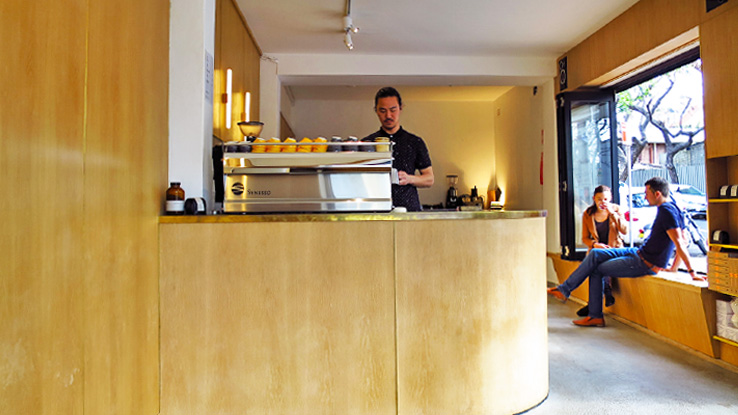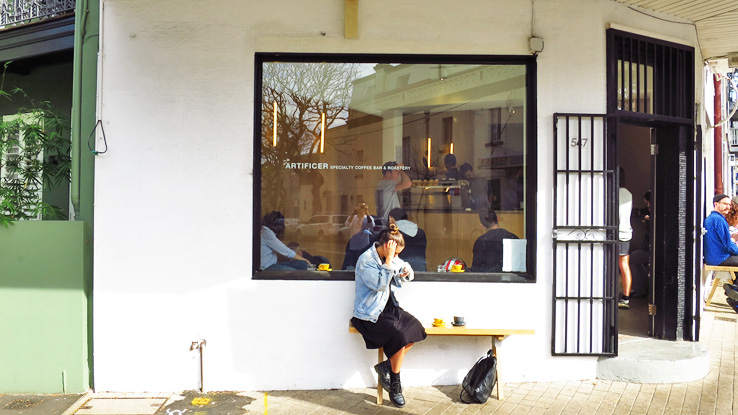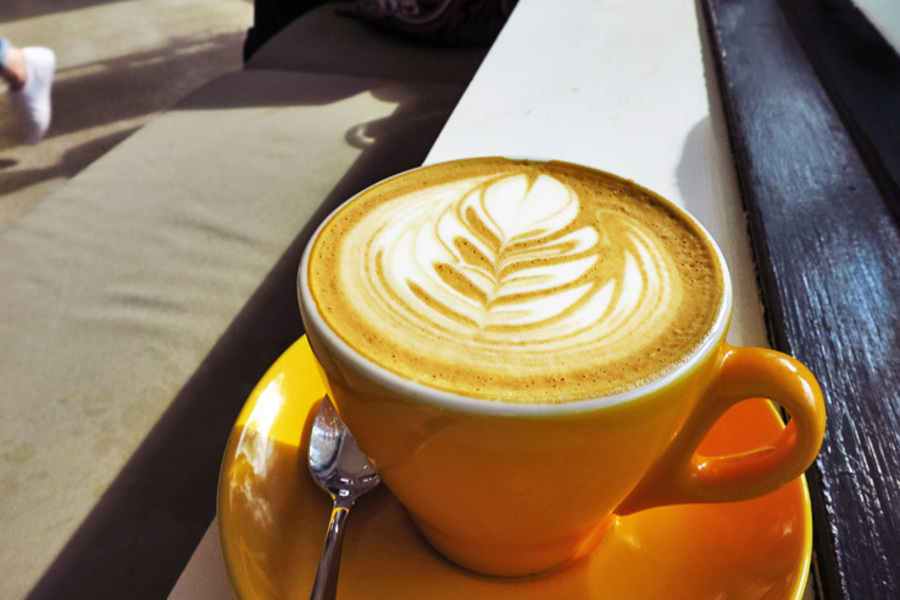 A relatively new kid on the block, Artificer has been making waves in the neighbourhood boasting top quality beans that churn out consistently good espresso. The minimalist design is reflective of Japanese-styled architecture, creating a soft and cosy ambience for coffee lovers to indulge in their cuppa. I love large windows in a cafe, and particularly so for a corner shop, it soaks up all the natural light – plus they probably save tonnes from it!
Most of the raving reviews are around the espresso but I'm not one to take it full-on. The cappuccino I had was kinda drowned by the milk so it might be wiser to add another shot to make the coffee flavour pop? Love, love, love the ambience anyway.
547 Bourke Street, Surry Hills
New South Wales 2010, Australia
Email: things@artificercoffee.com
Hours: Tues to Fri 7am to 3pm | Sat & Sun 8am to 2pm
---
Gratia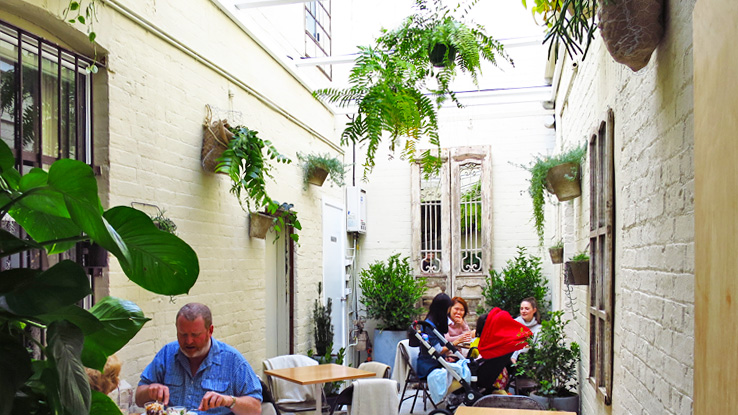 Image taken from Gratia.org.au
More cafes need to be like Gratia. A 'profit for purpose' cafe, Gratia can fully embrace the phrase 'food for the soul'. Donating the full 100% of all proceeds to various support causes selected by staff, alongside a carefully curated menu, Gratia is an all-in-one gift to the community that keeps on giving.
And it doesn't hurt at all that the cafe is so beautifully done up. A minimalist design with a long bar extending towards a charming courtyard at the back of the cafe, the overall feel is one of openness and purity which resonates with its white-washed walls. Just for this post, I'm not going to even comment on the taste because it's how not it tastes, but more the feel-good factor at the end of it. Every AUD5 spent gives you a ball of equivalent value which you can donate according to causes you feel for, and ordering 'Gratia' water (3 different types) will drive 3 different social impacts as well. Do the right thing!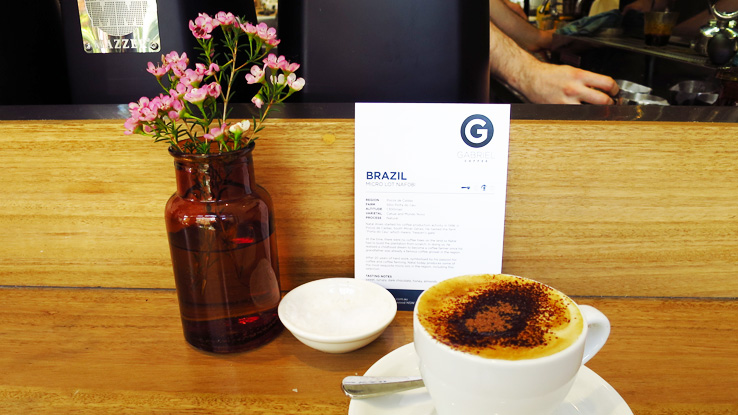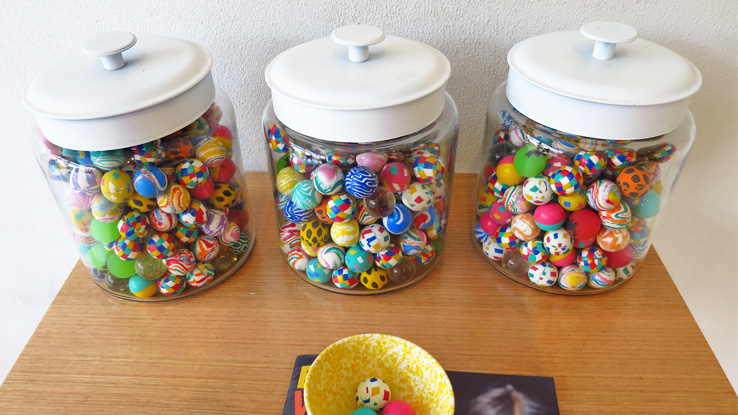 372 Bourke St, Surry Hills
NSW 2010
Tel: +62 02 8719 0518
Email: gratia@folonomo.org.au

---
Bourke Street Bakery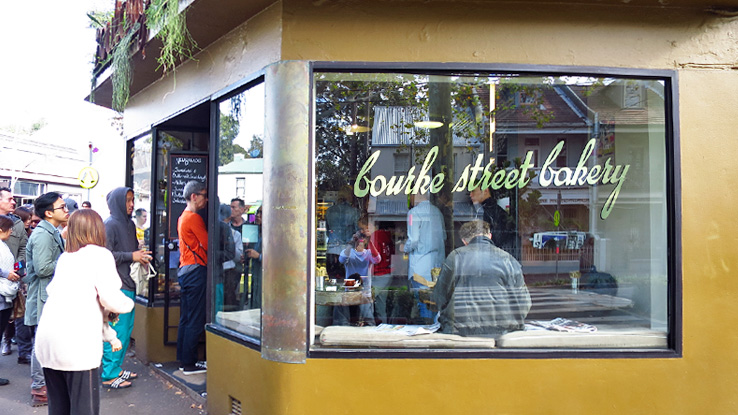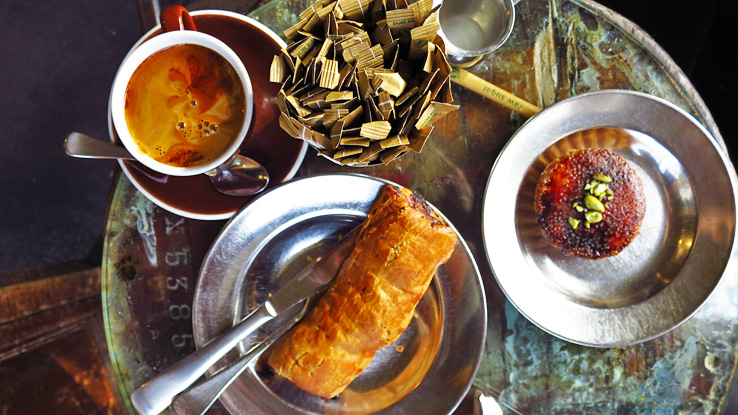 With more than 8 stores all over just Sydney alone, Bourke Street Bakery's popularity definitely didn't come from just churning coffee and confectionery. As much as I'd like to order everything, especially their famous tarts, I could only deal with a sausage roll and a ginger crème brûlée tart to start the morning.
I'm not sure if it's because of the cold weather but the crème brûlée had a texture similar to biting into camembert cheese, soft yet with a supple turgidity that was followed by a rush of sweet ginger custard that's not overpowering to the palate. The sausage in the roll had a pleasant herbal fragrance, and was fortunately not as heavily salted as you would expect for most sausages, enveloped within a crusty, savoury pastry that's baked to perfection.
The queue starts forming from 10:30am so if you're looking to grab a seat at the premises, do take note.
633 Bourke Street, Surry Hills
(Corner of Devonshire and Bourke Street)
Tel: +61 9 699 1011
Hours: Mon to Fri 7am to 6pm | Sat & Sun 7am to 5pm
Being alone on a business trip with only a single weekend to spare, you can the difficulty in covering the best cafes in Sydney and the copious amount of caffeine I imbibed as a result, especially those in Surry Hills. It's all worth it though, because I know there's nothing worse than hopping into a cafe and not getting the caffeine kick you need.
Out of Sydney Central are tonnes of other cafes which unfortunately I can't cover in my limited time there. But I was fortunate to make time for The Grounds of Alexandria, so take a read if you've got a spare afternoon for the outskirts.