#1 It's Conrad Centennial Singapore's 20th Anniversary!
No better way to celebrate than a slew of different activities lined up to commemorate two decades of awesomeness. From staycation offers to dining discounts, Conrad Centennial has a long list of festivities, leading into the NYE celebration.
#2 Did you know Conrad Centennial is part of the Hilton Honors loyalty program?
Designed to award their customers who are loyal patrons of their hospitality, the Hilton Honors program gives you first dips into exclusive hotel prices and dining discounts at selected properties all over the world.
Best of all – signing up is free!
#3 A seamless online to offline check-in service
Conrad Centennial allows you to check-in online with your Hilton Honors app, and links you all the way to the front desk – without the need for paper documentation! Simply link the email you registered with the hotel, and voila – the app pulls your stay details automatically!
#4 Keyless entry for the ultimate convenience
Left your key in your hotel room? Don't fret. With your mobile phone, you can unlock access to the elevator, and your room, via Conrad Centennial's Digital Key. You never need to compete with a full elevator of guests to stick your card access in again!
#5 An amazing view of the CBD skyline
Fancy a view of the city? Conrad Centennial boasts an unobstructed view of the bay area and surrounding skycrapers that makes it a joy to wake up to. Come night, the dazzling city lights' one to remember.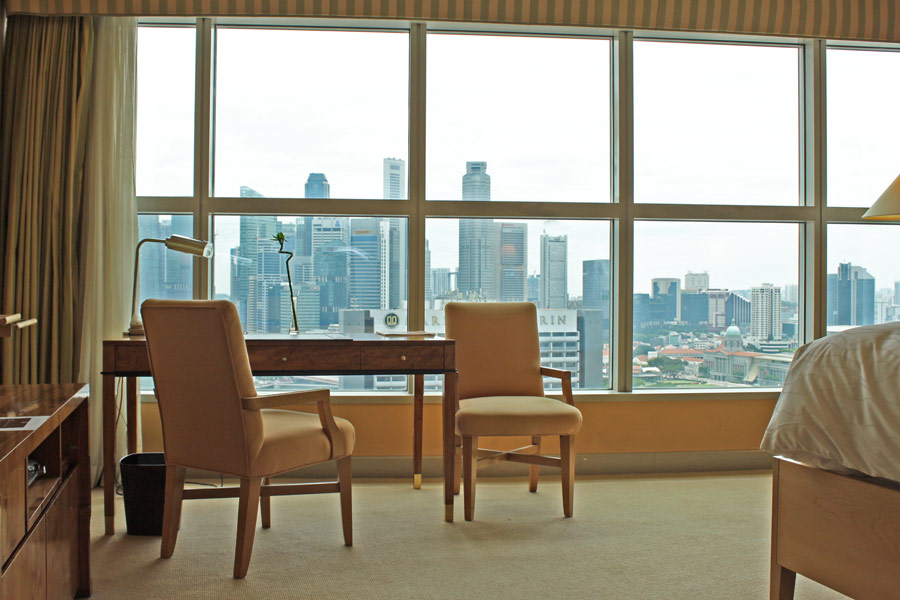 The Conrad Centennial Executive Club Floor is one to remember, especially with a suite of bathroom amenities to make sure you don't have to scramble to the nearest supermart to get anything. And that evening tipple that's complimentary for two guests, save room for pre-dinner teasings with a spread of wines and champagne, and quick bites and canapes to get the evening started.
#6 Bathroom slippers so soft you won't want to get out of them
Something that I've quite particular about, is the quality of bathroom slippers especially for a 5 star property. And let's just say Conrad's edition has made it back to my home…
#7 A novel room service menu that's pretty much a recipe book
Room service menus tend not to get much attention but so much effort is put into this one that I flipped through every page to see what's in store. A wide selection of local delicacies dominate the selection, rightly so and it's so visually enticing and largely affordable for a bay area hotel!
#8 A famous Conrad rubber ducky that's yours for the taking
Not sounding cheapo but how often do hotels make memorabilia that you can take home from your travels? One that's practical and will charm the kids during bath time no less. Take it, it's yours!
#9 Top-of-the-line amenities to pamper you from top to toe
Not 1 but 4 lines of toiletries await you from their in-house aromatherapy range to Shanghai Tang's exquisite range.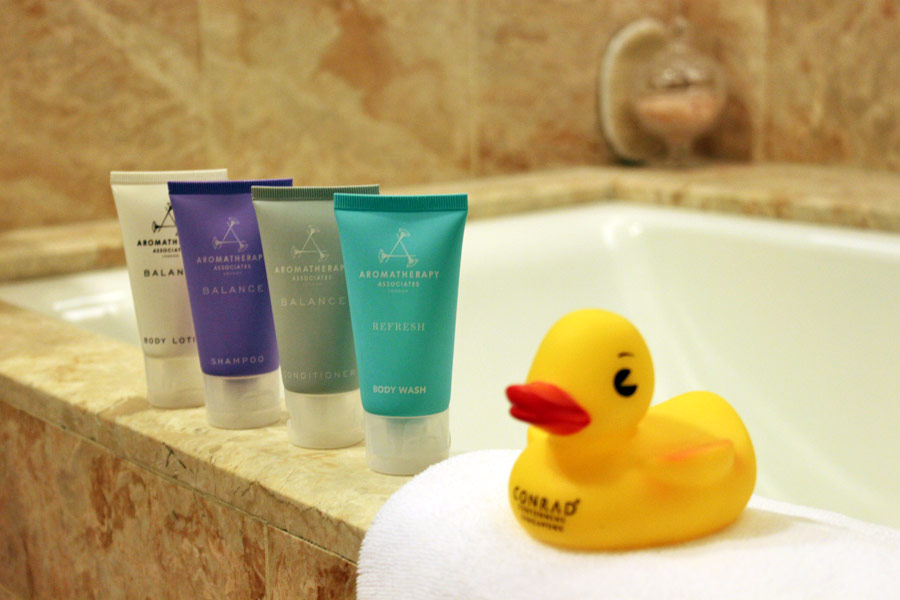 #10 An award-winning Cantonese restaurant – Golden Peony
If you don't already know, Conrad Centennial houses an amazing Cantonese restaurant and with their recent Weekend Dim Sum Experience menu, get taken from traditional favourites to new creations by Chef Ku Kueng.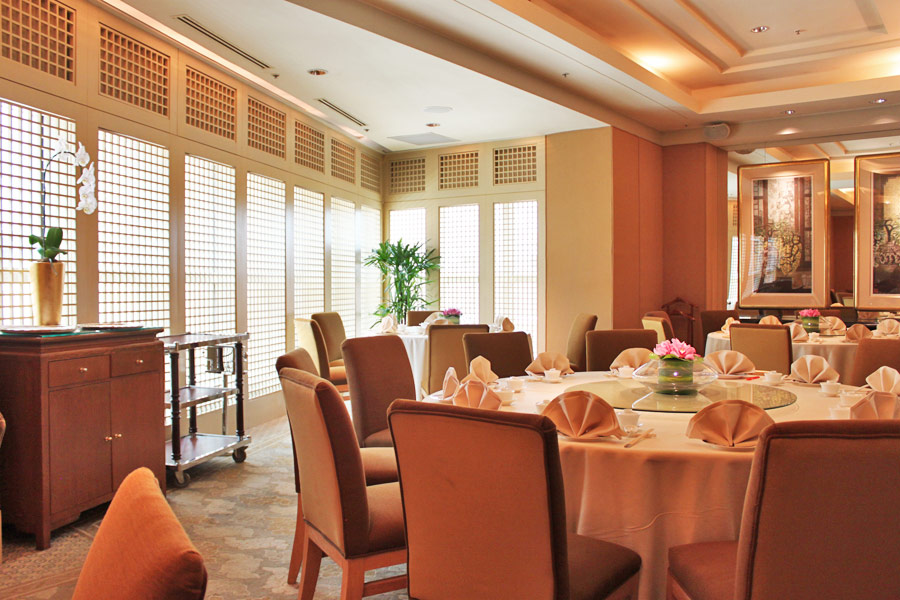 Priced from S$59++, the Weekend Dim Sum Experience comprises of a selection of dim sum you can choose from, as well as some a la carte picks that are exquisite and delicious.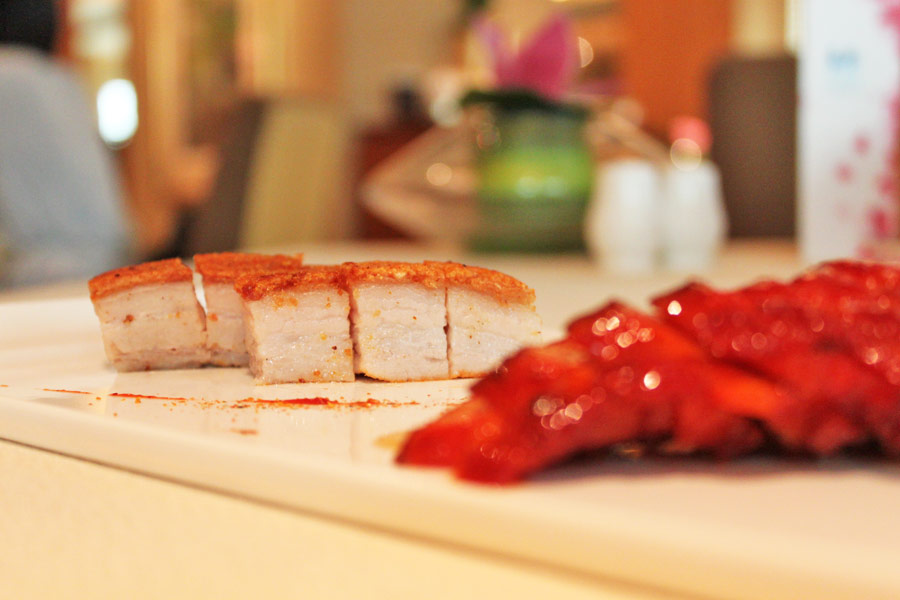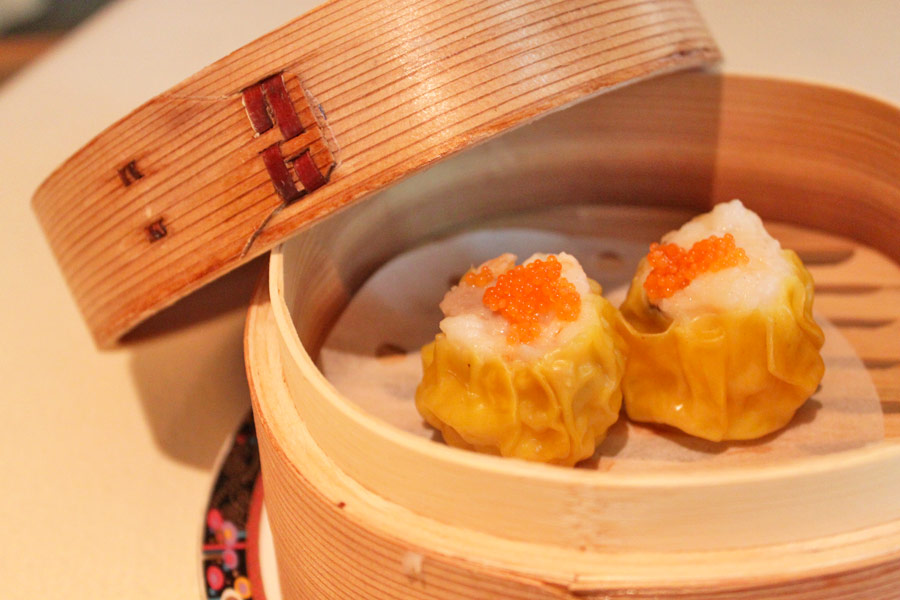 My favourite item was the Miso Japanese Sea Perch, prepared similar to the typical Black Cod variant. This dish is deliciously prepared in mirin and sake, cooked evenly and tender to the bite, and broiled to a crisp perfection for that char-fresh fragrance.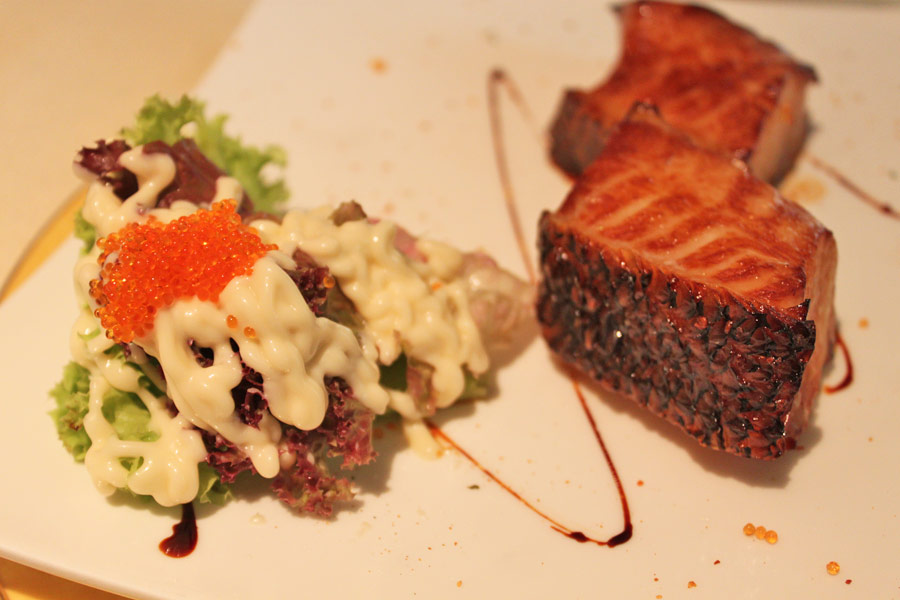 #11 A stylish furnished lobby with famous artworks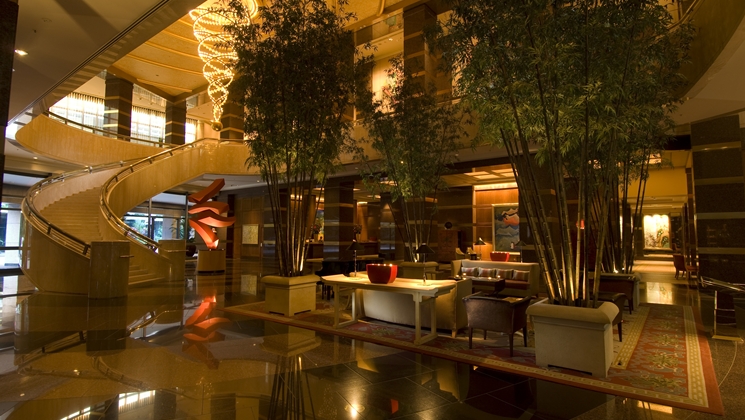 Conrad Centennial boasts an interesting array of art pieces, including the Turbulence Sculpture by Raphael Barrios in the background. Enjoy the high tea at their lobby lounge, or simply bask in the cosy, relaxing environment.
#12 A view to behold from the Executive Club Lounge
Encircling the top floor of the Conrad Centennial, treat yourself to the view of the changing twilight with all-round views of the city, including the Marina Barrage area to the beautiful CBD skyline.

#13 1/3/5 hours of experiencing Singapore
Looking for a hyper-local experience? Being a local doesn't mean you've covered everything. Conrad Centennial has launched a program a hyper-curated guide that delivers a true flavour and personalised snapshot of authentic Singapore experiences – here.
#14 A pool with a view – Day and night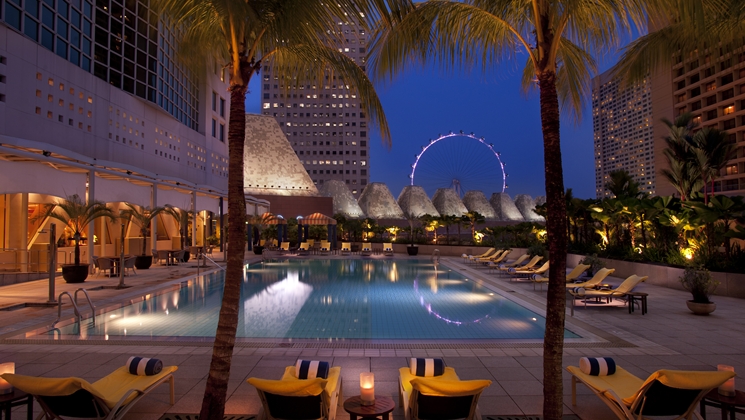 Conrad's pool is great for soaking up the sun, and come nightfall, for evening tipples with a bar.
#15 A breakfast spread that's made for everyone – even Singaporeans
If you think hotels in Singapore cater mainly for tourists or business travellers, you may be mistaken. Conrad Centennial's Oscars has a hotel spread that's not just international, but caters to an audience that's nearer to home.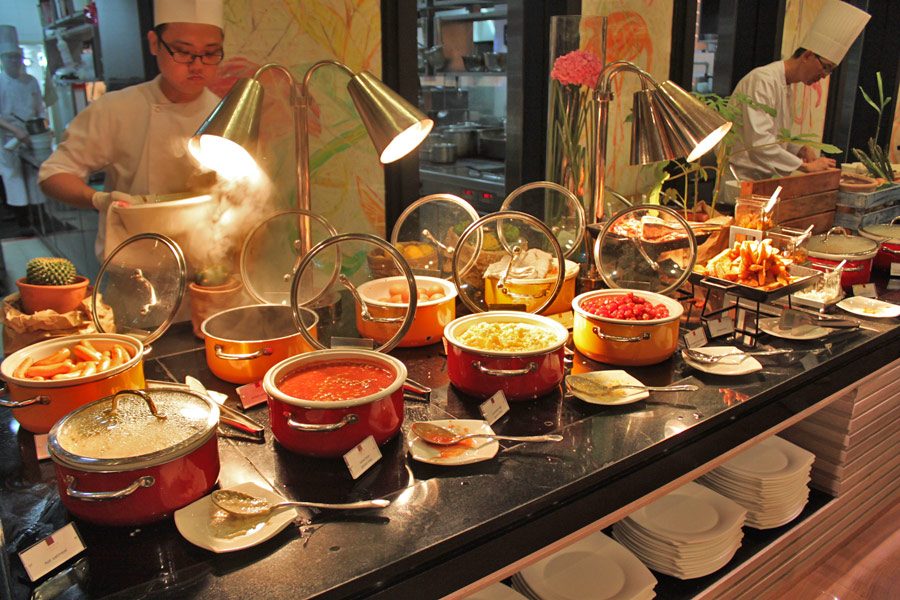 #16 A porridge that can be eaten 28,391 ways
Just kidding, but this single, simple item on the menu has a tonne of other condiments and ingredients that can buff it up to whatever tickles your fancy. Just go crazy, making sure you've got space for everything else.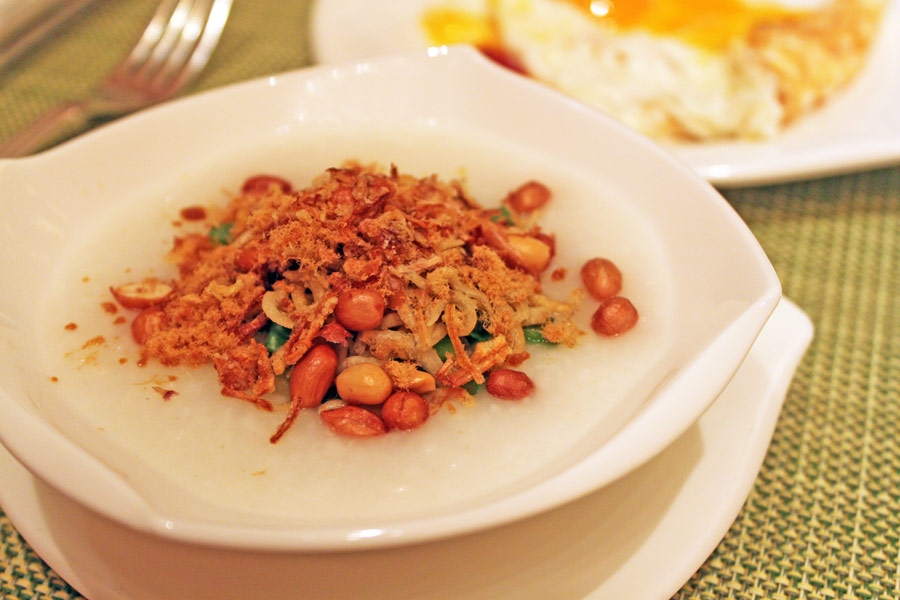 #17 A Sunday brunch so decadently delicious you'll be back for more
Oscars has an amazing champagne brunch, and particularly unforgettable for me was the spread of about 8 different oyster varietals that are flown from different parts of the world, and that delicious roasted London Duck…
#18 A limited edition bear to commemorate their 20th anniversary
If you're a big fan of collecting souvenirs from your travels, the Conrad bear is one that you've probably gotten from their different properties worldwide. What's special about the 20th anniversary is their embroidered gold edition, and a full staycation package that starts from an attractive $220++.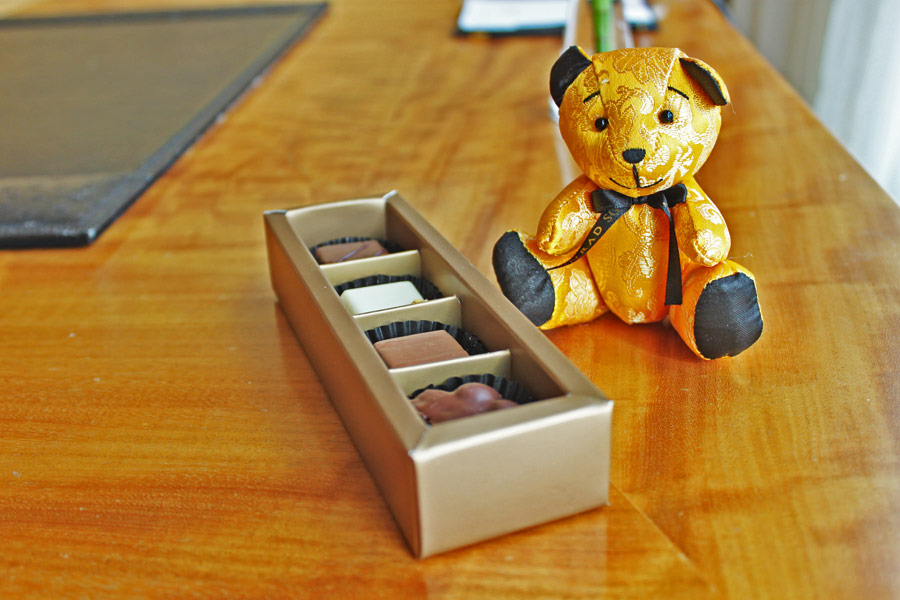 Many thanks to Conrad Centennial Singapore for hosting the stay, and the amazing hospitality.
Conrad Centennial Singapore (Map)
2 Temasek Blvd, 038982
Tel: 6334 8888