The gueridon service alone would set tongues wagging, cellphones snapping and confer Grand Park City Hall a spot on Singapore's congested culinary map. As endearing and familiar as a dim sum push cart, their occidental kin is stocked chock-a-block with irresistible treats that begin with an assortment of fresh, still-steaming-hot breads made in the kitchen and ends with another piled with cakes and sweet confections. Tucking into Western food has never been so delightful or artful yet casual and without pretense. The ostentation of the painful 3-hour course is dispensed with but the constitution is fully intact, leaving me with an experience that I won't soon forget.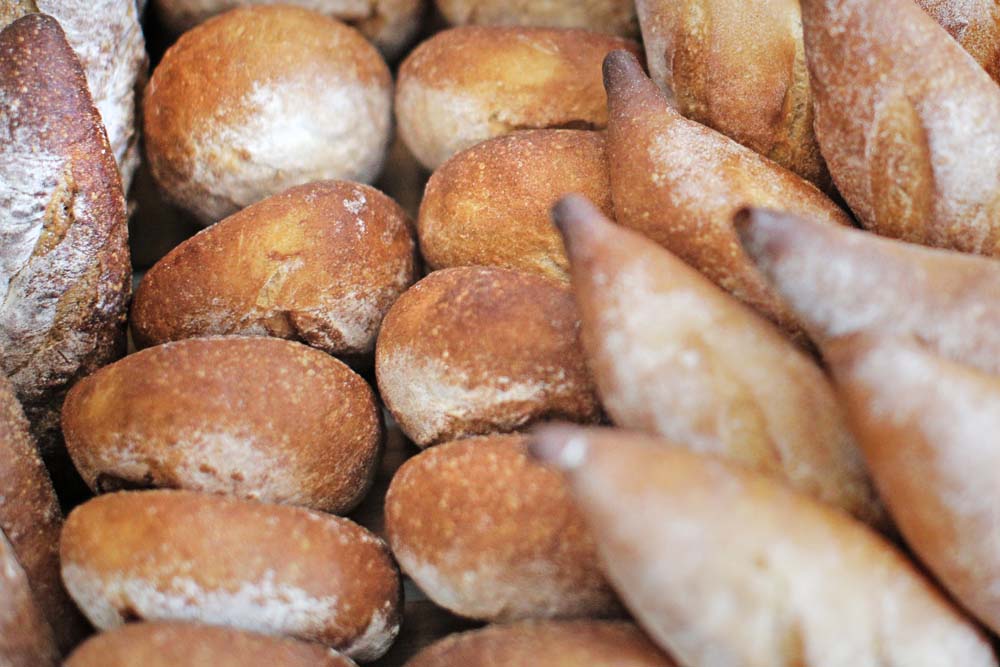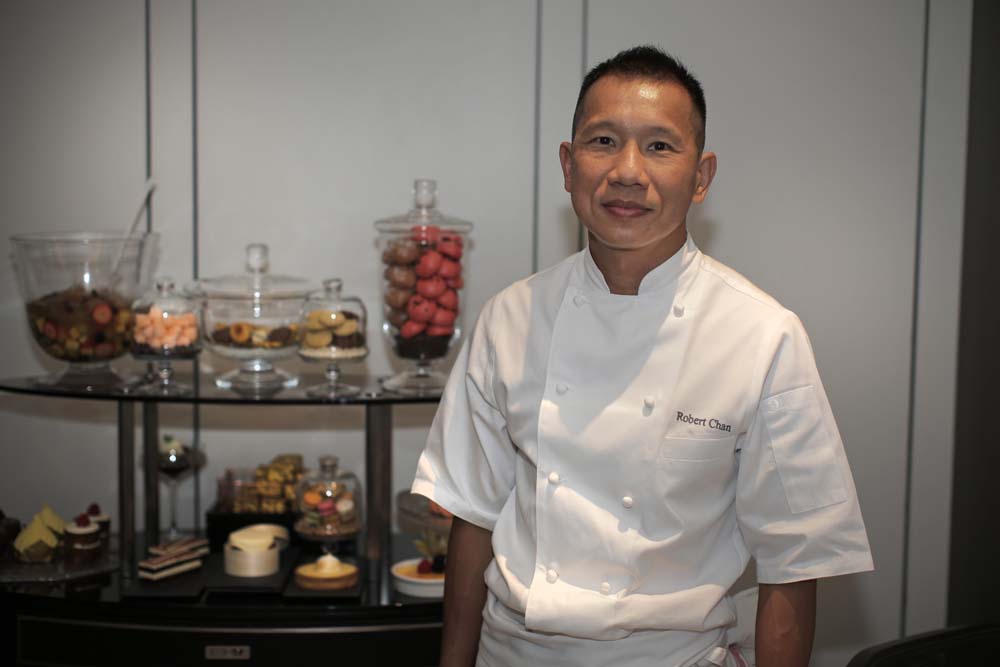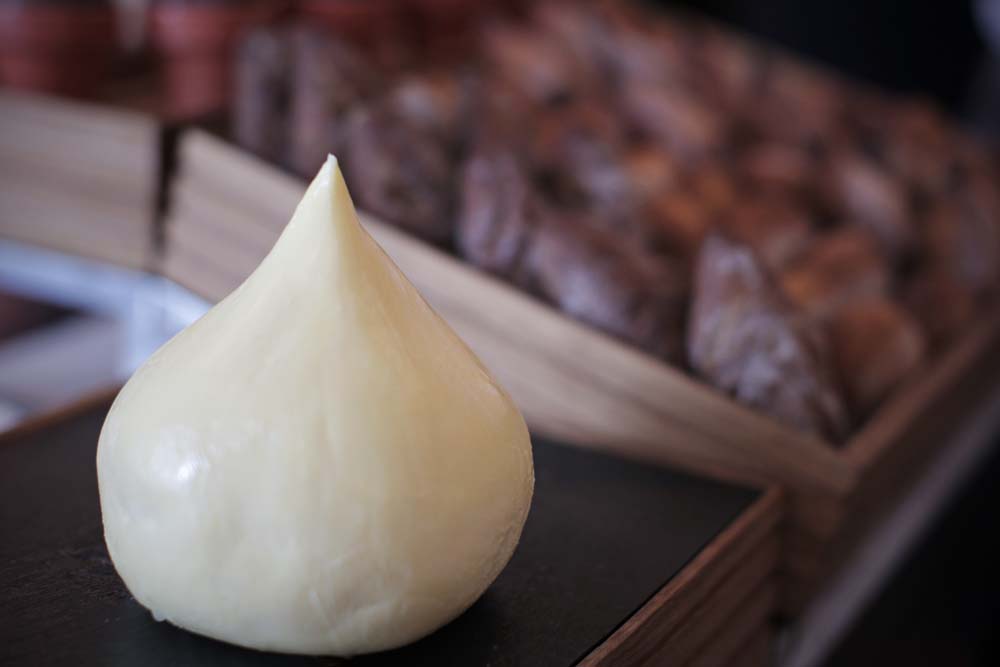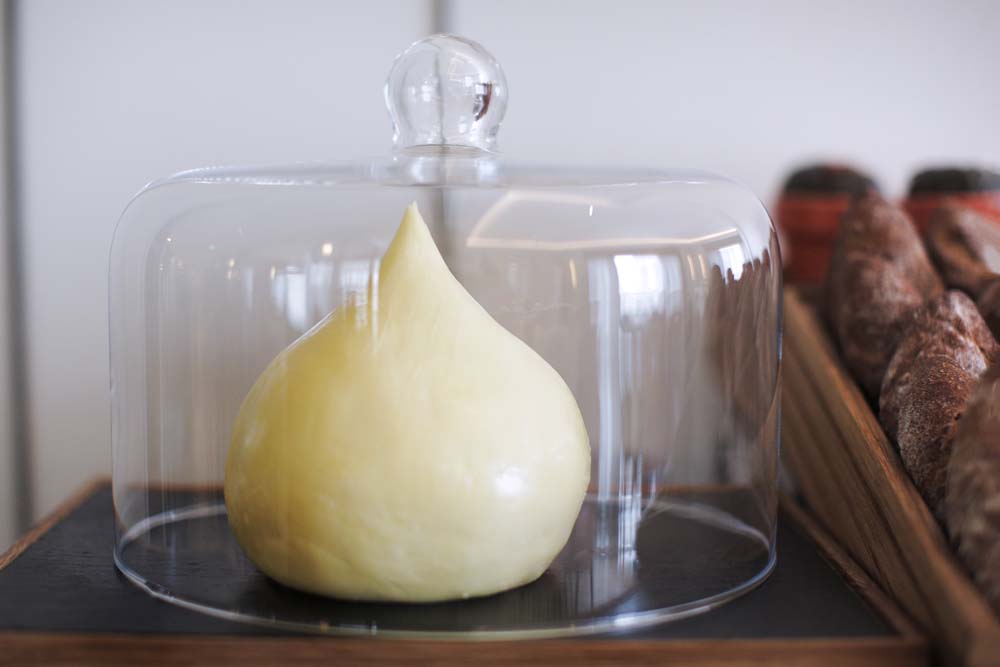 Executive chef, Robert Chan, 20-year veteran in the local dining scene, has exacting standards. Addressing us shortly, he spoke about his commitment to quality. Which is the reason why we were fortunate enough to get acquainted with this super sized dollop of dairy. At a hefty 3- 5kg, the also home-made lump of butter almost has a personality of its own and certainly commands attention. Taken with your choice of home-made breads (Baguette, Focaccia with Cheese, Onion Bread, Sour Dough, Squid Ink Brioche), this foretaste of the meal ahead set my heart alight with anticipation.
Nostalgic European Fine Dining
The dining room affords diners a private space, with full length draperies that diffuses the strong tropical sunlight into a clean white glow that doesn't assault the eyes. With no distractions from the view outside, the space is cosy and intimate. One could easily lose track of time here but, that might not be such a bad idea.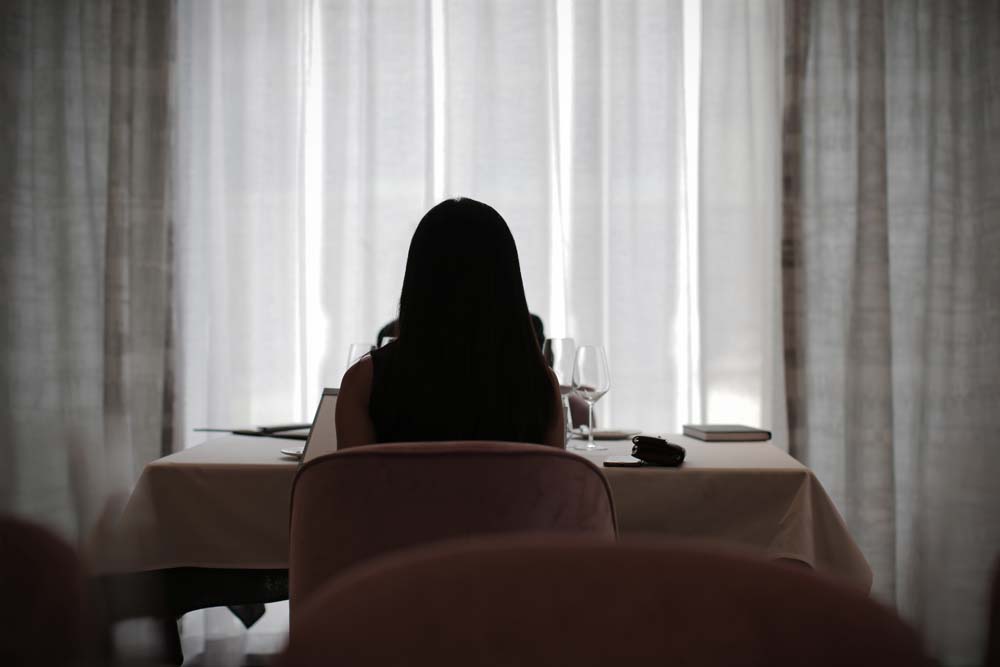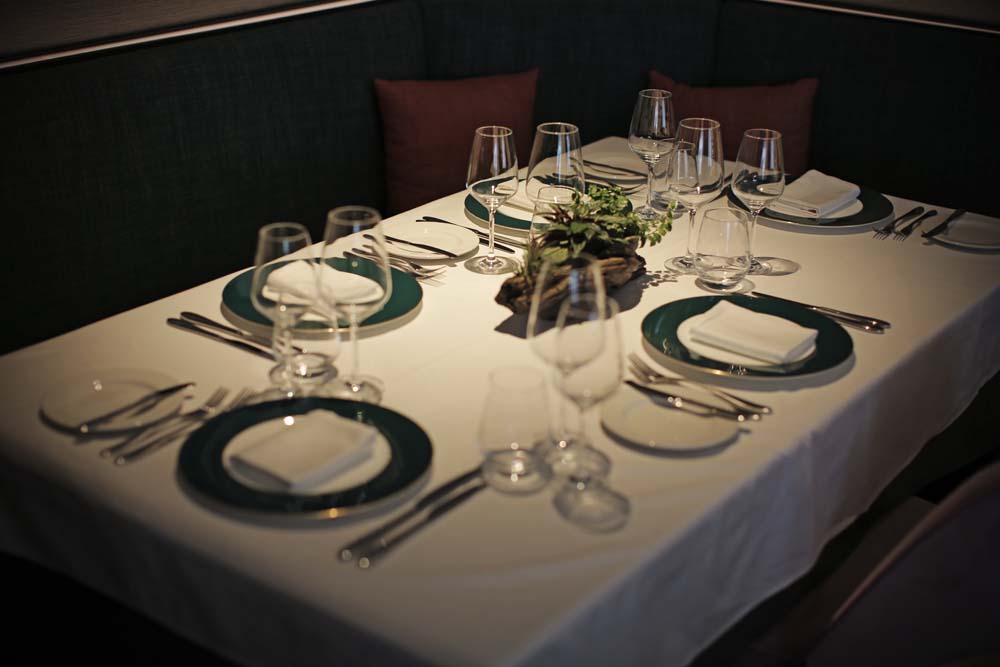 Western Food with Flair
– Salmon Gravlax With Vegetable Shavings, Lemon, Myrtle Oil & Cream Cheese Ice-Cream ($16)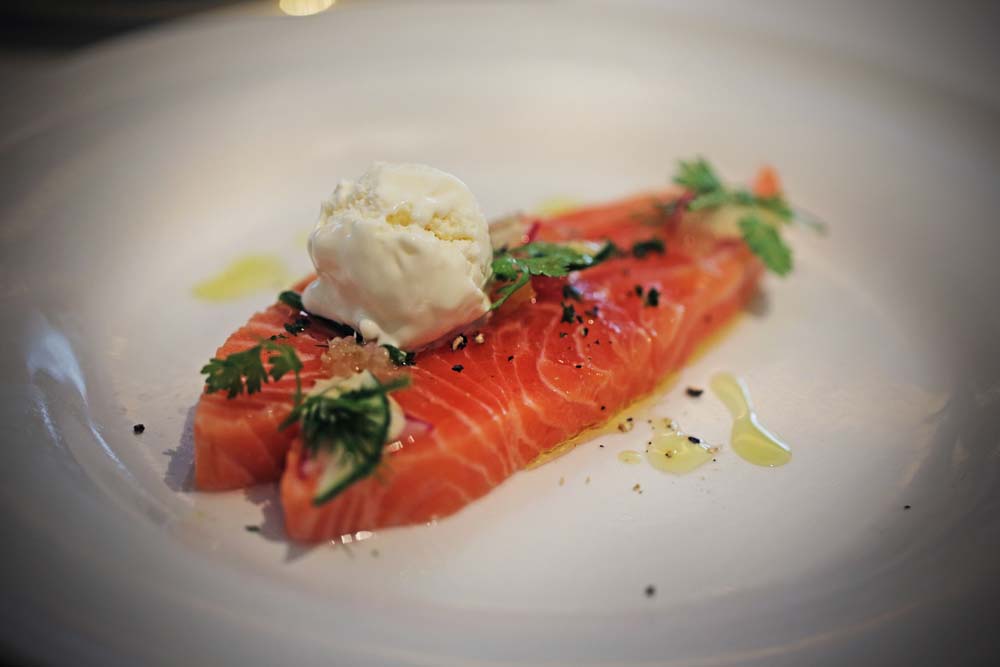 Cured with salt, sugar and dill, gravlax and cream cheese is a staple Nordic hor d'oeuvre. This classic pairing won't raise one's heartbeat until you remember that it's a scoop of cheese ice-cream sitting on top of the salmon and not just a gob of regular cheese. However, I felt that it was a bit too light on its constituent cheese flavour in this form.
– Steak Tartare & Crispy Battered Poached Egg ($24)
By now, I was sensing a pattern. From the home-made bread and butter to cheese ice-cream and fried poached egg; Chef Robert is a culinary artist with a flair for creativity. The effort and creativity involved in each dish made me want to savour each portion and over-ride my innate compulsion to gobble everything in one go.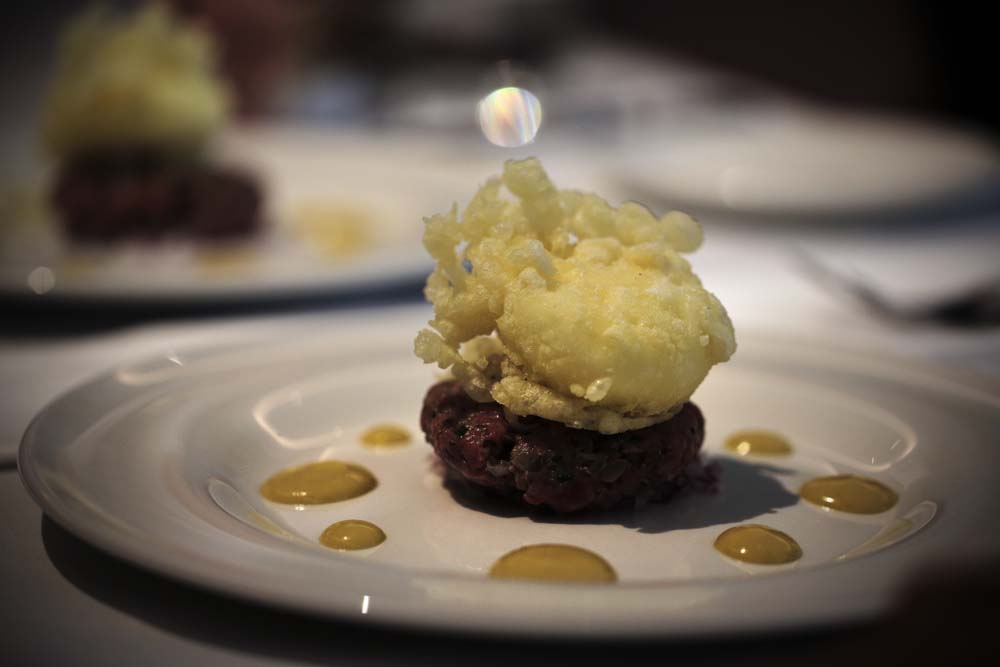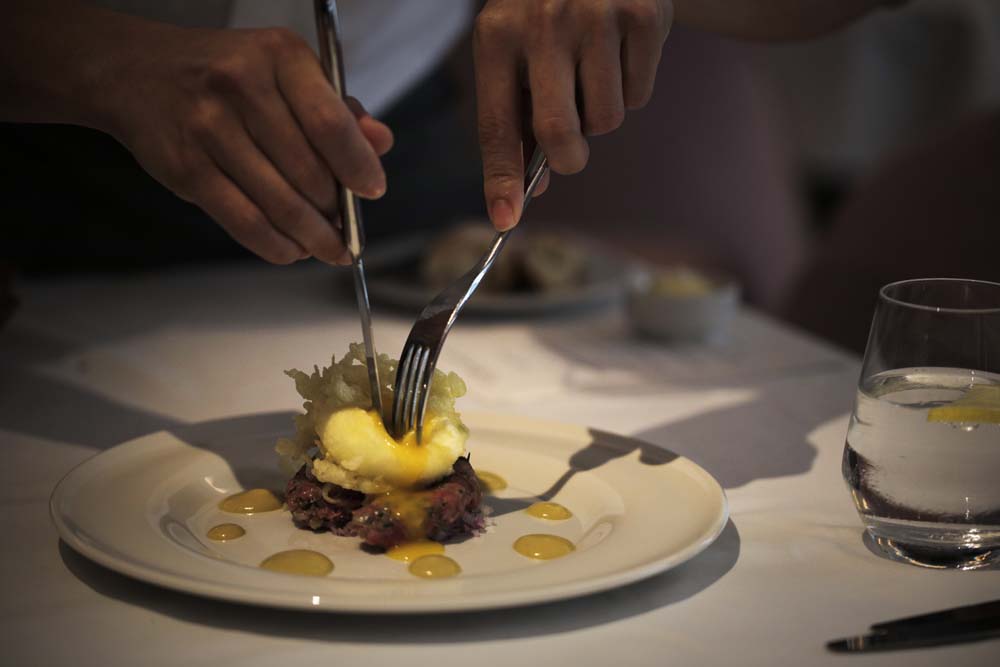 The tartare is well seasoned and I enjoyed the onion flavours in the mix. Fittingly, the crowing inclusion was the runny egg-yolk perched on the top that complements the melange of flavours flawlessly.
– Prosciutto Ham Wrapped Monkfish and Maine Lobster on Risotto in Amagnac Bisque ($38)
An easy crowd pleaser, most people would find it hard to fault lobster (especially when it is already pealed for you) and anything wrapped in bacon. However, the frothy cream sauce that has distilled the very flavours of the sea is the weighted glove that makes this dish pack much more punch than one would expect at first glance.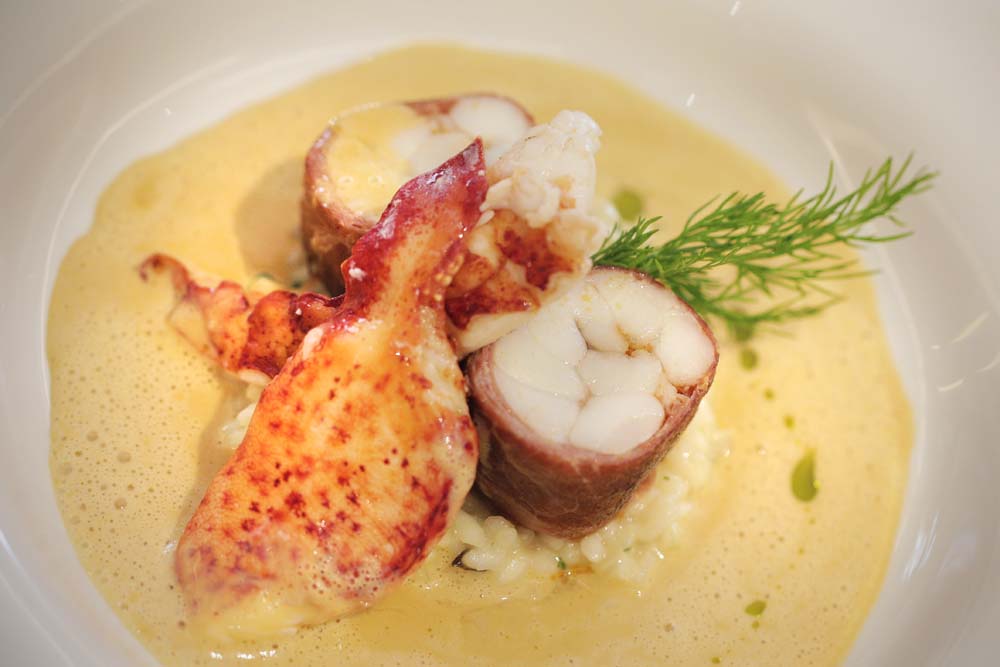 – Veal Sweetbread in 2-Mimute Pea Soup with Cepa Rushroom Ragu ($18)
Unlike local fare that proudly calls offal as it is, Western food euphemisms terms in their menus and also in appearance. Sweetbread is one such precedent. However, the upside is that a diner won't be deterred from a little bit of table top adventure if he or she doesn't know what that mystery meat really is. There is no flour or baked grains in this sweetmeat, and it also differs from meatloaf. Sweetmeat is made from an animal's thymus gland and pancreas. And there whole world thought that the Chinese ate everything. Now, we know that the French exalt the lesser known cuts of an animal too. But then again, they also do eat frogs' legs and snails…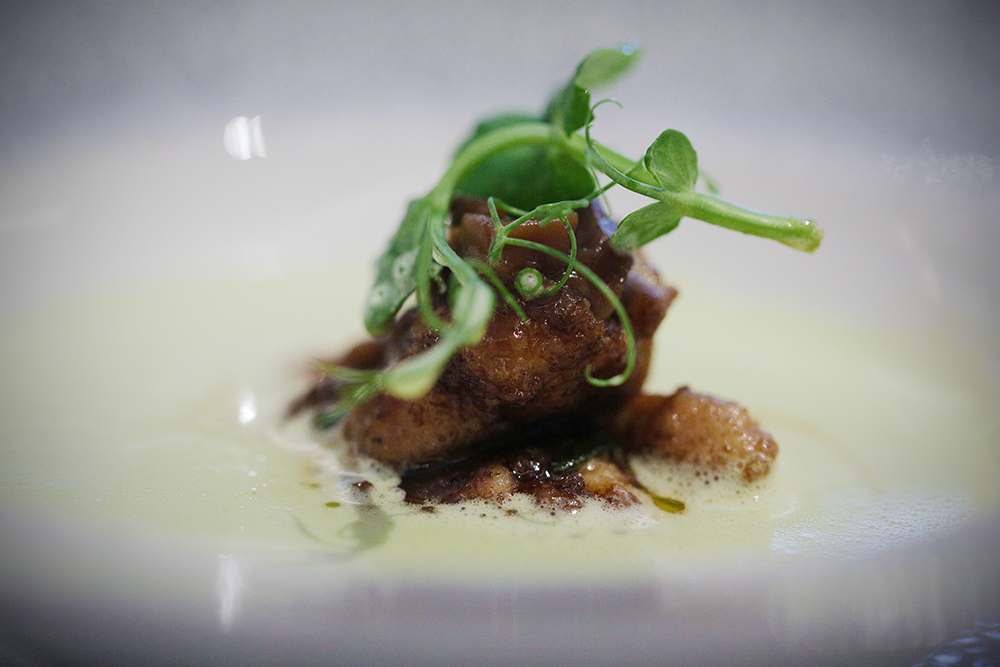 Whether you order this unwittingly or knowingly, it really is very tasty and undistinguishable from more familiar cuts of meat. Unlike the musty taste of other organs such as intestines or stomach, sweetbread is mild and creamy, with a texture that is smooth and tender. The preparation involves soaking and blanching which accounts for the delicate taste. A must-try.
– Milk-Fed Veal Stuffed with Foie Gras, Duxelles & Sage with Cauliflower Mimosa & Madeira Jus ($38)
Moving on to the other parts of veal, this triple decker fried cutlet is accompanied with a flower of cauliflower covered in shreds of boiled egg and topped off with a wine sauce. Fois gras isn't usually my favourite, so I came with baggage when trying out these veal dishes. It seems that stacking is another way to bring out the combined best in an assortment of ingredients. What this also does is impart interesting textures and, much like a painting, the entire sensory experience of eating becomes elevated into an art form with the masterful strokes of the chef.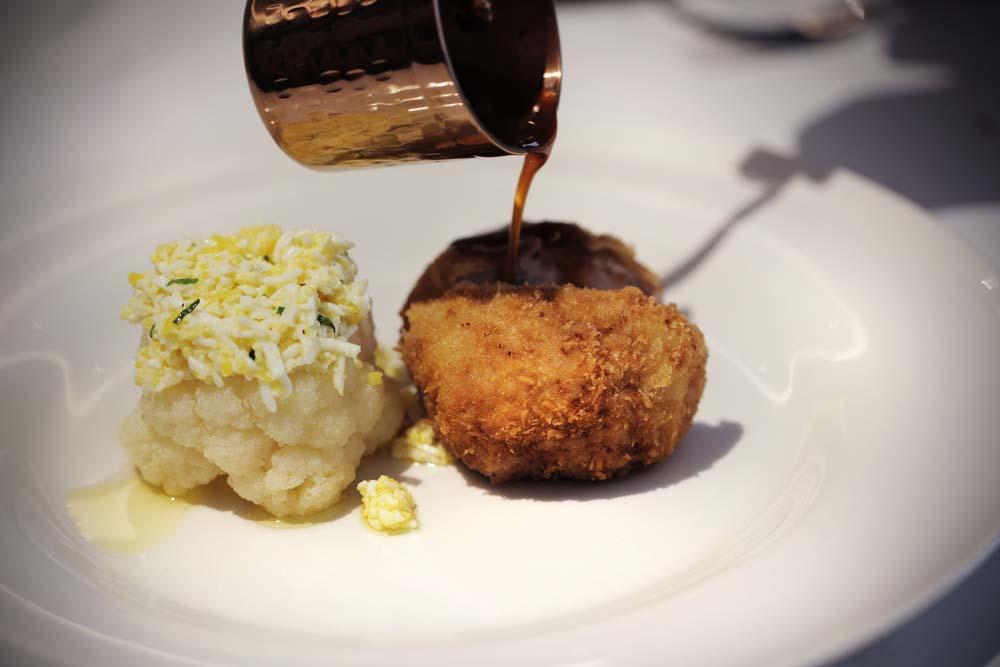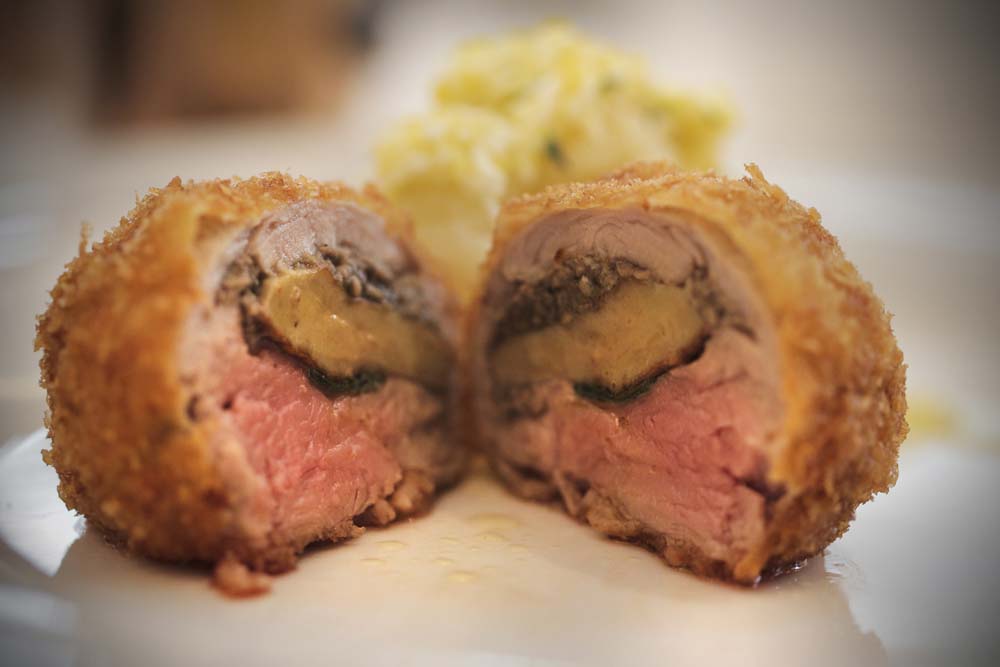 For those looking for the whole Tablescape experience, the restaurant also offers attractive Set Lunch (two- or three-course) and Set Dinner (three- or four-course) menus.
Rolling Up the Trolley to Round Up
Bookending the unforgettable experience with another trolley could not have been more appropriate. With creations as bold, visually and in taste, found on the multiple tiers of the trolley, I can attest that the Western food fare did not end or even trail off with the last course. Tablescape was going to end the meal with a bang. I know I definitely had a blast!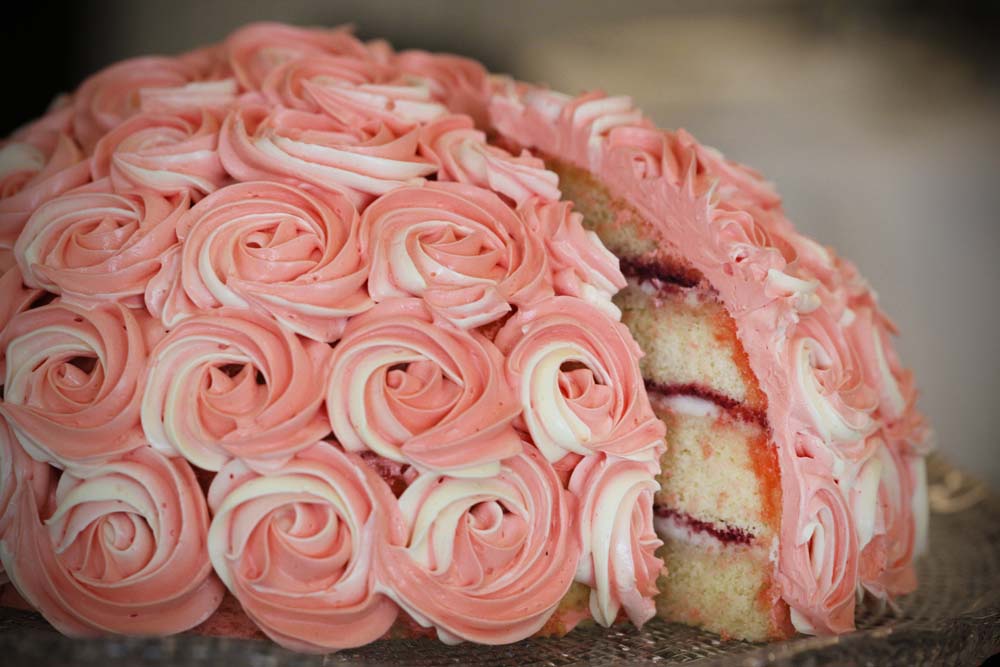 Making a selection from the dessert trolley costs $12 but the problem or danger comes when you make your choice as they all look absolutely divine. The raspberry lychee almond cake is unmissable with its tight swirls of piped cream that make it look like a wedding bouquet; a travesty to ignore as the moist, layered chiffon and balanced sweetness won't make you feel overdosed on sugar but have you asking for seconds.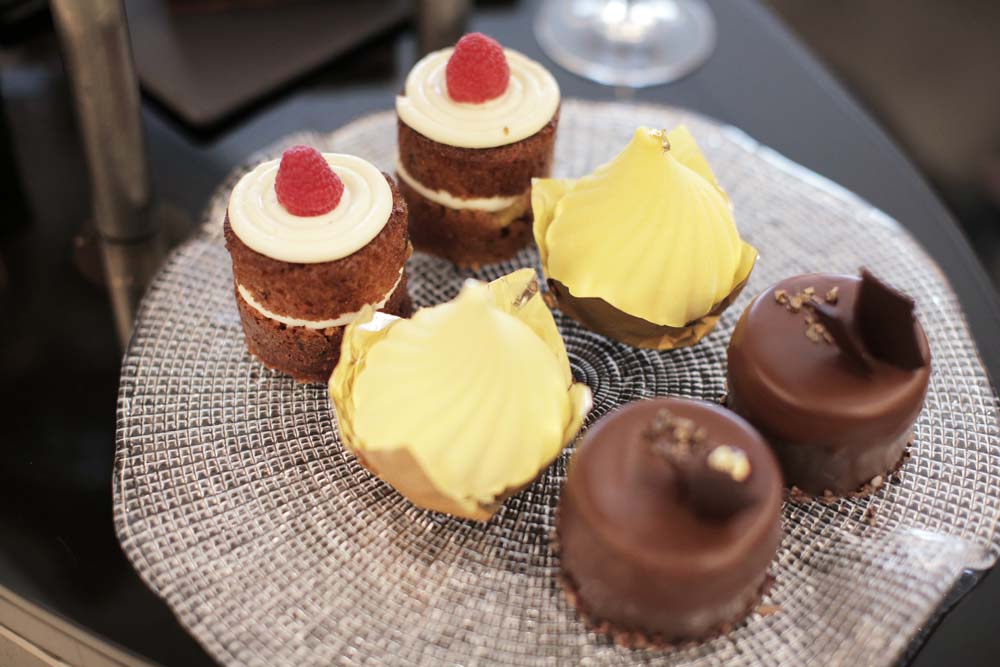 If the stomach allows, do fit in some of the mini cakes. Pictured from left, is the carrot cake, spicy mango mousse and black forest. Although not my instinctive first pick, the spicy mango mouse was more agreeable than anticipated. It was a little heavy but with a name that includes spicy with mango, that should hardly be surprising but all in all, an interesting choice.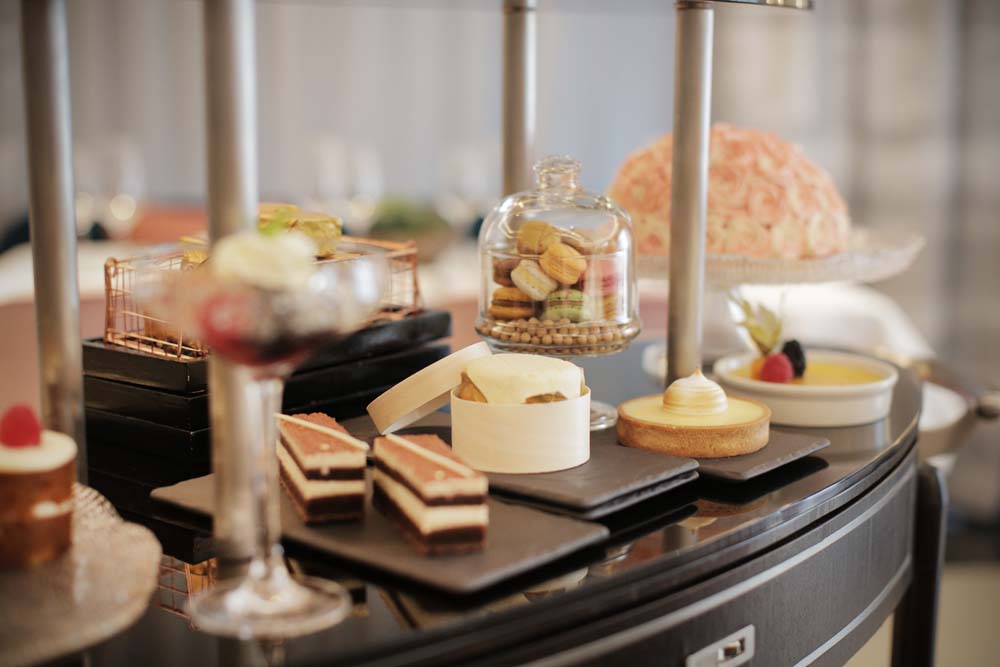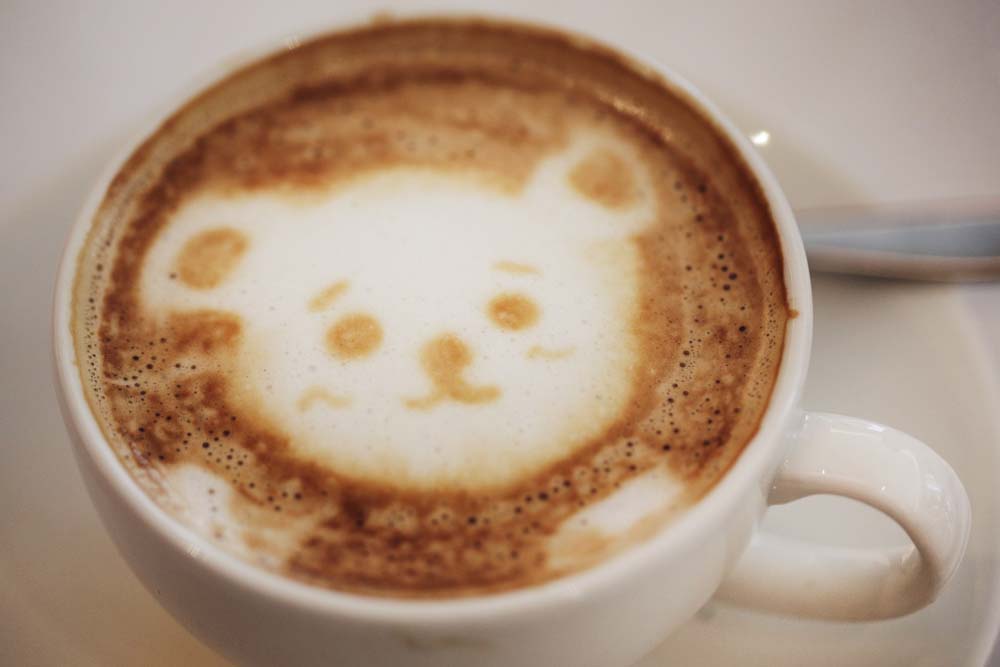 Tablescape is open daily for lunch and dinner and, can be found at:
Grand Park City Hall
Open: Noon to 2.30pm, 6pm to 10.30pm daily
Tel: 6432-5618